House Subcommittee Leaders in Tough Races Have Two Jobs At Risk
20 House chairs, ranking members in competitive contests
Some tout roles on panels as part of their campaigns
Committee and subcommittee leadership roles are one of the key indicators that a lawmaker has made it — yet in the November midterms, several holders of those offices find themselves at risk of losing their seats and prompting a cascading series of openings.
Twenty House incumbent lawmakers in competitive races — toss-ups or "lean" races, according to the nonpartisan Cook Political Report — are the chairs or ranking members of subcommittees.
That includes three representatives — two chairs and one ranking member — who steer billions of dollars in federal expenditures via their spots on Appropriations Committee panels, in addition to members who hold top spots on Agriculture, Ways and Means, and Transportation and Infrastructure subcommittees, among others.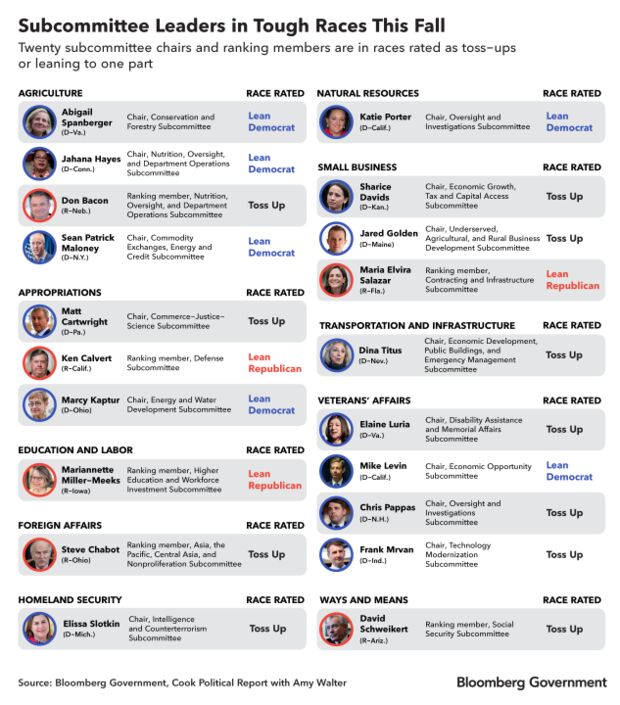 Some of the Democratic lawmakers were rewarded top spots after helping their party take control of the chamber in 2018 and surviving tough races in 2020, when its margins were narrowed.
The results of this year's close races will not only help determine the House majority in January but could also set off a game of musical chairs, in which members of the next Congress vie for open committee leadership positions.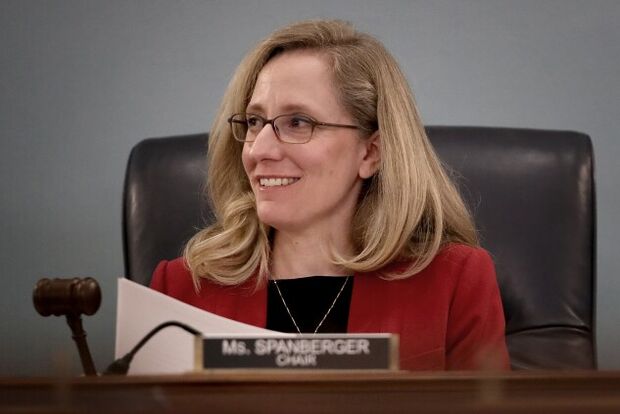 "Most everyone downtown recognizes change is a possibility," Adam Berg, of counsel with Squire Patton Boggs, said in a phone interview. Berg previously was chief counsel for the House Appropriations Committee. "Being familiar with all the players is a necessary strategy for any firm."
Chairs and ranking members of subcommittees are key for policy results. They bring their own priorities, legislative style and expertise to the subcommittee's work and can be influential in more niche policy areas.
Selection Process
Figuring out who's in line for jobs can be tricky.
House Democrats typically allow members to bid for subcommittee leadership spots based on their seniority on the full committee — except on the Appropriations Committee, which prioritizes seniority on the subcommittee when selecting the "cardinals."
House Republican Conference rules, meanwhile, dictate that subcommittee gavels are given by the full committee chair, unless the majority of GOP members of the committee vote to block the selection. The Appropriations Committee again is the exception, in which the full committee chair submits the subcommittee recommendations to the Steering Committee for a vote.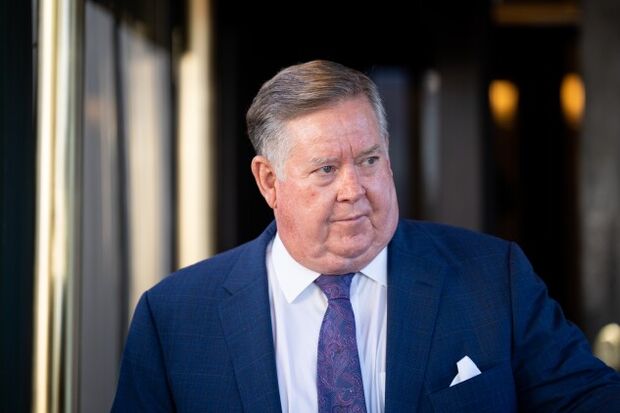 The subcommittee chair shuffle is a common occurrence on certain subcommittees, like the House Veterans' Affairs Committee. AMVETS National Third Vice Commander Paul Shipley, who also serves as the group's legislative lead, said he wasn't surprised four of the five subcommittee chairs were facing tough races.
"We're actually pretty used to that happening," Shipley said. " Committee members, he said, tend to come from "much more volatile seats or newbies that are looking to move from the committee."
Shipley said he appreciates anytime a veteran is on the committee.
"Military culture is very unique," he said. "If you're not exposed to that culture, then understanding the way that we communicate, the wants and needs that we have, and the personality traits that end up going across the board, is so tough."
On the Trail
Most lawmakers who wield a subcommittee gavel, or hold a ranking member position, don't make it a key talking point of their campaign.
Rep. Matt Cartwright (D-Pa.), whose race is rated a "toss-up," held a high-profile campaign event focused on his subcommittee — a rarity among representatives. He leads the House Appropriations Commerce-Justice-Science Subcommittee, a position President Joe Biden touted in an event in Cartwright's district.
Biden praised Cartwright's leadership "of the powerful subcommittee that controls the funding for public safety," emphasizing Democrats' support for police grants.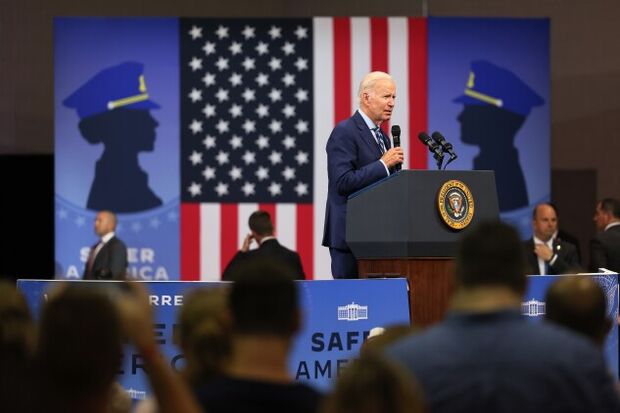 Cartwright's position has helped him avoid Republican attacks focused on "defund the police" rhetoric that other Democrats embraced, Ed Mitchell, a Pennsylvania-based Democratic strategist said in a phone interview.
Cartwright can point to his support for police grants, even though few voters are specifically aware of his work on the Commerce-Justice-Science Subcommittee, Mitchell said.
"We've got a lot of 'Back the Blue' signs around here," Mitchell said of Cartwright's district, which backed then-President Donald Trump in the 2020 election.
A search of AdImpact found only one broadcast ad in the past year mentioned a subcommittee: Rep. Henry Cuellar (D-Texas) ran a general election ad touting his work on as a "senior member" of the House Appropriations Homeland Security Subcommittee.
Although he isn't the chair, Cuellar's work on the committee has cited his efforts to increase funding for US Customs and Border Protection and Immigration and Customs Enforcement, which could resonate in his border district which Cook says is a "lean Democrat" race.
Lawmakers' subcommittee standings can help them in more subtle ways.
Rep. Marcy Kaptur's (D-Ohio) position as chair of the House Appropriations Energy and Water Subcommittee may have helped her establish herself as a serious legislator, even if constituents aren't familiar with the details, David B. Cohen, a political science professor at the University of Akron, said.
"A general perception of people in the Toledo area and northwest Ohio is that Marcy Kaptur is not somebody who's just in Washington collecting a paycheck," Cohen said in a phone interview. "She's perceived as someone working hard on working-class issues."
With assistance from Cordelia Gaffney
To contact the reporters on this story: Emily Wilkins in Washington at ewilkins@bgov.com; Jack Fitzpatrick in Washington at jfitzpatrick@bgov.com
To contact the editors responsible for this story: Loren Duggan at lduggan@bgov.com; Katherine Rizzo at krizzo@bgov.com