House Republicans' Agenda on Hold as Speaker Battle Continues
Committees, legislation halted while speaker is decided
Donalds says everyone needs to 'take a breath'
Bloomberg Government subscribers get the stories like this first. Act now and gain unlimited access to everything you need to know. Learn more.
Republicans spent the last two years crafting a legislative plan in the event they recaptured the House, proposing bills to take to the floor and investigations of the Biden administration they would pursue.
But now those plans are frozen as the battle for the speaker drags on into a third day. Nothing, not even the swearing in of members, can occur until a leader is chosen.
Members are growing frustrated as the challenge by conservative hardliners to Rep. Kevin McCarthy's bid for the top job continues.
"We have a very ambitious agenda we need to get started from day one," said Rep. Mario Diaz-Balart (R-Fla.) "Every day that we don't have a speaker is a day where the radical left wins."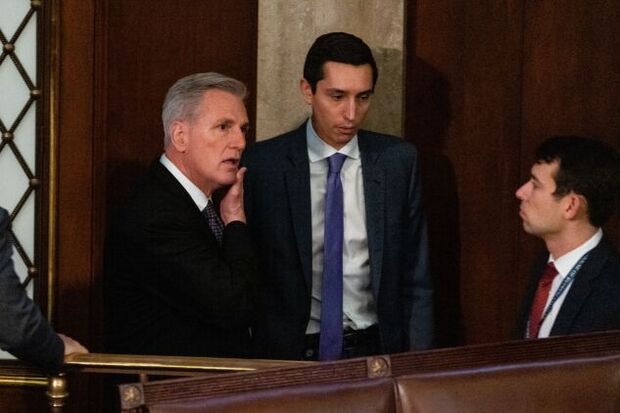 The delay has already cut into the GOP's proposed timeline.
McCarthy (R-Calif.) lamented to reporters that the House was unable to pass legislation that would reverse plans that Republicans say go for adding 87,000 IRS employees that's included in the Democrats' major tax, climate and health care law (Public Law 117-169). McCarthy had pledged to bring up that measure on the first day of the 118th Congress.
"We wanted to set up a number of investigations we have going, we wanted to notice the different committee hearings we'd have actually on the border," McCarthy said. "None of that transpired."
Near Standstill
Committees have ground to a near standstill. While most committee chairs have been selected, the Steering Committee has postponed nominating in contested chair races, further delaying the work of key panels such as the tax-writing House Ways and Means Committee and Homeland Security Committee.
Even members who are in line to be chairs, like Rep. Bruce Westerman (R-Ark.), say the delay is impacting them. He has yet to hire the additional committee staffers he will need to handle the extra workload that comes with being in the majority.
"Today we should be scheduling oversight hearings, getting committees organized, but we're not. We're focused on the speaker," Westerman said. "This is uncharted territory."
Another looming issue for committees: staff won't be able to be paid after Jan. 13, according to guidance from the House Administration Committee.
Steering Committee members say they hope to be able to meet this week after a speaker is selected and members are sworn in to select chairs.
Not only chairs are in a holding pattern. Members such as Rep. Nancy Mace (R-S.C.) are increasingly frustrated they haven't gotten their committee and subcommittee assignments yet and aren't able to begin introducing and passing bills as they are not yet sworn in.
"Our entire agenda is on hold, we don't have our committee assignments because of this," she said in an interview. "We all ran on trying to tackle inflation, spending, the debt, immigration and basically we're being held hostage."
Rep. Lloyd Smucker (R-Pa.), who sat on the Ways and Means Committee last Congress, was also feeling the impact of the waiting game.
"We should have our committees populated now, we should have our chairs selected, we should be moving forward with the agenda that the American people sent us here to accomplish," said Smucker. "It's all delayed every day we're doing this."
'Take a Breath'
Rep. Bryon Donalds (R-Fla.), whom the hardliners coalesced behind to oppose McCarthy on Wednesday, didn't accept the premise the delay was harmful, telling reporters that everyone needs to "take a breath."
"It's okay," he said. "The House doesn't have to be passing bills for America to function."
But others are impatient with the hold-up.
Rep. Marjorie Taylor Greene (R-Ga.), who has spent weeks trying to whip her conservative colleagues in favor of McCarthy, said the speaker race shouldn't be a popularity contest.
"This is not about prom king. This is not about a pastor," she said. "This is about electing a person to sit in the speaker chair so that we can all get to work."
The House will eventually need to contend with legislation that does affect many Americans, including must-pass bills to fund the government and raise the debt limit.
"This is the easy part," Westerman said of the speaker vote. "Wait 'til we put a bill on the floor and we have to have 218 votes."
With assistance from Zach C. Cohen
To contact the reporters on this story: Emily Wilkins in Washington at ewilkins@bgov.com; Chris Cioffi at ccioffi@bloombergindustry.com
Stay informed with more news like this – from the largest team of reporters on Capitol Hill – subscribe to Bloomberg Government today. Learn more.