House Proxy Voting Dispute Arms Republicans With Campaign Fodder
Republicans have seized on an election-year strategy of tagging House Democrats as shirkers and elitists for allowing proxy votes on legislation under a pandemic-emergency procedure.
They have likened lawmakers to essential workers such as doctors, nurses and grocery store clerks who must be at their place of work in dangerous times.
The opposition to allowing lawmakers in social isolation cast House floor votes by proxy or online in virtual committee markups is part of the party's broader message that Democrats pose an obstacle to President Donald Trump's priority of quickly re-opening the U.S. economy. It also aligns with Trump's unproven allegation that mail-in absentee voting, which many states have expanded during the coronavirus pandemic, leads to election fraud.
While the presidential election will be the driving force in November elections, the sustained attack on a policy that permits lawmakers to cast votes for absent colleagues could motivate the GOP base in close House races, Republican strategist Doug Heye said.
"Typically voters don't care about process on any level, but this is a process of coming down to the fundamentals of doing the job," Heye said.
But it's unclear whether the debate over the chamber's emergency procedures will resonate with voters beyond the party's most loyal supporters, as Republicans try to win back the House majority in November, as well as hold on to the White House and the Senate.
"I don't think it's going to change any votes, but if you are a Republican you'd much rather be talking about something like this than 100,000 deaths,'' said John Pitney, a political scientist at Claremont-McKenna College. He was referring to those who have died due to the coronavirus.
"It's the lot of the minority party to complain about the procedural unfairness of the majority party,'' said Pitney, a former House Republican aide who recalled his party's rhetorical attacks in the 1980s to Democrats allowing proxy voting in committee.
"It didn't work then either. Nobody cared,'' Pitney said.
Health Fears
Democratic leaders argue that Republicans are putting political attacks ahead of the well-being of members, staff and other Capitol employees who fear exposure to the coronavirus.
Republicans "are bending toward the will of the president of the United States who is desperate to open up the country as quickly as possible,'' said Democratic strategist Jim Manley.
Nevertheless, Rep. Charlie Crist(D-Fla.) handed Republicans a political opportunity on the very first day proxy voting was allowed. He went to Cape Canaveral on May 27, the original launch date for the SpaceX manned spacecraft, instead of to the House floor.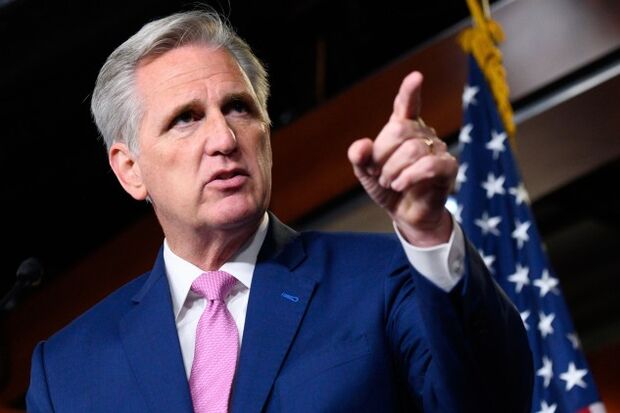 "Instead of going to work and serving as the voice of his constituents, Charlie decided to play hooky,'' Minority Leader Kevin McCarthy (R-Calif.) said.
"I wonder if Charlie will cash his check, I wonder if those 70 Democrats will still take that check,'' he told reporters the next day.
Crist was among more than 70 Democrats who filed notices that they had authorized proxy votes on their behalf because the public health emergency prevented their attendance in Congress.
Crist, a former Republican governor of Florida who switched parties, "felt it was important and prudent to make sure his votes were cast" for his constituents "even if he couldn't be on Capitol Hill in person," spokeswoman Samantha Ramirez said in an email.
McCarthy argued in floor remarks that these lawmakers' absences meant there were "49 million Americans who did not count" because their representative gave their votes "to somebody else."
Democrats argue the procedures give absolutely no discretion to members in the chamber for casting proxy votes on behalf of an absent colleague. Absent members can only delegate a colleague in the chamber to cast their proxy vote according to written instructions for each question put to a roll call.
The member who casts a proxy vote on behalf of a colleague must stand during the roll call and announce whether the absent member is to be recorded as an "Aye" or a "Nay."
Going to Court
The procedures drew unified opposition of House Republicans, who argue they are unconstitutional and have gone to court to block their continued use. No House Republican has cast a proxy vote.
Republicans argue that members of Congress should do their jobs in person, just like first responders, rather than take advantage of their privilege to work remotely.
"The work of our front-line heroes is the definition of essential. It cannot be done by proxy," McCarthy, the son of a firefighter, said last month on the floor. So "why should Congress be any different?"
Besides motivating the party's base, Heye said that argument "speaks to the kind of elitism that independent voters don't like either."
To contact the reporter on this story: James Rowley in Washington at jrowley@bgov.com
To contact the editors responsible for this story: Bennett Roth at broth@bgov.com; Kyle Trygstad at ktrygstad@bgov.com