House Progressives Stand Ground in Spending Package Negotiations
They're insisting their priorities make it in new spending bills
Reconciliation package seen as a "once-in-a-lifetime" chance
Bloomberg Government subscribers get the stories like this first. Act now and gain unlimited access to everything you need to know. Learn more.
House liberals are digging in their heels to ensure their priorities make it into a pair of forthcoming spending bills set for divergent paths toward becoming law.
The insistence from the Congressional Progressive Caucus comes as the White House makes a push on Capitol Hill to get Democrats to fall in line on a tax and social spending package that would likely need to be passed in a party-line vote and a smaller, $579 billion bipartisan infrastructure bill that was negotiated in the Senate.
Democrats' slim majority means a handful of lawmakers—from either wing of the party—could sink the larger bill if they vote against it. Several progressive lawmakers said that's on the table if the bill doesn't address issues such as climate change and housing assistance, or doesn't go big enough in terms of funding.
"This is a once-in-a-lifetime opportunity to make real change and invest in 21st century infrastructure," Rep. Ilhan Omar (D-Minn.), the progressive caucus whip, said in an interview. "We are very much committed to pressuring our members to hold their vote if we do not get our priorities."
If successful, most of their priorities will likely appear in the larger bill that would be brought up in the Senate through reconciliation, a procedure that allows budget-related legislation to advance with a simple majority.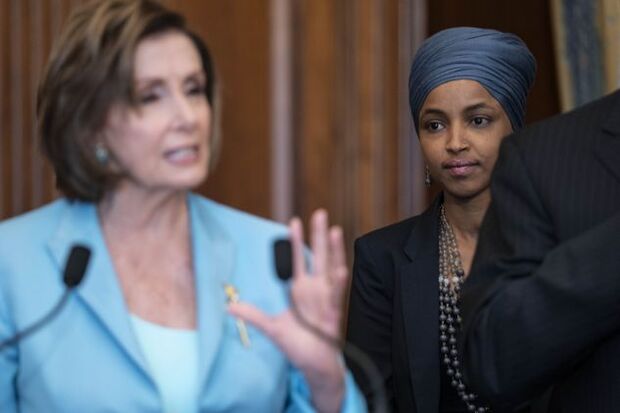 While the details are still being worked out in the $6 trillion reconciliation package Senate Budget Committee Chair Bernie Sanders (I-Vt.) is writing, moderate lawmakers including Sen. Joe Manchin (D-W.V.) have begun calling for a spending package a third of that size.
Progressives said they've so far felt overlooked, as negotiations focused on more moderate Democrats working on the bipartisan bill as well as those from swing districts likely to face competitive re-elections. But they got face time Tuesday in a Capitol Hill meeting with White House counselor Steve Ricchetti.
Omar said after the meeting that the White House was open to including all five priority areas they have been promoting since April. They boil down to more funding for elder and child care, affordable housing, and climate initiatives; lowering drug prices; and providing a path to citizenship for some undocumented immigrants.
Read More: Biden Team Pivots to Brokering Democratic Budget Bill Deal
Shifting Politics
In their push, progressive lawmakers said they want to make clear they can't be counted on to simply go along with whatever scaled-down legislation moderate Democrats agree to, rather than pass nothing.
Rep. Mark Takano (D-Calif.), a progressive caucus deputy whip, said they're keenly aware they'll get few other opportunities to pass major, wide-ranging legislation.
"There's always been sort of a history in how bills get shaped," Takano said. "It's going to be the center that wags everyone else. We can wag back."
Progressives have shown a willingness to break with their party in recent weeks. Concerns over increasing funding to police led three Democrats to join Republicans in voting against a $1.9 billion emergency spending bill for Capitol security (H.R. 3237). Three other Democrats voted present, allowing the bill to pass 213-212.
It was a data point for the left's new approach, said Michele Nellenbach, vice president for strategic initiatives at the Bipartisan Policy Center. In the past, she said, members on the left would "ultimately come to the table if you get the moderates and show you can get the votes and get it done."
"The politics have shifted so much," she said. "I'm not sure you get the progressives even if you pull the moderates."
Progressives could threaten to not vote for the reconciliation package if it comes in at lower price tag that doesn't include everything they want, but tripping up a major spending package that would benefit their constituents may be politically harmful back home, said John Lawrence, a former chief of staff to Pelosi.
"When push comes to shove, the progressives, particularly in the House, are going to come under terrific pressure—not from the Senate, president, or their own leaders—but their own constituents, not to obstruct or defeat legislation that could do a great deal in hundreds of districts including their own," Lawrence said.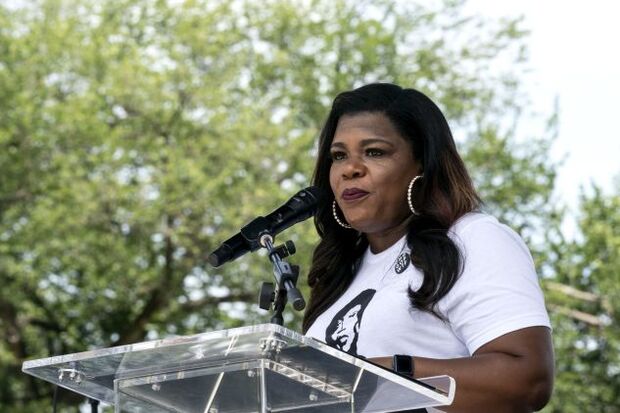 'Our New Deal Moment'
Rep. Cori Bush (D-Mo.), who along with Omar was one of the three to vote against the Capitol security supplemental, said she'd be comfortable voting against a reconciliation bill if it didn't meet the needs of her constituents.
"My job is to speak up for St. Louis and that's what I'm going to do," she said. "I won't just go along to get along."
Rep. Jamaal Bowman (D-N.Y.) said there's a growing frustration among his constituents for legislation that provides tangible benefits for them.
"People of color and low-income people and working-class people, we are always asked to take crumbs. And for decades we have taken crumbs while the wealthy elite among us continue to hoard wealth and have policies passed in their favor," Bowman said. "So enough of the crumbs. This is our New Deal moment."
Still, Bush and Bowman said negotiations are ongoing and progressives are working with their colleagues to find an agreement.
"My mindset isn't to look at why I should vote against it," Bush said. "It's seeing what's in there and what we can do to make it better."
To contact the reporter on this story: Emily Wilkins in Washington at ewilkins@bgov.com
To contact the editors responsible for this story: Kyle Trygstad at ktrygstad@bgov.com; Bennett Roth at broth@bgov.com
Stay informed with more news like this – from the largest team of reporters on Capitol Hill – subscribe to Bloomberg Government today. Learn more.