House Moves Biden's Agenda Forward; Senate Advances Defense Bill
The House after hours of delay passed the second half of Democrats' sweeping economic agenda, which now heads to the Senate where its fate is less clear. In the Senate, lawmakers advanced the annual must-pass defense bill, setting up action when the chamber returns after Thanksgiving.
Here's what Bloomberg Government is tracking today.
House Passes Biden's Economic Plan
President Joe Biden's signature plan to expand the social safety net, address climate change and rewrite tax policies was passed by the House this morning as Speaker Nancy Pelosi (D-Calif.) united fractious Democrats to send the legislation to the Senate, where its fate remains uncertain.
The 220-213 vote followed months of intra-party squabbling. It came only after the nonpartisan Congressional Budget Office delivered a cost estimate for the bill, which moderates had demanded before casting their votes. The CBO finding that it would increase the deficit by $367 billion over a decade proved acceptable to enough holdouts to pass the bill. Rep. Jared Golden (D-Maine) was the only Democrat to vote no, along with all Republicans.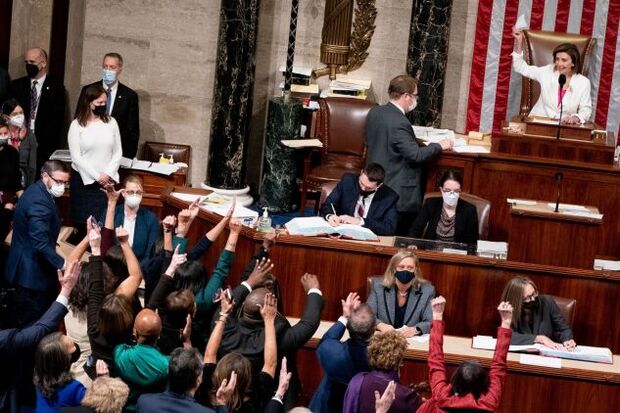 The House action is a political victory for Biden, but his agenda is still far from the finish line. Democratic senators are expected to make extensive changes before voting on it, potentially in December. Passage in that chamber will require unanimous support from the Democratic caucus, and two pivotal members, Joe Manchin (W.Va.) and Kyrsten Sinema (Ariz.), have yet to give their full public support. Republicans are united in opposition.
Manchin and Sinema will largely determine whether the Senate can pass the Biden bill before the end of 2022 and how much further it is trimmed back. Manchin has objected to the four weeks of guaranteed paid family leave in the House bill, as well as an immigration proposal granting deportation relief for some undocumented immigrants and a new Medicare hearing-aid benefit.
The job of resolving those conflicts and navigating Senate floor amendments on the bill will fall to Majority Leader Chuck Schumer (D-N.Y.), who said this week he wants to have it all wrapped up before Congress breaks for the Dec. 25 Christmas holiday. Read more from Erik Wasson and Billy House.
More Coverage:
Happening on the Hill
Defense Bill Advances as Senate Scuttles Vaccine, Iraq War Votes: The Senate voted to proceed on consideration of the annual defense authorization measure today, without resolving an impasse over several provisions, including blocking funds to the Taliban in Afghanistan and removing a requirement for women to sign up for the military draft.
The move, approved by voice vote, allows senators to start debating the bill and consider a package of agreed-upon amendments. It indicates the chamber will eventually pass the defense bill. Scores of amendments will be included in a managers' package of non-controversial provisions that can gain backing on both sides, but higher-profile issues may not get a vote in the chamber due to failure to reach agreement after multiple delays and backroom negotiations. Read more about proposed amendments from Roxana Tiron.
CBC Calls Rittenhouse Verdict 'Unconscionable': The Congressional Black Caucus in response to a jury's decision in the trial of Kyle Rittenhouse said in a post it was "unconscionable our justice system would allow an armed vigilante" to "go free." The caucus called for gun and criminal justice system reform.
Rittenhouse—the teenager who shot and killed two men at a chaotic Black Lives Matter protest in Wisconsin last year after a police shooting of Jacob Blake, a Black man—was acquitted of all charges in a case that became a touchstone for the nation's sharply divided political left and right. After a two-week trial, a jury in Kenosha found Rittenhouse not guilty of two counts of homicide, one of attempted homicide and two of reckless endangerment, as well as lesser charges. Read more from Skylar Woodhouse and Erik Larson.
Biden, when asked about the acquittal, said the jury system works and the U.S. has to abide by it, Justin Sink and Se Young Lee report.
Oklahoma GOP Clears New Congressional Map Bolstering Bice: Oklahoma Republican legislators approved a new congressional map that would bolster first-term Rep. Stephanie Bice (R) in a currently politically competitive district that would become a Republican stronghold. The map creates five strongly Republican districts in one of the nation's most overwhelmingly Republican states. Read more from Greg Giroux.
Boeing 787 Oversight by FAA Needs Watchdog Review, Lawmakers Say: Leaders of the House Transportation and Infrastructure Committee have called for a review of how U.S. aviation regulators oversaw Boeing's troubled 787 program. A letter signed by the top Democrat and Republican on the committee was sent yesterday to the Transportation Department's Inspector General, the committee announced today. The 787 has been plagued by production issues for a year and the manufacturer has halted deliveries of new aircraft for most of that time. Read more from Alan Levin.
Defense & Foreign Affairs
Tech Companies Asked for DoD Cloud Deal Bids: The Department of Defense has solicited bids from Amazon, Google, Microsoft and Oracle for bids on a new cloud project replacing the $10 billion JEDI program that was canceled earlier this year, the department said in a notice. The Pentagon said in July that the new enterprise contract will be split between Amazon, Microsoft and possibly three other U.S. providers, Se Young Lee.
Ukraine Says It Seeks More Pentagon Help: Ukraine's defense minister said he asked the Pentagon for more help defending the country's airspace and coast as it faces rising pressure from Russian troops massing on its border. "We need to cover our sky and our sea," Defense Minister Oleksii Reznikov told reporters at Ukraine's embassy in Washington on Friday, after meeting with Defense Secretary Lloyd Austin at the Pentagon. At the Pentagon, Austin said that U.S. "support for Ukraine's self-defense, sovereignty and territorial integrity is unwavering." Read more from Peter Martin.
Georgian Ex-President Says U.S. Must Step In: Imprisoned, on hunger strike and said to be in dire health, Georgia's former President Mikheil Saakashvili called on the U.S. for help as he warned the former Soviet republic was turning away from the pro-Western path he set it on 18 years ago."If the U.S. doesn't come to my defense it would be a terrible signal to all pro-Western leaders and populations" in the region, wrote Saakashvili. He was arrested on Oct. 1 for crossing the border illegally and jailed to serve a previous in-absentia conviction for abuse of office. Read more from Marc Champion and Helena Bedwell.
U.S. and China to Elevate Military Talks: Officials in Washington and Beijing have agreed to open high-level channels of communication between their militaries, according to a person familiar with the matter. During a 3 1/2-hour virtual summit with Biden on Monday, Chinese President Xi Jinping agreed to support such channels between the U.S. military and top officials from the People's Liberation Army, including the vice chairman of the country's powerful Central Military Commission, said the person, who asked not to be identified discussing internal deliberations. Read more from Peter Martin.
Separately, the U.S. is "deeply concerned" about reports that Chinese tennis star Peng Shuai has gone missing after she alleged that a top former Chinese Communist Party official pressured her to have sex. "We join in the calls for PRC authorities to provide independent and verifiable proof of her whereabouts and that she is safe," White House Press Secretary Jen Psaki said at a press briefing today. Read more from Justin Sink and Jennifer Epstein.
Around the Administration
Next Week's Schedule: Biden and First Lady Jill Biden will travel to Nantucket, Mass., on Tuesday and remain there for the Thanksgiving holiday, Psaki said today, Daniela Sirtori-Cortina reports.
Biden and Vice President Kamala Harris will participate in a service project in D.C. earlier on Tuesday with their spouses.
Biden will visit Fort Bragg, North Carolina, on Monday to celebrate Thanksgiving with service members, as previously reported.
The White House will have more to report about Federal Reserve vacancies "early next week," Psaki said, Megan Howard and Justin Sink report.
Harris Briefly Assumes Presidential Power in First for Women: Biden briefly transferred power to Harris today while he was under anesthesia for a colonoscopy, marking the first time a woman officially served as acting commander in chief. Harris was given the title "acting president" for an hour and 25 minutes under Section 3 of the 25th Amendment to the Constitution, which was ratified in 1967. Read more from Jennifer Epstein.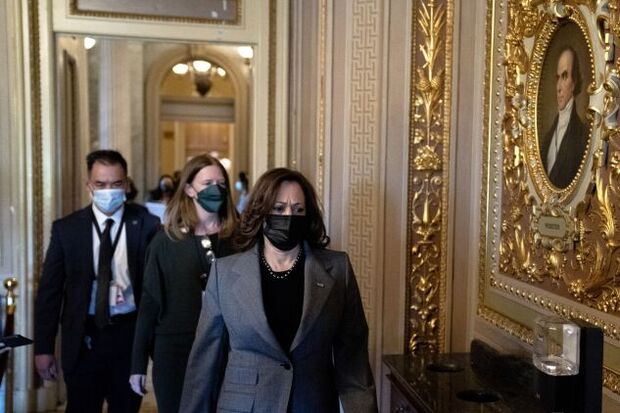 High Court Sets Monday for Opinions: The U.S. Supreme Court scheduled Monday as the first opinion day of its term, opening the possibility of an imminent decision on challenges to Texas' ban on abortion after six weeks. The court said the justices won't take the bench and instead will release any opinions online starting at 10 a.m. Washington time, as has been their practice since the Covid-19 pandemic began last year. The court doesn't say which opinions will be issued on particular days. Read more from Greg Stohr.
Carmakers Fall Short of Biden's Fuel Economy Goals: The Environmental Protection Agency's calculation of modest gains in carmakers' fuel economy last year spotlight the need for a rapid increase in electric vehicles if the industry is to meet proposed targets. The EPA reported today that carmakers achieved an average of 25.4 miles per gallon for vehicles made during the 2020 model year. That is 0.5 mpg higher than the 2019 model year and a record high, but far from the 52 mpg by 2026 that Biden's administration has proposed. Read more from Keith Laing.
Labor Chief to Meet Truckers on Supply Chains: Labor Secretary Marty Walsh plans to meet with key members of the transport industry in Los Angeles to discuss supply-chain issues at the nation's biggest port that are fueling goods shortages and inflation. "We have to make sure that we ease that supply chain — the president's very focused on turning the ports into 24-7" operations, Walsh said in an interview today. "I'm going out to Los Angeles in a couple of weeks to talk to some trucking companies and the ports about how do we continue to stay on top of that." Read more from Katia Dmitrieva.
DOT Grants Preview Biden Infrastructure Priorities: Grants awarded by the Transportation Department today show one of the administration's first attempts to prioritize climate and equity in funding decisions, previewing the types of projects likely to get money under the infrastructure law. The department awarded nearly $1 billion to 90 projects in 47 states, Washington, D.C., and Guam, a senior official told reporters. Transportation Secretary Pete Buttigieg said at a White House press conference that the grants, through the Rebuilding American Infrastructure With Sustainability and Equity program, will "give you a sense" of the priorities of the discretionary funding in the infrastructure law. Read more from Lillianna Byington.
Chamber Seeks Records on FTC's Pursuit of Consumer Privacy Rules: The U.S. Chamber of Commerce is seeking records from the Federal Trade Commission related to its development of consumer data protection regulations, as part of a broader offensive against what it sees as "regulatory overreach" by the agency. The records request today asks for information on privacy policies the commission has discussed or considered in relation to a recent executive order on competition from Biden. Read more from Andrea Vittorio.
DeJoy Ally Replaced at Postal Service: Biden moved to replace U.S. Postal Service Chairman Ron Bloom, an ally of embattled Postmaster General Louis DeJoy, following a tumultuous period marked by sluggish mail delivery and anxiety over mail-in ballots. Biden selected Daniel Tangherlini, a former administrator of the General Services Administration, and Derek Kan, a former under secretary in the Transportation Department, to serve on the USPS board, the White House said in an announcement today. Both nominees need Senate approval. Read more from Todd Shields and Jenny Leonard.
Here's Where the Record Number of American Workers Are Quitting: In more than half of U.S. states, the Great Resignation is gaining pace. The quits rate, or the number of people leaving jobs in the month as a share of total employment, increased in 29 states in September, the Labor Department's State Job Openings and Labor Turnover Survey showed today. The largest increases were seen in Hawaii, Montana and Nevada. Read more from Reade Pickert and Alex Tanzi.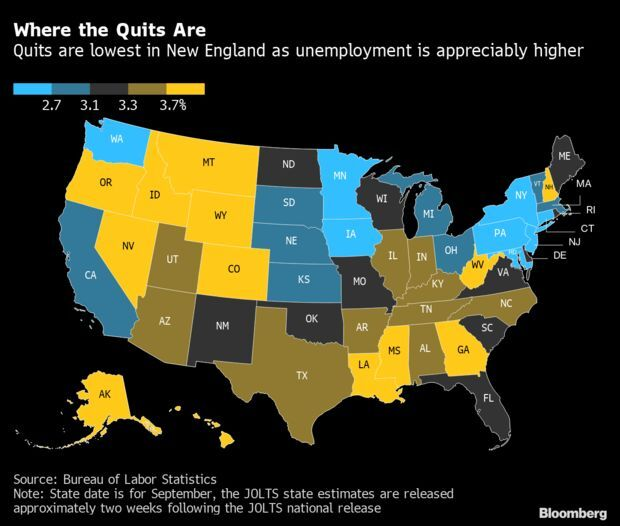 To contact the reporter on this story: Michaela Ross in Washington at mross@bgov.com
To contact the editor responsible for this story: Zachary Sherwood at zsherwood@bgov.com