House GOP Faction Attacks Female Candidate, Straining Party Ties
PAC's advertisements call Joan Perry a "lying liberal"
Primary the key election in GOP-dominated district
Efforts to boost the number of Republican women in Congress are being tested in North Carolina, where the House Freedom Caucus is siding with a male candidate over his female rival for an open House seat.
House Freedom Action, a super PAC linked to the caucus of about three dozen House Republicans, is backing Greg Murphy, a urologist and state lawmaker.
Super political action committees seeking to get more Republican women in Congress are sponsoring radio and TV ads favoring pediatrician Joan Perry.
"We need more qualified women in Congress, and NC-03 is an opportunity for Republicans to do just that," said Rebecca Schuller, executive director of WFW Action Fund, a super PAC that registered with the Federal Election Commission in March.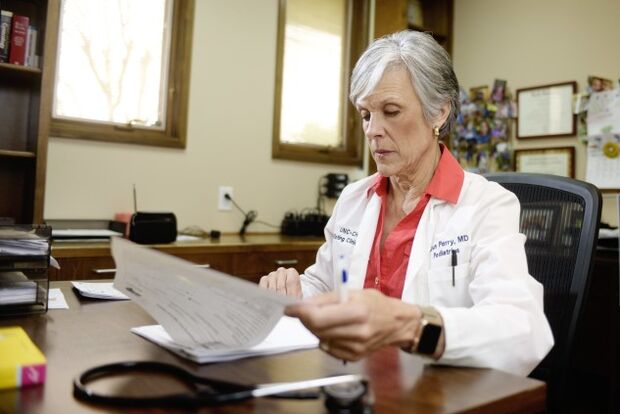 That group and other outside entities have reported spending more than $670,000 in independent expenditures in the 3rd Congressional District contest.
The contest comes after the number of GOP women in the House fell to 13 from 23 after the 2018 election — while a record 89 Democratic women won seats in Congress.
But efforts to increase the ranks of Republican women have struggled. Most recently, Rep. Susan Brooks (R-Ind.), the head of recruitment for the National Republican Congressional Committee, announced she's not running for re-election next year.
In North Carolina's 3rd District, the groups are battling over which of the two local physicians should be the Republican nominee for a House seat vacated by the death of Rep. Walter Jones (R). Murphy and Perry emerged as the top vote winners in April, though neither won a majority.
Their primary runoff election is set for July 9.
Republican Doctors Advance to Runoff in North Carolina Race
The runoff winner will face Democrat Allen Thomas, the former mayor of Greenville, N.C., in a general election set for Sept. 10. The district favors Republicans, with Donald Trump winning there with 60 percent of the vote in 2016.
Most Republicans in the district thought Murphy, who's been in the state legislature since 2015, would win the nomination without a runoff, said Carmine Scavo, a political science professor at East Carolina University in Greenville, N.C.
"Joan Perry's strong second place finish was a real surprise and I suspect some Republicans are still trying to figure out if she's the real deal," he said in an email.
Scavo said there's not much difference on the issues between Murphy and Perry, who has never held public office. "Both are trying to out-conservative the other and also trying to show they'll vote more often with President Trump," he said.
Ad War
The runoff has been marked by an acrimonious media war, funded heavily by outside groups.
Backers of Perry emphasized her conservative credentials and support for Trump. A video ad aired by WFW Action Fund blasted Murphy for supporting Obamacare and higher taxes and for criticizing Trump. The super PAC, which is linked to a traditional PAC called Winning for Women, has promised to spend heavily to support Perry.
A video ad aired by House Freedom Action called Perry a "lying liberal" for criticizing Trump's immigration policies and backing a Democratic congressional candidate in a previous election. The spot linked Perry to House Speaker Nancy Pelosi (Calif.), the top Democratic woman in Congress.
Freedom Caucus Chairman Mark Meadows (R-N.C.), said in an endorsement message that Murphy was "clearly the conservative pick" for the special election.
House Freedom Action and an allied traditional PAC, House Freedom Fund, have spent about $150,000 for media ads and email benefiting Murphy, according to reports filed with the FEC. Another allied group backing Murphy, Awake Carolina, reported June 17 that it spent an additional $50,000 on direct mail.
Megadonor On Both Sides
The top donor to House Freedom Action has been Richard Uihlein, founder of a Wisconsin-based shipping supplies company and one of the biggest Republican political donors in recent elections.
Uihlein also is the biggest donor to a super PAC supporting Perry — Women Speak Out, which reported a $150,000 TV and radio ad buy on June 17. The super PAC is affiliated with the anti-abortion PAC Susan B. Anthony List.
"Women, children, and families could not have a stronger champion than Joan Perry standing up to the abortion lobby," MarjorieDannenfelser, president of Susan B. Anthony List, said in an statement on the PAC's website.
Super PACs can take unlimited donations but must spend independently of candidates, while traditional PACs take limited contributions and donate directly to candidates. Many recent PAC donors won't be revealed until disclosure reports are filed with the FEC after the primary.
To contact the reporter on this story: Kenneth P. Doyle in Washington at kdoyle@bgov.com
To contact the editors responsible for this story: Katherine Rizzo at krizzo@bgov.com; Bennett Roth at broth@bgov.com