House GOP Aims to Broaden Appeal With Focus on Policy, Not Trump
Few mentions of Trump at House Republican retreat in Florida
Minority leader says agenda will be popular among independents
House Republicans have a plan for winning in 2022: focus on the policy, not on Donald Trump.
The former president has attempted to burnish his brand as kingmaker this cycle, backing several dozen Republican House incumbents and challengers. He made headlines in recent days for revoking an endorsement in the Alabama Senate race and teasing one in Missouri.
But over the first two days of the House GOP retreat in Ponte Vedra Beach, Fla., lawmakers rarely invoked Trump's name, instead focusing on the agenda they're crafting to increase their appeal to voters this fall.
Minority Leader Kevin McCarthy (R-Calif.) told members he wants their finalized policy plan, called "Commitment to America," to have broad support outside the GOP's base. The party must net only five seats to win the majority.
"The policies we lay out to the American public will not only bring Republicans to the ballot box," McCarthy told reporters. "Independents, to Democrats, from all aspects of America, have rejected these Democratic policies," he added.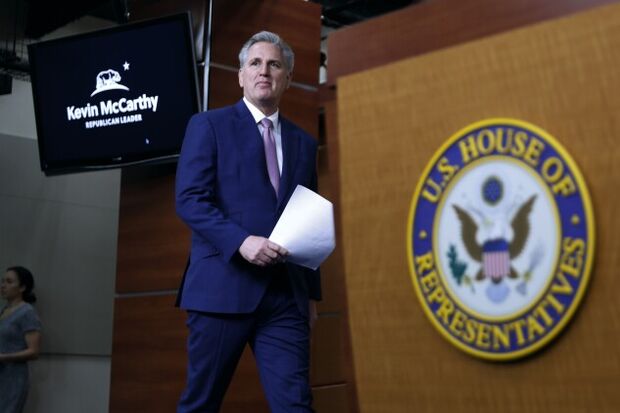 With a slight majority of Americans still holding an unfavorable view of Trump, according to FiveThirtyEight's average of polling, he may not be helpful in some of the swing districts the party hopes to win.
Rep. Don Bacon (R-Neb.), who won in 2020 with less than 5% of the vote and is again facing a competitive race, said independent voters are with Republicans in a way they weren't in 2020.
"With President Trump, I think his policies were generally popular," Bacon said. "But his persona, his temperament, particularly suburban areas, the name calling, and just the Twitter, was not appealing."
"Inflation is clearly the No. 1 issue for swing voters, by far," Bacon said. "It's not even close." He's developed a message to connect with voters on it, noting the price of—what else—bacon.
Republicans are also confident that Democrats' strategy to tie them to Trump and the Jan. 6 storming of the Capitol by his supporters won't be effective. Voters, said Conference Vice Chair Mike Johnson (R-La.), "have moved beyond all that."
He said lawmakers were presented with polling during the retreat that showed Jan. 6 was one of the lowest concerns for voters across the spectrum.
"This is not only of little concern to all of us, it's of little concern to the American people," Johnson said, adding that Democratic lawmakers' focus on the insurrection will be beneficial to Republicans, "because we're talking about the problems and the challenges that hard-working American families actually care about."
Finding Unity
Republican unity is a goal for leadership as their party seeks to win control of the House, but divisions have sprung up in the past year, often involving members who are either outspoken against Trump, including Reps. Liz Cheney (Wyo.) and Adam Kinzinger (Ill.), or those who've taken up Trump's bombastic style, including Reps. Paul Gosar (Ariz.) and Marjorie Taylor Greene (Ga.).
Those divisions were on full display last year when Cheney, then serving as conference chair, publicly broke with other leaders over Jan. 6 and Trump.
This year, Conference Chair Elise Stefanik (R-N.Y.) told reporters they would see "a unified Republican Party, and a laser focus on issues that matter to every American." None of the top leaders mentioned Trump in their opening remarks to the press.
The focus on policy doesn't mean Republicans are distancing themselves from Trump. Rep. Carlos Giménez (R-Fla.), who also faces a more challenging re-election than many of his colleagues, said Trump is "going to continue to be a big factor in my district."
"A lot of the reason why Hispanics really kind of gravitated to him is that he actually did what he said he was going to do," he said. "And they liked his policies."
To contact the reporter on this story: Emily Wilkins in Ponte Vedra Beach, Fla., at ewilkins@bgov.com
To contact the editors responsible for this story: Kyle Trygstad at ktrygstad@bloombergindustry.com; Heather Rothman at hrothman@bgov.com