House Democrats to Offer Bill to Rein in Trump Spending Plans
Bloomberg Government subscribers get the stories like this first. Act now and gain unlimited access to everything you need to know. Learn more.
House Democrats plan to introduce a bill that would require the Justice Department to investigate when watchdogs say officials have broken the law on government spending, and could lead to employees being fired, the head of the House Budget Committee said.
Rep. John Yarmuth (D-Ky.) is "pretty close" to finalizing the legislative language of a bill that would broadly rein in the president's flexibility with funds appropriated by Congress, the committee chairman said. The use of funds by the president is a major concern for Democrats after Donald Trump's administration withheld aid for Ukraine and transferred military funds to build more fencing on the U.S.-Mexico border. The issue gained added urgency since Trump signed into law trillions of dollars in tax and spending measures to respond to the coronavirus.
"The fundamental purpose of the legislation is to reassert Congress's power of the purse," Yarmuth said in a phone interview Monday.
The bill would strengthen the Impoundment Control Act (Public Law 93-344) and give Congress more control over federal funding, Yarmuth said. The 1974 law bars the executive branch from substituting its own spending priorities for those prescribed by Congress, but it has few enforcement mechanisms, he said. Yarmuth's bill would amend the Impoundment Control Act so that it mirrors the enforcement of the Antideficiency Act, the law that bars the executive branch from spending money that hasn't been appropriated.
That law calls for administrative discipline, sometimes including suspension without pay or removal from office, when the law is broken. The law allows fines and imprisonment but officials have historically relied on administrative discipline instead.
Yarmuth's bill would also require the Justice Department to investigate instances in which the Government Accountability Office determines officials have violated the Impoundment Control Act, he said.
"The Impoundment Control Act doesn't have many enforcement mechanisms," Yarmuth said. "The Antideficiency Act does. So we apply some of those enforcement mechanisms, the ability to terminate someone for violating it, the obligation of the Justice Department to investigate referrals from GAO when they see a violation, so forth."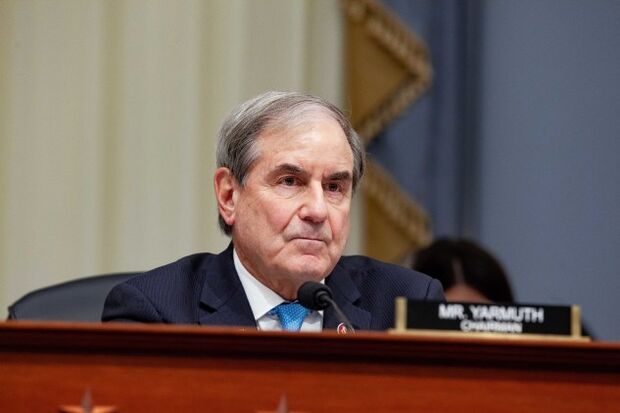 There may be bipartisan interest in bolstering the Impoundment Control Act, though Republicans haven't commented on the specifics of Yarmuth's plan. The Senate Budget Committee advanced in November a bill (S. 2765) by Chairman Mike Enzi (R-Wy.) that would require the administration to obligate funds within 60 days of when they're set to expire, a measure that would allow lawmakers to block a White House attempt to rescind funds without congressional approval. While both Budget Committee chairmen have eyed the Impoundment Control Act, Yarmuth has said his bill will go further than Enzi's to strengthen the law.
House Budget Committee Ranking Member Steve Womack (R-Ark.) also hasn't commented on Yarmuth's bill directly, but has criticized the administration's transferring of military funds to pay for the border wall.
"I have some serious concerns about the executive branch's recent decision to substitute its judgment on key defense funding decisions that were made by the Congress of the United States," Womack said at a March 11 hearing.
Coronavirus Stimulus Oversight
The budget process bill is particularly important now that Congress has appropriated trillions of dollars to respond to the virus, Yarmuth said.
"The magnitude of the CARES Act calls for a lot of attention to transparency and to accountability," Yarmuth said.
In a statement accompanying his signature of the CARES Act (Public Law 116-136), Trump said the Special Inspector General for Pandemic Recovery, or SIGPR, cannot go to Congress if refused information by agencies about loans and investments made by the Treasury secretary. Creation of the oversight post was a key concession by Senate Republicans during the bill's development, sought by Democrats to ensure oversight over hundreds of billions of dollars in potential loans and spending.
Yarmuth recently sent acting White House Office of Management and Budget Director Russell Vought a letter asking that Vought reply by April 30 detailing how OMB will "carry out its responsibilities" on coronavirus legislation "in a manner that ensures that the executive branch's judgment is not substituted for the judgment of the Congress," along with other questions about the expenditure of funds.
Yarmuth said in the interview he doesn't expect Vought to respond.
"This administration pretty much thumbs its nose at Congress consistently, so we'll see," he said.
The size of the CARES Act, which included more than $2 trillion in tax and spending measures, and the law's broad language, make Congress' oversight role particularly important, said Bill Hoagland, a senior vice president at the Bipartisan Policy Center and former Senate Budget Committee staff director. Hoagland said he supports Yarmuth's approach of adding Antideficiency Act enforcement mechanisms into the Impoundment Control Act.
"If ever there was a need for this, it is now, from an oversight and control perspective," Hoagland said in a phone interview Monday. On the CARES Act, he added, "They needed to pass it fast, they needed flexibility, but when you do that and there are not a lot of strings attached, it raises opportunities for mischief."
Withheld Ukraine Aid Violated Law, GAO Says
The Government Accountability Office said in January the White House Office of Management and Budget violated the Impoundment Control Act when officials temporarily withheld $214 million in aid to Ukraine for policy reasons.
Yarmuth said he isn't sure when the bill will be introduced, and that he's not in a rush because the House doesn't appear likely to vote on any bills soon. He said House leaders are considering doing virtual committee work while lawmakers are away from Washington because of the coronavirus.
The House is not expected to meet before May 4, according to Majority Leader Steny Hoyer (D-Md.).
To contact the reporter on this story: Jack Fitzpatrick in Washington at jfitzpatrick@bgov.com
To contact the editor responsible for this story: Zachary Sherwood at zsherwood@bgov.com
Stay informed with more news like this – from the largest team of reporters on Capitol Hill – subscribe to Bloomberg Government today. Learn more.