House Democrats in Trump Seats Resist Raising $174,000 Pay
Some in pivotal seats oppose COLA, others not commenting on it
Leadership favors a pay bump: 'We're going to have a vote on it'
Democrats from districts Trump won in 2016 have been trying to convince their leaders that they could lose the House majority if they're viewed as helping themselves to a pay raise.
"The people of my district make $81,000 on average. $174,000 is enough money," said Rep. Angie Craig (D-Minn.), who holds one of the 31 seats where voters chose both Trump and a House Democrat.
"I think we made it clear that this is not the time for a pay raise," said Rep. Susie Lee(D-Nev.), who like Craig represents a district Trump carried. "I came here to work on health care, raising the minimum wage. That's what we need to be working on right now."
Pro-Trump Ticket-Splitters Will Be Key In These House Districts
So far the vote on a vehicle allowing lawmakers and their staffs to get a rare cost-of-living bump has been delayed, not scrapped, with private talks continuing.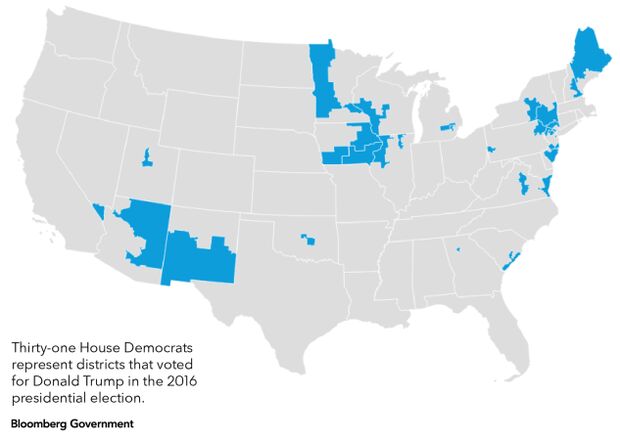 Other anti-COLA Democrats include Reps. Joe Cunningham (S.C.), whose district gave Trump 54 percent of the vote; Jared Golden (Maine), whose constituents gave Trump 51 percent of their votes; Abigail Spanberger (Va.), whose district gave Trump 50 percent; Tom O'Halleran (D-Ariz.), and Cindy Axne (Iowa), whose constituents gave Trump 48 percent of the vote; and Ben McAdams (D-Utah), from a district Trump won with 39 percent of the vote.
"There are a handful of folks who are in the same line of thought. You just have to count the numbers," Cunningham said in an interview.
No Comment
Some of the other Trump-district Democrats declined to comment — notably including Rep. Cheri Bustos (D-Ill.) the head of the Democratic Congressional Campaign Committee, which works for the re-election of House incumbents.
Bustos is in a particularly challenging position.
She's responsible for protecting her party's House majority and she'll be running for re-election in a district that chose Trump over Clinton — a district with a median household income of $48,036.
BGOV Cheat Sheet: Congressional Pay Raises
One more complication: Her first congressional campaign platform advocated a 10 percent pay cut for members of Congress and a freeze on pay rates until there's a balanced federal budget.
Vote `At Some Point'
Majority Leader Steny Hoyer (D-Md.) has long backed the paycheck COLA for members and their staffs.
"We're going to have a vote on it at some point in time,"he told reporters after the leadership decided against including the Legislative Branch spending bill in the first fiscal 2020 "minibus."
Congress Pay Spat Drops Bill From Spending Plan
The $174,000 salary for rank-and-file members hasn't been increased since 2009 (leaders are paid more.)
House Minority Leader Kevin McCarthy (R-Calif.) said he supported the pay increase. "This cannot be a House only for millionaires," he said.
Caucus Chairman Hakeem Jeffries (D-N.Y.) told reporters that talks about what to do about the COLA were continuing among Hoyer, McCarthy, and Minority Whip Steve Scalise (R-La.)
The Legislative Branch appropriations bill originally planned for inclusion in the first fiscal 2020 minibus (H.R. 2740) lacked language to block an automatic cost-of-living adjustment (COLA) for lawmakers. If allowed to take effect, the COLA would provide about a 2.6% raise, or $4,500.
The leadership's pro-COLA position makes sense, said Daniel Schuman, policy director for the advocacy group Demand Progress.
"Members of Congress can go and be lobbyists and make more," he said in a telephone interview. "Having them make more money is an anti-corruption and keeps them from going somewhere else."
Rep. Ron Kind (D-Wis.), who's serving his 12th term, has seen the pay-raise debate play out both before and after the creation of the automatic COLA.
"I knew that this would be weaponized. It was weaponized back then too," he said in an interview. "Unfortunately, that's just the political reality in which we live."
While the leaders of the two parties were negotiating a pay-raise strategy, the National Republican Congressional Committee sent out a press statement that's no longer on the organization's website. It said, "Apparently making $174,000 a year, which is more than three times the average American's salary, just isn't enough for these socialist elitists."
Kind, whose district was carried by Trump, said he didn't keep the money when he got a COLA.
"Last time, I gave the COLA increase away to charity, so I didn't personally benefit from it. If it passes this time, I'd probably be doing the same thing again," he said.
To contact the reporter on this story: Katherine Scott in Washington at kscott@bgov.com
To contact the editors responsible for this story: Katherine Rizzo at krizzo@bgov.com; Bennett Roth at broth@bgov.com