House Democrats Hope to Defy History by Touting Legislative Wins
Democratic campaign chair Maloney says party fixing problems
Infrastructure, reconciliation bills have ways to go in Congress
House Democrats' ability to defy historical trends and retain the majority in 2022 may hinge on their success in passing ambitious legislation on issues such as infrastructure and taxes.
House Democrats will campaign as the party that's getting "results" for the American people in the face of Republican "recklessness," said Democratic Congressional Campaign Committee Chair Sean Patrick Maloney (N.Y.) in an interview with Bloomberg Government.
"We're going to deliver results for the American people, we're going to fix tough problems, and we're going to bring that record of results to the voting booth," Maloney said.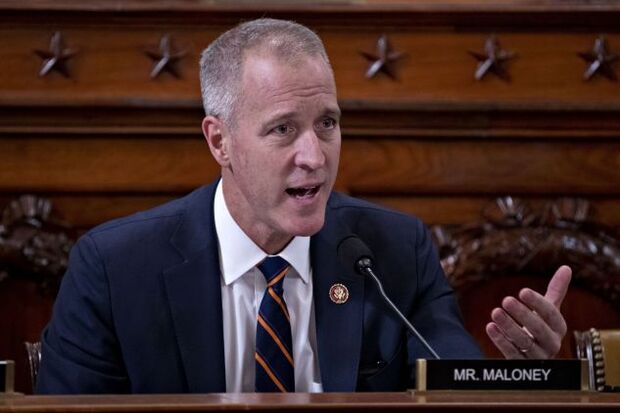 Maloney touted an expanded child tax credit that was included in a pandemic relief package (Public Law 117-2) that Congress cleared along party lines in March. He promoted a fast-growing economy and "shots in arms" through the administration of hundreds of millions of doses of the coronavirus vaccine.
"I think that's a hell of a start for six months in office," he said, referring to the time Democrats have had control of Congress and the White House.
Read More: Democrats Tout Child Tax Credits With Ad Blitz in Key States
House Democrats have little room for error in the 2022 midterms. Republicans need a net gain of only five seats to win a majority—much smaller than the average gain of more than 20 seats the out-of-power party has made in midterm elections since World War II. Republican-led legislatures will redraw more congressional districts to their advantage than Democrats before the 2022 elections are held under new maps.
Plugging Successes
As members prepare to return to their districts for a seven-week recess, Maloney is encouraging them to talk about what Democrats have done and will do. That includes highlighting key pieces of yet-to-pass bills, including new investments "in the most critical areas of our economy, both our people and our critical infrastructure," as well as Democrats' plans to make "corporations and billionaires pay their fair share."
Maloney said Congress needs to repeal a cap on state and local tax deductions, a major issue in high-tax states such as New York.
A bipartisan group of senators announced Wednesday they agreed on a $550 billion infrastructure package. That proposal still faces obstacles, including criticism from progressives who don't believe it would provide enough money for public transit and other areas.
Speaker Nancy Pelosi(D-Calif.) has also said House sign-off for an infrastructure measure is contingent on agreement on a larger reconciliation package still being negotiated that would include Democratic priorities such as child care, paid leave, and expanding Medicare.
The infrastructure bill and reconciliation package, which cannot be filibustered in the Senate, may be among the few remaining chances Democrats have to get major policies signed into law before the election year. House-passed measures on policing overhaul, voting rights, gun control, and a path to citizenship for undocumented people brought into the country as children have stalled in the Senate. A bill the Senate passed to make the U.S. more competitive against China (S. 1260) is stuck in the House.
Maloney criticized voting curbs being passed in GOP-controlled states as "Jim Crow-style laws that are designed to suppress the vote." The House passed a package (H.R. 1) along party lines that included an overhaul of voting and campaign-finance laws. But the measure hasn't moved in the Senate, where it would need 60 votes to overcome a filibuster. Democratic Sens. Joe Manchin (W.V.) and Kyrsten Sinema (Ariz.) have also opposed changing the rules to eliminate the filibuster and ease passage of that legislation.
Democrats' ability to push their agenda may be overshadowed by the spike in coronavirus cases because of the more transmissible delta variant and resistance of a large segment of the population to getting vaccinated.
Maloney blamed some of that problem on Republicans.
"If people are going to have to put their masks back on, they should know it's because the Republicans have been reckless in talking down the vaccine when they should have been supporting the effort to end the pandemic," he said.
National Republican Congressional Committee spokesman Michael McAdams rejected Democratic claims to major policy achievements.
"All that House Democrats have accomplished is saddling Americans with rising costs, surging violent crime and a crisis along our southern border," he said in a statement.
To contact the reporters on this story: Emily Wilkins in Washington at ewilkins@bgov.com; Greg Giroux in Washington at ggiroux@bgov.com
To contact the editors responsible for this story: Bennett Roth at broth@bgov.com; Kyle Trygstad at ktrygstad@bgov.com