House Boosts Maximum Pay for Hill Staff Above Lawmaker Salaries
Staffers can now top out at $199,300 per year
Pelosi said move will help retain experienced personnel
House staffers can now make more than their lawmaker bosses, Democratic leaders announced Thursday.
The move, revealed in a Dear Colleague letter from Speaker Nancy Pelosi, is a bid to attract and retain expert staffers on Capitol Hill who have more lucrative options in the private sector.
The new maximum pay for staffers is $199,300. Most lawmakers make $174,000, though party leaders make more.
"This order will help the Congress recruit and retain the outstanding and diverse talent that we need," Pelosi (D-Calif.) said in the letter. "It also helps ensure parity between employees of the House of Representatives and other employees of the Federal Government."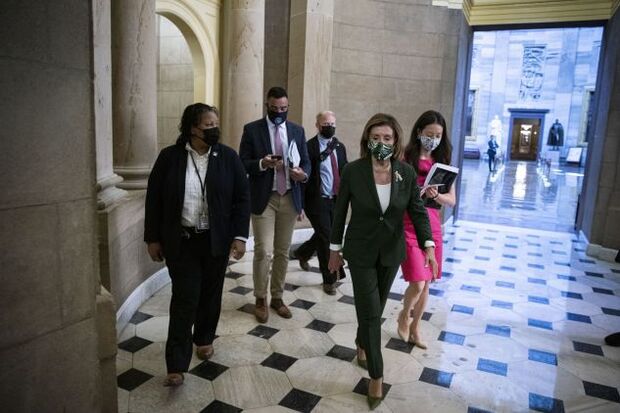 The higher cap may not affect the salaries of most Hill employees. Lawmakers determine how much their staffers make, and pay varies widely depending on the role.
But it's part of a larger push from House leaders to address high turnover rates among Hill staffers and maintain expertise on Capitol Hill.
In the spring, Majority Leader Steny Hoyer (D-Md.) and Democratic Caucus Chair Hakeem Jeffries (D-N.Y.), urged an increase in pay and benefits for staffers. They asked the House Appropriations Committee to boost the funds from which lawmakers pay their staff and requested a report from Chief Administrative Officer of the House comparing the benefits of Congressional staffers to the benefits of private-sector employees.
Congress Eager to Increase Staff Pay But Fear Voter Backlash (1)
Modernizing Influence
In her letter, Pelosi credited the change to the Select Committee on the Modernization of Congress and House Administration Chair Zoe Lofgren (D-Calif.), who also sits on the committee. Last Congress, the committee approved a recommendation to de-link member and staff pay.
The select committee also saw another staffer-related recommendation come to fruition on Thursday: the creation of a virtual human resources hub for offices to consult on payroll, diversity, staffer well-being, and recruitment.
Rep. Derek Kilmer (D-Wash.), chair of the modernization committee, praised both the announcements on pay and the HR hub. In a statement, Kilmer said they'd help Congress "retain highly skilled senior staff who build instructional knowledge, help deliver better results for constituents, and enable the institution to function better for the American people."
To contact the reporter on this story: Emily Wilkins in Washington at ewilkins@bgov.com
To contact the editors responsible for this story: Kyle Trygstad at ktrygstad@bloombergindustry.com; Bennett Roth at broth@bgov.com