Horse Racing Standards Proving Rare Ground for Bipartisan Comity
House committee advances bill backed by top senators
Democratic critic blames GOP, says Covid greater priority
Democrats and Republicans bitterly divided over the next steps to help Americans struggling with the coronavirus pandemic and its blow to the economy are finding a piece of turf where they can agree: raising standards for U.S. horse racing.
The House Energy and Commerce Committee approved legislation Wednesday that would lead to national anti-doping and safety standards in the horse racing industry.
The bipartisan comity reflects the bill's potential benefits to the racing industry's fabled tracks in California, and to the Triple Crown venues in Kentucky, Maryland, and New York. Those states are also home to top legislators, notably Senate Majority Leader Mitch McConnell (R-Ky.), who faces a tough re-election challenge in November.
Precautions to slow the spread of Covid-19 curtailed this year's horse races, hurting a U.S. industry that supports more than 241,000 jobs and generates $15.6 billion in direct economic impact, according to Rep. Paul Tonko's (D-N.Y.) office. While the rate of fatal horse injuries fell last year to its lowest number in a decade, 441 thoroughbred horses died in 2019, the Jockey Club's Equine Injury Database reports.
"The coronavirus isn't thoroughbred racing's only challenge," McConnell said on the Senate floor Wednesday while introducing his horse racing bill. "In recent years, tragedies on the track, medication scandals, and an inconsistent patchwork of regulations have cast clouds over the future."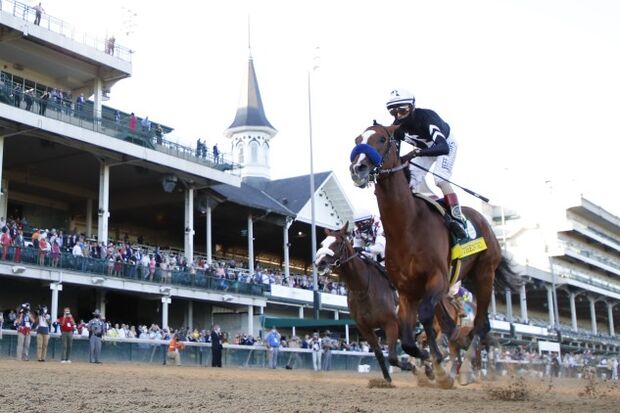 McConnell's measure would create an independent panel to develop the industry's anti-doping and race track safety programs, and establish a standardized list of allowed and banned substances for covered races, among other policies.
Tonko and Rep. Andy Barr (R-Ky.) amended their racing standards bill (H.R. 1754) to serve as the House companion legislation, and the Energy and Commerce panel approved it by a 46-5 vote. Tonko and Barr have worked together on the issue for more than five years.
Political Stakes
McConnell said he's trying to save a sport that's vital to his state. At a recent event with industry leaders, McConnell and Barr both stressed the economic importance of horse racing to Kentucky, home of the Derby, saying the industry supports 44,100 direct jobs and more than 16,000 indirect jobs in the state.
The majority leader's Democratic challenger, Amy McGrath, has raised the most of any candidate for the Senate this year, including incumbents, Federal Election Commission records show.
Sens. Kirsten Gillibrand (D-N.Y.) and Dianne Feinstein (D-Calif.) co-sponsored the measure.
"Congress must put an end to the harsh treatment of racehorses and solidify health and safety standards for both racehorses and racetracks," Gillibrand said in a Wednesday statement.
Gillibrand's state, which Senate Minority Leader Charles Schumer also represents, hosts the Belmont Stakes and has a racing industry sustaining around 19,000 jobs, according to the New York Racing Association. The sport is also vital to California, home of House Speaker Nancy Pelosi (D) and Minority Leader Kevin McCarthy (R).
Animal protection organizations, such as the Humane Society of the U.S. and the Animal Welfare Institute, and industry trade associations support the bill.
However, the bipartisan measure drew criticism from some Democrats who questioned making it a priority during the pandemic.
"Almost 200 thousand dead and kids staring at screens all day trying to learn while their parents try to hold it together. People and businesses face economic extinction," said Sen. Brian Schatz (D-Hawaii) in a tweet. "Senate Republicans are doing this."
Rep. Kurt Schrader (D-Ore.) raised concerns at the Wednesday markup that veterinary expertise wasn't properly involved in the bill's development. The National Horsemen's Benevolent and Protective Association, representing about 30,000 owners and trainers, also pushed back, saying their members weren't consulted about the measure.
"The national horsemen's group cautions elected leaders not to be misled by the wealthy few in the industry who continue to promote federal legislation in service of their own, private interests," wrote Eric Hamelback, the trade association's CEO, in a Sept. 4 opinion piece for the Courier-Journal in Louisville. "The elite who are pushing this bill have mischaracterized the industry and our views in the past."
To contact the reporters on this story: Megan U. Boyanton in Washington at mboyanton@bgov.com; Nancy Ognanovich in Washington at nognanov@bgov.com
To contact the editors responsible for this story: Robin Meszoly at rmeszoly@bgov.com; Sarah Babbage at sbabbage@bgov.com