Honey, Maple Syrup Must Have 'Added Sugars' Label by 2021: FDA
Label will provide percent Daily Value for Added Sugars
Manufacturers have until July 1, 2021 to comply, FDA says
Producers of maple and other kinds of sweet syrups will be required to say how much of federal recommended daily allowances of sugar their products provide but will avoid labeling they fear would confuse consumers, under new Food and Drug Administration guidance.
The guidance issued Tuesday would require manufacturers to label products with a "percent Daily Value for Added Sugars" instead of a gram amount,a move made to ease "concerns that consumers might misinterpret the Added Sugars label declaration to mean that manufacturers had added additional sugars to them," the FDA said in a press release. The FDA will give manufacturers until July 1, 2021, to update their labels.
The 2018 farm law (Public Law 115-334) included language prohibiting the Nutrition Facts label from requiring the declaration of the gram amount of added sugars for single-ingredient sugars, honey, agave and syrups, including maple syrup.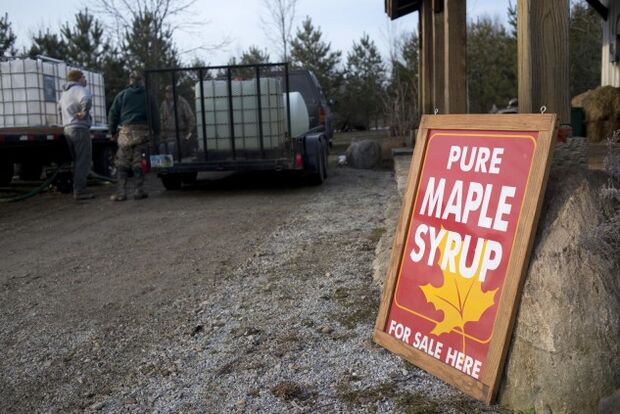 Within Dietary Guidelines
"I think it's misleading for a jar of 100% pure honey or maple syrup to label its sugars under the 'added sugar' category when nothing has been added to those products," said Rep. Chellie Pingree (D-Maine) during a 2018 hearing with former FDA Commissioner Scott Gottlieb. Maine was one of the top three maple syrup producing states in 2017, according to data from the Agriculture Department.
The FDA said in its statement the agency looked at the farm law language "more closely" when finalizing the guidance "in a way that provides consumers with information as to how consumption of these products can be accommodated within the recommendations of the dietary guidelines," while at the same time "reducing the potential" for consumers to misinterpret single-ingredient sugars and syrups.
Additionally, the guidance would require certain cranberry products that add sugar for flavor to include a symbol that leads the consumer to a statement outside the Nutrition Facts label indicating "sugar has been added because cranberries are naturally tart."
To contact the reporter on this story: Teaganne Finn in Washington at tfinn@bgov.com
To contact the editors responsible for this story: Paul Hendrie at phendrie@bgov.com; Jonathan Nicholson at jnicholson@bgov.com