Homebound Viewers Blitzed With Election 2020 Coronavirus Ads (1)
(Added quote in 13th paragraph)

For anyone watching television in the state of Kentucky, this isn't news: The coronavirus pandemic has dominated political advertising.
Ads for and against Senate Majority Leader Mitch McConnell's (R) re-election aired for a remarkable 30 straight days at one point. There have been so many virus-related TV spots in the race that it rivals even the presidential contest in volume.
McConnell's likely Democratic challenger, Amy McGrath, has aired her ad "Powerful" more than 2,500 times—the third-highest total of any single political ad this cycle. In it, she accuses McConnell of "taking a victory lap" on defeating the virus while millions are unemployed and thousands dead. It ends with the kicker, "What good is a powerful senator if he's hurting us?"
The McConnell spot "Urgent Help," a highlight reel for his role in passing trillions of dollars in virus-related spending, aired nearly 1,800 times. It proclaims "one leader brought our country together."
More than 10,000 virus-themed ads total have aired in that race as of Memorial Day, the most of any Senate contest nationwide.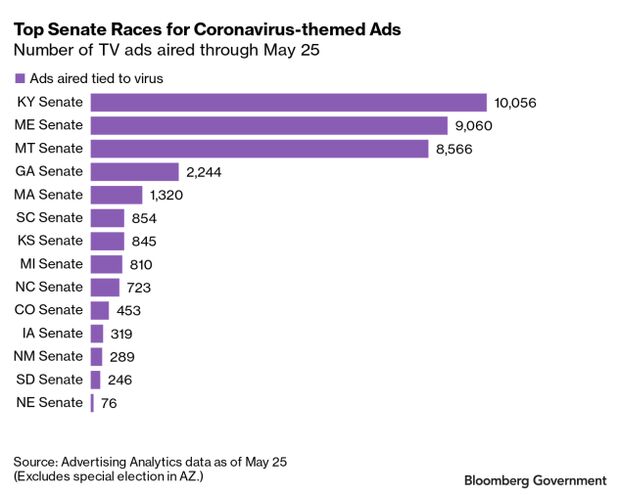 In fact, since March 16, when the first coronavirus-related ad aired, about half of all ads aired for House, Senate and presidential contests have mentioned the virus. Such ads made up the majority of TV spots on 36 days since, according to an analysis by Bloomberg Government, using data from the firm Advertising Analytics.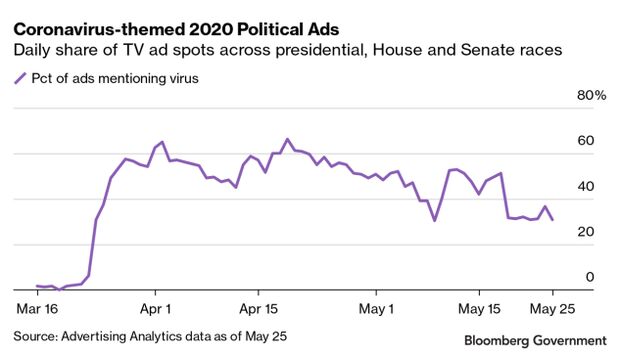 That first coronavirus ad ran on stations in New York. It criticized President Donald Trump's coronavirus response and called on Rep. Tom Reed (R-N.Y.) to defend health care coverage. The ad, sponsored by a Democratic-leaning group called the Health Care Education Project and backed by a health care workers union and New York hospital associations, aired about 150 times that day.
Republicans soon responded with TV ads blaming China and attempting to link former Vice President Joe Biden, Trump's presumptive Democratic challenger, to that country. Since then, the two sides have been brawling over blame for the pandemic in ads sponsored mainly by super PACs funded by unlimited contributions from billionaires, companies and unions.
"Donald Trump said he would put America first, and now he has: The United States leads the world in coronavirus cases," says an ad from the pro-Biden super PAC Priorities USA.
"China is killing our jobs and now killing our people," an ad from the pro-Trump super PAC America First Action said. The ad then cuts to Biden saying of the Chinese: "They're not bad folks."
As stay-at-home orders and their economic effects took hold, the number of political ads related to the virus exploded. Through Memorial Day, ads referencing coronavirus have aired more than 72,000 times across the country in presidential, Senate and House contests, totaling an estimated $21 million spent, according to Advertising Analytics.
Campaigns often try to avoid difficult issues in advertising, but "this is so big that you can't avoid it," said political scientist Travis Ridout, professor of government at Washington State University and co-director of the Wesleyan Media Project, which studies political advertising. "The trick is how to find an effective way to frame it," Ridout added in a phone interview.
Ridout questioned whether voters would respond to the Republican strategy of blaming China for the pandemic and linking Biden to that country. "I don't even quite understand what the message is about," he said. "For the average voter, it's a confusing message that doesn't resonate."
Republicans and Democrats have sponsored roughly equal numbers of ad airings. Democrats got off to a more robust start while Republicans more gradually increased their percentage of ads mentioning the virus.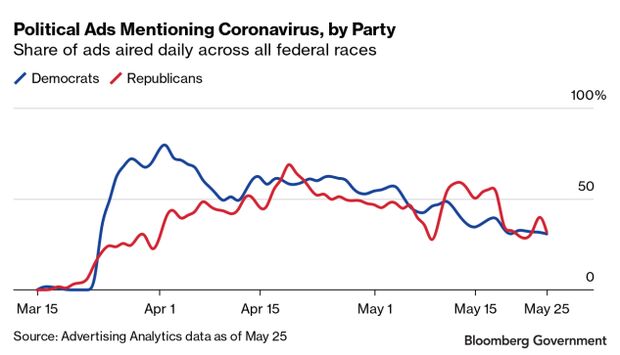 Overall, ads funded by candidates outnumbered those sponsored by non-candidate organizations such as super PACs, trade groups and what critics call "dark money" nonprofits, which don't have to disclose their donors.
The picture is quite different by party: Republicans aired more than twice as many candidate-funded ads tied to the virus, while Democratic groups, primarily super PACs, aired nearly three times as many as Republican groups. Biden's campaign has been almost entirely off the air, with the slack picked up by super PACs such as Priorities USA to hit back at Trump instead.
Senate campaign ads weigh heavily toward candidate-sponsored airtime, with about 25,000 aired ads from candidates, compared with 7,000 from non-candidate outside organizations.
'Ultimate Tell'
Bloomberg Government's review of more than 100 unique TV spots showed distinct differences in messaging. Which messages are most effective on this pivotal issue could be the key not only to who wins the White House, but also who controls the Senate, where Democrats need to flip at least three seats to take the majority.
"The content of advertising is the ultimate tell," said political scientist Ken Goldstein, using the term to describe how to know if someone's bluffing in poker. Ads cost money, so "if you want to know what a campaign is about, look at what the advertising is about," said Goldstein, a professor of government at the University of San Francisco who's studied political ads for decades.
The predominance of spending on ads referring to the pandemic shows that, in recent months at least, just about everyone knows the virus is what's on voters' minds.
Priorities USA began sponsoring among the costliest coronavirus TV ads in late March, spending nearly $1.5 million for a message that quoted Trump minimizing the effects of the virus while a graph depicted the number of cases skyrocketing. The ad, which ran nearly 3,000 times, ended with Trump saying: "I don't take responsibility at all."
America First Action responded in April with one of the most expensive Republican coronavirus ads so far. The pro-Trump super PAC spent over $800,000 on a message seeking to direct voters' wrath to the virus' country of origin: China, and to accuse China of "putting Americans' health in danger."
This year's most competitive Senate races also have been dominated by a torrent of coronavirus-themed ads from late March through nearly all of April. While Trump's messaging has continued to hammer on the theme of blaming China, not all Republican Senate candidates in key races are following suit.
Two Republicans in tight races—Sens. Steve Daines in Montana and Martha McSally in Arizona—have been supported by TV ads focusing on China's role in the pandemic. But others, including McConnell and Sen. Susan Collins (R-Maine), have avoided talking about China in ads.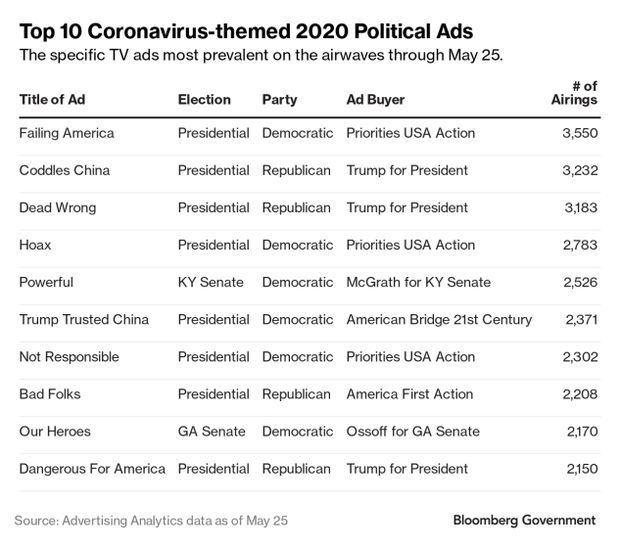 In Maine, where Collins is one of the most vulnerable senators defending her seat this fall, the tally is nearly identical—with coronavirus consuming most of the broadcast time, more than 9,000 virus-related ads airing. Republican-sponsored Senate ads in Maine saw an unbroken streak from April 7 through May 11, when every single ad aired related to the coronavirus, data show.
Among the groups jumping into the Maine race is a dark-money nonprofit, Maine Momentum. The group, which opposes Collins, has run nearly 1,000 virus-themed ads against her so far.
Collins and Sen. Cory Gardner (R-Colo.), who's also locked in a tough re-election battle, are highlighting efforts to work with Democrats to provide relief from the pandemic, according to Jack Pandol, spokesman for the Republican-allied nonprofit One Nation and super PAC Senate Leadership Fund.
"Americans could care less about party labels during a crisis; they want to see results," Pandol said in an email. "Many Senators have powerful stories to tell—like Susan Collins' authorship of the Paycheck Protection Program or Cory Gardner's extraordinary work securing PPE for Colorado—and we believe their constituents will reward them for their leadership."
"Republican senators are trying to rewrite their records of opposing additional aid for hospitals, health care workers, and testing while pushing through a massive corporate slush fund with zero oversight," Helen Kalla, spokeswoman for the Democratic Senatorial Campaign Committee, said in an email. "Voters will see through these Republicans' transparent attempts to take credit for relief they opposed."
It's not yet clear which messages the GOP as a whole will adopt throughout the rest of the campaign, according to Goldstein. "Republicans are saying they think China can really move votes," he said. "They can say it, but if they're not advertising about it in Senate elections, they don't believe it."
The election ultimately will be decided not by advertising but by the reality of the virus, its economic impact and efforts to control it, Goldstein added. More positive messages could come if there are signs of improvement closer to the election, but "if there is no economic improvement and there is no health improvement, then there's more China."
To contact the reporters on this story: Aaron Kessler in Washington at akessler@bloombergindustry.com; Kenneth P. Doyle in Washington at kdoyle@bgov.com
To contact the editors responsible for this story: John Dunbar at jdunbar@bloomberglaw.com; Kyle Trygstad at ktrygstad@bgov.com