Historic Wrongs in Agriculture Tackled Head-On in Agency's Staff
'I don't remember it being this diverse ever,' official says
Advisor sees 'trust deficit' among disadvantaged farmers
Bloomberg Government subscribers get the stories like this first. Act now and gain unlimited access to everything you need to know. Learn more.
President Joe Biden's Agriculture Department is taking on decades-old disparities that harm marginalized communities by pushing diversity within its own ranks.
"I've been around this place for a really long time," said Janie Simms Hipp, USDA general counsel and a Chickasaw Nation citizen. "I don't remember it being this diverse ever."
Several actions in that direction came from Dewayne Goldmon, senior advisor for racial equity to the agriculture secretary.
To progress toward his vision of an equitable USDA, he coordinated a cross-departmental assessment on the current status of the agency, which included how the staffing composition compares to the overarching makeup of the U.S. agricultural community.
"I think we've got some work to do," said Goldmon, an Arkansas farmer who was the executive director of the National Black Growers Council.
The representation of marginalized communities at key levels within the department ensures different perspectives are heard when policies are developed, he said in an interview, adding that the alternative can be "catastrophic."
The department, which has only been led by one woman and one Black man in 136 years, is prioritizing social justice initiatives under Secretary Tom Vilsack, including $700 million for farm and meatpacking workers and $16.6 million for disadvantaged and veteran farmers and ranchers.
The moves are meant to help prop up farmers of color in an industry that's largely White-dominated. More than 96% of the nation's roughly 2 million farms are run by White producers, while Black farmers claim about 35,000 farms, according the most recent agriculture census, conducted every five years.
Red Tape
Goldmon's internal analysis also looked at how the agency engages with agricultural producers. Early evidence showed one potential barrier for disadvantaged farmers to accessing loans or other aid could be the complicated paperwork and the time it takes for the applications to process.
The 17 agencies within USDA offer a variety of programs to serve different populations. For instance, the Farm Service Agency operates credit and loan programs. To begin to apply for a direct farm operating loan, the farmer must fill out nine forms, including a three-year financial and production history, creditor list, and business plan.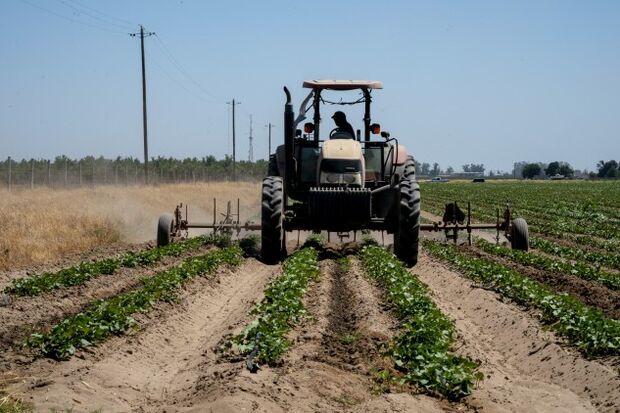 Goldmon wants to smooth out that red tape. He's also looking for ways to boost opportunities for all farmers to participate in procurement and contracting.
The next step is to summarize the findings and begin to implement recommendations "to get us to a better point," Goldmon said.
Working toward equity makes good business sense, he said. "Discrimination comes at a pretty staggering cost," he said. "There's a need for all sectors of agriculture to operate at peak efficiency."
Social Justice Steps
Vilsack, who is White, faced criticisms during his nomination that he wasn't aggressive enough in addressing systemic barriers for minority farmers and ranchers during his eight years as former President Barack Obama's agriculture secretary. He's since stood at the helm in coordinating help for marginalized agriculture producers, advancing the Biden administration's policy priority of racial equity.
Vilsack's USDA Return Spurs GOP Praise, Environmentalist Concern
Some of the department's efforts are receiving pushback. The agency attempted a $4 billion debt relief program for disadvantaged farmers, but that initiative is stuck in limbo as lawsuits filed on behalf of White farmers resulted in preliminary injunctions in several federal district court cases. Those plaintiffs argued that they would have been eligible for the loans but for race.
Deputy Secretary Jewel Bronaugh said in an interview that she wants to prevent marginalized agriculture producers who've suffered losses of land, credit, and market opportunities from exiting the industry.
"We have lost a lot in terms of the quality of production, the creativity, the focus, and the ingenuity of our socially-disadvantaged farmers and ranchers," said Bronaugh, the first Black woman to fill the No. 2 role.
'Trust Deficit'
The faces leading the new administration's department look more like the diverse communities they serve, and the officials also have dedicated their professional lives to furthering their causes.
Monica Armster Rainge, who now serves as deputy assistant secretary for civil rights, previously was the director of land retention and advocacy for the Federation of Southern Cooperatives/Land Assistance Fund, a nonprofit cooperative association that aids Black farmers.
Deputy Under Secretary for Farm Production and Conservation Gloria Montaño Greene formerly filled the role of deputy director at Chispa Arizona, a League of Conservation Voters program focused on growing Latino voices and civic engagement.
Cheyenne River Sioux tribe member Heather Dawn Thompson directs the Office of Tribal Relations, an appointment that resonates culturally, said Hipp, a former OTR director herself.
New USDA Tribal Liaison to Propel Biden Agenda of Racial Equity
A Native American woman filling the post "makes perfect sense," Hipp said in an interview. "In many native cultures historically, agriculture and food production is matrilineal in nature."
Producers once wronged and perhaps wary of the Agriculture Department should give the agency another chance to work with them, Hipp and Goldmon both said.
"I still feel this trust deficit," Goldmon said. "The more that we can get our customers convinced that we understand their situation, I think the better off we are. And there's a lot of promise in that approach."
To contact the reporter on this story: Megan U. Boyanton in Washington at mboyanton@bgov.com
To contact the editors responsible for this story: Fawn Johnson at fjohnson@bloombergindustry.com; Sarah Babbage at sbabbage@bgov.com
Stay informed with more news like this – from the largest team of reporters on Capitol Hill – subscribe to Bloomberg Government today. Learn more.