Here's Where Statehouse Power Could Be Reversed on Election Day
Arizona, Maine, Michigan, Minnesota, Nevada are toss-ups
Legislative competitiveness highest since 2010, report says
Bloomberg Government subscribers get the stories like this first. Act now and gain unlimited access to everything you need to know. Learn more.
Abortion access could change in Arizona and Michigan. Tax cuts could get to governors' desks in Minnesota and Maine. Universal mail-in ballot laws could be upended in Nevada.
Political turnover is within reach for out-of-power parties in a handful of states where control of state legislatures was narrowly divided heading into this year's election.
Those races, which tend to get less attention than top-of-the-ticket statewide contests for governor and U.S. Senate, determine who has the upper hand on state policy. And a lot of them are just too close to forecast.
Louis Jacobson, who follows the statehouses for Sabato's Crystal Ball at the University of Virginia's Center for Politics, said he no longer anticipates a red wave. "It seems more like it's going to be a more neutral environment," he said. "Each side can see factors that will help them."
Republicans start with an overall edge, having controlled about two-thirds of state legislative chambers since 2010, according to Governing.
Democrats have spent more than $88 million on statehouse races across the nation, according to the campaign commercial tracking firm AdImpact. Republicans have spent nearly $71 million on statehouse races. Independent spending at the statehouse level is about $5.5 million, according to AdImpact's data.
Sabato's Crystal Ball ranks as toss-ups the contests for control of the Arizona state Senate, Maine state House and Senate, Michigan state House and Senate, Minnesota state House, and the Nevada state Senate.

ARIZONA
A partisan flip of both the state House and Senate is possible, but Kim Fridkin, foundation professor of political science at Arizona State University's School of Politics and Global Studies, will be watching for a change of control of the state Senate, which now has a 16-14 GOP edge.
With two abortion-restricting laws being challenged in court, that issue may spur higher turnout than usual for a midterm election, which in turn could benefit Democrats, Fridkin said.
State Sen. Raquel Teran, head of the state Democratic Party, said she's been warning voters that if Republicans maintain their majority, they could reduce access to contraception and ban certain forms of birth control.
Republicans have multiple reasons to turn out to vote as well, with tight contests for governor, US senator, and secretary of state.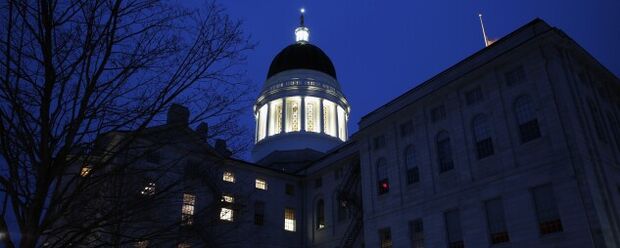 MAINE
Democrats in Maine are at risk of losing their two-chamber legislative grip—a nine-seat state Senate edge and a 15-seat House margin.
More than one-third of those now serving aren't on the Nov. 8 ballot, according to Pluribus News. "Both parties view this as a toss-up," said Mark Brewer, professor of political science at the University of Maine.
Maine is the most home heating oil-dependent state in the nation, and candidates have focused on the cost of energy, he said, along with economic issues such as whether to more aggressively challenge federal restrictions on lobster harvests.
Fiscal policy will be the top priority, said Kathleen Dillingham (R), outgoing state House minority leader. "State of the economy is probably the Number One concern for everyone right now in the Republican Party," she said.
Cutting state funding for abortion access could be on the agenda of a Republican-controlled Legislature, according to the state party's platform. The party also supports changes to election law, such as requiring proof of residency at the polls, and it opposes same-sex marriage and the discussion of race and gender identity in schools.
Brewer said a change of control probably would spur legislative fights over public school funding and parental control over curricula.

MICHIGAN
Democrats are within striking distance of flipping both the House and the Senate.
The state's nonpartisan redistricting commission redrew the legislative maps in a way that made them less Republican-leaning, Sabato's Jacobson said. Michigan also is "ground zero" in the abortion battle, with a constitutional question on the statewide ballot.
Since most GOP candidates for statewide offices are aligned with Donald Trump, "all those factors suggest there could be some Democratic energy there," he said.
Democratic candidates have focused on voting rights, business incentives, benefits for workers, and abortion, said Michigan House Democratic Leader Rep. Donna Lasinski. "Right now, the stakes couldn't be higher for bodily autonomy. We know those are the issues that are critically important," she said in an interview.
Republicans are highlighting their policies on the economy, crime, and cultural issues, said Jamie Roe, a Republican consultant working on state House races.
"We stand on the side of law enforcement and law and order against defund the police, and we're on the side of families dealing with out-of-control energy cost and inflation from out-of-control reckless spending," he said in an interview. "I think it's connecting with the voters."
GOP consultant Jenell Leonard, owner of the Lansing-based Marketing Resource Group, said she'll be watching whether "suburban women are more motivated to vote based on how their school district is involving them or not. Or are they going to vote based on their 12-year-old daughter that may have to encounter an abortion question at some point?"

MINNESOTA
Divided government is on the line in Minnesota, where Democrats have a five-seat edge in the state House and Republicans control the state Senate by a three-seat margin.
A lot will ride on whether Gov. Tim Walz (D), who's seeking re-election, succeeds with a get-out-the-vote effort that could benefit other Democrats, said Larry Jacobs, professor of politics at the University of Minnesota Humphrey School of Public Affairs. Republicans would benefit if there's low turnout in the metro area in the Twin Cities and the suburbs, he said.
State House Minority Leader Rep. Kurt Daudt (R) said the top priorities for his party include the "skyrocketing crime rate in metro areas." GOP responses to that problem could include adding programs like tuition forgiveness to make law enforcement training programs more attractive.
Other priorities are sentencing guidelines for judges and permitting and regulatory reform for mining, he said.
Economic issues have been one of the conversation drivers in the campaign, especially upstate, where environmentalists and job-hungry mining communities are at odds, Jacobs said.
If the GOP consolidates power, "we'll likely do some level of significant tax reform that will leave money in Minnesotans' pockets," Daudt said.

NEVADA
Republicans have a shot at erasing the Democrats' two-seat edge in the Nevada state Senate, in part because they're pushing the economy as a campaign issue, said Sergio Garcia-Rios, a professor at the University of Texas at Austin's Lyndon B. Johnson School of Public Affairs.
"We're fighting back about inflation, the cost of rent and housing," said Ted Pappageorge, Secretary-Treasurer of Culinary Workers Union Local 226, which represents hospitality and casino workers in the state. "We've got a huge problem with Wall Street companies buying up homes and apartments," he said, which drives up prices.
Inflation also is a top concern. Gas prices in the state averaged nearly $5 as of Nov. 3, compared to $3.77 nationally, according to AAA.
Health care remains an issue, particularly for Latino voters, said Garcia-Rios, who also serves as director of the LBJ/Univision National Voters Poll. US Sen. Bernie Sanders (I-Vt.) won the Nevada caucuses in his 2020 presidential bid in part by campaigning on access to health care, he said.
If there's a change of control, look for Republicans to move to overturn universal mail balloting, Sabato's Jacobson said.
Other states to keep an eye on as results come in:
Colorado: Republicans could gain a state Senate majority.
New Hampshire: Democrats could gain state Senate control.
New York: Republicans could win enough Senate seats to break up a Democratic Party supermajority.
North Carolina: The GOP could gain supermajorities in both chambers.
Wisconsin: The GOP could gain supermajorities in both house.
Legislative competitiveness is the highest it's been in even-year cycles since 2010, according to a report from Ballotpedia, which attributed the rise to "more open seat contests and incumbents facing more primary challenges."
With assistance from Alex Ebert, Jennifer Kay, and Chris Marr
To contact the reporter on this story: Keshia Clukey in Albany, N.Y. at kclukey@bloomberglaw.com
To contact the editors responsible for this story: Katherine Rizzo at krizzo@bgov.com; Fawn Johnson at fjohnson@bloombergindustry.com
Stay informed with more news like this – from the largest team of reporters on Capitol Hill – subscribe to Bloomberg Government today. Learn more.