Here's What I Learned Watching 1,309 Midterm Election TV Ads
Standout spots: Bacon on bacon, Warnock on pizza
Also worth watching: just a tad of party disloyalty
Democrats advertise about abortion law. Republicans focus on inflation.
You'll probably see the current president's face in a GOP commercial but good luck spotting his predecessor, who's not featured much, pro or con.
Thanks to the tracking company AdImpact, it's possible for someone with at least 10 hours on their hands to watch every campaign ad broadcast in every competitive race in every state.
So I viewed more than 1,300 US House and Senate spots that have aired since Labor Day.
Midterm Ad Messages Show Contrast in Party Approaches (Podcast)
Here's what stands out.
Abortion
Ads mentioning abortion—at least 241 and counting—almost exclusively are being aired by Democratic candidates and political groups. The narrators tend to be women, including OB-GYNs and those with personal stories of crisis abortions.
At least four of those have been aired by the campaign of Rep. Kim Schrier (D-Wash.), a physician. (Watch one of them HERE.) Her race against Republican Matt Larkin is among 31 rated as toss-ups by the nonpartisan Cook Political Report with Amy Walter.
Only a few Republicans mention abortion in their ads, with the dominant theme being opposition to abortion without restriction.
Worth watching: A spot in which Schrier says she "was outraged" by the Supreme Court overturning the Roe v. Wade precedent (watch HERE) and one in which Iowa state Sen. Zach Nunn (R), who's opposing Rep. Cindy Axne (D) in a swing district, says "good people can disagree on abortion, but Cindy Axne is too extreme." (Watch HERE)
Cost of Living
Republicans are focusing ads on inflation, after core consumer prices rose to a 40-year-high after the pandemic, the war in Ukraine and other events. A typical spot is set in a grocery store or at a gas station.
It's a pitch that TV viewers in California (the state with the most expensive gasoline on average) would be hard-pressed to avoid.
One from the Senate Leadership Fund, the leading super PAC working to elect a Republican Senate majority, is pretty typical in the way it accuses Sen. Catherine Cortez Masto (D-Nev.) of voting for President Joe Biden's "reckless spending" in a $1.9 trillion pandemic stimulus package (Public Law 117-2) the president signed in March 2021.
Cortez Masto's race is one of Cook's four toss-up contests that could tip control of the 50-50 US Senate. (Watch HERE)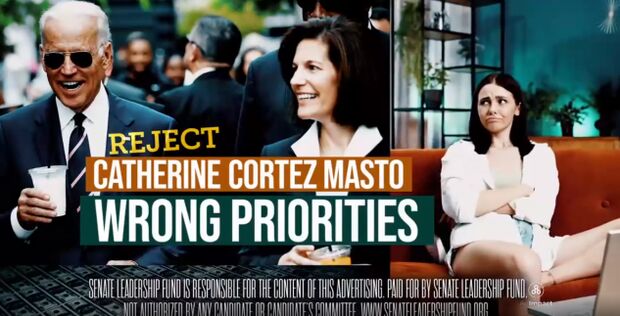 When Democrats run ads acknowledging rising prices, they tend to point out that they voted to let Medicare negotiate drug prices and to cap the cost of insulin at $35 per month— two provisions of a health care, climate change and tax measure (Public Law 117-169) Biden signed in August.
(Watch one from the Axne campaign HERE)
Threatening Faces
In districts that Biden won over Donald Trump in the 2020 election (when Biden was more popular than he is today), numerous GOP candidates are trying to capitalize on Biden's favorability slide.
New York nominee Francis Conole (D) is "a Joe Biden yes man," 22nd District rival Brandon Williams (R) says in one ad.
Rep. Tim Ryan (D-Ohio), the party's nominee for an open Senate seat, "pretends he's a moderate, but votes 100% with Biden and Pelosi for trillions in spending that gave us record inflation," Republican opponent JD Vance said in an ad that doubles down on the national personalization by showing Speaker Nancy Pelosi (D-Calif.). (Watch HERE)
Finding Trump's face in a general election ad turned out to be more of a challenge. Republicans bragged about his backing quite a bit during the primaries, but not so much anymore.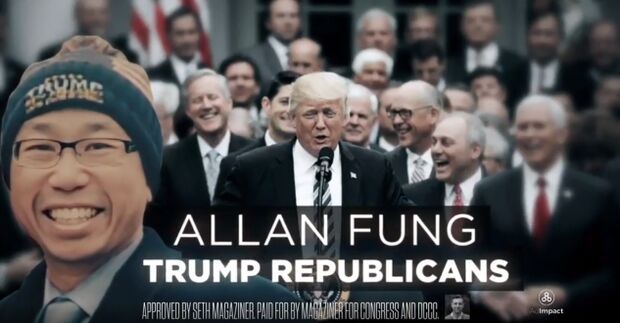 If you see him in a commercial, it's likely to be in places like Rhode Island, where Democratic ads in a district Trump lost by 14 percentage points bind Republican nominee, former Cranston Mayor Allan Fung, to Trump and House Minority Leader Kevin McCarthy (R-Calif.). The voiceover: "Trump Republicans. Too dangerous, too extreme." (Watch HERE)
It's a Crime
"Soft on crime" is an accusation that never goes out of style.
In this cycle, the theme's been picked up in two ways — by Republicans such as Sen. Ron Johnson (Wis.) who said his rival, Lt. Gov. Mandela Barnes, "supports the defund police movement," and by Democrats such as Rep. Angie Craig (D-Minn.), who's airing an ad in which a county sheriff praises her support of "more funding for community policing and for more police officers."
Among the harshest ads may be one in which the Republican group American Crossroads says Pennsylvania Lt. Gov. John Fetterman (D) is "trying to get as many criminals out of prison as he can" and is "dangerously liberal" on crime. Fetterman and celebrity doctor Mehmet Oz (R) are running for an open seat held by a Republican. (Watch HERE)
Party-Bucking
Want voters to think of your candidate as bipartisan?
Show the GOP nominee with former President Barack Obama, as Oregon Republican Alek Skarlatos does in a Democratic-leaning district.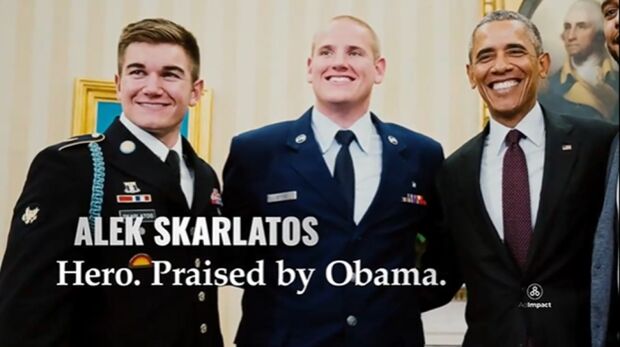 Or show a supporter in a red "Make America Great Again" hat, as Rep. Matt Cartwright (D-Pa.) did in his bid to remain in Congress representing a pro-Trump district in Scranton and Wilkes-Barre.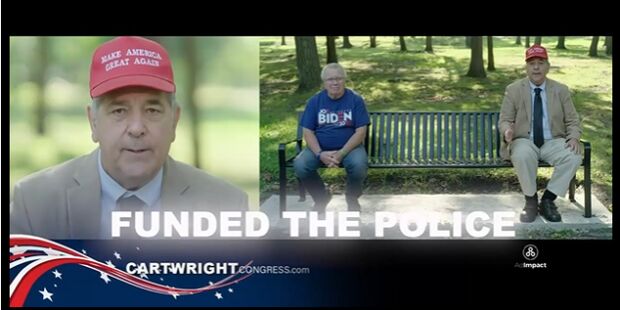 Skarlatos has aired several ads picturing him with Obama when he welcomed Skarlatos and his two friends to the White House after they thwarted a gunman on a Paris-bound train.
"I cannot win this seat without winning the unaffiliated and some Democrats as well," Skarlatos said at an Oct. 6 candidate debate.
The party-bucking ads overall tend to be pretty gentle. The tone of this one from Sen. Mark Kelly (D-Ariz.) is typical. "When Joe Biden gets it wrong, I call him out," the senator says. Other Democrats who have highlighted breaks with Biden include Reps. Marcy Kaptur (Ohio) and Elaine Luria (Va.). (Watch HERE)
¿Hablas español?
To hear a Spanish-language ad, go to Arizona, Nevada, California's Central Valley, Miami, or south Texas.
California's 22nd, Florida's 27th, and Texas's 15th, 28th and 34th districts all have Hispanic-majority constituencies. Multiple ads have aired in Spanish in those media markets as well as for the Senate contests in Arizona and Nevada.
Looking nationwide, though, about 95% of the advertising is in English only.
A typical outreach to Spanish speakers is one from Rep. María Elvira Salazar, who's seeking a second term in a swing district in the Miami area. (Watch it HERE)
LOL? Chuckle? Crack a Smile?
And then there are the inevitable attempts at levity. If these two spots don't make you laugh, maybe they'll make you hungry.
An ad for Sen. Raphael Warnock (D-Ga.) says working with Sen. Ted Cruz (R-Texas) to extend Interstate Highway 14 showed how some things "work surprisingly well together," like pineapple on pizza. ("Not bad," Warnock said after taking a bite.)
And Rep. Don Bacon (R-Neb.) went to a supermarket to bemoan the high cost of milk, eggs, and another breakfast staple.
"Even bacon is up," he said. "And I take that personally."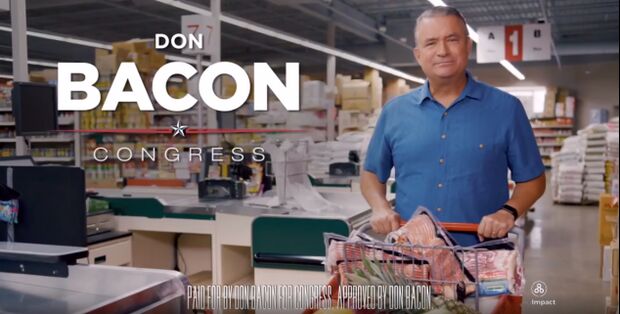 (Watch the Warnock spot HERE and the Bacon ad HERE)
If you've seen something funnier, let me know! I'll be open to questions and political humor suggestions this afternoon at a Reddit AMA from 2 p.m, to 4 p.m.
To contact the reporter on this story: Greg Giroux in Washington at ggiroux@bgov.com
To contact the editor responsible for this story: Katherine Rizzo at krizzo@bgov.com