HEALTH CARE BRIEFING: Why Trump's Cocktail Inaccessible to Most
Bloomberg Government subscribers get the stories like this first. Act now and gain unlimited access to everything you need to know. Learn more.
The antibody cocktail President Donald Trump credited for his swift coronavirus recovery won't become widely available because it's impossible to make enough for everyone who might need it, according to the Swiss drugmaker working on scaling up production.
"We will never be able to produce enough," said Bill Anderson, drugs chief at Roche Holding, which is working together with U.S. biotech Regeneron Pharmaceuticals on the project. "This is clearly part of the answer for the world, not the answer. Hopefully we'll have vaccines and other therapeutics."
The partners will probably be able to make as many as 2 million doses per year by the end of next March if the drug cocktail obtains regulatory approval, Anderson said. That's about the number of new Covid-19 cases identified worldwide in the past week.
The necessity for a multipronged approach to treat Covid-19 has come into focus as potential safety issues emerge in late-stage trials of some promising vaccines and treatments. Eli Lilly this week paused a study of its own Covid-19 antibody to investigate such a concern.
The U.S. has already secured hundreds of thousands of doses of experimental Covid antibody treatments, federal health officials said earlier this month, before the Lilly trial was paused. At that point they expected to have 1 million doses on hand by the end of the year. Trump touted Regeneron's antibody cocktail as a cure, saying he'd make the drugs he took available for free to Americans. Read more from Naomi Kresge.
More on the Pandemic
Medicare to Pay Labs More for Fast Tests Turnaround: Medicare is adding performance bonuses to its Covid-19 lab payment policy. Beginning next year, Medicare will pay $100 only to labs that process high throughput Covid-19 diagnostic tests within two days of specimen collection. Labs that take longer will be paid a rate of $75. The goal is to ensure that patients are alerted quickly to a positive test so they can self-isolate and get treatment, according to the Centers for Medicare & Medicaid Services. Read more from Tony Pugh.
Pfizer, BioNTech Vaccine Trial Remains on Track: Side effects that have emerged in a large late-stage trial of a Covid-19 vaccine candidate from Pfizer and BioNTech are in line with those seen in smaller early studies, a positive sign for one of the front-runners in the race for a shot. The partners haven't had to stop their late-stage study over safety fears, BioNTech CEO Ugur Sahin said in an interview. They're sticking with a previously announced target of being able to provide preliminary data on whether the vaccine works as soon as this month. Read more from Naomi Kresge.
An experimental Covid vaccine created by Translate Bio and French drug giant Sanofi elicited high levels of protective neutralizing antibodies in early-stage animal studies, clearing the way for a clinical trial to start later this year. Two doses of the candidate induced neutralizing antibodies "significantly higher" than those observed in Covid-19 patients as well as a response in infection-fighting T-cells in non-human primates, the companies said in a statement.
In Russia, the government is going to miss its target of making 30 million doses of an experimental Covid vaccine this year due to setbacks maintaining the serum's stability while expanding production. "The main task is to scale up production," said Industry Minister Denis Manturov in an interview with Bloomberg. "To have 30 million doses by year-end is impossible, it is nonsense."
In China, Sinovac Biotech may start Covid-19 vaccine trials in the Philippines before the end of the year, the chief of the Southeast Asian nation's food and drug agency said. Sinovac has passed the review of a vaccine experts panel to conduct Phase 3 clinical trials and is expected to submit as early as this week its application with the Philippines' Food and Drug Administration.
Find the latest coverage on the virus from Bloomberg here.
Sign of Hope in Stimulus Talks: Treasury Secretary Steven Mnuchin told Speaker Nancy Pelosi (D-Calif.) yesterday that President Donald Trump will personally lobby to get reluctant Senate Republicans behind any stimulus deal they reach. Pelosi spoke with Mnuchin yesterday for 82 minutes on a call in which Mnuchin said he'd accept Democrats' demands for a national testing plan for the coronavirus, with "minor edits" to be shared today, according to Pelosi spokesman Drew Hammill. Staff will exchange language on several areas, he said. Read more from Steven T. Dennis, Billy House and Justin Sink.
Meanwhile, the Association of State and Territorial Health Officials and the Association of Immunization Managers in a letter urged Congress to provide emergency supplemental funding for Covid-19 vaccine distribution and administration. "As Congress and the Administration consider the next emergency supplemental bill, public health leaders request at least $8.4 billion for COVID-19 vaccination distribution and administration, plus an additional $500 million for seasonal influenza operations," the groups wrote.
Plane Virus Transmission Risk Low, Tests Suggest: Commercial jets' air filtration systems sweep up airborne coronavirus within minutes, a new Pentagon test found, suggesting that flying poses a low risk of exposure. Aerosol tracer particles were not detectable six minutes inside the cabin of commercial United Airlines Boeing 767 and 777 planes, the Department of Defense's U.S. Transportation Command announced yesterday. The air exchange and filtration systems provided more protection than hospital isolation and operating rooms. Read more from Travis J. Tritten.
Certain Chinese Masks Regain FDA Authorization: Sustained high demand for face masks amid pandemic shortages pushed the FDA yesterday to reauthorize certain respirators made in China. The FDA's policy on which masks are suitable for health-care workers has been changed several times since March, as the agency learns more about the respirator supply chain and monitors demand for protective equipment. Read more from Jacquie Lee.
Midwest Surge Hits Illinois, Ohio, Michigan: Covid-19's recent march across the Midwest has caught up with the region's most populous states. Illinois, Ohio and Michigan all have proven unable to fend off outbreaks at their doorsteps, as well as in nearby Wisconsin. In Illinois, cases increased to a record 4,015 yesterday, extending one of the most concerning weekly trends in the country. Daily Covid-19 deaths in the state rose to 53, the highest since June 24. Read more from Jonathan Levin.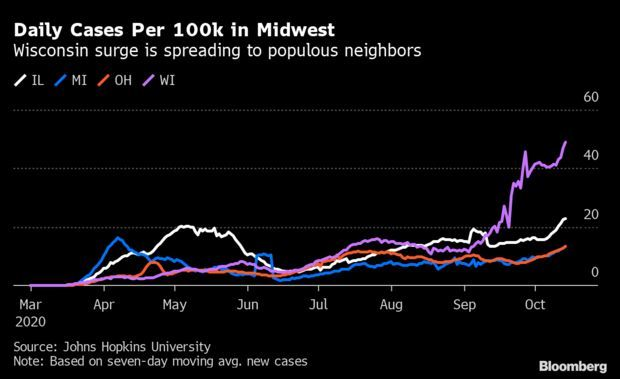 More Headlines:
Fauci Says CDC Hasn't Been on Forefront of Pandemic Response
Trump Calls Fauci a Democrat After He Objected to Campaign Ad
Remdesivir Has Little Effect on Covid-19 Mortality, WHO Says (FT)
Kamala Harris Cancels Travel After Two on Her Plane Catch Covid
Michigan OSHA Issues Emergency Covid-19 Worker Safety Rules
Pompeo Hopes Some Covid Travel Limits Will Ease in Next Weeks
What Else to Know Today
McConnell Says Barrett Confirmation Imminent: Senate Majority Leader Mitch McConnell (R-Ky.) said Judge Amy Coney Barrett has enough support to win confirmation to the U.S. Supreme Court and that he expects to bring her nomination to the floor on Oct. 23. Senate Republicans are powering ahead with their plan to place Barrett on the court before Election Day. After a week of hearings, the GOP-led Senate Judiciary Committee set an Oct. 22 vote to advance her nomination to the full Senate. "We have the votes," McConnell said. Read more from Laura Litvan and Steven T. Dennis.
More Headlines:
Arkansas Says No Redo of Appeal Needed in Abortion Law Dispute
AbbVie Seeks to Recoup Over $1 Million After Partial Antitrust Win
Alkermes Wins First Bull as Mizuho Praises Promising Drug Data
To contact the reporter on this story: Brandon Lee in Washington at blee@bgov.com
To contact the editors responsible for this story: Zachary Sherwood at zsherwood@bgov.com; Giuseppe Macri at gmacri@bgov.com; Michaela Ross at mross@bgov.com
Stay informed with more news like this – from the largest team of reporters on Capitol Hill – subscribe to Bloomberg Government today. Learn more.