HEALTH CARE BRIEFING: White House Says WHO's Virus Study Lacking
Bloomberg Government subscribers get the stories like this first. Act now and gain unlimited access to everything you need to know. Learn more.
The White House yesterday criticized a World Health Organization report on the origins of the coronavirus, calling it incomplete and faulting data and access given to its authors by China.
White House Press Secretary Jen Psaki said at a briefing yesterday President Joe Biden "believes that the American people, the global community, the medical experts, the doctors, all of the people who have been working to save lives, the families who have lost loved ones, all deserve greater transparency."
"They deserve better information," Psaki added. "They deserve steps taken by the global community to provide that." She said a team of U.S. government experts is reviewing the report, published yesterday, which she said "lacks crucial data, information and access. It represents a partial and incomplete picture."
The WHO study concludes that the coronavirus likely spread from bats to humans through an unknown intermediate animal host. It recommended no further investigation into suspicions, vehemently denied by China's government, that the virus escaped a biocontainment lab in the city of Wuhan, where cases of Covid-19 were first identified.
Psaki said "international and independent experts" should now be offered "unfettered access to data" and given the ability to ask questions of individuals in China at the time of the Covid-19 outbreak. She said the WHO's initial report lacked "imperative" guidelines informed by the coronavirus outbreak on how to prevent similar pandemics in the future.
The report came after a scientific mission jointly organized by the WHO and China. The WHO's own director-general, Tedros Adhanom Ghebreyesus, criticized the report as well, saying that the lab-leak theory is unlikely but deserves further investigation. Tedros came under fire early in the crisis from the Trump administration, which called him too deferential to Beijing. Mario Parker and Justin Sink have more.
U.S. Deaths Expected to Rise Soon: Covid-19 deaths in the U.S. are expected to bottom out in the next two weeks before inching higher, as the country races to blunt an incipient new wave of cases with its vaccination campaign. A plateau or a small increase, instead of the hoped-for decline, could mean tens of thousands of additional fatalities. Deaths are likely to dip to 6,028 in the week ending April 10 before slightly increasing, according to the Covid-19 Forecast Hub, a project from the University of Massachusetts Amherst's Reich Lab. Jonathan Levin has more.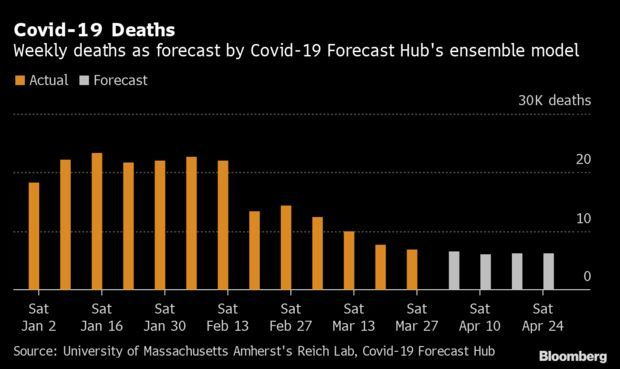 College Study Will Help Show Vaccines Stop Infection: Promising real-world data that Pfizer and Moderna's Covid-19 vaccines prevent infections still need to be augmented with a college campus clinical study that's underway, Anthony S. Fauci said. "If you really want to be careful and be absolutely certain and go with the science, as we always say we do, the college campus study is going to give you scientific proof of the question," Fauci, director of the National Institute of Allergy and Infectious Diseases said in an interview yesterday. Apart from a CDC study on the topic released this week, a separate clinical trial by the National Institutes of Health aims to determine if vaccinated college students are transmitting the disease to their close contacts. Read more from Jeannie Baumann.
More Headlines:
More Global Headlines:
Happening on the Hill
Jayapal Seeks Lower Medicare Age in Infrastructure Bill: The co-chair of the Congressional Progressive Caucus is seeking to add a reduced age to join Medicare and an expansion of the program's benefits as part of Biden's infrastructure legislation. Rep. Pramila Jayapal (D-Wash.) told reporters yesterday she supports Sen. Bernie Sanders' (I-Vt.) call for Medicare expansion in the next major piece of legislation coming through Congress. She said she's seeking a meeting with White House advisers to talk about health care policies that may be part of an infrastructure package.
However, she said her caucus is still working on a list of demands for that package. "We are polling our members on a number of options that we want to settle on for the next package," she said. Democrats are eyeing ways to expand insurance coverage but haven't settled on a unified vision. Biden has supported reducing the age to join Medicare and creating a public insurance option to lower health costs, Alex Ruoff reports.
Medicare Says Few Effects of Delay on Averting Cuts: Medicare signaled that hospitals and doctors won't be affected by Congress's delay in averting pay cuts. The Centers for Medicare & Medicaid Services told the organizations that process Medicare claims to hold all claims for health-care services starting April until the House can take up a Senate-passed bill to extend the moratorium on the sequester until 2022. A senior House Democrat said the chamber will take on the bill when lawmakers return the week of April 13. The sequester moratorium ends April 1, Alex Ruoff reports.
What Else to Know Today
HHS Looking to Undo Medicaid Coverage Limits Beyond Work Rules: Trump-era state Medicaid experiments that result in loss of enrollment will likely hit the chopping block under Biden. Medicaid work requirements, a top priority of the Centers for Medicare & Medicaid Services under President Donald Trump, are already being rolled back, but the policy review is unlikely to stop there, analysts say.
That's because a variety of other add-ons to the Medicaid program—including premiums and cost-sharing, coverage delays until premiums are paid, elimination of retroactive coverage, and requiring people to earn benefits through healthy behaviors—also result in coverage losses without providing any counterbalancing benefits to beneficiaries, according to Sidney Watson, director of the Center for Health Law Studies at the Saint Louis University School of Law. Read more from Chris Brown.
Agencies Seek Workers for Humanitarian Aid at Border: Federal agencies are asking their workers to volunteer to help humanitarian relief efforts at the U.S.-Mexico border, as a surge of migrants, many of them children, overwhelm U.S. personnel there. The Equal Employment Opportunity Commission's Chair Charlotte Burrows asked the civil rights agency's employees to apply for deployment in 30- to 120-day stints, as part of an initiative led by the Department of Health and Human Services' Office of Refugee Resettlement. Read more from Paige Smith, Louis C. LaBrecque and Genevieve Douglas.
FCC OKs Process to Distribute Telehealth Funds: The Federal Communications Commission unanimously approved a process for distributing nearly $250 million to help fund health care providers' telehealth costs during the Covid-19 pandemic. The agency said it expects to begin accepting health care providers' applications for the funds, which Congress appropriated last December, in 30 days. The funds will cover costs of health care providers' telecommunications services and connected devices. Read more from Jon Reid.
FTC Sues to Block Illumina's Proposed Acquisition of Grail: U.S. antitrust enforcers sued to block genetic-sequencing giant Illumina's $7 billion acquisition of Grail, a cancer-test startup backed by Jeff Bezos and Bill Gates. The Federal Trade Commission said yesterday the deal will diminish innovation in early cancer detection tests in the U.S. and make them more expensive. Read more from David McLaughlin.
More Headlines:
To contact the reporters on this story: Brandon Lee in Washington at blee@bgov.com; Alex Ruoff in Washington at aruoff@bgov.com
To contact the editors responsible for this story: Zachary Sherwood at zsherwood@bgov.com; Giuseppe Macri at gmacri@bgov.com; Michaela Ross at mross@bgov.com
Stay informed with more news like this – from the largest team of reporters on Capitol Hill – subscribe to Bloomberg Government today. Learn more.