HEALTH CARE BRIEFING: White House Rejects CDC's Reopen Guidance
Bloomberg Government subscribers get the stories like this first. Act now and gain unlimited access to everything you need to know. Learn more.
The White House blocked the Centers for Disease Control and Prevention from issuing specific guidance for U.S. daycares, restaurants, churches, theaters and other businesses to reopen from the coronavirus outbreak out of concern that the recommendations were too prescriptive, two Trump administration officials said yesterday.
CDC leadership hadn't signed off on the guidance before it was submitted to the White House coronavirus task force, an official on the task force said. One issue was that the CDC guidance didn't account for whether businesses were in hard-hit parts of the country or not, said the task force official and the second person, a White House official. Both asked not to be identified because the deliberations weren't meant to be public.
The White House's task force issued broad guidelines for reopening the country on April 16 but largely left the specifics to states on how to restart economic and social activities. The CDC was told that the task force would look at revisions to the guidance, but the task force hasn't received an updated document, said the administration officials.
The CDC is tasked with protecting Americans from health threats and had been the agency U.S. officials turned to during pandemics and other outbreaks but it has largely been sidelined during this virus response. Vice President Mike Pence has been leading the task force and President Donald Trump dominated most of the daily briefings for the public.
A version of the CDC's guidance posted by The Associated Press gives detailed instructions to businesses and churches on how to protect their customers and workers, how to clean spaces, and how to minimize risk from the virus. Summer camps, for example, would have been told to limit interactions between groups of children, maintain social distancing, and check people for symptoms of Covid-19, Anna Edney and Jennifer Jacobs report.
More on the Path to Reopening: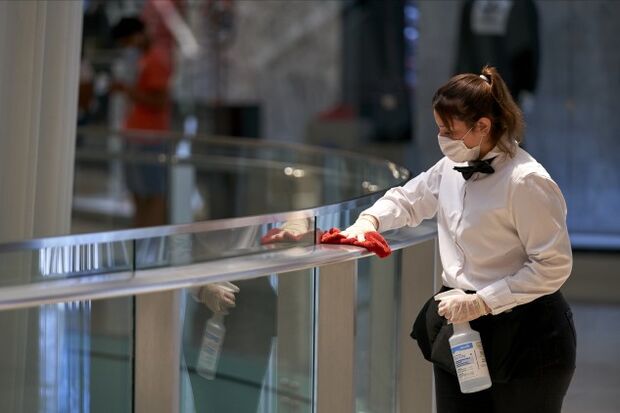 Aid Negotiations & Implementation
Pelosi Eyes State, Local Relief in Next Bill: Speaker Nancy Pelosi (D-Calif.) told Bloomberg Television that the House could vote on its own version of a new coronavirus relief bill next week, which won't plow any "new territory" but will "dig deeper" in terms of addressing the needs of the country.
House Democrats discussed the contents and timing of the next coronavirus bill on a caucus-wide call yesterday. Leaders promised a 72-hour notice before any vote would occur to allow for travel to Washington, according to a person on the call. Pelosi said the Democratic bill will contain three major parts: relief for state and local governments; funding for wider testing and other needs for reopening the economy; and "putting money in the pockets of the American people." Billy House and David Westin have more.
AHRQ Funding Urged: Sen. Richard Blumenthal (D-Conn.) and Rep. Don Beyer (D-Va.) led a letter urging congressional leaders to include $71 million in funding for the Agency for Healthcare Research and Quality under HHS in the next relief package. The boost in funding would give the agency "the capacity to evaluate the U.S. health care system's response to the pandemic, pinpoint shortcomings, and improve national preparedness for future crises," according to a statement. Read the letter to Senate leadership here and House leadership here.
Senior Living Providers Seek Aid: A senior living industry group representing nonprofit facilities is urging the administration and Congress to prioritize older Americans in relief efforts as states start lifting stay-at-home orders. In a virtual news conference yesterday, LeadingAge President Katie Smith Sloan called on lawmakers and the administration to place aging-service providers on the same tier as hospitals for obtaining personal protective equipment and rapid testing kits. Sloan also called for $100 billion in the next relief package for senior living providers. Megan R. Wilson has more.
HHS Gives $583 Million to Expand Testing: Community health centers, which provide primary care for 28 million people, will get $583 million to expand their Covid-19 testing, HHS announced yesterday. The funding will be divided among 1,385 centers and will help them buy personal protective equipment, train staff, and buy and administer tests and lab services, the Health and Human Services Department said. Read more from Shira Stein.
Separately, the federal government released provider-level data showing which hospitals and doctors received roughly $20 billion in payments made available through recent pandemic stimulus measures. The top five grant recipients were: Dignity Health in Arizona, with $180.2 million; the Cleveland Clinic Foundation in Ohio, with $103.2 million; Stanford Health Care in California, with $102.4 million; Memorial Hermann Health System in Texas, with $92.4 million; and New York University Langone Hospitals in New York, with $92.1 million.
Eighty-eight hospitals and doctors' offices received $5 or less from the grants. The payments were based on eligible providers' share of net patient revenue, according to the HHS, Alex Ruoff reports.
Treasury to Revise Tax Credit for Health Firms: The Treasury Department will revise rules for an employee retention tax credit to make the tax break available to companies who've furloughed workers but are still offering health insurance, Treasury Secretary Steven Mnuchin said in a letter sent to lawmakers. A bipartisan group of members of Congress including Senate Finance Chairman Chuck Grassley (R-Iowa) had pushed for the change, arguing that the rule contradicts congressional intent and made it harder for employers to keep workers' coverage if blocked from receiving the credit, Laura Davison has more.
Research, Treatment & Coordination
Trump Goes All In on Vaccine and May Still Get Beaten by China: When the Soviet Union put the first man into space in 1961, the shock to America's self-confidence was electric. If China should be first to produce a successful vaccine against the coronavirus, U.S. prestige is likely to suffer a similar blow.
President Donald Trump is putting everything he's got into a research effort dubbed Operation Warp Speed, which pulls together pharmaceutical companies, government agencies and the military. So is China, which has a head start at a time the two countries are already engaged in a fight for dominance impacting everything from trade to the roll-out of 5G communications networks. The stakes in finding a vaccine against the coronavirus couldn't be higher. In just a few months the disease has claimed more than a quarter of a million lives and shattered economies worldwide. Read more from Marc Champion.
HHS Testing Official Joins WHO: A senior HHS official who's been coordinating coronavirus testing for the federal government was confirmed by the Senate to represent the U.S. on the board of the World Health Organization. Brett Giroir, HHS assistant secretary for health, was approved by a voice vote yesterday to join the 34-member executive board of the WHO. The move comes after Trump ordered a 60-day freeze of U.S. funding for the organization in April. Giroir will continue at his HHS post, a spokesperson for his office confirmed when he was nominated. Read more from Shira Stein.
Scalise GOP Chief on Virus Panel: House Minority Whip Steve Scalise (R-la.) will be the top Republican member on the House Select Coronavirus Crisis Subcommittee. Reps. Jim Jordan (Ohio), Blaine Luetkemeyer (Mo.), Mark Green (Tenn.) and Jackie Walorski (Ind.) will also serve as the panel's Republican members, though Republicans have blasted the panel's creation as wasteful, Erik Wasson and Greg Sullivan report.
Republicans Form China Task Force: House Republicans are forming a task force to investigate China's role in the spread of the coronavirus as members widen their attempt to put a focus on the actions of Beijing. "China's coverup directly led to this crisis," House Minority Leader Kevin McCarthy (R-Calif.) said yesterday. "It follows the same threatening pattern of behavior we have seen from the Chinese Communist Party for years."
Republicans have focused in recent weeks on blaming China for the coronavirus crisis in the wake of lower approval ratings for Trump's handling of it. The House GOP task force was given an October deadline to issue its report, just before the presidential election in which the virus response likely will be a top issue. Daniel Flatley and Erik Wasson have more.
FDA Pulls Green Light for Chinese Masks: The Food and Drug Administration reversed a decision to permit the emergency use of dozens of N-95 face masks made in China, after government testing found many didn't work properly. The agency had authorized use of the masks to help address shortages of personal protective equipment, on the condition that their effectiveness was verified by independent testing labs. That policy is being reversed based on testing by the National Institute for Occupational Safety and Health that found many of those masks failed to meet filtration standards. Read more from Anna Edney.
Shortages Seen for Needles, Syringes for Vaccine: Health-care providers, the Trump administration, and manufacturers like Becton Dickinson are preparing for the next coronavirus-era supply shortage: needles and syringes essential to delivering vaccines. The HHS has signed contracts to get an additional 320 million needles and syringes, and companies are ramping up their production. The moves come as officials foresee a surging demand for needles and syringes with more people seeking a flu shot this year and governments trying to secure inventory for a possible coronavirus vaccine. Read more from Shira Stein.
$10 Billion in Lost NIH Research: The coronavirus pandemic will cost the NIH about $10 billion in taxpayer-funded research, its director told a Senate panel. That estimate comprises nearly a quarter of the NIH's more than $41 billion budget, more than 80% of which goes to research grants at universities and other research institutions. NIH Director Francis Collins told senators yesterday the number includes both lost productivity from shuttered laboratories as well as keeping scientists and their staff employed. Read more from Jeannie Baumann.
More Headlines:
What Else to Know Today
Barr Vows to Push Overturning of Obamacare: Attorney General William Barr said the Justice Department would continue its efforts to invalidate Obamacare even as millions of Americans have lost their health insurance during the coronavirus pandemic. Barr, in an interview with CBS News yesterday, said the department would ask the Supreme Court to overturn the Affordable Care Act when it takes up a politically-charged case this October — weeks before the presidential election. "We had an opportunity, all the stakeholders in the administration, to discuss this, and the Department is going to be taking the position as the president states," Barr said. Read more from Chris Strohm and John Harney.
Health Coverage Extensions Could Vex Employers: The Trump administration is offering laid-off employees more time to decide if they want to stick with their prior job-based health coverage and more time to pay for it—leeway that could wreak havoc on employers. The Labor and Treasury departments have recently postponed the deadline for employees to pay for up to 18 months of coverage. But benefits attorneys say the relief for people losing their jobs in the midst of a pandemic has the potential to create a patchwork of deadlines nationwide and force employers to foot the bill for costly health insurance. Read more from Lydia Wheeler.
Rule Forcing Hospitals to Show Prices Faces Scrutiny: A federal district judge questioned whether the White House can force hospitals to publicly disclose the payment rates they negotiate with insurance companies. Judge Carl Nichols, an appointee of Trump on the U.S. District Court for the District of Columbia, asked the government yesterday what evidence it has that such rule will lower health-care costs and probed its "standard charge" definition. "At least hypothetically, a hospital for a particular item, a particular service, might be required by this rule to publish a large number of amounts as standard charges," he said. Read more from Lydia Wheeler.
More Headlines:
To contact the reporter on this story: Brandon Lee in Washington at blee@bgov.com
To contact the editors responsible for this story: Giuseppe Macri at gmacri@bgov.com; Zachary Sherwood at zsherwood@bgov.com; Michaela Ross at mross@bgov.com
Stay informed with more news like this – from the largest team of reporters on Capitol Hill – subscribe to Bloomberg Government today. Learn more.