HEALTH CARE BRIEFING: Virus Testing Capacity Seen Ramping Up
Bloomberg Government subscribers get the stories like this first. Act now and gain unlimited access to everything you need to know. Learn more.
Donald Trump's top adviser on coronavirus testing said that by May the U.S. will be in the "ballpark" of the diagnostic capacity it needs, should the president decide to recommend parts of the country relax economy-crushing social distancing practices.
Admiral Brett Giroir said in an interview on Saturday the U.S. is working on four forms of diagnostics it needs to re-open the economy: widespread surveillance to catch new flare-ups; testing of people who have specific symptoms; contact-tracing for confirmed cases; and antibody testing to know who's recovered from the virus, which he said is weeks away.
"By May we'll have a lot more testing than we do now," Giroir said. "By May, we certainly will be in the ballpark. Whether we are exactly there depends on some factors, including how much is circulating and where regionally this falls out."
Trump tapped Giroir, an assistant secretary at the Department of Health and Human Services, to accelerate U.S. testing for the coronavirus last month. The federal government's delays in fielding a functional test in January and February prevented containment of the outbreak when it first erupted, leaving public health authorities all but blind to the spread of the virus across the country for weeks.
While the U.S. has now tested more than 2.2 million people for the virus, fewer than 100,000 nationwide had been tested by March 19, less than a week after Giroir was appointed, according to the Covid-19 Tracking Project.
Anthony Fauci, director of the National Institute for Allergy and Infectious Diseases, who serves on Trump's coronavirus task force, said last month that the shortage of testing was a "failing."
The U.S. has now surpassed Italy in total deaths from the virus, making it the global epicenter. Even so, there are signs of optimism in hot spots such as New York that have Trump eyeing an easing of measures that have hundreds of millions of Americans in near-lockdown. Giroir said testing is ramping up and didn't rule out a May re-opening. Read more from Josh Wingrove.
Fauci yesterday affirmed that parts of the U.S. may be ready in May to ease emergency measures taken against the pandemic, but said there's no universal "light switch" to flip on. There's also the possibility of a Covid-19 rebound in the fall which can be a factor in November's elections, he said.
Fauci and a range of others said availability of widespread testing would be key to relaxing social isolation that continues in most states. "It could probably start at least in some ways maybe next month," Fauci told CNN's "State of the Union" yesterday. Ros Krasny and Hailey Waller have more. South Korea will send coronavirus testing kits made by two companies to the U.S. on April 14, Korea Economic Daily reports, citing an unidentified official at the Foreign Ministry. Read more from Jihye Lee.
Meanwhile, Congress needs to spend about $3.6 billion in federal emergency funding to do the kind of widespread testing necessary to get society back on its feet, including hiring 100,000 workers to conduct the tests, researchers reported Friday. Johns Hopkins Center for Health Security and the Association of State and Territorial Health Officials released a national plan that outlined the "urgent" need to expand antibody testing at the local, state, territorial and tribal levels, researchers said. Read more from Ayanna Alexander.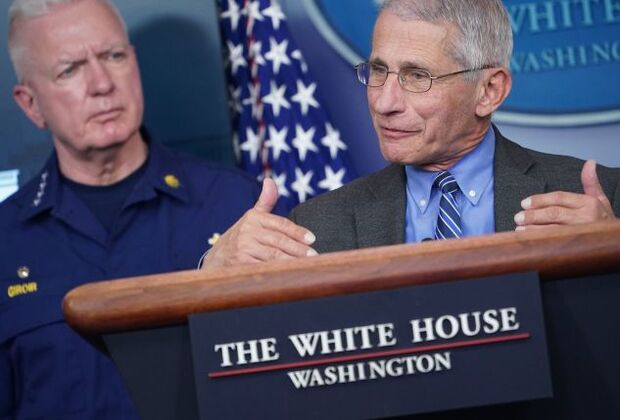 More on Virus Tracing & Testing
States Prepare Test-and-Trace Programs: Several states have launched new efforts to contain the virus, laying plans to test aggressively and track possibly infected people with help from nonprofits, universities and the private sector. Massachusetts, Utah and North Dakota are among those working on the kinds of comprehensive strategies that public-health experts agree are necessary to arrest the virus' spread and lift the social-distancing measures that have closed much of the U.S. economy.
"Even if the curve does flatten, we won't be able to go back to work and school and regular life unless we chase the virus down much more significantly," said Joia Mukherjee, chief medical officer of Partners in Health, a nonprofit working with Massachusetts to expand the state's capacity to trace contacts of Covid-19 patients. The question is how quickly the efforts that have begun can advance with beleaguered diagnostic testing programs across the U.S. still facing shortages of swabs, chemicals and other supplies that severely limit capacity at many labs. Read more from Emma Court and John Tozzi.
Apple, Google Bring Tracing to 3 Billion People: Apple and Google unveiled a rare partnership to add technology to their smartphone platforms that will alert users if they've come into contact with a person with Covid-19. People must opt in to the system, but it has the potential to monitor about a third of the world's population. The technology is designed to curb the virus' spread by telling users they should quarantine or isolate themselves after they have come into contact with an infected individual.
The Silicon Valley rivals said Friday that they're building the technology into their iOS and Android operating systems in two steps. In mid-May, the companies will add the ability for users of iPhones and Android phones to wirelessly exchange anonymous information via apps run by public health authorities. This means if a user tests positive for Covid-19, and adds that data to their public health app, users with whom they came into close proximity over the previous several days will be notified of their contact. Read more from Mark Gurman.
Copays for Virus Testing Waived: The Trump administration Saturday moved to require group health plans and other insurers to cover both testing for the coronavirus and some related treatment services with no copays or other cost sharing to beneficiaries, including tests that determine if a person previously has had Covid-19. The Centers for Medicare & Medicaid Services, along with the Departments of Labor and the Treasury, issued guidance Saturday that clarified that Americans with private health insurance should have access to testing and certain other related services, including antibody testing, at no cost. Read more from Alex Ruoff.
Vaccine Could Be Ready in Six Months: A vaccine against the coronavirus could be ready by September, according to a scientist leading one of Britain's most advanced teams. Sarah Gilbert, professor of vaccinology at Oxford University, told The Times on Saturday that she is "80% confident" the vaccine would work, and could be ready by September. Experts have warned the public that vaccines typically take years to develop, and one for the coronavirus could take between 12 to 18 months at best. In the case of the Oxford team, however, "it's not just a hunch, and as every week goes by we have more data to look at," Gilbert told the London newspaper. Olivia Konotey-Ahulu has more.
Seventy coronavirus vaccines are in development globally, with three already being tested in human trials, the World Health Organization said. Read more from Lisa Du.
More Headlines:
Treatment & Coordination Efforts
Initial $30 Billion for Hospitals: The federal government delivered $30 billion to hospitals Friday in the first round of what ultimately is set to be $100 billion in handouts to help hospitals defray costs associated with coronavirus and caring after uninsured patients. The funding comes from the latest stimulus package signed into law last month. Distribution of the $30 billion will go to Medicare hospitals and be delivered electronically based on account information the government and its partners have on file. HHS is pairing with UnitedHealth to distribute the money. Read more from Jacquie Lee.
Meanwhile, America's Essential Hospitals, an industry group of hospitals that offer a "disproportionate share of the nation's uncompensated care" with three-quarters of patients either uninsured or covered by Medicaid or Medicare, told HHS Secretary Azar in a letter that the group is concerned the first stimulus funding disbursements do "not adequately focus on hospitals with limited resources."
Democrats Want 9/11 Commission-Like Probe: Congressional Democrats are planning legislation that would establish a bipartisan commission to investigate the federal government's response to the coronavirus pandemic, in a move that they said is modeled after the 9/11 Commission. Rep. Adam Schiff (D-Calif.) unveiled a bill in the House on Friday, and Sens. Dianne Feinstein (D-Calif.) and Kamala Harris (D-Calif.) will offer companion legislation in their chamber, according to a statement from Schiff's office. The 10-member commission would also examine the responses of state and local governments, Vivek Shankar reports.
Trump Urged to Detail PPE Distribution: Senate Democrats said Friday they're worried the administration's reliance on the private sector to distribute medical supplies and personal protective equipment results in outbreak hotspots being overlooked and equipment going to the highest bidder. The Federal Emergency Management Agency hasn't given clear guidance on which regions and facilities need to be prioritized, Sens. Gary Peters (D-Mich.), Maggie Hassan (D-N.H.), and two others wrote in a letter to Vice President Mike Pence. Without enough oversight, the system may be "vulnerable to waste, fraud, and abuse," they said, Shaun Courtney reports.
More Headlines:
What Else to Know Today
Clinics Plead SCOTUS to Ease Texas Limits: Abortion clinics in Texas sought emergency U.S. Supreme Court intervention to ease sweeping restrictions on the procedure imposed by state officials during the pandemic. The filing over the weekend came after a federal appeals court allowed the state to block most abortions as way to conserve masks, gloves, and other protective equipment needed to shield health-care workers from the virus. The clinics are seeking to let pill-induced abortions resume, saying they don't require such equipment. Until Texas imposed the temporary ban, it had allowed medication abortions through the 10th week of pregnancy. Read more from Greg Stohr.
Separate Billings for Abortion Insurance: A Trump administration rule forcing health insurers to charge enrollees separately for coverage for abortion services can't be enforced in Washington state, a federal court said. A state law requiring insurers to use a single invoice when billing enrollees takes precedence over the HHS rule, the U.S. District Court for the Eastern District of Washington ruled. The 2019 rule violates the Affordable Care Act's presumption of nonpreemption, the court ruled. The ACA expressly says it shouldn't be interpreted to preempt state laws regulating insurance. Washington's single-invoice law is one such provision, the court said. Read more from Mary Anne Pazanowski.
More Headlines:
To contact the reporter on this story: Brandon Lee in Washington at blee@bgov.com
To contact the editors responsible for this story: Giuseppe Macri at gmacri@bgov.com; Zachary Sherwood at zsherwood@bgov.com; Michaela Ross at mross@bgov.com
Stay informed with more news like this – from the largest team of reporters on Capitol Hill – subscribe to Bloomberg Government today. Learn more.