HEALTH CARE BRIEFING: Virus Surge Comes Days Before Thanksgiving
Bloomberg Government subscribers get the stories like this first. Act now and gain unlimited access to everything you need to know. Learn more.
The latest U.S. Covid-19 wave is taking its toll on some states' intensive-care units, with several regions of the country seeing outbreaks that are as bad as ever.
In 15 states, patients with confirmed or suspected cases are taking up more ICU beds than a year earlier, according to Department of Health and Human Services data. Colorado, Minnesota, and Michigan have 41%, 37%, and 34% of ICU beds occupied by Covid-19 patients, respectively, the data show.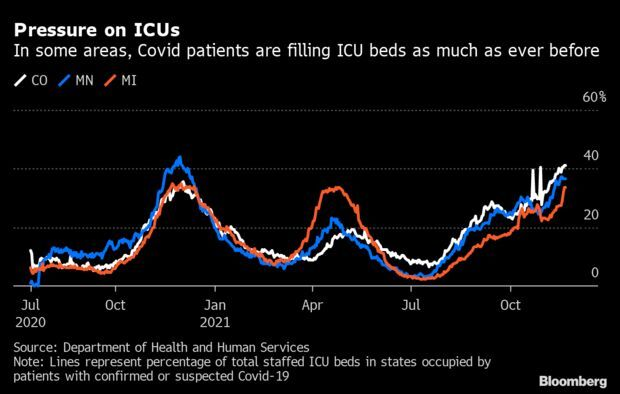 The dramatic spike means there's proportionately less space in hospitals for those suffering from other possibly fatal ailments. "Many of our physicians are at a breaking point," Ali Mokdad, a professor at the University of Washington's Institute for Health Metrics and Evaluation, said. "It's not easy to be day in and day out in an emergency room, in an ICU, looking at someone who is dying because he or she is not vaccinated."
The figures are a sobering reminder of how brutal the pandemic remains for the U.S. health-care system, and could augur trouble ahead for the Northeast states, where cases began rising a few weeks after the Midwest and Rockies. Despite the widespread vaccine availability, the fast-spreading delta variant has shown a frightening capacity to find the most vulnerable people in society. Meanwhile, many states have returned to pre-pandemic lifestyles.
Despite the case surge, the U.S. isn't headed for lockdown measures like those imposed by several European Union countries in response to recent surges in infections, White House pandemic response czar Jeff Zients said. Vaccines, boosters, and therapeutics will "accelerate the path out of this pandemic," Zients said on a conference call yesterday. "We can curb the spread of the virus without having to in any way shut down our economy." Read more from Fiona Rutherford.
The U.S. has been reporting more than 1,000 average deaths from Covid every day for over three months. Increases in fatalities typically follow increases in infections.
In the meantime, it's not clear to what extent any hospital system is safe. Several of the states getting hit now have average vaccination rates—neither spectacularly high like parts of the Northeast nor especially low like parts of the South. Michigan's 54% full vaccination rate trails the national average of 59%, but Colorado and Minnesota are both doing slightly better than the country as a whole.
The vaccines continue to work very well at protecting those who take them, but the societal impact is another matter. Unvaccinated people continue to show a considerably higher hospitalization rate on Covid-19, according to the latest data from the CDC's Covid-Net surveillance network, which was updated Friday and now includes figures through the end of September. Read more from Jonathan Levin.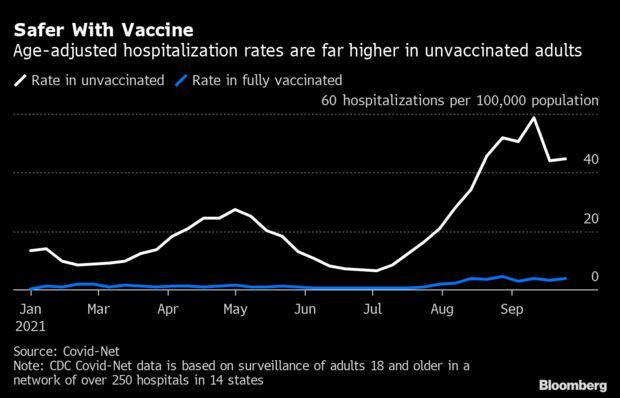 The Coronavirus Pandemic
Clyburn Wants to Question Trump FDA Chief: Rep. James Clyburn (D-S.C.) asked former Food and Drug Administration chief Stephen Hahn for an interview and documents regarding his role in the Trump administration's response to the coronavirus, a letter says. Clyburn's House Select Subcommittee on the Coronavirus Crisis seeks to understand the extent of Trump officials' efforts to "interfere" with the agency's authorization of Covid-19 vaccines, as well as the former president's "pressure campaign" on the FDA, Daniela Sirtori-Cortina reports.
Vaccine Rates in Youngest Mimic Gaps in Adults: The rate of Covid-19 vaccination in children ages 5 to 11 varies widely among states, according to data released by the CDC, mimicking the wide gaps seen in the adult population. Some states, like Vermont, have vaccinated 27% of their 5 to 11 population. Others, particularly in the Southeast, have rates below 5%. At least some of the difference could be due to delays in reporting. But largely, they follow vaccine uptake trends across the U.S. Drew Armstrong has more.
Two Law Firms Must Force Shots Under Contractor Order: President Joe Biden's Covid-19 vaccine mandate for federal contractors could force at least two major law firms to begin requiring shots by Jan. 4. Sullivan & Cromwell and Baker Donelson have ongoing contracts with federal agencies though currently do not require all employees in their firms to be vaccinated, according to November Bloomberg Law and Bloomberg Government data. The firms are among 26 with active contracts with federal departments and agencies, according to Bloomberg data. Ruiqi Chen has more.
More Headlines:
What Else to Know Today
Proposal on Obamacare Minimum Coverage, Medicaid Issued by IRS: Obamacare's minimum essential coverage doesn't include Medicaid coverage that is limited to Covid-19 testing and diagnostic services, the Internal Revenue Service proposed yesterday. Under the proposed regulation (RIN: 1545-BQ11) "minimum essential coverage," the term used to describe Affordable Care Coverage coverage that meets that law's qualifications, doesn't include Medicaid coverage that is limited to Covid-19 testing and diagnostic services provided under the Families First Coronavirus Response Act. Read more from Sara Hansard.
FDA Surpasses Domestic Inspection Target as Backlog Lingers: The FDA conducted more than 1,100 inspections of human and animal medical products in 2021, surpassing the base goal the agency set earlier this year after the Covid-19 pandemic forced a pause in many in-person oversight activities. The agency on yesterday released an update to its FDA Inspectional Oversight road map, outlining progress it's made on plans to return to more stable business operations. Read more from Celine Castronuovo.
Medical Certificate Law Claim Fails to Make Suit Federal Case: An attorney-plaintiff who alleged that New Jersey's certificate of merit requirement for medical malpractice lawsuits is unconstitutional failed to transform his state-law action into a federal case, the Third Circuit said yesterday. Alfred DeGennaro may not assert federal court jurisdiction by adding a federal constitutional challenge to a complaint alleging state-law claims, the U.S. Court of Appeals for the Third Circuit said in the unpublished opinion. Read more from Mary Anne Pazanowski.
More Headlines:
Editor's Note: Bloomberg Government's Health Care Briefing will not publish for the remainder of the congressional recess through Nov. 26. We'll return Monday, Nov. 29.
To contact the reporter on this story: Brandon Lee in Washington at blee@bgov.com
To contact the editors responsible for this story: Zachary Sherwood at zsherwood@bgov.com; Giuseppe Macri at gmacri@bgov.com; Michaela Ross at mross@bgov.com
Stay informed with more news like this – from the largest team of reporters on Capitol Hill – subscribe to Bloomberg Government today. Learn more.