HEALTH CARE BRIEFING: Virus Rescue Plan Stalls in Senate
Bloomberg Government subscribers get the stories like this first. Act now and gain unlimited access to everything you need to know. Learn more.
Republicans and Democrats in Congress stumbled in their attempt to engineer a quick jolt to a sinking economy with a $2 trillion stimulus despite the rising coronavirus death toll, plunging financial markets and dire predictions of a deep recession.
Negotiations to break the impasse over the stimulus legislation continued into the night Sunday after Senate Democrats voted to reject the latest version of the plan from Majority Leader Mitch McConnell (R-Ky.), which had been the product of frenzied bipartisan negotiations a day earlier.
Senate Minority Leader Chuck Schumer (D-N.Y.) met several times Sunday night, including at 11:45 p.m., with Treasury Secretary Steven Mnuchin, who has been conducting what amounted to shuttle diplomacy between the two sides.
While many details of the plan had been hashed out, some fundamental differences hadn't been bridged. The recriminations began immediately after McConnell's bid for a procedural vote failed.
An incensed McConnell cited plummeting stock futures to express the urgency to act Monday, and the Kentucky Republican ripped Schumer and Speaker Nancy Pelosi (D-Calif.).
"We're fiddling here. We're fiddling with the emotions of the American people, fiddling with the markets," McConnell said on the Senate floor. "This obstruction achieves nothing."
Schumer earler complained the bill was partisan, includes "a large corporate bailout" with insufficient oversight, and shortchanges the response to the pandemic. He said there should be "much more money" for hospitals, ventilators, testing and other equipment, as well as aid to state and local governments. Read more from Steven T. Dennis.
Trump to Make Decision on Virus Measures: President Donald Trump said his administration will make a decision as to "which way we want to go" regarding coronavirus measures after a 15-day period, according to a tweet, Niluksi Koswanage reports. "WE CANNOT LET THE CURE BE WORSE THAN THE PROBLEM ITSELF," Trump says in all capital letters in tweet.
Hospitals Face 'Existential' Funding Crisis: U.S. hospitals have been lobbying lawmakers to pump billions of dollars into the health industry to keep struggling hospitals afloat and buy needed medical supplies to deal with the outbreak of the coronavirus, Alex Ruoff reports. Some hospital lobbies said this weekend the funds that lawmakers were considering weren't enough. The Senate Republican plan would set aside $75 billion for health-care providers in addition to rolling back expected Medicare and Medicaid cuts.
"We've been facing a financial crisis, now it's more of an existential crisis," LaRay Brown, president and chief executive officer for One Brooklyn Health, a system of health clinics in New York, told reporters Saturday. Brown said One Brooklyn Health was losing millions of dollars each month as they spend more on staffing and expanding their capacity to deal with rising number of Covid-19 patients each week.
American Hospital Association is asking for $100 billion for hospitals in the Coronavirus package being debated this week, something they say can't wait for the next round of legislation on the issue.
"This is very urgent," Rick Pollock, president and CEO of the AHA, said. "We need to get this done now and I don't know if we can wait for a fourth package."
Health Agenda at Risk: Congress is less likely to pass legislation to take on drug pricing or surprise medical bills if the stimulus becomes law, lobbyists say. The measure Senate Republicans floated this weekend carries a short-term extension for the federal community health centers and National Health Service Corps program, which were set to expire this May. That will likely delay and could doom efforts to pass surprise medical billing and drug pricing legislation in the coming months, a lobbyist for health-care providers said. Read more from Alex Ruoff.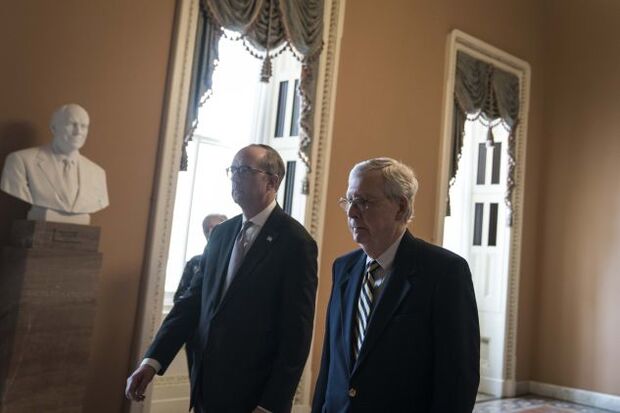 MORE CONGRESSIONAL EFFORTS:
Enhancing Coronavirus Coverage: A group of Democratic senators are calling on major health insurers to enhance their coverage of testing and treatment for patients who may have Covid-19. Sen. Maggie Hassan (D-N.H.) and six others called on insurance companies to expand coverage to include "diagnostic and therapeutic care for patients deemed by a clinician to be presumptively positive for COVID-19, including in all instances where authorized Covid-19 testing is unavailable." The letter was sent to Blue Cross Blue Shield Association; Cigna; Humana; Kaiser Permanente; UnitedHealth; America's Health Insurance Plans; and CVS Health, which owns Aetna. Read more from Sara Hansard.
Rand Paul First Positive Senator: Sen. Rand Paul (R-Ky.), who voted against two emergency coronavirus spending bills earlier this month, has tested positive for Covid-19 and is now in quarantine, according to a post on his Twitter account. He's the first U.S. senator and the third member of Congress known to have become infected. Paul was tested "out of an abundance of caution" due to his extensive travel and events, according to the tweet. He will miss the next steps on efforts. Read more from Ros Krasny.
New Legislation:
Treatment Measures & Research
Trump's Drug Tout Has Patients Stocking Up: A tiny trial of a malaria drug may or may not have helped several patients in France fight off Covid-19. The FDA has said it needs more studies and some expert doctors are skeptical, but Trump is all for it. On Saturday, Trump again promoted the drug at a White House briefing, and retweeted a post about a small scientific study that has been making the rounds for several days. It followed Trump's comments Friday that the drug, hydroxychloroquine, was a "game changer."
Hospitals, anticipating a surge in demand, are stockpiling the drug, and some are already treating patients with it on an off-label basis. Medical institutions are gearing up to conduct further studies. Urgent-care centers and tele-health companies have seen increasing numbers of patients requesting hydroxychloroquine as they read about it online, and patients who actually require the drugs have at times not been able to obtain them. Read more from Kristen V. Brown and Riley Griffin.
Rights to Coronavirus Vaccines: From drug pricing to how widely a vaccine for coronavirus should be available, the money the U.S. government is pouring into research will provide it some clout over any eventual vaccine or testing patent. Federal officials even have a "nuclear option" to use the government's eminent domain-like authority to force drugmakers to license discoveries to competitors.
While the federal government could wield its partial ownership of patents from research aided by the NIH or CDC, it's unlikely to take that step just yet, lawyers say. For now the goal is to balance a desire to make any needed tests and drugs available to as many Americans as possible while making sure drug companies profit enough to keep producing, lawyers say. Read more from Valerie Bauman.
States Get New CMS Tools: States combating coronavirus can modify Medicaid eligibility requirements and take steps to ensure that the elderly or those with disabilities can be served in their homes, CMS announced yesterday. "The Trump Administration is marshaling all its support behind states battling the Coronavirus," Administrator Seema Verma said in a statement. The tools include an opportunity for states to experiment with how they deliver or pay for health-care services, Andrew Childers reports.
More Headlines:
Testing & Equipment
Pence Vows Coronavirus Testing Backlog Resolved by Midweek: Vice President Mike Pence said the backlog in coronavirus testing in the U.S. should be resolved by midweek. Pence, speaking at a White House press conference yesterday, said health-care workers should prioritize in-patient testing.
"We want people checked into a hospital, that are treated for what they thought was the coronavirus, to receive the test more quickly," Pence said, Josh Wingrove reports.
The administration is urging Americans to go without the test if they can, in an effort to ration scarce medical equipment for treating. At the White House briefing on Saturday, Pence and other officials said only people with coronavirus symptoms should seek the test. Of those, priority groups include health-care workers and people in hospitals or long-term care homes. Labs are also working on a self-administered test that would lower the need for protective gear, but it's not yet ready.
"Not every single person in the United States needs to get tested," said Dr. Anthony Fauci, director of the National Institute of Allergy and Infectious Diseases in the National Institutes of Health. "When you go in to get tested, you are consuming personal protecting equipment — masks and gowns. Those are high-priority for the health-care workers." Read more from Wingrove.
Medical Equipment Production: Trump said on Friday that he does not want the federal government to compete against U.S. states in their bids for medical equipment as jurisdictions scramble to find the necessary supplies to deal with the virus. "If there is a conflict, they will call us and we will drop our bid," he said. Governors had told Trump that after he suggested they seek their own supplies, the suppliers canceled orders for better bids by the federal government. Read more from Josh Wingrove and Jordan Fabian.
More Headlines:
Prevention Efforts & Societal Effects
Distancing for Weeks Longer: Americans will have to practice social distancing for at least several more weeks to mitigate new outbreaks of Covid-19, Fauci said Friday. "I cannot see that all of a sudden, next week or two weeks from now, it's going to be over," he said on NBC's Today Show. "If you look at the trajectory of the curves of outbreaks in other areas, it's at least going to be several weeks." Jeannie Baumann has more.
More Headlines:
What Else to Know
FDA Allows Leeway on Patient Lab Tests: The FDA will allow health providers dispensing certain controlled medicines to waive requirements that patients come into a lab for testing or imaging in light of the coronavirus pandemic. Certain drugs are known to be dangerous if their use isn't carefully controlled. Generally, extra safety precautions are things like patient packet inserts or a discussion with a doctor or pharmacist. But some drugs requires laboratory testing (e.g., liver enzyme testing) or imaging studies (e.g., magnetic resonance imaging) to ensure the medicine is safe for the patient. Read more from Fawn Johnson.
Obamacare Challenge Delay Sought: States fighting over the constitutionality of Obamacare have asked the Supreme Court to allow more time to file briefs in the case. The parties jointly asked the justices to approve a proposed schedule that would have the briefing completed by August 18, according to a letter filed Friday by California Deputy Solicitor General Samuel P. Siegel. "All parties have agreed to this proposed schedule, which would allow the Court to hold oral argument during the October 2020 sitting," he said.
California is leading the coalition of blue states that stepped into defend the law after the Department of Justice refused to do so. The Supreme Court on March 2 agreed to review the constitutionality of the law for a second time. Under the proposed schedule, the coalition's opening briefs would be due May 6. Read more from Lydia Wheeler.
Arbes Confirmed to HHS Post: The Senate confirmed Sarah Arbes, Trump's nominee to lead the HHS office that works most directly with Congress. Arbes, who has been serving as the acting assistant secretary for legislation since June 2019, was formally nominated to the position by Trump in October 2019 and approved unanimously by the Senate Finance Committee. Senators confirmed her position Saturday. Read more from Shira Stein and Cheryl Saenz.
More Headlines:
To contact the reporter on this story: Brandon Lee in Washington at blee@bgov.com
To contact the editors responsible for this story: Giuseppe Macri at gmacri@bgov.com; Zachary Sherwood at zsherwood@bgov.com; Michaela Ross at mross@bgov.com
Stay informed with more news like this – from the largest team of reporters on Capitol Hill – subscribe to Bloomberg Government today. Learn more.