HEALTH CARE BRIEFING: Virus Puts Off Trump's Other Health Plans
Bloomberg Government subscribers get the stories like this first. Act now and gain unlimited access to everything you need to know. Learn more.
Some of President Donald Trump's top health priorities before the coronavirus pandemic, including HIV prevention and paying for patient outcomes instead of individual procedures, have been swept away by the virus response and could end up permanently sidelined, former administration officials and some leaders of the policy efforts said.
Many leaders at the Health and Human Services Department pushing forward the policies have had to back away to lead the Covid-19 response, and Trump's Office of Management and Budget has limited resources to review and approve rules not related to the pandemic. HHS officials are going to have to pick and choose which policies to prioritize before the end of Trump's term.
HHS leaders including Assistant Secretary for Health Brett Giroir, Centers for Medicare & Medicaid Services Administrator Seema Verma, CMS Innovation Center Director Brad Smith, and Centers for Disease Control and Prevention Director Robert Redfield have been redeployed to work on Covid-19 testing, flexibility in Medicare policies, and increasing the supply of personal protective equipment.
The timeline of the pandemic is uncertain and could last until the presidential election in November, creating the possibility that none of these policies are finished if presumptive Democratic nominee Joe Biden emerges victorious.
The list of major policies—many of which are bipartisan—that still require action by the administration is long. It includes efforts to lower prescription drug prices and regulations to encourage that more dialysis be performed from home. The coronavirus pandemic "has supplanted everyone's priority because it's a life-or-death situation," said Carl Schmid, co-chair of the Presidential Advisory Council on HIV/AIDS.
Read more from Shira Stein on the president's health-care agenda that has been put on the back burner—potentially for good—due to the pandemic.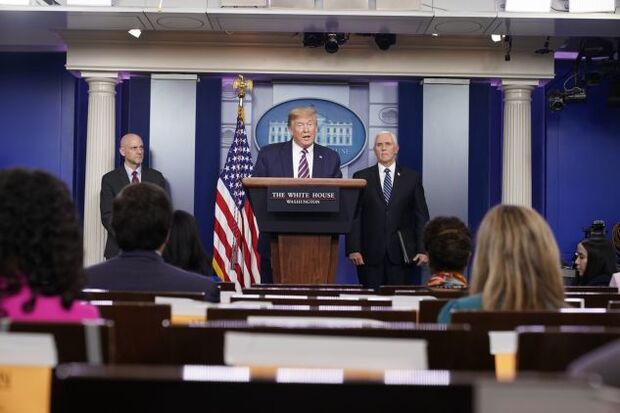 Trump Calls Azar After Reports Cast Him as Imperiled: Trump called HHS Secretary Alex Azar this weekend to say his job is safe after reports the White House may oust the health chief as the administration faces criticism over its coronavirus response.
The call, described by a person familiar with the matter, and a Trump tweet yesterday backing Azar came after multiple news accounts saying some officials within the White House had discussed his dismissal and potential replacements. Azar also weighed in on Twitter, praising Trump's leadership and saying reports he's about to be replaced are fake.
Dismissing the nation's top health official in the middle of a pandemic would amount to acknowledgment the U.S. response hasn't been as good as Trump has portrayed it. With more than 54,000 dead from Covid-19 in the U.S—the highest number of the world—Trump has come under criticism for being slow to respond to the outbreak.
The president said in his tweet yesterday that the media is unfairly portraying his administration as chaotic. "Alex is doing an excellent job!" he wrote.
High-level people at the White House have told Azar he's not about to be removed. But some officials believe that Azar's adversaries in the administration are trying to undermine him by promoting a narrative that he's in trouble. Read more from Justin Sink and Jennifer Jacobs.
Trump Questions if Pandemic Briefings 'Worth the Time'
Trump has been determined to talk his way through the coronavirus crisis, but frequent misstatements at his daily news conferences have caused a litany of public health and political headaches for the White House.
On Friday, Trump sought to clean up his briefing room riff from the day before about the possibility of fighting coronavirus infection in patients with chemical disinfectant or sunlight—a dangerous idea that doctors and a manufacturer of cleaning products felt obliged to publicly warn against.
By Saturday, Trump had suggested the briefings, which have become a televised daily substitute for his campaign rallies, were "not worth the time and effort," a day after a report that he plans to scale back such appearances.
Trump on Friday said he had "sarcastically" suggested Americans be injected with disinfectant. The president's new spokeswoman also sought to clarify his remarks. "President Trump has repeatedly said that Americans should consult with medical doctors regarding coronavirus treatment," White House press secretary Kayleigh McEnany said in a statement."
Trump's most public response to the U.S. coronavirus outbreak has been the extended news conferences he's held almost every day, including weekends, to talk about it. He pulled off his 2016 upset and survived the Russia investigation and impeachment in part due to his ability to dominate media coverage. But the president has never been known as a detail-oriented leader and his off-the-cuff briefings have left many Americans distrustful of what he says.
As questions mounted about Trump's comments on disinfectant, Trump and his coronavirus task force on Friday evening held their shortest news conference yet, at just 22 minutes. He took no questions. There was no briefing this weekend but instead, a series of tweets that returned to familiar targets, like the media and Democrats.
"I never said the pandemic was a Hoax! Who would say such a thing? I said that the Do Nothing Democrats, together with their Mainstream Media partners, are the Hoax," he tweeted. "They have been called out & embarrassed on this, even admitting they were wrong, but continue to spread the lie!" Jordan Fabian has more.
Birx Irked Trump's Gaffe Still in News: Deborah Birx, coordinator of the White House Coronavirus Task Force, said Trump understands that disinfectant isn't a treatment. "It bothers me that this is still in the news cycle," she said on CNN, in one of three interviews yesterday. "I've made it clear that this was a musing" on Trump's part. Read more from Hailey Waller.
CMS Suspends Doctors' Loan Program for Grants: Doctors' offices, clinicians, and medical equipment suppliers now will receive emergency funds through the recent rescue packages approved by Congress rather than a loan program that requires them to repay the money within a year. CMS said yesterday that it won't accept applications for its Advance Payment Program, which is typically used to address cash flow issues for health providers other than hospitals when there is disruption in claims submission or claims processing. The CMS will continue to accept applications for loans for its companion program for hospitals, the Accelerated Payment Program, but will reevaluate new and pending requests in light of the direct grant payments already available through the agency's Provider Relief Fund. Read more from Fawn Johnson.
FDA Warns Against Trump-Touted Drugs: The Food and Drug Administration warned of potential serious heart risks from malaria drugs touted by Trump for the coronavirus, becoming the latest federal agency to dial back hopes of a fast pharmaceutical solution to the pandemic. The president has been a proponent of giving Covid-19 patients the antimalarial medicines hydroxychloroquine and chloroquine. But Friday, the FDA said Covid-19 patients shouldn't take the drugs unless they're carefully monitored in a hospital or during a clinical trial. Robert Langreth, Riley Griffin, and Michelle Fay Cortez have more.
More Headlines:
Research, Treatment & Coordination
States Push for Racial Disparity Data: Health departments across the nation are trying to fill large gaps in the reporting of racial information on coronavirus patients, but more than one-third of reported cases still lack such information, according to state and federal health data. State health departments have only just started reporting demographic data on coronavirus patients to help them direct resources and to give public health groups a sense of which communities are most affected by the pandemic. African Americans are disproportionately hit by the virus, early demographic data show.
Many states quickly found they were getting complete information about those who died from the illness, but health-care providers have been inconsistent on whether they collect information about the race of their patients, public health officials say. This lack of reporting has left knowledge gaps many fear will make it difficult to address the health disparities faced by communities of color. Read more from Alex Ruoff.
HHS Stocking Up on Drugs: The HHS is spending $256 million to secure drugs and pharmaceutical ingredients needed during the pandemic, according to the General Services Administration website. Due to the crisis, the supply chain for the items has been "nearly depleted" and often times, such items have to "be sourced directly from the manufacturer or distributors," the HHS said in a document. Read more from Shira Stein.
EU Says Data Can Be Sent to U.S.: European Union privacy watchdogs said that citizens' health data may be shared with the U.S. in the race to develop a vaccine and therapies for Covid-19. An EU data protection regulatory panel told the U.S. embassy in Brussels that there are exemptions to the bloc's strict privacy law to permit scientists to internationally to share health information. Any solutions that guarantee the sustained protection of people's privacy rights should be favored, the European Data Protection Board said. But some exemptions can be applied due to the urgency of the situation, they said, Stephanie Bodoni reports.
Pompeo Seeks Exceptions to WHO Funding: Secretary of State Mike Pompeo recommended that the U.S. keep funding World Health Organization programs to combat polio and coronavirus in seven nations, a recognition that the group provides key services in some areas despite Trump's criticism. State Department officials informed the National Security Council that the WHO is key to the fight against Covid-19 or polio in seven countries: Afghanistan, Egypt, Libya, Pakistan, Sudan, Syria and Turkey, said a person familiar with the discussions. Read more from Nick Wadhams.
Democrats List Next Stimulus Priorities: Reps. Diana DeGette (D-Colo.) and Fred Upton (R-Mich.) will hold a press call today at 11 a.m. to "unveil next steps and key goals for their bipartisan Cures 2.0 legislation," a follow-up stimulus package after Trump signed into law the latest stimulus on Friday. The two lawmakers "are working to explore how the bill can modernize the delivery of health care in the wake of the coronavirus pandemic," according to a statement. "As our nation faces this unprecedented public health crisis, it's more important than ever that we continue our efforts to modernize the way we treat the world's most vexing diseases," DeGette and Upton said in the statement.
Democrats are considering proposing a new round of direct cash payments to U.S. households and extending a similar benefit to the smallest businesses, as they struggle to get federal loans. Sen. Ron Wyden (D-Ore.) and Rep. Richard Neal (D-Mass.), the top Democrats on Congress's two tax committees, want to include the payments in the next round of stimulus spending that Congress is likely to take up in May. Read more from Laura Davison.
More Headlines:
Testing Efforts & Re-Opening the Country
No FDA Review for Most Antibody Tests Draws Rebuke: The FDA has allowed antibody tests that could show if someone has already been exposed to Covid-19 and developed some immunity to be on the market without review and has yet to take an enforcement action, according to lawmakers. Trump has touted antibody testing as a way to unlock the U.S. economy, and experts say it could be key in doing so safely. But there have been reports that current tests may be unsafe or inaccurate.
The FDA hasn't yet assessed the reliability of most of the antibody tests on the market, according to a memo from a panel of the House Oversight and Reform Committee released Friday. The Department of Health and Human Services has convened an interagency group to do so, but the program is voluntary. Only seven of the 101 test kits on the market had been submitted as of April 17. Read more from Shira Stein.
Cuomo Announces Phased Plan to Reopen: New York's state Covid-19 deaths fell to 367 yesterday, the lowest in almost a month, as Gov. Andrew Cuomo (D) floated a phased-in reopening that begins with construction and manufacturing. That could start as soon as May 15, he said, and probably begin in upstate before New York City. Cuomo's briefing, filled with technicalities and conditions for restarting the state, was a sharp contrast to the depths of the virus outbreak in New York. On April 9, a record 799 people died. Total fatalities are now at 16,966, even as new hospitalizations and intensive care cases continue to drop. Read more from Ian Fisher and Henry Goldman.
Pence Says Outbreak May End by Memorial Day: Vice President Mike Pence said he thinks the U.S. coronavirus outbreak may be over by Memorial Day on May 25, 2020. "I truly do believe that if we all continue to do that kind of social distancing and other guidance broadly from federal and state officials, that we are going to put this coronavirus in the past," Pence told Geraldo Rivera Friday, adding that he thinks "by early June, we're going to see our nation largely past this epidemic." Read more from Justin Sink.
More Headlines:
What Else to Know Today
Health Firms Join Early Lobby Spending Spree: Lobbying spending surged in the first three months of 2020, with health companies like CVS Health, Novartis, and AbbVie breaking their own quarterly lobbying expenditure records. Almost all of the top-spending corporations and trade associations in Washington have bolstered their advocacy through the first quarter of the year, compared to the same period last year.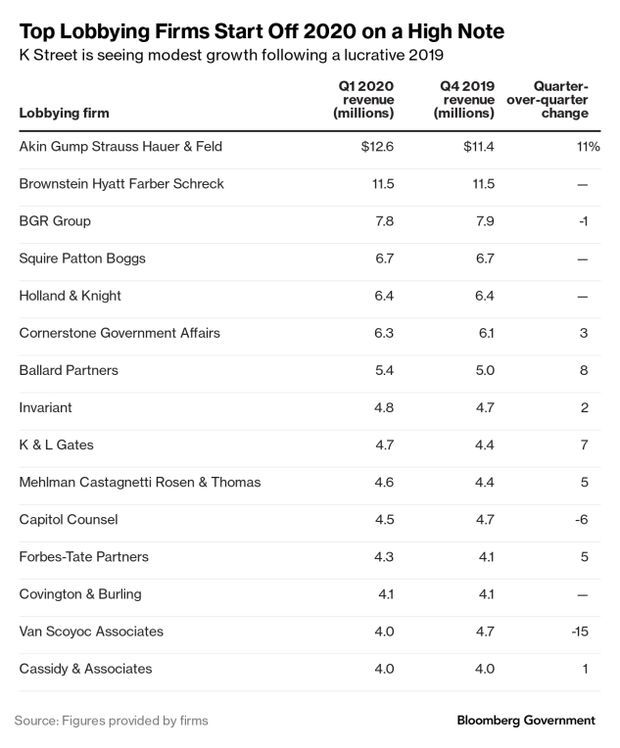 Trade associations also reported robust lobbying at the beginning of the year. America's Health Insurance Plans had its highest quarterly lobby expenditures since the fourth quarter of 2013, spending more than $3.6 million in the first three months of 2020. The association, which represents the bulk of U.S. health insurers, was active on dozens of bills and regulations dealing with health care. The latest quarterly spending increase was tied to lobbying on surprise billing work, according to spokeswoman Kristine Grow. Megan R. Wilson has more.
Democrats Flag 'Aggressive' Immigration Policies: Senate Health, Education, Labor, and Pensions Committee top Democrat Patty Murray (Wash.) and House Appropriations Labor-HHS Chairwoman Rosa DeLauro (D-Conn.) wrote in a letter to HHS Secretary Azar to express "serious concern" over reports that the Office of Refugee Resettlement "is considering new aggressive" immigration policies, urging him to make sure the office "remains focused first and foremost on the wellbeing of the children in its care," according to a Friday statement. Their letter comes as Trump signed an executive order last week to severely restrict immigration to the U.S.
More Headlines:
To contact the reporter on this story: Brandon Lee in Washington at blee@bgov.com
To contact the editors responsible for this story: Giuseppe Macri at gmacri@bgov.com; Zachary Sherwood at zsherwood@bgov.com; Michaela Ross at mross@bgov.com
Stay informed with more news like this – from the largest team of reporters on Capitol Hill – subscribe to Bloomberg Government today. Learn more.