HEALTH CARE BRIEFING: Vaccine Strategies Vowed by Biden, Trump
Bloomberg Government subscribers get the stories like this first. Act now and gain unlimited access to everything you need to know. Learn more.
President-elect Joe Biden unveiled his health team yesterday, warning Americans of a "dark winter" but promising to "change the course" of the pandemic within the first 100 days of his administration by reopening schools, requiring masks, and providing 100 million vaccinations.
Biden warned there was no quick fix, but he pledged his administration would administer 100 million doses in the first 100 days after he took office, a lower target than President Donald Trump's plan, which Biden said would fail without intervention and new funding.
Biden introduced California Attorney General Xavier Becerra (D) as his secretary of Health and Human Services. He also presented the other health officials he had announced on Monday.
Biden's vaccine vow, to administer 100 million doses by the end of April, enough for 50 million people, is less ambitious than the one Trump's officials have pledged, but he argues it's more realistic. Moncef Slaoui, the coordinator of Operation Warp Speed, said in a call this month he believes the U.S. would be able to deploy 200 million doses, enough for 100 million people, by the end of February. Josh Wingrove has more.
White House Defends Vaccine Strategy Amid Criticism
The U.S. government's plan to vaccinate most Americans by next summer rests heavily on two Covid-19 shots that U.S. regulators won't get a chance to rule on until early in 2021.
AstraZeneca Plc and Johnson & Johnson together would provide 150 million to 200 million shots in the first quarter, said Moncef Slaoui, chief scientific officer of Operation Warp Speed.
Slaoui detailed the plan in response to criticism that the U.S. left itself exposed by declining to order more doses from New York-based Pfizer, whose vaccine is likely to be authorized for emergency use in the coming days. At the White House's vaccine summit yesterday, Slaoui defended the strategy of spreading bets among vaccine makers relying on different technologies. The goal: Ensure the plan wasn't hindered by any individual clinical failure, manufacturing delay, or poor execution by management, he said.
The U.S. has an agreement for 100 million doses of the Pfizer-BioNTech SE two-dose vaccine regimen, enough for 50 million people. Both shots are needed to provide full immunity. The New York Times and the Washington Post reported Monday that Pfizer had offered an additional 100 million doses to the U.S., which declined.
Scott Gottlieb, the former Food and Drug Administration chief who now sits on Pfizer's board, said yesterday on CNBC that the offer remained on the table even after Pfizer released data showing the vaccine was highly effective in a clinical trial. Eventually, other countries took their place in line ahead of the U.S., and now Pfizer's home nation would have to wait until late summer to get more doses.
Without more Pfizer vaccines for the time being, estimates for when the U.S. can reach herd immunity could be at risk unless the U.S. can get more doses elsewhere, Morgan Stanley analyst Matthew Harrison said in a research note. Harrison had been modeling vaccinations reaching a tipping point by mid-2021. Read more from Riley Griffin.
FDA Report Says Pfizer Vaccine Safe, Effective: The vaccine made by Pfizer and its German partner BioNTech is highly effective in preventing Covid-19 and there were no concerns over safety that would prevent it from being granted emergency-use authorization, according to a study by the Food and Drug Administration. The report provides a first look at the U.S. review of the vaccine before tomorrow's public meeting of outside FDA advisers, Anna Edney reports.
Vaccine Distribution Hits Freight Rate Bumps: The global rollout of Covid-19 vaccines faces a logistics labyrinth as the shippers of millions of shots must navigate a global economy still grappling with soaring rates for air cargo and overstretched trucking networks. With massive immunization campaigns set to get underway early next year, a survey released yesterday by the International Air Cargo Association and Pharma.aero found 46% of the industry feels well-prepared, versus 28% in a mid-September survey. Read more from Catherine Bosley.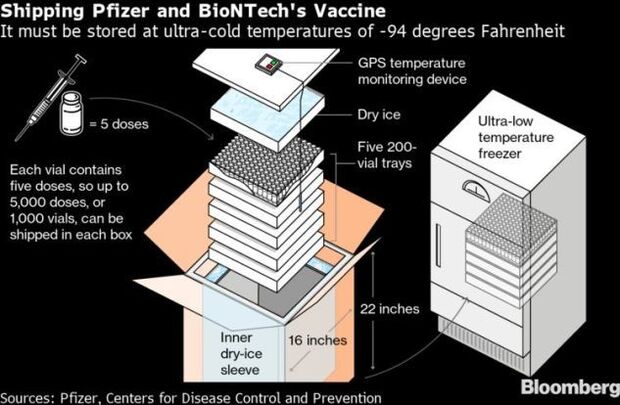 More Headlines:
On Lawmakers' Radars
House Floor: The House today is scheduled to consider an additional health-related measure:
House to Vote on One-Week Stopgap, Health Extensions: The House is scheduled to vote today on a continuing resolution (H.R. 8900) to keep the federal government running for an additional week, ahead of a Friday night deadline. It also would extend several health provisions and other programs covered by the first CR and has a few other health provisions. Negotiations continue on a full omnibus spending measure for fiscal 2021. For more on the measure, read the BGOV Bill Summary.
Abortion Measures High on Democrats' 2022 Priorities: Democrats are setting up a showdown with Republicans over a decades-old ban on federal funding for abortions, part of their promise to reverse changes made to family planning grants through Trump's presidency. Rosa DeLauro (D-Conn.), who will take over as chair of the House Appropriations Committee next year, said yesterday House Democrats won't carry the Hyde amendment in their fiscal 2022 Labor-HHS-Education funding bill. Read more from Alex Ruoff and Jack Fitzpatrick.
Biomedical Innovation Upgrade on Tap for Congress: Biden's shepherding of a landmark biomedical innovation law bodes well for another effort to boost access to digital health and overhaul the federal government's Medicare office. Reps. Diana DeGette (D-Colo.) and Fred Upton (R-Mich.) said that a draft version of Cures 2.0, the followup to the 21st Century Cures law, will come out early next year, with hopes of passing it next year. The former vice president, whose cancer moonshot initiative was a part of the 2016 law, presided over the Senate when it passed. Jeannie Baumann has more.
Portman, Carper Release Report on HHS, Migrant Children: Sens. Rob Portman (R-Ohio) and Tom Carper (D-Del.), the chairman and top Democrat of the Senate Homeland Security Committee's investigations panel, released a bipartisan study "identifying failures in the Department of Health and Human Services' shelter grant processes to ensure the safety of unaccompanied alien children." The report says that a lack of oversight of companies that operate shelter for unaccompanied migrants "could have endangered" minors. Read it here.
Senate Floor: The Senate by unanimous consent approved an amended version of H.R. 5663 to amend the Food, Drug, and Cosmetic Act to give authority to Health and Human Services to destroy counterfeit devices, Nancy Ognanovich reports.
What Else to Know Today
SCOTUS Forces Fast Biden Action on Medicaid: The U.S. Supreme Court's decision to weigh in on the legality of Medicaid's work requirements puts pressure on the Biden administration to promptly fashion legal strategies aimed at rolling back state plans that have already gotten approval. Biden is expected to reverse course on approving state requirements that Medicaid enrollees work, volunteer, or go to school as a condition of coverage—a central policy priority of Trump's Centers for Medicare and Medicaid Services, Christopher Brown reports.
ACA Exit Option for States Threatens Enrollment: Obamacare enrollment could plunge if states take advantage of a Trump administration proposal that would permit them to follow Georgia's lead and pull out of Affordable Care Act exchanges. Georgia got the go-ahead last month to bypass the federal HealthCare.gov exchange beginning in 2023, and instead direct consumers to sign up for ACA plans through web brokers or health insurers. Read more from Sara Hansard.
States Back Kentucky AG Entry in Abortion Suit: Twenty states are urging the U.S. Supreme Court to grant a review of a Sixth Circuit decision preventing Kentucky's attorney general from seeking full court review of an adverse opinion in an abortion lawsuit, saying that it interfered with Daniel Cameron's (R) "unquestioned authority" to represent the state. The amicus brief, led by Arizona, challenges the U.S. Court of Appeals for the Sixth Circuit's denial of Cameron's motion to intervene in a lawsuit. Mary Anne Pazanowski has more.
Dispute Processes for Discount Drugs Clear Review: The White House yesterday completed its review of a dispute process between low-income facilities and drug companies that sell them discounted products, meaning the policy could be published any time. Drug companies have to sell medications to facilities that serve primarily lower-income patients at steep discounts, commonly referred to as "340B" discounts. Read more from Jacquie Lee.
More Headlines:
With assistance from Nancy Ognanovich
To contact the reporter on this story: Brandon Lee in Washington at blee@bgov.com
To contact the editors responsible for this story: Zachary Sherwood at zsherwood@bgov.com; Giuseppe Macri at gmacri@bgov.com; Michaela Ross at mross@bgov.com
Stay informed with more news like this – from the largest team of reporters on Capitol Hill – subscribe to Bloomberg Government today. Learn more.