HEALTH CARE BRIEFING: Vaccine Mandates Begin Steady Rise in U.S.
Bloomberg Government subscribers get the stories like this first. Act now and gain unlimited access to everything you need to know. Learn more.
Vaccine mandates are beginning a march across the U.S., constricting the places that people who've shunned the shots can work, shop and play.
One day after the federal Food and Drug Administration approved the Pfizer-BioNTech vaccine, institutions central to their regions announced stricter—potentially bellwether—rules. In New York, a city driven by finance, Goldman Sachs required bankers to prove they'd been vaccinated. In football-crazed Baton Rouge, Louisiana State University will demand vaccines or negative Covid tests to see a game at Tiger Stadium, capacity 102,000.
CVS Health this week required shots for corporate employees and people working with patients, while Chevron and Hess added requirements for employees on oil platforms in the Gulf of Mexico. Walt Disney Company announced it struck a deal with about 40,000 unionized theme-park workers in Florida. And Delta Air Lines said yesterday that it would impose a monthly $200 charge against workers who refuse to protect themselves.
Such stringent requirements had been relatively rare in the U.S., as companies and politicians tried to avoid angering a significant segment of the population hostile to vaccines and other health measures. But President Joe Biden this week encouraged public and private sector employers to crack down. The FDA approval emboldened them to demand that workers and consumers get shots or get out.
Also on the FDA's radar:
In government, 19 states, plus the nation's capital and Puerto Rico, are already requiring at least some workers to be vaccinated or undergo regular testing. Sandra Crouse Quinn, a professor in the University of Maryland's School of Public Health, said she's expecting an "avalanche" of similar moves among public and private institutions. "Companies and universities believe that they have a stronger leg to stand on to mandate vaccines," she said.
The U.S. is reaching a critical juncture, with the emergence of the highly infectious delta strain and more than 100 million eligible residents still not fully vaccinated. Alarming surges of hospitalizations in Florida and the Deep South have dispelled any lingering perception that current levels of immunity were sufficient to emerge from the pandemic. Read more from Jonathan Levin, Skylar Woodhouse, and Kara Wetzel.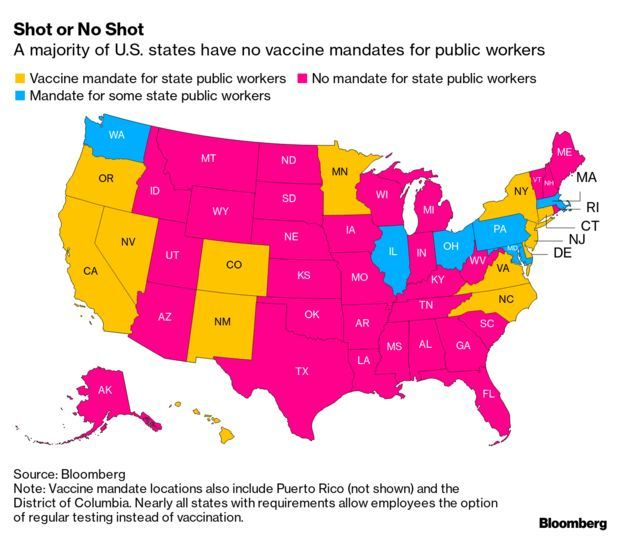 Delta Takes Tough But Legal Stance, Lawyers Say: The plan by Delta Air Lines to penalize unvaccinated workers underscores the dilemma faced by employers that want inoculated workers without triggering the practical problems associated with absolute vaccinate-or-terminate mandates, such as firing employees who are both noncompliant and difficult to replace.
Imposing a penalty can have implications under laws governing wellness programs and anti-bias protections, legal observers said. "Employers are trying to find ways to stay within the parameters of law to get their employees vaccinated," said Margo Wolf O'Donnell, co-chair of Benesch Friedlander Coplan & Aronoff LLP's labor and employment practice. "They're taking a myriad of approaches." Read more from Robert Iafolla.
Medicare to Move Cautiously on Nursing Home Penalties: The Biden administration is likely to implement a phased-in penalty process for nursing homes that don't meet an upcoming federal requirement for staff to be vaccinated against Covid-19. Biden moved last week to require that nursing homes vaccinate their entire staff to participate in the Medicaid and Medicare programs. Failure to comply could result in termination from both federal health programs, which collectively pay for roughly three out of four nursing home patients.
In a webinar and conference call with nursing home operators yesterday, Jean Moody-Williams, deputy director of the Center for Clinical Standards and Quality at the Centers for Medicare & Medicaid Services, said program termination would be a worst-case scenario—not the first course of action for facilities that don't meet the new requirement. Read more from Tony Pugh.
More on the Pandemic
Biden Report Inconclusive on Origins: The latest U.S. intelligence report on the origins of Covid-19 is inconclusive, according to an official familiar with it—an outcome that will do little to quell debate about whether the virus spread to humans from animals or leaked from a lab in Wuhan, China. Biden received the report this week after asking for a deeper examination of the origins of the disease. The White House is preparing to release an unclassified version soon. Jennifer Jacobs and Josh Wingrove have more.
Cruise Ship Suits Show High Bar for Pinpointing Exposure: The limited success of cruise line Covid-19 lawsuits showcases the high bar consumers must meet to hold businesses liable for alleged virus exposure, suggesting they can overcome legal hurdles—but only in the right circumstances. Cruise ship passengers filed at least 42 lawsuits in federal court alleging injuries—ranging from emotional distress to death—due to exposure to Covid-19, an analysis of Bloomberg Law data shows. About 15% of those cases have settled on undisclosed terms, and 40% of them have been dismissed. None have advanced to trial.
The data highlight the long odds consumers face to win such lawsuits in less confined environments than a cruise ship. The pervasive presence of the virus makes it very difficult to prove that spending time at a specific business caused a consumer to get sick, legal observers say. Read more from Robert Iafolla and Jake Holland.
Hochul Acknowledges More Deaths in N.Y. in 2020: New York Gov. Kathy Hochul (D) for the first time acknowledged an additional 12,000 Covid-19 deaths in the state. The state's database on deaths was updated yesterday to include both the official tally from the Centers for Disease Control and Prevention and previously reported figures. Hochul's predecessor Andrew Cuomo faced scrutiny for citing the state's Health Electronic Response Data system, which showed fewer deaths. Emma Kinery has more.
Federal Aid Failing to Reach Renters: State and local governments are still struggling to disburse emergency rental assistance in July despite ramped-up efforts from the White House to expedite payments. Just $1.7 billion was released last month, bringing the total so far to $5.1 billion of the $46.5 billion appropriated by Congress to prevent evictions during the pandemic, the Treasury said today. The White House is now outlining guidance for state and local entities to speed the process. Christopher Condon has more.
EU to Discuss Reimposing Travel Curbs on U.S.: The European Union will discuss tomorrow whether to reimpose restrictions on visitors from the U.S. as new cases surge. The U.S. had 507 new infections per 100,000 inhabitants in the first two weeks of August, the European Centre for Disease Prevention and Control says, far above the cap of 75 set out in EU guidelines. But barring visitors would face major opposition from tourism-reliant EU members. Jasmina Kuzmanovic, Andra Timu and Siddharth Philip have more.
More Headlines:
What Else to Know Today
Coordinated Care Groups Saved Medicare Billions in 2020: The groups of doctors and hospitals that provide coordinated care through traditional Medicare saved the program nearly $1.9 billion in 2020, the Biden administration reported. That's the largest annual savings ever generated by accountable care organizations in the Medicare Shared Savings Program, the top value-based care initiative of the Centers for Medicare & Medicaid Services. Read more from Tony Pugh.
More Headlines:
To contact the reporter on this story: Brandon Lee in Washington at blee@bgov.com
To contact the editors responsible for this story: Zachary Sherwood at zsherwood@bgov.com; Giuseppe Macri at gmacri@bgov.com; Michaela Ross at mross@bgov.com
Stay informed with more news like this – from the largest team of reporters on Capitol Hill – subscribe to Bloomberg Government today. Learn more.