HEALTH CARE BRIEFING: Vaccine Makers to Say Supply Strain Easing
Bloomberg Government subscribers get the stories like this first. Act now and gain unlimited access to everything you need to know. Learn more.
Vaccine manufacturers signaled that some of the big bottlenecks that have shadowed the U.S. immunization campaign could soon start to ease, in testimony submitted for a hearing today.
Moderna said it has received positive feedback from U.S. regulators on a proposal to expand the number of doses of its Covid-19 vaccine in each vial, while Pfizer said it expects its output to ramp up in coming weeks. And Johnson & Johnson, which could gain clearance for its one-shot vaccine as soon as this week, said it will be ready to ship millions of doses.
The House Energy and Commerce Committee's oversight and investigations subcommittee is scheduled to hold a hearing of coronavirus vaccine manufacturers today to discuss expanding the availability of shots. In addition, the House Appropriations Labor-HHS-Education panel will hold a virtual roundtable on the pandemic with CDC Director Rochelle Walensky.
In testimony ahead of the Energy and Commerce hearing, Moderna said the Food and Drug Administration could permit it to put as many as 15 doses of its Covid-19 shot into each vial. Currently, its vials hold 10 doses. If authorized, the change could quickly increase supply of this vaccine, as one of the main production bottlenecks for Moderna has been with vial-filling.
Meanwhile, Pfizer said improvements and expansions to its manufacturing effort could allow it to ship 13 million doses of its vaccine per week by mid-March, up from 4 million to 5 million doses a week in early February.
In its statement, Johnson & Johnson said it may be able to produce enough of its one-dose vaccine to inoculate more than 20 million Americans by the end of March. Having a single-dose shot could help many people get fully vaccinated quicker, as the currently authorized vaccines each require two doses for complete protection.
Johnson & Johnson is planning to begin shipping immediately after receiving an emergency-use authorization. The vaccine is being reviewed on Feb. 26 by a panel of independent FDA advisers. If a panel vote is positive as expected, emergency approval could come soon after. Read more from Riley Griffin and Robert Langreth.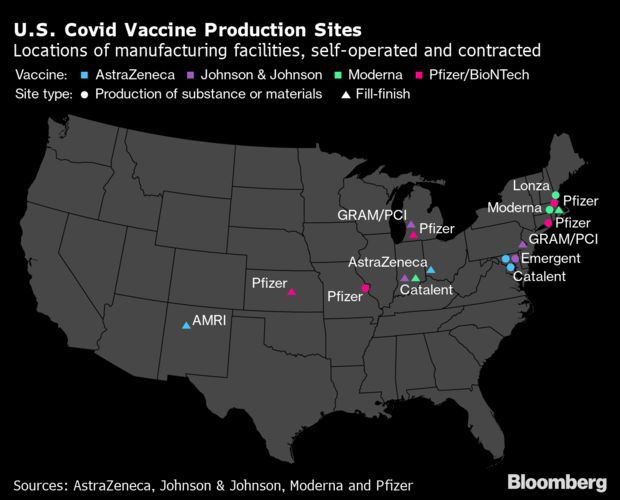 Happening on the Hill
Becerra Faces Grillings on Virus Response, Abortion: Xavier Becerra, who will sit before two Senate committees this week in his quest to become Health and Human Services secretary, will be pressed from lawmakers from both parties on how he intends to bolster the nation's pandemic response. Becerra plans to testify today that he's "ready to work with you, our state and local partners, and across government, to get this right" in the administration's Covid-19 response. "To meet this moment, we need strong federal leadership."
Becerra will testify to the Senate Health, Education, Labor, and Pensions Committee today and the Finance Committee tomorrow. Sen. Patty Murray (D-Wash.), who leads the HELP panel, will make the case that Becerra will focus on the importance of "scientific leadership," a Democratic aide said. And Finance Chair Ron Wyden (D-Ore.) said the opposition "is just flailing around" in trying to get criticism of Becerra to stick.
Republicans will attempt to sink his nomination due to his stance on abortion and will try to paint him as beholden to the insurance industry. And some, including Ted Cruz (R-Texas) and Tom Cotton (R-Ark.), argue Becerra has "no meaningful experience" in healthcare, public health, and large-scale logistics.
Becerra, who served 12 terms in Congress and spent the last four years as California attorney general, will face tough questions and a potentially tight vote for confirmation. The Senate is equally divided between Democrats and Republicans, and centrists like Sens. Susan Collins (R-Maine) and Lisa Murkowski (R-Alaska) and anti-abortion Democrats such as Sens. Bob Casey (D-Pa.) and Joe Manchin (D-W.Va.) could tilt the result. Read more from Shira Stein and Alex Ruoff.
More White House Nominations: Other nominations sent to the Senate include Chiquita Brooks-LaSure to be administrator of the Centers for Medicare and Medicaid Services and Andrea Joan Palm to be deputy secretary of Health and Human Services, according to a White House statement today.
House Budget Panel Sets Up Stimulus Vote This Week: The House Budget Committee yesterday advanced President Joe Biden's $1.9 trillion pandemic relief legislation, setting it up to pass the lower chamber by the end of this week. The package now heads to the House Rules Committee, the final stop before it's sent to the floor for a potential vote on Friday or over the weekend. Laura Davison and Erik Wasson have more.
Meanwhile, neither the Senate Health, Education, Labor and Pensions Committee nor the Senate Finance Committee plan to hold hearings to consider the Covid-19 relief legislation, according to a Democratic committee aide, Alex Ruoff reports.
Elimination of Medicaid Rebate Caps Pushed: A proposal to eliminate Medicaid drug rebate caps has "strong support" among Senate Democrats, Finance Chair Wyden has told reporters. The bill, which would give states the ability to clawback funding from price increases of certain drugs, is part of Biden's Covid-19 aid package slated for a vote in the House this week. Wyden made clear it would remain as it passes the Senate. The pharmaceutical industry opposes this provision, because it would cost drugmakers billions of dollars each year.
The proposed change would end Medicaid drug rebate caps, which are currently set at 100% of a drug's average manufacturer price. Once that limit is reached, drugmakers may raise their prices without increasing the net rebates that must be paid, Alex Ruoff reports.
Anti-Health Worker Violence Bill Renewed: A bill to mandate workplace violence protection for health-care and social-service workers has been reintroduced in Congress, where a similar measure was approved by the House in 2019, but not by the Senate. The bill would direct the Occupational Safety and Health Administration to issue standards mandating hospitals, clinics and other health-care and social-service employers to write and implement an office violence prevention plan. Read more from Bruce Rolfsen.
Walden Launches Strategic Advisory Firm: Former Rep. Greg Walden (R-Ore.) is joining the ranks of former members of Congress on K Street. The former chair of the House Energy and Commerce Committee launched a strategic advisory firm, Alpine Advisors, weeks after he retired in January following an 11th term. The venture is a partnership with top lobby shop Alpine Group, whose clients include Amgen. Read more from Megan R. Wilson.
The Coronavirus Pandemic
Death Toll Reaches 500,000 in U.S.: A half-million Americans are now dead as a result of the novel coronavirus that first hit U.S. shores a little more than a year ago, a dark milestone that's left families mourning nationwide. U.S. deaths surpassed that 500,000 mark yesterday. Global deaths related to Covid-19 are 2.5 million, with the U.S. leading all countries with more than twice the number recorded by the next closest, Brazil.
Still, hospitalizations and deaths have fallen since peaking in early January as treatments have improved, a rising number of Americans have gotten natural immunity from surviving the virus, and more people are getting shots of vaccines. There's still a threat, though, from swift-moving mutations that have emerged. Read more from Reg Gale and Ros Krasny.
Biden marked the "truly grim, heartbreaking milestone" during a candlelit ceremony at the White House yesterday. The president asked Americans to join him in a moment of silence and to wear masks and practice social distancing to "spare more pain and more loss." The president also ordered all flags on federal property to be lowered to half-staff over the next five days, the White House said. Justin Sink and Jenny Leonard have more.
Part of the reason why daily Covid-19 case counts have dropped is that fewer people are getting tested. The U.S. saw 1.23 million tests on Sunday, pulling the seven-day average down to 1.32 million. A month of declines decreased the daily average 35% below a peak in mid-January, the most sustained drop in testing since the pandemic began, according to the Covid Tracking Project. Read more from Nic Querolo.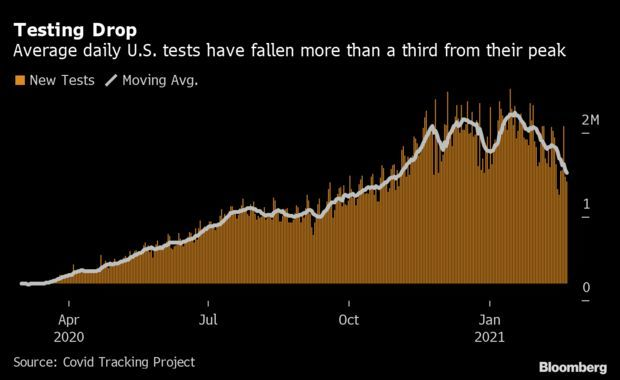 FDA Creates Booster Shot Clearance Path to Fight Virus Variants: Companies with authorized Covid-19 vaccines can build on their existing applications and clinical trials if they need to create booster shots, the FDA said in guidance yesterday to address virus variants. The guidance means vaccine makers will have fewer regulatory hoops to jump through to develop booster shots, which create an additional level of protection for people against new strains of a virus. Jacquie Lee has more.
CDC Study Sees Spread in Georgian School Study: A new CDC report looking at a handful of Covid-19 clusters in a Georgia school district in December and January found "educators were central to in-school transmission networks." The report doesn't say teacher vaccination ought to be mandatory, but said it would likely cut down in-school transmission of the illness. It also said those steps would be bolstered further with mask-wearing and social distancing. Andrew Kreighbaum has more.
More Headlines:
What Else to Know Today
Private Equity in Crosshairs as U.S. Eyes Health Fraud: Insiders said one company pushed unnecessary pain drugs to soldiers; another touted an unproven treatment for children with cancer; a third used unlicensed people to treat poor people with mental illnesses. In all three cases, taxpayers footed the bill. Soon, U.S. officials went after the companies' owners: private equity. Long insulated from legal liabilities at the companies they buy, such firms increasingly are being dragged into the mess when their charges get in trouble. Sabrina Willmer has more.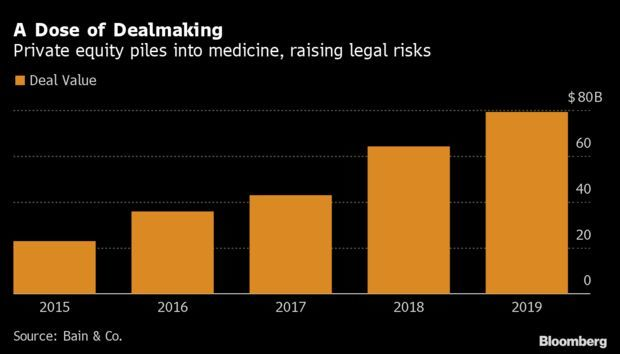 Virginia Lab Lays Groundwork for U.S.-Made Drugs: One subject both the Trump and Biden administrations have agreed on is that the U.S. needs to expand domestic manufacturing, and soon. The pharmaceutical industry in particular has outsourced much of its manufacturing to take advantage of lower costs and more lax environmental laws in other nations. This has left Americans reliant on overseas drugmakers and vulnerable to supply chain gaps. That's where the United States Pharmacopeia and Phlow come in. Anna Edney has more.
Top Court Will Consider Immigrant 'Wealth Test': The Supreme Court said it will hear a suit testing a Trump administration rule designed to screen out U.S. green card applicants seen as being at risk of becoming dependent on government benefits. The justices agreed to hear the case even though the Biden administration has indicated it will nix that rule. That move could prompt the court to cancel the showdown, Greg Stohr reports.
Top Court to Consider Abortion-Counseling Rule: The Supreme Court said it will hear a suit on the validity of a Trump administration rule that blocks recipients of federal family-planning grants to encourage abortions or refer patients to clinics that perform the service. The justices said they will hear the case even though the Biden administration has indicated it will rescind the 2019 rule, Stohr reports.
More Headlines:
With assistance from Alex Ruoff
To contact the reporter on this story: Brandon Lee in Washington at blee@bgov.com
To contact the editors responsible for this story: Zachary Sherwood at zsherwood@bgov.com; Giuseppe Macri at gmacri@bgov.com; Michaela Ross at mross@bgov.com
Stay informed with more news like this – from the largest team of reporters on Capitol Hill – subscribe to Bloomberg Government today. Learn more.