HEALTH CARE BRIEFING: Vaccine Hits Snags; US Hits Death Record
Bloomberg Government subscribers get the stories like this first. Act now and gain unlimited access to everything you need to know. Learn more.
The first known allergic reaction to Pfizer's and BioNTech's coronavirus vaccine in the U.S. was reported in Alaska yesterday, as some snarls started to emerge in the effort to send the shots nationwide, highlighting the daunting challenges ahead for a historic immunization drive.
A health-care worker in Juneau with no history of allergies experienced flushing and shortness of breath 10 minutes after taking a dose, the state health department said in a statement. The person was admitted to the emergency room and given Pepcid, Benadryl, and epinephrine via an intravenous drip. The patient is in stable condition, the Alaska health department said.
The episode follows reports of a handful of similar reactions in the U.K., where health officials advised that anyone with a history of severe allergies should skip the Pfizer shot. And federal regulators recommended last week that people ought to be monitored for allergy symptoms for 15 minutes after getting the shot, which gained an emergency-use authorization from the Food and Drug Administration on Friday.
The incident came to light as the first hiccups in the vaccine's distribution in the U.S. emerged yesterday, including a holdup in delivering 3,900 doses to two states and the announcement by U.S. officials that Pfizer would deliver about 900,000 fewer doses next week than are set to ship this week, offering no explanation at a briefing yesterday.
The authorization of Pfizer's shot kicked off a massive mobilization effort. Vaccines are being shipped from two company production facilities in the Midwest to all 50 states, the first wave in what is predicted to be a months-long effort to vaccinate as many people as possible, and bring an end to a pandemic that's killed more than 300,000 Americans. Read more from John Tozzi and Angelica LaVito.
Storage Needs Push Employers' Shots Off Site: Employers eager to see workers inoculated against the coronavirus will likely have to count on pharmacies and other vendors to administer the shots off site rather than have to tackle the litany of logistical challenges the Covid-19 vaccine presents. To vaccinate workers on site, employers would need to acquire freezers to store the vaccines from Pfizer-BioNTech and Moderna at extremely cold temperatures, while also keeping track of how many doses each employee took. Warren Rojas and Ian Kullgren have more.
Fauci Seeks Sprint for Universal Vaccine: Anthony Fauci has for years lectured on the need for a universal vaccine that could protect against all strains of influenza, warning three years ago that without one, "a single virus would result in a world catastrophe." Now that Covid-19 has proven that prediction correct—even if that single virus is a different one altogether—he sees a need that is just as critical. But Fauci also sees the potential for getting one, thanks to research that developed Covid-19 vaccines in record time. Read more from Jeannie Baumann.
Pence to Receive Vaccine Tomorrow: Vice President Mike Pence will publicly receive the coronavirus vaccine tomorrow to "build confidence" in the shots as government officials raise concern that many Americans may refuse the injection. Second lady Karen Pence will also be vaccinated during an event at the White House, according to his office. Surgeon General Jerome Adams will also attend. President Donald Trump will encourage Americans to take the coronavirus vaccine though it isn't clear when he'll receive it, White House Press SecretaryKayleigh McEnany said this week. President-elect Joe Biden is expected to receive the vaccine as soon as next week, according to a transition official. Read more from Jordan Fabian.
More on the Vaccine:
Global Vaccine Headlines:
Record US Deaths: The U.S had reported 3,786 deaths at one point last night, another daily record as the country rushes out vaccine doses in an effort to slow down the virus's spread. Its 7-day average of fatalities is 2,560 and rising fast, according to Bloomberg data. Read more.
Abbott's $25 Rapid Covid-19 Test Cleared: Abbott Laboratories won U.S. authorization for a rapid Covid-19 test that costs $25 and can be used at home, a new accessible option from the manufacturer after months of obstacles to screening access in the country. The authorization from the Food and Drug Administration opens a new market for Abbott's BinaxNOW, a single-use swab-collected test that produces results in 15 minutes. Until now, it had been conducted by health-care providers. Read more from Emma Court.
U.S. Governors Who 'Bent the Curve' Prepare for Even Bigger Test: New York Gov. Andrew Cuomo (D) and New Jersey Gov. Phil Murphy (D) must steer their states through an escalating winter surge in coronavirus cases. As the second wave accelerates, they face a frustrated public, big budget holes, and pressure to deliver vaccine doses—twice—to millions in what will be the biggest inoculation effort in U.S. history.
When New York and New Jersey began to recover over the summer, Cuomo and Murphy stopped their daily updates. Now, with cases back on the rise, their briefings have become more frequent. And this time the message is starker than washing your hands and keeping 6 feet of distance. It's about reminding weary citizens they must wear masks indoors and out and avoid even smallish holiday get-togethers. It's also about convincing people of the safety of a vaccine that was approved in record time under intense political pressure. Read more from Stacie Sherman and Elise Young.
Virus Cases Falling or Flat in 38 States: Eighteen states, most in the Midwest, are reporting sharply declining seven-day averages of new coronavirus infections compared with the prior week. Another 20 states, peppered across the country, saw case rates stay below 10%, which the Covid Tracking Project considers as flat. The Centers for Disease Control and Prevention, using an ensemble of mathematical models, forecasts cases will begin decreasing in January. But health experts worry the holidays could scuttle those projections. Nic Querolo has more.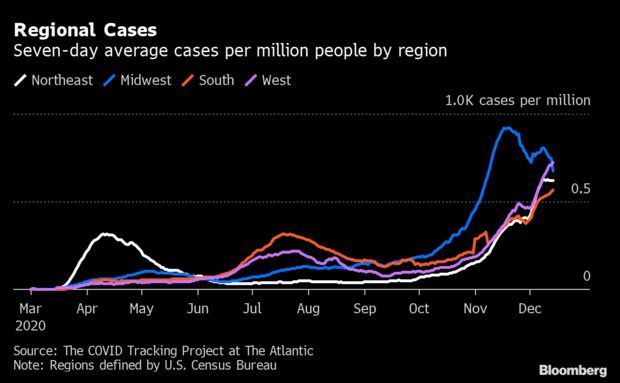 More Americans Are Too Sick to Work: American workers are increasingly leaving their jobs or are too sick to work as Covid-19 cases spike. The number of employed Americans fell by 4.3 million in the two weeks ended Dec. 7, according to the latest analysis of the Census Bureau's Household Pulse Survey. That's following a 2.4 million rise in the number of workers with jobs during the previous two week period. Nearly 5 million said they can't work because they're ill with coronavirus. Read more from Henry Ren.
More on the Pandemic:
Happening on the Hill
Covid-Relief Plan Talks Down to Final Details: Congressional leaders and their staffs continued working out the details of a nearly $900 billion coronavirus relief plan in anticipation of unveiling it as soon as today. People briefed on the negotiations say the draft of the proposal includes $600 in payments for individuals, $300-per-week in supplemental unemployment insurance payments and aid for small businesses as well as roughly $17 billion for airlines. But it omits aid to state and local governments and lawsuit liability protection, the two issues that have stymied earlier attempts at an agreement.
Senate Majority Leader Mitch McConnell (R-Ky.), Speaker Nancy Pelosi (D-Calif.), Senate Minority Leader Chuck Schumer (D-N.Y.) and House Republican Minority Leader Kevin McCarthy (R-Calif.) have been directly involved in the negotiations, raising prospect for a package that can quickly pass the House and Senate.
The principle negotiators on the deal for a pandemic relief bill said they continued to make progress as staff members hashed out details of legislation.
"We're still close, and we're going to get there," McConnell said last night as he left the Capitol.
The House could move quickly toward a vote once the legislation is written. House Majority Leader Steny Hoyer (D-Md.) said the goal was a vote today but that it could slip to Friday. Read the latest on negotiations from Bloomberg News.
Trump Official Sought 'Herd Immunity' Strategy: A Trump administration official sought to speed up the spread of the coronavirus among children and young adults in order to achieve "herd immunity," according to documents released by a top House Democrat. Paul Alexander, a top Health and Humans Services Department adviser, repeatedly encouraged adoption of a policy to increase the number of virus infections among younger Americans, saying they have "zero to low risk," documents published by the House Select Subcommittee on the Coronavirus Crisis show.
In one email message, Alexander said that "infants, kids, teens, young people, young adults, middle aged with no conditions etc" should be used to develop national herd immunity. "We want them infected," according to documents released yesterday. Chairman James Clyburn (D-S.C.) said in a memo that a non-vaccine herd immunity strategy "has been widely rejected by scientists as a dangerous approach" that would kill hundreds of thousands. Read more from Laura Davison.
Biden's Cabinet Picks Start to Move Through Confirmation Process: Biden's cabinet picks are beginning to work through the confirmation process in the Republican-controlled Senate as transition officials and Democrats press to avoid delays in putting key people in place amid the pandemic. Despite the still simmering rancor of the election and President Donald Trump's refusal so far to recognize the outcome, some Senate committees are moving ahead on vetting nominees, potentially leading to some being confirmed on Inauguration Day or shortly afterward.
The Senate Finance Committee sent questionnaires Tuesday to Xavier Becerra, the California attorney general tapped to run the Department of Health and Human Services, said Ashley Schapitl, a spokeswoman for Ron Wyden (Ore.), the top Democrat on the Finance Committee. Read more from Steven T. Dennis, Daniel Flatley and Jennifer Epstein.
Tribal Care Liability: The House is set to consider H.R. 6535 under expedited procedure today. Under the legislation, entities that provide health care services to American Indians in urban areas would be covered by the Federal Tort Claims Act, limiting their liability in certain medical malpractice cases.The House Natural Resources Committee approved the measure by unanimous consent July 29. For more, read the BGOV Bill Summary by Michael Smallberg.
Purdue & Opioids: The House Oversight and Reform Committee plans a hearing titled, "The Role of Purdue Pharma and the Sackler Family in the Opioid Epidemic."
What Else to Know Today
HHS Docks California $200 Million Over Abortion Coverage: California's Medicaid program will lose $200 million in federal funding over a state requirement that all health plans provide abortion coverage, HHS said yesterday. The mandate infringes religious freedom rights of health-care entities and violates the Weldon Amendment, a federal anti-discrimination law that protects them from being forced to offer such coverage, Roger Severino, director of HHS's Office of Civil Rights, claimed. Christopher Brown has more.
More Headlines:
To contact the reporter on this story: Brandon Lee in Washington at blee@bgov.com
To contact the editors responsible for this story: Zachary Sherwood at zsherwood@bgov.com; Giuseppe Macri at gmacri@bgov.com; Michaela Ross at mross@bgov.com
Stay informed with more news like this – from the largest team of reporters on Capitol Hill – subscribe to Bloomberg Government today. Learn more.