HEALTH CARE BRIEFING: US Deaths Pass 300,000 as Vaccines Begin
Bloomberg Government subscribers get the stories like this first. Act now and gain unlimited access to everything you need to know. Learn more.
The first coronavirus vaccines were administered by hospitals in the U.S. yesterday, the initial step in a historic drive to vaccinate millions of people this week.
In Queens, N.Y., critical-care nurse Sandra Lindsay received the first shot in the state at Long Island Jewish Medical Center. In Charlotte, N.C., that was Katie Passaretti, medical director of infection prevention at Atrium Health. And in Fargo, N.D., Melanie Allen, a clinical-care leader at Sanford Broadway Medical Center, got her shot.
"This is just good old-fashioned science," Allen said by telephone, about 30 minutes after she received the vaccine. She said she had butterflies beforehand, not from nerves but from sheer excitement. And when she got her shot, she says she didn't even feel the needle go in.
"This is the weapon that will win the war," said New York Gov. Andrew Cuomo (D), who joined the event with Lindsay via video from his office in Albany.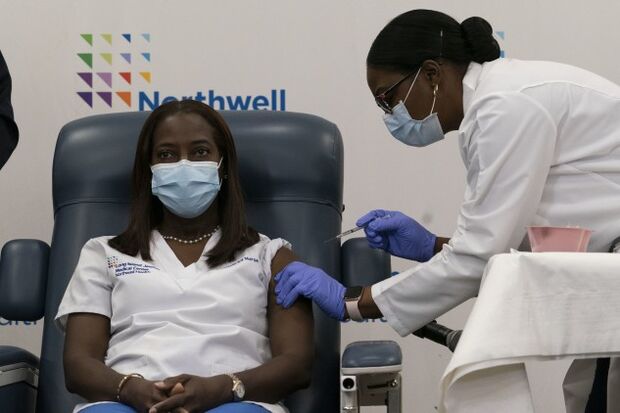 The arrival of the Pfizer-BioNTech vaccine offers a glimmer of hope amid a pandemic that has already seen 300,000 Americans die, Johns Hopkins University data showed yesterday. About 200,000 people are testing positive for the virus every day in the nation's worst surge to date.
The government plans to distribute at least 2.9 million doses to states during the week ahead. The Centers for Disease Control and Prevention recommended the first vaccines go to health-care workers and those in long-term care facilities, including hard-hit nursing homes.
Gustave Perna, an Army general and the Operation Warp Speed chief operations officer, said in a briefing yesterday that 55 of 145 shipments scheduled for yesterday had been delivered by around noon Eastern time, and that the deliveries set for today were packed and ready to go. "There's not one part of this country that's not being touched today through Wednesday," he said, adding that the operation will send out an added 581 shipments after tomorrow.
The government will announce new weekly allocations each Friday, Alex Azar, the Health and Human Services Department secretary, said in the briefing. Moving forward, the Trump administration wants to "ensure that any picture we give of this progress is accurate," he added. The plan is to have 20 million people getting their shot in the month of December, with their second dose in January, he said.
By the end of March, Azar said, 100 million Americans will have had at least one dose. Read more from Angelica LaVito and John Tozzi.
CVS, Walgreens Gear Up for Nursing Home Vaccination: Residents and staff at nursing homes and other long-term care facilities can expect widespread Covid-19 vaccinations to begin in earnest next week as CVS and Walgreens ramp up efforts to provide the lifesaving immunizations inside facilities hit hardest by the pandemic. The first CVS nursing home clinics providing the Pfizer Covid-19 vaccine are expected to begin Dec. 21, said Derek Darling, vice president for strategy, marketing and internal operations at Omnicare, a CVS Health company. Read more from Tony Pugh.
Fauci Curious to See Secret of Vaccine's Success: Forthcoming data on Johnson & Johnson and AstraZeneca's vaccine candidates will shed light on a question still unanswered by the Pfizer and Moderna vaccine frontrunners: what gives their candidates a 95% efficacy rate. The nation's top infectious diseases expert, Anthony Fauci, said in an interview he is eager to learn more about what makes it work. Jeannie Baumann have more.
Certain Pregnant Women Can Get Vaccine, Guidelines Say: Pregnant and lactating people may take the Covid-19 vaccine, according to new federal and medical guidelines, answering a lingering question. The American College of Obstetricians and Gynecologists recommended vaccines should not be withheld due to pregnancy and should be offered to anyone lactating once their place in line comes up. Read more from Jeannie Baumann.
Trump Delays Early Vaccinations of Staff: President Donald Trump said he will delay Covid-19 vaccinations for himself and White House staffers after reports they would be given early access to it as part of a plan to ensure continuity in government amid the pandemic. Trump tweeted yesterday he directed that top government officials get vaccinated "somewhat later," and said he personally is not "scheduled" to be vaccinated. Read more from Jennifer Jacobs.
More on the Vaccine:
More on the Pandemic:
Happening on the Hill
Bipartisan Group Proposes $908 Billion in Relief: A bipartisan group of lawmakers delivered details of their proposed $908 billion pandemic stimulus package, splitting it into two parts in recognition of deep differences over state aid and a liability shield for employers. Now, it's up to Democratic and Republican leadership in Congress to find a way to get one or both parts of the plan through the House and Senate before the last of the economic relief provisions from an earlier stimulus expire at the end of the year.
The senators who worked to negotiate a compromise over the past two weeks are proposing a $748 billion relief plan that includes nearly $300 billion in help for small business, $300-per-week in enhanced unemployment benefits and aid for vaccine distribution. Their second bill only contains two elements: $160 billion in state relief sought by Democrats, and the liability provisions that Republicans have said should be part of a stimulus package. Read more from Laura Litvan and Erik Wasson.
Surprise Billing Sticking Point on Omnibus: The inclusion of surprise billing provisions in omnibus spending negotiations remains an open item in the deal that Speaker Nancy Pelosi (D-Calif.) is pushing to close. Drew Hammill, a spokesman and deputy chief of staff to Pelosi in a tweet yesterday said the Speaker discussed the measure last night with Treasury Secretary Steven Mnuchin. Lawmakers have until Friday night to wrap up the annual government funding package, Chelsea Mes reports.
Wyden Urges Quick Confirmation of Biden Picks: Senate Finance Committee ranking member Ron Wyden (D-Ore.) asked the panel's Republican chairman Chuck Grassley (R-Iowa) to speed up processing President-elect Joe Biden's pick of Janet Yellen to lead the Treasury Department by holding confirmation hearings in mid-January. Wyden also pushed for similar hearings for Biden's pick of Xavier Becerra to lead Health and Human Services.
"A failure to promptly consider these nominees to the positions principally responsible for our economy and health care system would constitute legislative malpractice that jeopardizes lives and jobs," Wyden wrote yesterday, Laura Davison reports.
Senate Floor: The Senate by unanimous consent last night approved an amended version of H.R. 4704, directing the National Science Foundation to support research on the science of suicide, as well as an amended version of S. 1636, to amend the federal Food, Drug, and Cosmetic Act regarding chemical exclusivity.
What Else to Know
Faith-Based Groups Get Added Protections: Faith-based organizations will be treated the same as secular organizations in federal programs, according to a rule finalized by nine federal agencies yesterday. The rule also clarifies that "faith-based organizations do not lose their legal protections and rights just because they participate in federal programs and activities," including their right to conscience protections, the Department of Health and Human Services said. Read more from Shira Stein and Paige Smith.
To contact the reporter on this story: Brandon Lee in Washington at blee@bgov.com
To contact the editors responsible for this story: Zachary Sherwood at zsherwood@bgov.com; Giuseppe Macri at gmacri@bgov.com; Michaela Ross at mross@bgov.com
Stay informed with more news like this – from the largest team of reporters on Capitol Hill – subscribe to Bloomberg Government today. Learn more.