HEALTH CARE BRIEFING: US Buying Gowns from Untested Makers
Bloomberg Government subscribers get the stories like this first. Act now and gain unlimited access to everything you need to know. Learn more.
Several U.S. companies that won almost half a billion dollars in government contracts to make hospital gowns appear to have too few workers and not enough factory space to complete the job when the awards were made, according to a Bloomberg Law analysis.
Doctors and nurses are concerned about protecting themselves as the U.S. faces a winter surge in infections that could rival the worst days of a pandemic that already has killed 228,000 Americans. In the early months of Covid-19's spread, personal protective equipment shortages abounded in places with high caseloads, prompting the government to seek ways to bolster its reserve supply of emergency medical supplies.
At least 52 contractors and subcontractors are making more than 88 million reusable and disposable isolation gowns for the Strategic National Stockpile, according to the Defense Department's contracting unit, the Defense Logistics Agency (DLA). Initial deliveries from some contractors were due in mid-October, and the first orders are due by Feb. 25, according to the DLA.
Public records show that one prime contractor that received a $1.6 million award to provide 128,000 gowns has a single employee headquartered in what appears to be a home in Dallas. That person didn't respond to multiple requests for comment.
Just eight of the 15 primary contractors answered Bloomberg Law's requests for comment. They offered a variety of explanations for how they're fulfilling their orders, including by securing help from nonprofits or money from friends and family members to scale up operations.
At least 11 contractors and subcontractors began making protective gear only after the pandemic began, according to press releases and news reports. Of the 15 primary contractors, eight had never received a federal contract prior to 2020, according to federal government contracting records.
The Defense Department hasn't seen evidence that any of the awardees don't have the financial capability to fulfill their obligations or that they're using foreign-made materials, Defense Logistics Agency spokesperson Michelle McCaskill said in a statement to Bloomberg Law. "Some new entrants are still ramping up but none of the challenges they are experiencing are beyond what we would expect to see, and DLA maintains close communications with and oversight of the vendors."
Competitors in the industry are skeptical, stating it takes thousands of workers to make 88 million gowns by the end of February.
Members of Congress are also raising questions. "Some of those contracts have been to companies that have very little experience with producing that kind of equipment, that the standards have not always been up to par, and it's created some real challenges," Sen. Jeanne Shaheen (D-N.H.), said during a Senate Armed Services committee hearing Oct 1.Read more from Shira Stein.
Covid Relief Laws Hint Congress Aimed to Keep Obamacare Alive
Republicans may have hurt their own legal case against Obamacare by repeatedly expanding on and amending the signature health law since 2017, most recently in their response to the coronavirus pandemic.
Relief legislation passed by the congressional Republicans leveraged the Affordable Care Act's framework to require health insurance companies to cover Covid-19 testing and vaccines. And a 2019 budget bill killed three major taxes created by the law. Those actions offer persuasive evidence in a Supreme Court fight threatening the health coverage of millions that Congress never intended to toss out the ACA in its entirety, some health law scholars say.
"You can't build on the ACA's protections for the Covid bills if the act doesn't exist," said Abbe Gluck, a professor of law and the founding faculty director of the Solomon Center for Health Law and Policy at Yale Law School.
In the CARES Act (Public Law 116-136), Congress expanded the ACA to require health insurance companies to cover any Covid vaccines within 15 days of being recommended by a scientific advisory body, such as the Centers for Disease Control and Prevention. The Families First Coronavirus Response Act, meanwhile, relies on the ACA to define who is "uninsured" and potentially eligible for Medicaid coverage of Covid testing.
The U.S. Supreme Court will assess legal arguments on the constitutionality of the Affordable Care Act on Nov. 10. What Congress intended to do with the ACA is a central line of dispute in the high stakes case, and the pandemic has given supporters of the law a new opportunity to prove it was meant to stay.Read more from Lydia Wheeler.
The Coronavirus Pandemic
U.S. Sets Daily Virus Case Record: U.S. new cases topped 86,000, setting a new daily record, as the outbreak intensifies ahead of next week's presidential election. Anthony Fauci, the U.S. government's top infectious disease doctor, predicted it could take until the end of 2021 at least for social life in the U.S. to return to normal even with an effective vaccine, and said masks may be necessary. Read more from Bloomberg News.
Midwest Extends Covid's Surge: The Covid-19 surge in the Midwest rose to a record, led by single-day highs in Kansas, Iowa, and South Dakota as the region's outbreak spread toward both coasts. The Midwest's seven-day average of new cases per million residents hit 373, far above anything recorded by the Northeast and South during their respective surges in April and July. But cases have been rising across the whole country, with the seven-day average in the Northeast reaching the most since May and case tallies in the South and West hitting the highest since August. Read more from Jonathan Levin.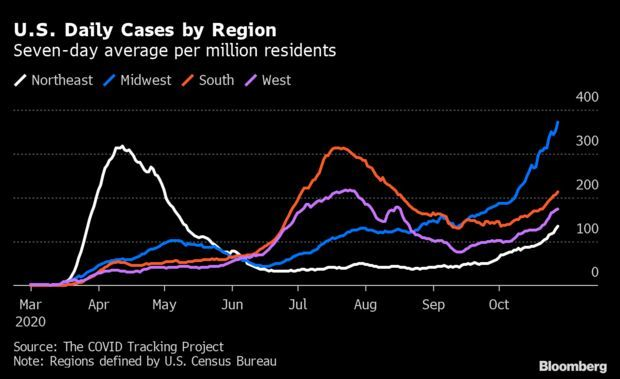 New Projection Shows Higher Death Toll: The Institute for Health Metrics and Evaluation, an influential modeling group, is projecting a higher death toll in the U.S. amid the surge in Covid cases and hospitalizations. The group is now projecting about 405,000 deaths due to the virus by Feb. 1, representing a nearly 20,000 increase from a prior projection of 386,000. "Europe is seeing a surge right now and Europe is ahead about a month from the United States," said Ali Mokdad, a professor of health metrics sciences with IHME. "So basically we are watching what would unfold here in the United States." Read more.
CDC Evictions Moratorium Upheld by Judge: A federal judge ruled against landlord groups trying to block the CDC's national moratorium on evictions amid the coronavirus crisis. U.S. District Judge J.P. Boulee in Atlanta yesterday rejected a motion for a preliminary injunction brought by the New Civil Liberties Alliance and National Apartment Association, which represents some 85,000 landlords responsible for 10 million rental units. The judge said the public interest in curtailing the spread of Covid outweighed the landlords' economic interest. Read more from Chris Dolmetsch.
Mnuchin Faults Pelosi Over Stimulus: Treasury Secretary Steven Mnuchin accused Speaker Nancy Pelosi (D-Calif.) of pulling a "political stunt" and holding up a new stimulus bill by refusing to offer compromises, in an escalation of acrimonious finger-pointing over stalled virus-relief negotiations. The Treasury secretary said that the administration had already come back to Pelosi on her demand for a national Covid-19 testing strategy. On the other areas Pelosi cited as sticking points—including aid to state and local authorities—Mnuchin said she had "refused to compromise." Read more from Billy House and Erik Wasson.
More Headlines:
What Else to Know
Insurers Must Post Out-of-Pocket Medical Costs: Health insurers will have to post on the internet personalized out-of-pocket costs to patients under a new rule finalized yesterday. Insurance plans will also be required to make their in-network negotiated rates with doctors and allowable out-of-network rates available to the public, according to the multiagency rule. They will be required to post their negotiated pharmaceutical prices and the historical net prices for all their covered drugs. Read more from Shira Stein, Lydia Wheeler and John Tozzi.
Data Sharing Central to New NIH Policy: Scientists should focus on sharing just high quality data that can be validated and replicated, the National Institutes of Health said in its updated data sharing policy published yesterday. The change from a previous draft policy is meant to make sure data sharing isn't seen as "a perfunctory administrative requirement, but rather one that should be done with the understanding that these data are intended to be used by others," the NIH said. Read more from Jacquie Lee.
Hackers Bearing Down on U.S. Hospitals Have More Attacks Planned: A Russia-based ransomware group responsible for a new wave of attacks against U.S. hospitals is laying the groundwork to cripple at least ten more, according to the cybersecurity firm Prevailion. Prevailion's analysis comes a day after the FBI and two other federal agencies issued a warning about an imminent and credible threat to hospitals and health-care providers from cyber-attacks, including ransomware capable of locking entire computer networks.
The hacking group responsible — known among some experts as UNC1878 and others as Wizard Spider — has already hit at least nine hospitals in three weeks, crippling critical computer systems and demanding multimillion-dollar ransoms. Read more from Alyza Sebenius, William Turton and Michael Riley.
Related: Hospital Ransomware Attacks Spotlight Need for Security Steps
Judiciary Report on Family Separations: A report from the House Judiciary Committee found the Trump administration knew that it lacked the capacity to track children separated from their families to enable reunification after a pilot program, but it decided to expand the program into a national policy anyway. The Health and Human Services Department's Office of Refugee Resettlement that was tasked with caring for the separated children was not notified for at least the first three months of the five-month 2017 pilot program that children arriving into ORR's care were separated intentionally from their parents, Shaun Courtney reports.
Health Care at Court:
Industry & Regulation:
With assistance from Shaun Courtney
To contact the reporter on this story: Brandon Lee in Washington at blee@bgov.com
To contact the editors responsible for this story: Zachary Sherwood at zsherwood@bgov.com; Giuseppe Macri at gmacri@bgov.com; Michaela Ross at mross@bgov.com
Stay informed with more news like this – from the largest team of reporters on Capitol Hill – subscribe to Bloomberg Government today. Learn more.