HEALTH CARE BRIEFING: Uphill Fight Versus Pharma on Orphan Drugs
Bloomberg Government subscribers get the stories like this first. Act now and gain unlimited access to everything you need to know. Learn more.
Legislation meant to prevent drugmakers from blocking new opioid addiction treatment medicines from coming to market faces tough prospects in the Senate this year, even though advocates say it's a layup for lawmakers.
The bill (H.R. 1629) looks to fix an issue in the nation's orphan drug development rules that was exploited largely by one company, Indivior, for a blockbuster opioid treatment. Supporters say it's hard to argue against clearing the way for addiction treatment medicines as overdose deaths rise.
The difficulty in getting this legislation to President Joe Biden's desk showcases how hard it is to pass any bill affecting the pharmaceutical industry. "This is about tackling a public health crisis made worse in the pandemic by dealing with bad actors," Rep. Madeleine Dean (D-Pa.), the bill's House sponsor, said. "There's no reason we can't do this."
The Fairness in Orphan Drug Exclusivity Act would stop drugmakers from extending their monopoly on "orphan" drugs used to treat rare diseases, including certain opioid use disorder drugs, unless they can prove they aren't immediately profitable. Orphan medicines can qualify for seven years of exclusivity if they treat medical conditions affecting under 200,000 people in the U.S., or if there is no reasonable expectation that production costs could be recouped via sales.
Two opioid addiction treatments, Subutex and Suboxone, were granted this special exclusivity by the Food and Drug Administration in 2002 despite being largely profitable medicines, said Kao-Ping Chua, health policy researcher at the University of Michigan who studies opioid policy and orphan drug policy.
House Democratic leaders have signaled they want to pass a Medicare drug pricing negotiation bill (H.R. 3) this year over objections from Republicans and some within their own ranks. Some lawmakers are pushing for less-sweeping measures, such as (H.R. 153) banning brand-name drug companies from paying generic manufacturers to delay bringing their products to market. Read more from Alex Ruoff.
Happening on the Hill
Hearings on the Hill:
Gilead CEO Sought for Panel Hearing: Sen. Elizabeth Warren (D-Mass.) wants Gilead Sciences CEO Daniel O'Day to testify before a June 16 Senate Finance subcommittee hearing on the cost of medication. "The prohibitively high prices of Gilead's drugs have made it hard" to access treatments, "forced taxpayers to bear the brunt of high costs, and inhibited competition," Warren said in a letter sent to O'Day, Catherine Larkin reports.
The Coronavirus Pandemic
Adolescents With Covid-19 Risk Hospitalization: Almost one-third of adolescents hospitalized with Covid-19 were admitted to an intensive care unit from January to March of this year, and 5% needed machines to help them breathe, the Centers for Disease Control and Prevention said in a report released Friday. The CDC Morbidity and Mortality Weekly Report showed adolescent hospitalization rates had fallen in mid-March from a high of 2.1 per 100,000 in January, but then rose again in April to 1.3 per 100,000. Read more from Fiona Rutherford.
U.S. Vaccines Ship to South Korea: A shipment of U.S. Covid-19 vaccines has been sent to South Korea, after the Biden administration announced it would donate an initial tranche of 25 million doses to dozens of countries abroad. A million Johnson & Johnson doses were poised to arrive in South Korea over the weekend. "The friendship between our two countries runs deep," State Department spokesman Ned Price said. Josh Wingrove has more.
Meanwhile, Congressional Progressive Caucus Chair

Pramila Jayapal

(D-Wash.) and more than 40 lawmakers urged the Biden administration in a letter to be more aggressive in its effort to equitably and quickly distribute vaccines globally. Read their recommendations here.
Universal Flu Vaccine Gains Steam: Barney Graham's laboratory unlocked a key discovery for developing a Covid-19 vaccine. A universal flu shot could be next. The National Institutes of Health's Vaccine Research Center, where Graham serves as deputy director, started its first in-human clinical trial for an experimental shot that could offer three to five years of protection from multiple flu strains. If successful, it could replace a seasonal shot with one that lasts longer, works better, and provides more protection. Read more from Jeannie Baumann.
Bribing People to Get Vaccine Is Working: Biden's announcement last week that Anheuser-Busch would give away beer was the latest bid to bribe vaccine-hesitant Americans to get their shot. Other public officials have dangled empanadas, guns, and even cash. As the U.S. tries to get at least one shot in 70% of Americans by the Fourth of July, the gimmicks appear to be working. Vaccinations surged in the past month among the young people typically targeted by such campaigns. Read more from Jonathan Levin and Carey Goldberg.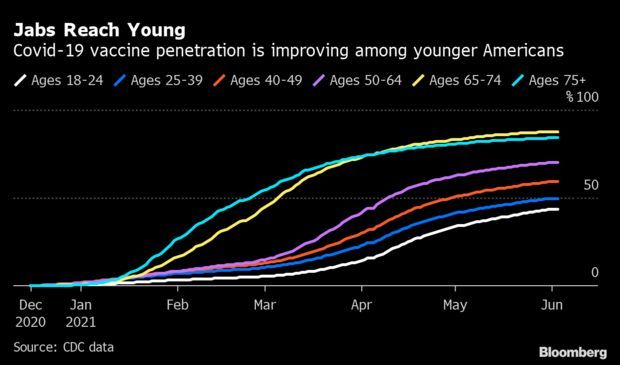 More U.S. Headlines:
More Global Headlines:
What Else to Know Today
Harris Seeks to Solve Migrant Dilemma: Three previous U.S. administrations have sought without success to stem the tide of migrants from Central America. Vice President Kamala Harris began her trip to Mexico and Guatemala yesterday hoping to emerge with a migration strategy that will work where others failed. Harris—deputized by Biden to deal with the historic numbers of migrants at the southern border—has said the U.S. is committed to improving economic conditions in Guatemala, Honduras and El Salvador so their citizens have less reason to leave. Read more from Jordan Fabian and Maya Averbuch.
ACA Sign-Up Helpers to See $80 Million Boost in Grants: The Biden administration will provide an $80 million boost in grant funding—the largest ever—for Obamacare "navigators" that help connect the uninsured with marketplace coverage. The funding, announced Friday by Department of Health and Human Services, will only be available to applicants that want to serve as navigators in states that use the federal HealthCare.gov marketplace. States with their own Obamacare marketplaces provide their own navigator funding and awards. Read more from Tony Pugh.
Obamacare Tops Supreme Court Agenda in Final Weeks: The Supreme Court heads into the home stretch of Justice Amy Coney Barrett's first term with a list of big-money and culturally divisive cases still to be decided. Between now and the end of June, the court is due to rule in 23 argued cases, including the latest Republican challenge to the Affordable Care Act and a multibillion-dollar suit against the federal government by Fannie Mae and Freddie Mac shareholders. The court is scheduled to issue the first of those remaining opinions today and Thursday. Read more from Greg Stohr.
More Headlines:
To contact the reporter on this story: Brandon Lee in Washington at blee@bgov.com
To contact the editors responsible for this story: Zachary Sherwood at zsherwood@bgov.com; Giuseppe Macri at gmacri@bgov.com; Michaela Ross at mross@bgov.com
Stay informed with more news like this – from the largest team of reporters on Capitol Hill – subscribe to Bloomberg Government today. Learn more.