HEALTH CARE BRIEFING: U.S. AstraZeneca Stockpile Hits 20 Million
Bloomberg Government subscribers get the stories like this first. Act now and gain unlimited access to everything you need to know. Learn more.
The U.S. stockpile of the controversial AstraZeneca Covid-19 vaccine has grown to more than 20 million doses, people familiar with the matter said, even as the vaccine looks increasingly unlikely to factor into President Joe Biden's domestic vaccination campaign.
AstraZeneca has yet to request Food and Drug Administration authorization for the two-dose vaccine, and the company faces safety questions abroad and scrutiny from federal regulators who've already rebuked it for missteps during clinical trials and partial data releases.
Three other vaccines already authorized in the U.S. are going into Americans' arms at a rate of around 3 million doses a day, with hundreds of millions of additional doses set to be delivered by the end of the summer. That raises the question for the president: What should the U.S. do with AstraZeneca's vaccine?
The drugmaker has more than 20 million doses already on hand, part of a total of between 80 and 90 million in some stage of production for the U.S. order, people familiar with the matter said. American allies have already sought doses from the U.S. AstraZeneca stockpile, and the cheaper vaccine could inoculate people in scores of lower-income countries that can't afford inoculations from Pfizer and Moderna.
Celine Gounder, a physician who served on a Covid-19 advisory board for Biden's transition, said the doses ought to be donated after the company secures authorization from the FDA. "We have enough. We don't even need Johnson & Johnson," she said, referring to the third authorized manufacturer in the U.S. "I would like to see the FDA continue its process, issue the emergency use authorization assuming it passes snuff, and then donate that," she said.
Zeke Emanuel, a University of Pennsylvania vice provost who also served on Biden's Covid-19 transition board, was even more blunt. "Give them all away. By the time we even think about authorizing it, we're going to be in a glut situation domestically," he said. "We're never going to use them." Read more from Josh Wingrove.
More on AstraZeneca:
Happening on the Hill
Democrats Call for Making ACA Expansion Permanent: Rep. Lauren Underwood (D-Ill.) and 35 other House lawmakers urged House and Senate leadership to make the health care affordability provisions included in the American Rescue Plan permanent, according to a statement. In a letter to Speaker Nancy Pelosi (D-Calif.) and Senate Majority Leader Chuck Schumer (D-N.Y.), the members said the inclusion of expanded premium tax credits in the $1.9 trillion coronavirus relief bill, which is set to expire in 2023, should be made permanent. Read a statement here.
Republicans Pitch Bill to Keep Fentanyl as Schedule I: The top Republicans on the House Energy and Commerce and Judiciary committees, Cathy McMorris Rodgers (Wash.) and Jim Jordan (Ohio), introduced legislation that will continue to keep fentanyl-related substances in Schedule I of the Controlled Substances Act, according to a statement. They're also calling on Democrats to work with Republicans to make this move permanent, they said in a statement. Read text of the bill here.
CMS, HHS Nominations Get Hearings: Senate Finance Chair Ron Wyden (D-Ore.) announced the committee will hold a hearing next Thursday to consider the nominations of Chiquita Brooks-LaSure to be administrator of the Centers for Medicare & Medicaid Services and Andrea Palm as deputy secretary of the Health and Human Services Department under Secretary Xavier Becerra. Read the announcement here.
The Coronavirus Pandemic
Senior Housing Hits Record Low: Senior housing occupancy reached a record low in the first quarter in the U.S., even as Covid-19 vaccination rates rose and infections ebbed. Residency at assisted and independent-living facilities fell to 78.8% in the first three months of 2021, down 1.8 percentage points from the previous quarter and 8.7 points from a year prior, a poll by the National Investment Center for Seniors Housing & Care found. Read more from Martin Braun.
Texas Keeps Covid at Bay After Scorn for 'Neanderthal' Mask Move: When Texas Governor Greg Abbott announced that businesses in the state could fully reopen and residents could remove their masks, health experts objected and President Joe Biden declared it "Neanderthal thinking." Since the March 10 order, however, Covid-19 has been on the wane in the Lone Star state, even as infections climb in places where tougher restrictions remain. Fewer Texans are getting infected, becoming seriously ill and dying than at any time since a surge that strained the state's hospitals last summer. On April 5, as hospitalizations dropped below 2,800, Abbott said in a tweet that the state had only three Covid deaths that day. Read more from Fiona Ruthorford.
Michigan's Cases Surge to Worst in Nation: Michigan is grappling with a coronavirus spike that has made it the hottest Covid-19 spot in the U.S. The state reported over 8,000 infections and 30 deaths on Wednesday. It averaged 470 new cases per 100,000 residents over the past week, according to the Centers for Disease Control and Prevention, on pace for new cases to surpass their December record any day now. Those cases are filtering through to the health-care system: 2,632 patients are hospitalized with the coronavirus, making Michigan the most burdened in the nation per capita, the University of Minnesota found. Nic Querolo has more.
More U.S. Headlines:
EU Has Exported 80 Million Doses: The EU has exported more than 80 million vaccine doses since the beginning of February, a document with updated data circulated among the bloc's governments and seen by Bloomberg News shows. A total of 112 million doses had been delivered to EU member states as of April 5, according to the memo circulated to diplomats in Brussels. Japan has overtaken the U.K as the main export destination, getting 17.7 million doses made in the EU, versus 13.3 million for shipment to Britain. Read more.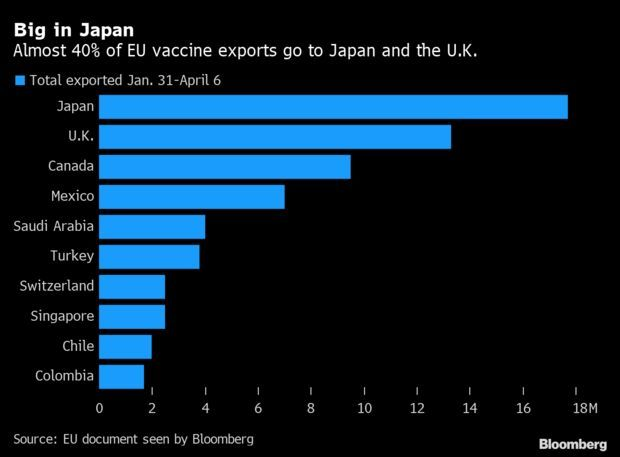 More Global Headlines:
What Else to Know
Maryland Breaks Ground With Hospital Debt-Collection: Maryland is poised to become the first state to require its hospitals to report publicly on debt-collection lawsuits they file against their patients and to block wage garnishments for some who don't pay their medical bills. The state legislature sent a bill yesterday to Gov. Larry Hogan (R) that consumer advocates say will push hospitals to offer free or reduced-cost care to more people who qualify. The legislation is a good first step but more could've been done, its supporters say. Read more from Alex Ruoff.
Medicare Proposes Rate Hike for Hospice, Nursing Homes: Hospice providers would see an additional $530 million in Medicare payments in fiscal year 2022 under a proposed 2.3% rate hike announced yesterday by the Centers for Medicare & Medicaid Services. Nursing homes would net an additional $444 million if a proposed 1.3% rate increase is finalized, the CMS said in a separate proposed rule. Read more from Tony Pugh.
EPA Issues Conclusions on PFAS Health Effects: The EPA released final conclusions yesterday on ways that one of the newer "forever chemicals" could affect people's health and how much of it is needed to cause problems. Evidence from animal studies shows perfluorobutane sulfonic acid (PFBS) can harm the thyroid hormone's function, development, and the kidney, the Environmental Protection Agency concluded. Read more from Pat Rizzuto.
More Headlines:
To contact the reporter on this story: Brandon Lee in Washington at blee@bgov.com
To contact the editors responsible for this story: Zachary Sherwood at zsherwood@bgov.com; Giuseppe Macri at gmacri@bgov.com; Michaela Ross at mross@bgov.com
Stay informed with more news like this – from the largest team of reporters on Capitol Hill – subscribe to Bloomberg Government today. Learn more.