HEALTH CARE BRIEFING: Two-Dose Crunch Complicates Full Immunity
Bloomberg Government subscribers get the stories like this first. Act now and gain unlimited access to everything you need to know. Learn more.
Nearly a month after U.S. vaccination campaigns ramped up to give Covid-19 shots to more than a million people a day, their second doses are coming due, straining state rollouts and leaving some without complete immunizations.
In Texas alone, almost 6,000 people were overdue for their second shots in early February. In Washington state, health officials said last week that some mass vaccination clinics would be delivering follow-up doses only. A Michigan hospital system canceled last-dose appointments for the past week after its supply was reduced.
"All I have on hand is enough to get me through today and tomorrow," Carolyn Wilson, chief operating officer of Beaumont Health system in Michigan, said in an interview.
U.S. public health officials warned last year that two-shot regimens would raise the degree of difficulty for Covid-19 immunizations, and originally held back second shots to make sure they would be available as recommended three to four weeks after the first. As President Joe Biden accelerates purchases and distribution in a push to get protection for almost all Americans by the end of the summer, critical weaknesses in the system are starting to show.
Timing of the doses is seen as a key factor in effective Covid-19 immunization. Moderna says shots must be given four weeks apart to ensure efficacy, while the partnership of Pfizer and BioNTech recommends a three-week pause. A working group of Centers for Disease Control and Prevention advisers is considering recommendations for extending that interval, though it still isn't clear what effect that might have on protection. Read more from John Tozzi.
Biden Slams Trump's Vaccine Record: President Biden on Friday blasted Donald Trump for failing to secure enough shots as he toured a Michigan facility where Pfizer is manufacturing its vaccine. "My predecessor, as my mother would say, God love him, failed to order enough vaccines," Biden said Friday, repeating criticism he's made of Trump. "Failed to mobilize the effort to administer the shots. Failed to set up vaccine centers." Read more from Jennifer Epstein and Riley Griffin.
Pfizer Prods FDA to Approve Easier Storage: Pfizer and BioNTech asked the FDA to allow their coronavirus vaccine to be stored for two weeks at temperatures found in normal pharmaceutical freezers, a change that could simplify the distribution of the shot. The partners submitted new data showing stability when the vaccine is stored at minus-25 to minus-15 degrees Celsius (-13°F to 5°F), they said in a statement. Read more from Jason Gale and Naomi Kresge.
Pfizer-BioNTech Prevents Virus Transmission: The Pfizer and BioNTech coronavirus vaccine appeared to stop the vast majority of recipients in Israel becoming infected, providing the first real-world indication that the immunization will halt transmission of Covid-19. The shot was 89.4% effective at preventing laboratory-confirmed infections, a copy of a draft publication posted online and confirmed by a person familiar showed. Naomi Kresge and Jason Gale have more.
Opioid Epidemic Worsens Amid Coronavirus
The opioid epidemic has been eclipsed in the public consciousness by Covid-19, but it hasn't abated. The coronavirus has only exacerbated the crisis, piling stress and grief on top of substance-abuse problems and jeopardizing hopes of recovering. People are "living in tents because they lost their spot in sober homes because they lost their job," said Charlotte Bismuth, a former New York assistant district attorney. "It's so much worse than it was when Covid began."
Drug overdoses of all kinds killed 84,000 people in the U.S. from August 2019 to July 2020. That is 23% more than in the previous 12-month span, and the highest number of overdose deaths ever seen in a single year. Opioids accounted for over 61,000, or 73%, of those deaths. Valerie Bauman and Ian Lopez have more.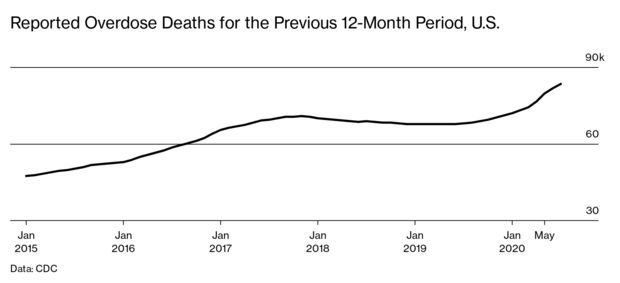 More on the Pandemic
Push to Find Covid Variants Remains Piecemeal: U.S. efforts to detect dangerous, fast-moving Covid-19 mutations that are already bedeviling states remain slim and disconnected as the Biden administration seeks to speed up the process. While as many as 7,000 to 8,000 samples are being analyzed weekly, that's just 1.7% of the 463,843 new cases in the U.S. last week, making it little more than a random effort. Meanwhile, three highly-contagious variants have gained significant footholds in the country, with two showing an ability to evade — though not yet overcome — existing vaccines.
State health departments directly send just 770 of the samples analyzed by U.S. health officials, with the rest coming from academic, commercial and state labs. That can lead to over-sampling in areas where labs are located. And the academic labs often have little direct contact with local health departments that need to swiftly start contact tracing to control spread, said David Haussler, scientific director at the University of California-Santa Cruz Genomics Institute. Read more from Jill R. Shah.
Fauci 'Stunning' Toll of 500,000 U.S. Covid-19 Deaths: The top U.S. infectious diseases specialist says the U.S. isn't out of the "stunning" coronavirus pandemic, even as cases fall sharply and vaccinations expand, though "normality" may be at hand by year-end. Anthony Fauci, director of the National Institute of Allergy and Infectious Diseases, spoke as the U.S. was on the verge of a milestone few imagined when the first coronavirus cases were diagnosed just a year ago: 500,000 deaths. Read more from Ros Krasny.
Agencies Pitch Testing Hubs to Reopen K-8 Schools: The Biden administration envisions a nationwide network of coronavirus testing hubs to boost capacity and enable K-8 schools to reopen, a notice published on Friday shows. The effort by the Army and Health and Human Services Department would open four centers to organize laboratory networks and prioritize schoolchildren. Each hub location could report as many as 25 million test results each month. Read more from Travis J. Tritten.
More Headlines:
Global Headlines:
Happening on the Hill
Stimulus Plan Enters 3-Week Congress Dash: Democrats begin the final push on their $1.9 trillion stimulus bill this week, dropping any pretense of bipartisanship to quickly pass the package before an earlier round of benefits runs out. This will be the first real test for Democrats' full control of government since Trump's impeachment trial, with implications for the rest of Biden's agenda and the pandemic-battered economy. The House plans to vote as soon as Friday on Democrats' stimulus package, setting up a Senate vote as soon as next week. Erik Wasson and Laura Davison have the latest.
Senators Urged to Press Becerra on Disability Issues: Advocacy nonprofit Patients Rising is urging senators to make sure "American patients are on the agenda of the future Secretary of Health and Human Services," according to a statement on Friday ahead of this week's Health, Education, Labor and Pensions Committee confirmation hearing for Xavier Becerra. The group called on the senators to press Becerra on strengthening Essential Health Benefits and expediting FDA approvals, among other issues. Read the group's letter here.
Lawmakers Call for Cuomo Pandemic Probe: Rep. Alexandria Ocasio-Cortez (D-N.Y.) on Friday called for a federal investigation of New York Gov. Andrew Cuomo's handling of nursing homes through the early days of the Covid-19 pandemic, joining other lawmakers like Sen. Chuck Grassley (R-Iowa) who have called for a probe. Cuomo stepped up his defense of his administration, stating he should have been more aggressive in calling out what he said were critics' lies about the nursing-home residents who died of Covid-19. Read more from Stacie Sherman.
Veterans Affairs Gives Shots to 1 Million Veterans: The Department of Veterans Affairs has given at least one dose of a Covid-19 vaccine to about 1 million veterans, Richard Stone, acting undersecretary of health for the Veterans Health Administration, told lawmakers on Friday. VA has received about 2 million doses and is reserving hundreds of thousands of doses to ensure everyone who receives a first dose through VA can receive a second one, Stone told members of the House Appropriations panel responsible for funding the VA.
There's about 18.5 million veterans in the U.S., Stone said. VA has about 9.5 million enrolled in their care and roughly 6 million "active users" of the VA health system. Members of Congress said they were frustrated the VA hadn't vaccinated more veterans. "If we have 2 million doses and 1 million or so have been administrated, there's 1 million outstanding that aren't getting the care they need now," Rep. Charlie Crist (D-Fla.) said, Alex Ruoff reports.
Other Hearings This Week:
What Else to Know Today
ACA Veteran Named to Lead Medicare Office: Biden has chosen Chiquita Brooks-LaSure to run his Centers for Medicare and Medicaid Services, tasking the experienced health-care aide with expanding the Affordable Care Act and rolling back Trump-era changes to the Medicare and Medicaid programs. The former official at HHS who helped carry out Obamacare, will be entrusted with one of Biden's top health policy priorities: strengthening the signature health law. Read more from Shira Stein.
Appeal of LGBTQ-Friendly ACA Decision Halted: A federal appeals court in Washington has halted proceedings in a case challenging the Trump administration's rewrite of an Affordable Care Act regulation clarifying that health providers cannot discriminate against LGBTQ people, pending the rule's review by Biden's White House. HHS's appeal from an order that blocked it from enforcing its modification of a rule implementing Obamacare's discrimination provision, Section 1557, will be held in abeyance, the court said. Read more from Mary Anne Pazanowski.
Health Deals See Torrid Pace: Health-care and life sciences deal volume started the year at a sizzling pace in January with the most transactions per month—258—in more than a year. The Biden administration has begun moving aggressively on legislation to provide more stimulus and financial support for pandemic aid, "while actively promoting spending on the expansion of health-care coverage," Larry Kocot of KPMG said. Read more from Sara Hansard.
More Headlines:
With assistance from Alex Ruoff
To contact the reporter on this story: Brandon Lee in Washington at blee@bgov.com
To contact the editors responsible for this story: Zachary Sherwood at zsherwood@bgov.com; Giuseppe Macri at gmacri@bgov.com; Michaela Ross at mross@bgov.com
Stay informed with more news like this – from the largest team of reporters on Capitol Hill – subscribe to Bloomberg Government today. Learn more.