HEALTH CARE BRIEFING: Trump's Vaccine Promise Risks Letdown
Bloomberg Government subscribers get the stories like this first. Act now and gain unlimited access to everything you need to know. Learn more.
President Donald Trump has begun promising that a coronavirus vaccine will be approved within weeks — a gambit to turn a pandemic cure into an October surprise for his struggling re-election campaign.
Trailing Democratic challenger Joe Biden in the polls, and with voters giving Trump's response to the coronavirus outbreak poor marks, the president has championed his administration's aggressive vaccine push as part of an effort to sway public opinion in his favor. Democrats have responded by raising doubts a shot approved under Trump can be trusted, making the coronavirus vaccine an election flashpoint.
"We will deliver a safe and effective vaccine before the end of the year — and it could be very, very soon. It could be very, very soon," Trump said at a campaign rally in Mosinee, Wisconsin, on Thursday.
But Trump's promise of a vaccine in mere weeks, a timetable far more ambitious than that of any drug maker or public health official, risks embarrassment if the government doesn't make his self-imposed deadline — or public rejection of the shot if it does.
Rushing out a Covid-19 vaccine before the election, especially without ironclad evidence it's safe and effective, may result in many Americans concluding its approval was tied to the political calendar and refusing the shot, Democrats and public health experts have said.
And if the Food and Drug Administration gives authorization for a shot that turns out to be ineffective, those who do take it may remain unknowingly vulnerable to infection. Read more from Jordan Fabian and Josh Wingrove.
Also in the Vaccine Race
Vaccine Leaders Make Trial Plans Public: Meanwhile, the companies leading Covid-19 vaccine efforts disclosed detailed information about their pivotal late-stage clinical trials, and how they plan to gauge their shots' safety and efficacy. The moves by first Moderna, and then later from Pfizer and partner BioNTech, follow mounting fears that the effort to make a vaccine is becoming politicized, and that an inoculation could be rushed to market before it is proven safe and effective. AstraZeneca said it would post its plans as well. Robert Langreth and Riley Griffin have more.
BioNTech Buys Plant to Hike Vaccine Capacity: BioNTech is buying a German manufacturing facility with capacity to churn out 750 million doses a year of its Covid-19 vaccine, more than doubling the amount the company can produce as it prepares to help supply the world with its candidate. The purchase from Swiss pharma giant Novartis shows the German biotechnology company's confidence in the experimental vaccine it's developing together with U.S. partner Pfizer and China's Shanghai Fosun Pharmaceutical Group. Read more from Naomi Kresge.
China to Make Decision on WHO Vaccine Program: China faces a major test in its vaccine diplomacy, with a deadline rapidly approaching on whether it will join a World Health Organization-backed effort to ensure that everyone across the globe is inoculated against Covid. Today is the last day for government officials to decide whether to sign Covax, an $18 billion initiative that aspires to give low-income countries the same access to vaccines as wealthy ones. Beijing has said it "supports" Covax without clearly committing any money. Read more from Bloomberg News.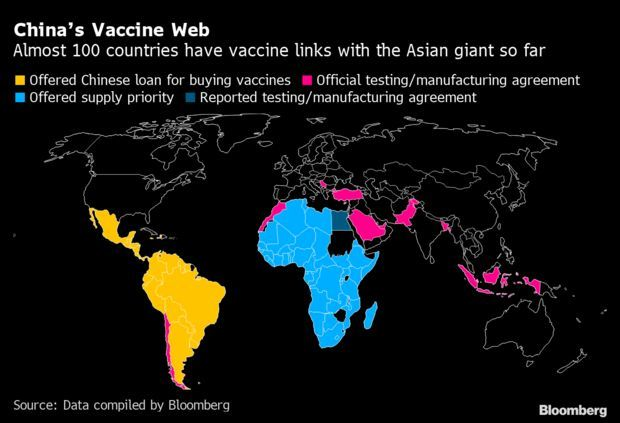 Nursing Homes Get Guidelines on Resuming Visits: The Trump administration issued recommendations yesterday to allow safe indoor and outdoor visitation at nursing homes as the toll of family separation continues to wear on residents. The Centers for Medicare & Medicaid Services encourages outdoor visitation because there's less chance of transmitting Covid-19, but now supports safe resumption of indoor visitation if the facility has had no new Covid-19 infections in the previous two weeks and isn't conducting outbreak testing per CMS guidelines. Read more from Tony Pugh.
More on the Pandemic:
Congressional Virus Efforts
Democrats Weigh Next Stimulus Steps: Some House Democrats are keeping pressure on Speaker Nancy Pelosi (D-Calif.) to bring a new pandemic relief bill for a vote next week, as they look to signal to voters that their party is pursuing an agreement to bolster the U.S. economy. Pelosi said yesterday that voting on some version of a Democratic stimulus bill is one of the options that's been under discussion within the party to break the impasse with their Senate Republican counterparts and the White House.
Some Democrats want to vote again on the $3.4 trillion stimulus package the House passed in May, she said at a news conference, while some lawmakers don't want to advance any legislation until they strike an agreement with the Trump administration. "Others will say let's just put our own proposal on the floor," Pelosi said. She expressed confidence that her party is united in their approach. Read more from Billy House and Erik Wasson.
Azar to Testify Oct. 2 to Virus Panel: The House Select Subcommittee on the Coronavirus Crisis Chairman James Clyburn (D-S.C.) said the panel is investigating the Trump administration's portrayal of Americans' deaths due to Covid-19, and that Health and Human Services Secretary Alex Azar is scheduled to appear before the committee on Oct. 2. "We're going to urge him to make improvements to save American lives," Clyburn said, Billy House and Maria Monteros report.
Schumer Condemns Trump Remarks on Blue State Deaths: Senate Minority Leader Chuck Schumer (D-N.Y.) said remarks this week by Trump on not counting Covid-19 deaths in blue states were "demented." Schumer, on the Senate floor, said the president was dismissing Americans who've died in states that didn't support him politically. "What kind of demented person would make that calculation?" Schumer said, Catherine Dodge reports.
What Else to Know Today
House Eyes Vote on Marijuana Bill This Fall: Reps. Earl Blumenauer (D-Ore.) and Barbara Lee (D-Calif.) said the House plans to vote on a measure to legalize and tax recreational marijuana. "Leadership has now given an ironclad commitment that the House will consider the bill this fall," they said in a statement yesterday. House Majority Leader Steny Hoyer (D-Md.) had previously signaled the chamber would vote on a bill (H.R. 3884) this month to repeal the federal prohibition on cannabis. Megan Howard has more.
Millions Lose Employer Health Coverage: More than 3 million employees lost their employer-sponsored health insurance amid the pandemic and 1.9 million became newly uninsured, according to a new analysis released yesterday by the Urban Institute. Medicaid and other coverage options may have helped reduce the number of uninsured people, according to the report, which was based on Census Bureau data. Between late April and July an estimated 2.2 million adults gained public coverage, it said. Read more from Sara Hansard.
Employers' Hospital Fees Double What Medicare Pays: Employers and health insurers pay more than twice as much than Medicare does for hospital services, according to a report released today. The report from the RAND Corp., a policy research organization, found that employers and private insurers paid hospitals an average of 247% of what Medicare had paid between 2016 and 2018. That's up from 241% in 2017 and 236% in 2015. Sara Hansard has more.
More Headlines:
To contact the reporters on this story: Brandon Lee in Washington at blee@bgov.com; Alex Ruoff in Washington at aruoff@bgov.com
To contact the editors responsible for this story: Zachary Sherwood at zsherwood@bgov.com; Giuseppe Macri at gmacri@bgov.com; Michaela Ross at mross@bgov.com
Stay informed with more news like this – from the largest team of reporters on Capitol Hill – subscribe to Bloomberg Government today. Learn more.