HEALTH CARE BRIEFING: Trump Silent as G-20 Vows Vaccine-Sharing
Bloomberg Government subscribers get the stories like this first. Act now and gain unlimited access to everything you need to know. Learn more.
The leaders of the world's wealthiest nations are promising to ensure equality in the race to vaccinate people against the coronavirus, even as President Donald Trump remains quiet on sharing U.S.-made vaccines with other nations.
Trump told his counterparts on Saturday at a virtual summit of Group of 20 nations that any American who wants the vaccine will be able to get it, and singled out U.S.-based producers Pfizer, whose shot has been developed with a German company, and Moderna, according to officials who asked not to be named discussing the talks.
Trump praised American leadership, claiming credit for what he said was an efficient battle against Covid-19 and success in boosting the nation's economy. But he said nothing about granting access to American vaccines by the rest of the world.
Trump's remarks stand in contrast to other leaders, many of whom spoke during the meeting, hosted by Saudi Arabia, of the need for fair distribution of vaccines, especially to lower-income nations. The summit communique, which was seen by Bloomberg News and which the U.S. as a member state will have agreed to, pledges to "spare no effort to ensure their affordable and equitable access for all people." It calls widespread immunization a "global public good."
Shortly after Trump's Saturday remarks he left the virtual session, while British Prime Minister Boris Johnson was speaking, and was replaced first by Treasury Secretary Steven Mnuchin and then White House economic adviser Larry Kudlow, officials familiar with the meeting said. The president later departed the White House for his Virginia golf course.
U.S. coronavirus deaths continue to soar, having recently passed 250,000, with total infections surpassing 12 million. Read more from Ilya Arkhipov, John Follain and Josh Wingrove.
Vaccine Breakthroughs Put Covid Protection Within Reach: Results from vaccine trials are the most promising steps yet in the fight against the Covid-19 pandemic. Pfizer and BioNTech have sought an emergency use authorization for their vaccine after a study showed it was 95% effective, with one from Moderna achieving similar results, according to a preliminary trial analysis. The shot from AstraZeneca Plc and its partner, the University of Oxford, stopped an average of 70% of participants from falling ill. Despite the apparently lower efficacy, the British vaccine has some advantages when it comes to distribution.
Many questions remain about longevity of protection and how easily vaccines can be deployed. Still, the positive results are welcome as nations across the globe impose tougher restrictions to stem a surge in cases heading into winter. A range of potential treatments have shown promise, though progress has been more mixed than with vaccines. Read more from Cristin Flanagan, Riley Griffin, Robert Langreth.
Astra-Oxford Shot Key for Many Nations: Vaccine trial successes from Pfizer-BioNTech and Moderna have buoyed hopes that a Covid-19 vaccine is coming soon. But much of the world, outside wealthier nations like the U.S., is counting on another company's shot to escape the crisis. For AstraZeneca's vaccine, the stakes for lower- and middle-income nations are massive. Its vaccine, being developed alongside Oxford University, accounts for over 40% of the supplies going to those countries, based on deals tracked by London-based research firm Airfinity.
The AstraZeneca vaccine costs a fraction of the cost set by Pfizer and will be manufactured in multiple countries, from India to Brazil. It should be easier to deploy far and wide than other shots that need to be stored at ultra-cold temperatures. Read more from James Paton and Suzi Ring.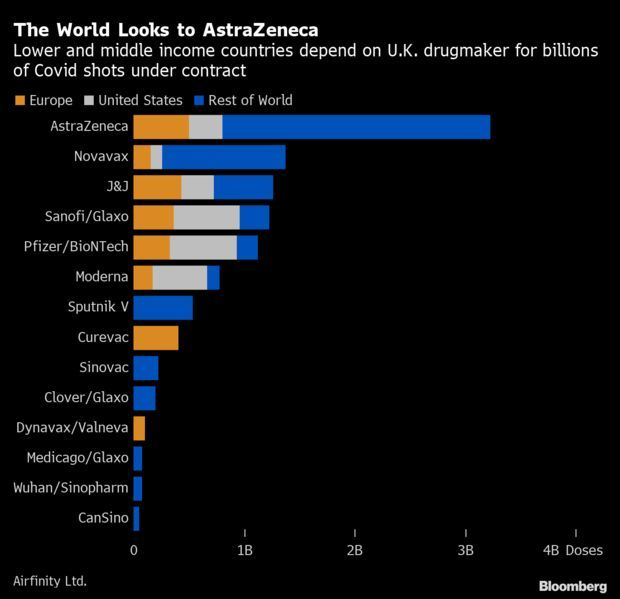 More on the Pandemic
Vaccine Train Won't be Derailed, Warp Speed Leader Says: Efforts to speedily develop and distribute a coronavirus vaccine in the U.S. won't be derailed by the change in administration, said the head of Operation Warp Speed, the federal government's program to accelerating a Covid-19 jab. "All decisions are made, the train is running. Whether one administration or the other doesn't, frankly, make a difference," Moncef Slaoui said on NBC. Yet information on the program hasn't been shared with the incoming Biden administration, he said, consistent with Trump's refusal to acknowledge his loss to Joe Biden, Elizabeth Dexheimer reports.
Also in the Vaccine Race:
Regeneron Drug Gets FDA's Emergency Approval: Regeneron Pharmaceuticals's antibody cocktail received an emergency-use authorization from U.S. drug regulators for treatment of early Covid-19 symptoms, adding to an expanding arsenal of therapies available to physicians amid the coronavirus' surge. Regeneron's treatment was given to Trump after he contracted Covid-19. While Trump received a number of drugs to combat the virus, he said after he was discharged from the hospital he expected fast authorization of Regeneron's therapy. Robert Langreth and Angelica LaVito have more.
Biden Eyes Wider Use of Defense Law to Boost PPE: Manufacturers of personal protective equipment for the fight against the coronavirus may face fresh orders to boost supplies and greater federal oversight of where those goods get sent once Biden takes office. Hospitals in the U.S. are clamoring for additional personal protective equipment amid surging new cases even after major increases to domestic production by manufacturers like 3M and Honeywell. Read more from Ryan Beene and Tyler Pager.
Covid-19 Hospitalizations Jump 36% in Eight Days: Covid-19 hospitalizations accelerated in the U.S., with coronavirus cases now accounting for almost a quarter of patients in South Dakota and New Mexico, government data show. The U.S., which recorded 177,552 new infections on Saturday, is now averaging almost 110,000 more daily cases than a month ago. The country had 84,401 Covid-19 inpatients as of Nov. 19, a 36% increase in eight days. Read more from Jason Gale.
One in Five Hospitals Facing Staffing Crises: Hospital workers, many of them beleaguered since early in the coronavirus pandemic, have more pain ahead. Last week, 20% of American hospitals anticipated a critical staff shortage within seven days, according to the Health and Human Services Department. The ratio was a record high, as cases surge and patients flood facilities for the third time since the pandemic began. North Dakota, Missouri and Wisconsin reported the highest share, each with nearly half of its hospitals needing medical staff as of Wednesday. Read more from Nic Querolo.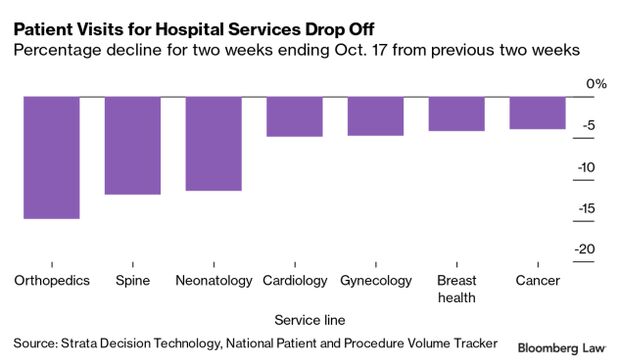 Also on the Coronavirus:
On Lawmakers' Radars
Mnuchin Moves to Restart Aid Talks: Treasury Secretary Mnuchin is bidding to revive stalled pandemic relief talks with congressional Democrats by proposing the use of untapped Federal Reserve relief money as part of a new package. He and Senate Majority Leader Mitch McConnell (R-Ky.) discussed the stimulus strategy Friday in the first sign in weeks of potential movement on a fiscal stimulus in the waning days of the Trump presidency. McConnell backed the proposal to use $580 billion allocated for Federal Reserve loan guarantees, small business aid and other aid programs that is unspent. Read more from Erik Wasson and Saleha Mohsin.
U.S. Freeze of WHO Funds Rebuked by Democrats: House Democrats lambasted the Trump administration for using the same budgetary maneuvers to freeze World Health Organization funds during the coronavirus pandemic as officials used to withhold military aid for Ukraine in 2019, complaining that the White House has utilized unilateral action over spending too often.
The White House's Office of Management and Budget used apportionment footnotes—legally binding directions on documents that govern how public funds are spent—to temporarily halt Department of State funds for international organizations in August, according to documents that the OMB voluntarily released to House Appropriations Chairwoman Nita Lowey (N.Y.), House Oversight and Reform Chairwoman Carolyn Maloney (N.Y.) and House Budget Chairman John Yarmuth (Ky.). Read more from Jack Fitzpatrick.
Primary Care Centers See Long-Term Funding Delay: The U.S.'s community health centers are bracing for another delay in long-term funding as Congress remains split over legislation to combat surprise medical billing. A five-year funding extension for the almost 1,400 federal community health centers and shorter extensions for a slate of other federal health programs have been held up, as talks become bogged down over surprise billing legislation (S. 1895) that would include those provisions. The centers largely offer primary care and serve one-fifth of the nation's uninsured. Read more from Alex Ruoff.
Barr Questioned on Settlement With Purdue: Sens. Elizabeth Warren (D-Mass.) and Ed Markey (D-Mass.) asked Attorney General William Barr to provide information about the Justice Department's settlement agreement with Purdue Pharma and the Sackler family. The settlement's proposal to let Purdue emerge from bankruptcy as a so-called public benefit company raises "urgent concerns," the two said in the letter. Read more from Maria Monteros.
More Headlines:
What Else to Know
Trump Unveils Controversial Drug Price Policies: The Trump administration Friday released two contentious drug policies, one that could cut profit margins for the pharmaceutical sector and another that would allow them to make smaller payments to their partners. Both moves culminate four years of presidential threats to companies in the drug supply chain to reduce prices or bow to regulations. The moves could leave the incoming Biden administration with massive policies to either enact, change, or somehow dismantle. Read more from Jacquie Lee.
More Headlines:
To contact the reporter on this story: Brandon Lee in Washington at blee@bgov.com
To contact the editors responsible for this story: Zachary Sherwood at zsherwood@bgov.com; Giuseppe Macri at gmacri@bgov.com; Michaela Ross at mross@bgov.com
Stay informed with more news like this – from the largest team of reporters on Capitol Hill – subscribe to Bloomberg Government today. Learn more.