HEALTH CARE BRIEFING: Trump Says Testing Plan to Allow Reopening
Bloomberg Government subscribers get the stories like this first. Act now and gain unlimited access to everything you need to know. Learn more.
The White House issued a strategy to expand U.S. testing for the coronavirus on Monday, accelerating President Donald Trump's push to reopen the economy even as the nation's outbreak approaches 1 million infections.
The new guidance to states to help them build testing capacity, developed with the Centers for Disease Control and Prevention and the Food and Drug Administration, was coupled with announcements by retailers including Walmart and CVS that they would open hundreds of new sites to provide tests.
Trump has endured criticism that the U.S. outbreak has become the largest in the world in part because the government was slow to develop widespread testing to track and contain the disease. The U.S. didn't exceed 100,000 Americans tested for the virus until March 19, according to the Covid Tracking Project, which compiles state data — more than eight weeks after the first case was reported in the country.
"We are continuing to rapidly expand our capacity," Trump said at a White House news conference on Monday evening. He said he's "confident that we have enough testing to begin reopening and the reopening process."
"We want to get get out country open and the testing is not going to be a problem at all," he said. "In fact, it's going to be one of the great assets that we have."
A White House official said the administration plans to provide enough tests to all 50 states to screen at least 2% of their residents. The intention is to target the most vulnerable communities, including the elderly and minority populations that have seen higher mortality rates from the virus.
The official asked not to be identified before Trump's announcement. The president met with retailers before the Rose Garden news conference where he and other officials outlined the strategy. Read more from Justin Sink, Mario Parker and Angelica LaVito.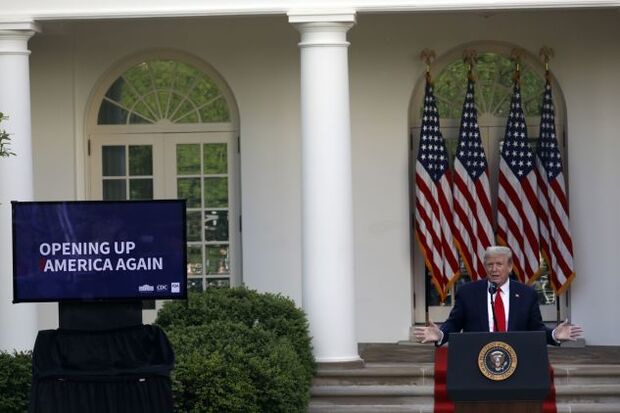 Virus Testing Shortages Undermine Drive to Restart U.S. Economy: Maryland was so desperate for Covid-19 testing that Governor Larry Hogan turned to South Korea for help, launching a secret operation to buy half a million diagnostic kits from a company there.
Colorado's governor said finding supplies is so competitive he doesn't publicize orders until they've arrived. Illinois says it has solved its swab problems, while Wisconsin complains it's only received a few thousand from the Federal Emergency Management Agency — about a third of what it requested.
A tech-industry effort in Utah, meanwhile, has used its business connections to provide Utah, Iowa and Nebraska with thousands of tests. As Trump has alternated between leading the outbreak response and saying states should figure it out on their own, scenes of fierce competition and uneven access to coronavirus testing and supplies are playing out across America. With more states pushed toward reopening on Monday, experts warn that U.S. testing capacity, while improved, remains a fraction of what it should be. Read more from Emma Court and Olivia Carville.
Reopenings Urged Despite Warehouse Outbreaks: Also yesterday, Kevin Hassett, an economic adviser to Trump, said the administration has data showing that essential businesses over the past four weeks have started to operate without major coronavirus flare-ups. Hassett said it's likely safe for non-essential businesses to reopen as well. "We'll figure out what practices we need to engage in in order to operate safely," he said in an interview with CNBC.
However, the White House declined to provide the data that Hassett cited. And over the last two weeks, Covid-19 outbreaks have been reported at food plants, distribution centers, and warehouses across the U.S. that have remained open. Nonetheless, White House trade adviser Peter Navarro echoed Hassett's claims during a CNN interview, arguing the performance of aerospace firms and other "essential industries" shows the country is ready to return to work—albeit with distancing and hygiene guidelines. Jordan Fabian and Josh Wingrove have more.
Testing & the Path to Reopening
McConnell Demands Liability Protections in Next Bill: Senate Majority Leader Mitch McConnell (R-Ky.) said yesterday the next coronavirus relief legislation must include liability protections for business owners who reopen and indicated he would be open to some aid for beleaguered states. The House and Senate both plan to convene in Washington on May 4 and resume business with the expectation of additional action to respond to the novel coronavirus pandemic that has shut down businesses and thrown millions of people out of work. As some states begin gradually lifting stay-at-home orders and other restrictions, McConnell said that without protection from lawsuits, business owners could end up with years of legal claims over their efforts to restart the economy. Read more from Steven T. Dennis, Billy House and Laura Litvan.
Inspectors Hit 45-Year Low at Agency Key to Reopening Workplaces: As Trump pushes to restart the economy, the federal agency that's supposed to protect employees from workplace hazards has been operating with historically low staffing. The Occupational Safety and Health Administration had only 862 inspectors at the start of the year, the smallest number since 1975, according to a report by the pro-labor, nonprofit National Employment Law Project. The total was down from 952 in 2016 and a historic high of 1,469 in 1980. Read more from Josh Eidelson.
GOP Floats Private-Sector Response Proposals: Republican Study Committee Chairman Mike Johnson (R-La.) and the head of the Health Care Task Force, Roger Marshall (R-Kan.), pitched nine policy recommendations to "provide the U.S. health-care system with the stability and flexibility it needs to overcome" the pandemic, according to a statement. They include a proposal to suspend the requirement that Americans' health savings accounts be tied to a high-deductible health plan, and a recommendation that the FDA "fast-track the approval here of any device or drug already approved to test for COVID-19 in one or more allied countries." Read their proposals here.
Colorado, Nevada Jump Into Response Pact: Colorado and Nevada are joining California, Oregon, and Washington in what is coming to be known the Western States Pact, a bloc coordinating policies and strategies to combat the pandemic. "There is no silver bullet that will solve this pandemic until there is a cure, so we must have a multifaceted and bold approach in order to slow the spread of the virus, to keep our people safe and help our economy rebound," Colorado's Gov. Jared Polis (D) said in a news release. Read more.
WHO Warns About Southern Hemisphere: The World Health Organization is concerned about a rising number of cases in Latin America, Africa, some Asian countries, as well as eastern Europe, WHO's Director-General Tedros Adhanom Ghebreyesus said, adding that the pandemic is far from over. Everybody in the Southern Hemisphere should get the seasonal flu shot now as the flu season is starting there, he added. Countries can avoid a second wave if they put the right policies into place, but they need to be vigilant if they intend to ease lockdowns. Read more.
More Headlines:
Response, Treatment & Coordination
Bill Aims to Speed Up Virus Response: HHS would have to develop a national strategy for beefing up the country's ability to spot and test for Covid-19 as well as future outbreaks under a proposal from two lawmakers looking to follow up on a landmark biomedical innovation law. Reps. Fred Upton (R-Mich.) and Diana DeGette (D-Colo.) yesterday introduced what they called a concept paper, a precursor to a draft bill that outlines their priorities for "Cures 2.0," the follow-up legislation to the 21st Century Cures Act.
HHS would have to craft a national plan for testing, data-sharing infrastructure, vaccines, therapeutics and a strategy to have medical supplies ready to mitigate current and future pandemics, under their proposal. The announcement signals that lawmakers continue to move forward on improving their 2016 law during the pandemic. Prior to the coronavirus crisis, DeGette and Upton wanted to issue a draft bill in the first few months of 2020, as discussion began last fall. They plan to unveil "Cures 2.0″ this year, DeGette said. Read more from Jeannie Baumann.
Watchdog Starts Site to Track Trillions in Spending: An oversight committee created to root out fraud and abuse within the trillions of federal funding being spent to combat coronavirus launched its website and announced its executive director yesterday, the first move by a panel already ensnared in a controversy. The independent committee was established to oversee spending under the $2 trillion stimulus Trump signed into law last month. The group, whose mandate has expanded to include almost $500 billion more in funding approved last Friday, is comprised of independent inspectors general from over a dozen federal agencies.
Investigations are already underway looking into U.S. airlines receiving federal aid, the validity of tax credits claimed by businesses, the accuracy of economic stimulus payments, and whether the HHS has adhered to safety protocols during the outbreak, according to the website. Robert A. Westbrooks was named as the executive director. He "most recently served as the Inspector General for the Pension Benefit Guaranty Corporation where he helped protect retirement benefits" of 35 million American workers, according to the statement. Read more from Chris Strohm and Laura Davison.
Warren Seeks Details From Medical Wholesalers: Sens. Elizabeth Warren (D-Mass.) and Richard Blumenthal (D-Conn.) want medical wholesalers to detail their involvement in the administration's medical supply chain project. In a letter to Cardinal Health, Concordance, Henry Schein, Owens and Minor, McKesson, and Medline, the senators say there have been "reports of political favoritism, cronyism, orders seized by the federal government and price gouging" in the project. Read more from Teaganne Finn.
Virus Reignites Push on Home IV Drugs: Home health agencies and members of Congress are seeking a policy change to certain Medicare benefits to let more patients who need lifesaving IV drugs get those medications at home during the pandemic. Enabling more at-home drug infusions would protect people at high risk for severe complications and help hospitals around the country clear space for Covid-19 patients. But while the federal Medicare agency has relaxed some rules to make it easier for doctors to combat the coronavirus, it hasn't yet taken action to make getting at-home infusions easy, attorneys say. Read more from Jacquie Lee.
Azar Calls Taiwan to Discuss Virus: HHS Secretary Alex Azar today spoke with his Taiwanese counterpart about combating the coronavirus, a rare Cabinet-level contact between the two governments that's certain to draw anger from Beijing. Alex Azar discussed giving Taiwan a bigger role in the global battle against Covid-19 in a telephone call with health minister Chen Shih-Chung. The two also discussed U.S. support for Taiwan's inclusion in the WHO, according to a summary of the meeting released by the Taiwanese foreign ministry. Samson Ellis and Miaojung Lin have more.
Democrat Probes Trump Over WHO Funding: House Foreign Affairs Chairman Eliot Engel (D-N.Y.) yesterday said he's launching an investigation into the Trump administration's decision to withhold funding from the World Health Organization. Engel said in a letter to Secretary of State Mike Pompeo that Trump's decision was a "political distraction from the administration's own response to the coronavirus global pandemic," demanding that the department provide records "dealing with the decision to halt funding." Read the letter here.
Health Insurers Propose Subsidies but Shun Government Coverage: Health insurers are pushing Congress for more government help in the face of Covid-19—including near total premium subsidies for people who lose their jobs and stay on their employer-sponsored insurance—but they're steering clear of the next step, full government-sponsored coverage. The insurance industry has pushed back against Medicare for All or a public option to allow people to buy government health plans. They say the private market works better than a government system. But if insurer advocates succeed in their quest to get more subsidies in future pandemic aid packages, it may prove difficult to argue later against more government involvement. Read more from Sara Hansard.
More Headlines:
What Else to Know
Insurers Win in ACA Payments Case: The federal government must abide by a pledge to pay insurers $12 billion to cover some of the losses that they incurred providing risky policies under the Affordable Care Act, the Supreme Court ruled. Justices, voting 8 to 1, sided with a group of nonprofit insurance companies that sued after Congress refused to appropriate money for the ACA's "risk corridors" program over three years. The insurers alleged the federal government reneged on a promise that encouraged them to cover previously uninsured people. Greg Stohr has more.
Gilead Says U.S. Broke Research Deal: Gilead Sciences Friday accused the U.S. government in the Court of Federal Claims of violating research agreements by secretly patenting HIV treatments using information that was shared during the company's development of Truvada for PrEP. The U.S. sued Gilead for infringing its HIV-treatment patents with Truvada in November in Delaware federal court. Gilead's complaint said the U.S. government wouldn't have received the patents if it hadn't breached the agreements. Read more from Blake Brittain.
FDA Targets Toy-Like Vaping Products: Makers of e-cigarette products that appear to be toys and candy and help minors hide their vaping from parents are taking heat from the Food and Drug Administration. The FDA said yesterday it's issued warning letters to 10 companies it says have been targeting their vaping products at young people. The companies' wares include backpacks and shirts with stealth pockets for e-cigarettes and concealed vapor hosing woven through the fabric. They also sell vaping devices that resemble smartwatches, portable game systems, and fidget spinners, the FDA said. Christopher Brown has more.
Senators Seek Suicide Hotline in Next Bill: Sen. Cory Gardner (R-Colo.) and 39 other lawmakers are trying to include the "National Suicide Hotline Designation Act" in the next coronavirus stimulus package. The bipartisan, bicameral measure (S. 2661;H.R. 4194) would designate 9-8-8 as the number for a national suicide prevention and mental health crisis hotline, according to a statement. Gardner unveiled the bill with Sens. Tammy Baldwin (D-Wis.), Jerry Moran (R-Kan.), and Jack Reed (D-R.I.). Read the statement here.
More Headlines:
To contact the reporter on this story: Brandon Lee in Washington at blee@bgov.com
To contact the editors responsible for this story: Giuseppe Macri at gmacri@bgov.com; Zachary Sherwood at zsherwood@bgov.com; Michaela Ross at mross@bgov.com
Stay informed with more news like this – from the largest team of reporters on Capitol Hill – subscribe to Bloomberg Government today. Learn more.