HEALTH CARE BRIEFING: Trump Says Some States Can Open in a Month
Bloomberg Government subscribers get the stories like this first. Act now and gain unlimited access to everything you need to know. Learn more.
President Donald Trump unveiled guidelines on reopening the U.S. economy that could allow states and employers to abandon within four weeks most social distancing practices to curb the coronavirus outbreak.
Trump has been eager to return Americans to work and to schools even as the outbreak crests in the U.S., with more than 650,000 cases and more than 31,000 deaths as of yesterday. He briefed governors yesterday on guidelines his administration titled "Opening Up America Again."
"We can begin the next front in our war," Trump told reporters at the White House. "We're opening up our country. We have to do that."
Trump said some states could start the reopening process "literally tomorrow" but declined to say which ones. He later said 29 states are "in that ballgame—not for opening—but be ready to open relatively soon."
The guidelines recommend that states document a "downward trajectory" in cases of coronavirus and flu-like illnesses for two weeks before beginning a three-phase process to return to near normal work and social life. States should document another two weeks of declining cases before proceeding from one phase to another, the guidelines say, while a "rebound" in case numbers could mean reimposing some or all restrictions.
Schools, daycares and bars shouldn't reopen before phase two, according to the guidelines, while restaurants, movie theaters and sports venues could open in phase one if they practice "strict social distancing."
Trump said sports would resume without live audiences and would be produced for television. Live audiences would be allowed to return over time, he said. "We're going to build this economy back bigger, better, stronger than ever before," Trump said.
Deborah Birx, one of the top public-health experts on the White House coronavirus task force, said state leaders will have leeway to decide how quickly to proceed. "We did not put a timeline on any of the phases," Birx said. "We want the governors, with the data that they have community by community, to be setting up those timelines."
The guidelines mark a nearly complete retreat from Trump's claim earlier this week that he had total authority to order states to reopen the U.S. economy, which has practically collapsed after Americans began isolating themselves last month to avoid infection. Trump's assertion triggered a sharp backlash from governors who said he was overstepping his constitutional powers. Read more from Jennifer Jacobs and Justin Sink.
Related: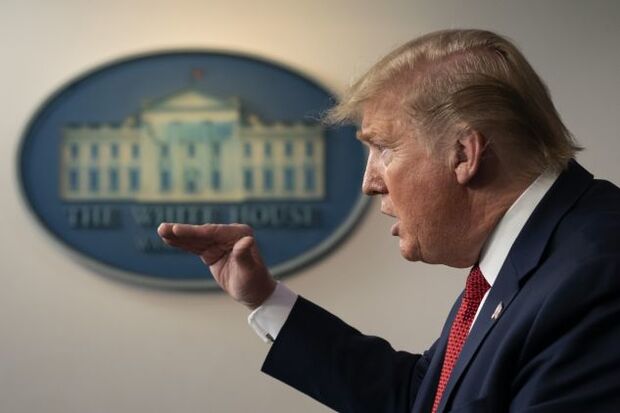 More Headlines:
Negotiating the Next Stimulus
Mnuchin, Democrats Far on Stimulus Deal: Democratic leaders and Treasury Secretary Steven Mnuchin remained far from a deal on the next stage of an economic relief package, even as a major aid program for small businesses has run out of money.
The two sides, including staffers for Speaker Nancy Pelosi (D-Calif.) and Senate Minority Leader Chuck Schumer (D-N.Y.) are set to talk again today, and a Senate pro forma session April 20 is the next scheduled opportunity to act if there's a breakthrough. But chances of that are dwindling: Any action on a deal would require unanimous consent, and both chambers of Congress aren't scheduled to return to Washington until May.
Senate Majority Leader Mitch McConnell (R-Ky.) said there has been "absolutely no progress" on replenishing funding in the past week. "I hope our colleagues will come around soon," McConnell said on the Senate floor yesterday.
Mnuchin wants to add $251 billion to the $349 billion small business program, known as the Paycheck Protection Program. Schumer and Pelosi have insisted on some changes to the program, as well as another $250 billion for hospitals and state and local governments.
Schumer and Pelosi spoke with Mnuchin again yesterday afternoon, and talks are ongoing, according to a statement released last night by a Schumer spokesperson. Steven T. Dennis, Billy House, and Erik Wasson have more.
DeLauro Probes Azar on Relief: House Appropriations Labor-HHS-Education Subcommittee Chairwoman Rosa DeLauro (D-Conn.) sent a letter to HHS Secretary Alex Azar yesterday "requesting additional details on when and to whom Congressionally-appropriated funding for hotspots, hospitals, and health care providers would be allocated," according to a statement. DeLauro also asked about the Trump administration's plan to "increase testing to contain the spread of COVID-19 if social-distancing efforts are relaxed, testing data on demographic disparities, as well as when nursing homes and senior living facilities can expect additional guidance." Read her letter here.
Help Sought for Senior Communities: Sens. Chuck Grassley (R-Iowa), James Lankford (R-Okla.) and 25 others called on federal agencies yesterday to "ensure that long term care facilities occupied by seniors, as well as those with intellectual and developmental disabilities, receive adequate resources in fighting the coronavirus pandemic," according to a statement. They urged Azar in a letter to not "overlook the residents and staff within nursing homes" and other communities when developing guidelines for the Public Health and Social Services Emergency Fund. Read their letter here.
Legislation & Letters:
Response, Research & Treatment
Behavioral Health Likely to Worsen: Most community behavioral and mental health organizations have closed at least one program and almost half of those same organizations have either already or plan to cut staff as they turn patients away during the coronavirus pandemic, according to a survey released by the National Council for Behavioral Health yesterday. The survey also found that nearly a third of clinics are turning away all patients in recent weeks.
The survey shows the economic impact the coronavirus is having on behavioral health organizations and the possible downstream effect it's likely having on those who need mental health services. "This is the tip of the iceberg," Chuck Ingoglia, CEO of the National Council, said. "We are only one month into this pandemic, and it already has crippled the ability of behavioral health care providers to offer lifesaving treatment and services to patients, Alex Ruoff reports.
FDA Calls on Survivors to Donate Plasma: The FDA is encouraging recovered Covid-19 patients to donate plasma to facilitate the development of and access to convalescent plasma, a treatment that the agency claims has the potential to lessen the severity or shorten the duration of illness caused by the coronavirus. Convalescent plasma is an antibody-rich product made from blood donated by people who have recovered from the disease caused by the virus. Convalescent plasma could also be used to produce hyperimmune globulin, which could also be used to treat Covid-19 patients, Katrina Lewis reports.
FDA Eases Rules to Make Drugs: Hospitals will have more options to buy drugs used to treat Covid-19 patients—like muscle relaxers and painkillers—thanks to relaxed rules the FDA announced to address drug shortages across the country. The changes mean facilities that produce drugs and sell them to hospitals don't have to stick to a strict ingredient list established by the FDA when making large batches of drugs for hospitals to treat Covid-19 patients. Jacquie Lee has more.
Hospitals Weigh Resumption of Elective Services: Hospitals across the nation are laying out plans to return to normal operations, restarting elective surgeries and other lucrative procedures put on hold by the outbreak. Some hospitals are seeking to be among the first wave of the economy to open back up after weeks of focusing largely on caring for coronavirus patients and keeping other patients away. This shift has cost the hospital industry billions of dollars in revenue and resulted in the loss of roughly 100,000 health care jobs since March, according to Labor Department figures released yesterday. Alex Ruoff has more.
More Headlines:
What Else to Know Today
Merkel Defends WHO in G-7 Call: German Chancellor Angela Merkel defended the work of the World Health Organization on a conference call with Trump and the other G-7 leaders. The leaders spoke yesterday as some prepared to started easing the restrictions aimed at curtailing the outbreak. Merkel "made clear that the pandemic can only be defeated with a strong and coordinated international response," her spokesman, Steffen Seibert, said in a statement. "In this context, she expressed full support for the WHO, as well as a number of other partners."
But in its own statement on the call, the Trump administration said that the G-7 leaders agreed that the WHO wlil need "a thorough review and reform" process. The talks touched on "the lack of transparency and chronic mismanagement of the pandemic by the WHO," the White House said in a statement. Josh Wingrove and Patrick Donahue have more.
More Headlines:
To contact the reporter on this story: Brandon Lee in Washington at blee@bgov.com
To contact the editors responsible for this story: Giuseppe Macri at gmacri@bgov.com; Zachary Sherwood at zsherwood@bgov.com; Michaela Ross at mross@bgov.com
Stay informed with more news like this – from the largest team of reporters on Capitol Hill – subscribe to Bloomberg Government today. Learn more.