HEALTH CARE BRIEFING: Trump Minimized Virus, Improvised Response
Bloomberg Government subscribers get the stories like this first. Act now and gain unlimited access to everything you need to know. Learn more.
America needed hospital gowns, so Donald Trump called up Walmart. For ventilators, he turned to Detroit's automakers. Wolfgang Puck counseled him on restaurant aid, while a pillow magnate jumped in to help with a mask shortage.
For weeks, the president minimized the threat of the coronavirus, telling the nation it was contained or would soon disappear. But now that the outbreak is sweeping the country, Trump has been forced to constantly overhaul and retool his team and its ad hoc plan to fight it.
He's trotted out executives and privately called friends and celebrities for insights. He's lauded some companies, like Ford Motor and Apple, and threatened others, like 3M and General Motors — before praising both. Vice President Mike Pence, Trump's son-in-law Jared Kushner and Health Secretary Alex Azar all hold murkily defined leadership roles on Trump's coronavirus task force, with the president routinely overstepping them all.
Democrats led by former Vice President Joe Biden have criticized the president for a U.S. response to the coronavirus outbreak that was delayed and then improvised. More than 350,000 Americans have been infected and more than 10,000 have died, according to Johns Hopkins University, and the White House projects the U.S. death toll may reach 100,000 or more. Trump's scattershot approach, leaning heavily on his self-made image as a dealmaker, lends weight to signs the government was ill-prepared for the pandemic.
The president has had some success, including a program to create an "air bridge" between the U.S. and foreign suppliers of medical gear that's brought planeloads of desperately needed hospital masks, gloves and gowns to U.S. cities. The president said Monday that the government has distributed nearly 12 million respirator masks, 26.5 million surgical masks and about 23 million gloves. At Trump's urging, manufacturers are gearing up to produce thousands of new hospital ventilators, though they may not arrive in time for the peak of the U.S. outbreak this month.
But the president continues to demonstrate his impatience with an outbreak that has collapsed the U.S. economy, robbing him of his chief argument for re-election.
"Stay inside and let's win this and let's get our country open as soon as we can," he said Monday. "I think it's going to be sooner than people think. Things are going really well. Again: light at the end of the tunnel." Read more from Josh Wingrove.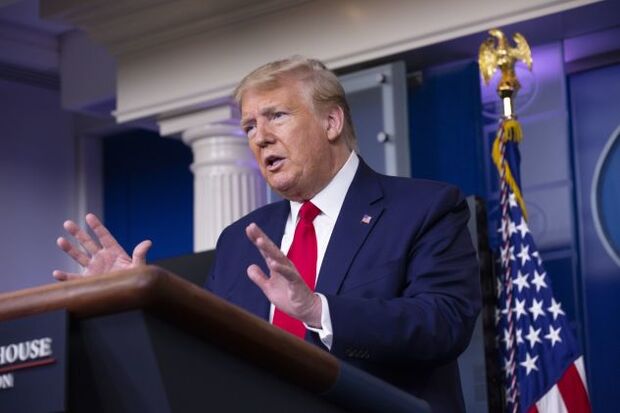 Combating Shortages at Hospitals
Trump Disputes Report on Shortages: Trump disputed a federal government watchdog's finding that hospitals are seeing widespread shortages of Covid-19 testing kits and protective gear, and suggested a political motive by the official who produced it. "It's just wrong," he said of the report at a White House news conference yesterday, without offering any substantiation. He then demanded to know the name of the U.S. inspector general who produced the study. "Give me the name of the inspector general. Could politics have entered into that?"
Late last week, the president fired the inspector general for the U.S. intelligence community, Michael Atkinson, saying that he lost trust in him. Atkinson handled a whistleblower complaint about Trump's conduct with the president of Ukraine last July that led to his impeachment in the House. The inspector general's office at Health and Human Services yesterday published a report on the coronavirus testing and medical supply shortages, based on surveys of more than 300 U.S. hospitals in late March. Read more from Justin Sink and Jordan Fabian.
Imports for Pandemic Response: House Ways and Means Chairman Richard Neal (D-Mass.) and Senate Finance Chairman Chuck Grassley (R-Iowa) requested the International Trade Commission to investigate and identify the imports necessary for treating and otherwise responding to the coronavirus pandemic. Neal and Grassley requested an ITC report no later than April 30 in a letter sent yesterday. The probe will allow the committees and U.S. Trade Representative Robert Lighthizer to take appropriate actions, they said in the letter, Caitlin Webber reports.
Trump Touts Deal With 3M: Trump said his administration reached a deal with manufacturer 3M to produce about 55.5 million masks a month for U.S. health-care workers and others combating the coronavirus. "So the 3M saga ends very happily," Trump said at the White House news conference. Trump on Friday invoked the Defense Production Act to ban the export of supplies needed to fight the pandemic—triggering a fight with 3M and allies including Canada. Sink and Fabian have more.
Health Systems Shed Doctors: Employment in both the health-care and social assistance sectors fell by 61,000 jobs in March, according to new data from the Bureau of Labor Statistics. For health care, the largest share of the loses were in dentist and physicians offices, which lost a combined 29,000 jobs in March, BLS data show. Hospital systems, including Hillcrest HealthCare in Oklahoma, have furloughed health-care providers and support staff because they've had to put on hold some lucrative elective surgeries and other procedures as patients stay home to avoid spreading the coronavirus.
Some groups have pointed out that the Health and Human Services Department has yet to distribute any of the $100 billion in emergency funding earmarked for hospitals and health services. "Given our hospitals' urgent need for this support, we hope the administration will move forward quickly with a plan to distribute these funds," said Erin O'Malley, senior director of policy for America's Essential Hospitals. Read more from Alex Ruoff.
India Partially Lifts Malaria Drug Export Ban on Trump Call: India partially lifted a ban on the exports of a malaria drug after President Donald Trump sought supplies for the U.S., according to government officials with knowledge of the matter.
Exports of hydroxychloroquine and paracetamol will be allowed depending on availability of stock after meeting domestic requirements and existing orders, said the government officials, who asked not to be identified citing rules. Shipments will be restricted and permission will be on humanitarian ground, they added. Read more from Archana Chaudhary.
More Headlines:
Research, Treatment & Coordination
N.Y. Hospitals 'Redline' While Virus Cases Hint at a Plateau: New figures are suggesting that New York's coronavirus cases may have plateaued for now. The estimate from state officials was heavily qualified, however. If daily patient admissions remain steady, the level of deaths and intensive-care demands will require hospitals in the metropolitan area to operate at what state officials called an unsustainable pace.
New York Gov. Andrew Cuomo said yesterday the virus-related death rate was effectively flat for two days. That built on what Vice President Mike Pence on Sunday called "glimmers of progress" in the virus battle in the U.S. Italy reported the lowest number of new coronavirus infections in nearly three weeks. Cuomo said that social distancing policies begun two weeks ago in New York appear to have led to the rough leveling of deaths at under 600 a day, down from 630 on Friday. However, he cautioned that infections could easily rise with less social distancing.
As it is, New York City is stretched. It is reviewing options for taking in many hundreds of dead daily, which could include using city land for temporary mass graves. And the city's hospitals are on the edge, even after expanding capacity in recent weeks by adding thousands of beds and clearing patients out of existing ones. Read more from Michelle Fay Cortez, Caleb Melby and Christian Berthelsen.
Related:
ACA Fixes Sought in Next Package: Reps. Lauren Underwood (D-Ill.), Angie Craig (D-Minn.), and a group of 16 Democratic freshmen urged Speaker Nancy Pelosi (D-Calif.) to include legislative changes to the Affordable Care Act in the next stimulus package. Two changes are based on H.R. 1868, which they claim could cut premiums by "thousands of dollars" for over 10 million Americans eligible to buy insurance through the Obamacare marketplace, and H.R. 1425, which they say would "reduce premiums for consumers by helping to defray insurers' costs and reduce their risk," according to a statement. Read the letter here.
Pelosi told Democrats on a call yesterday that Congress's next stimulus bill to prop up the U.S. economy during the coronavirus crisis will be at least another $1 trillion. The package would be focused on replenishing funds for programs established in Congress's $2.2 trillion virus relief bill signed into law last month, according to people on the call. Pelosi said there should be additional direct payments to individuals, extended unemployment insurance, more resources for food stamps and more funds for the Paycheck Protection Plan that provides loans to small businesses, lawmakers on the call said. Billy House and Erik Wasson have more on the plan.
Eased Fetal Tissue Research Rules Sought: Reps. Diana DeGette (D-Colo.), Jared Huffman (D-Calif.), and Jan Schakowsky (D-Ill.) sent a letter to HHS Secretary Alex Azar yesterday telling him to "immediately lift restrictions on human fetal tissue research, which are preventing scientists from advancing important studies to potentially prevent, treat and cure" coronavirus, according to a statement. Due to Trump administration restrictions on research at the NIH using fetal tissue, researchers are unable to use human fetal tissue to develop models of Covid-19 that could "test potential vaccines and treatments," they said in the letter. Read the letter here.
Virus 'Hotspots' to Get $186 Million: The U.S. Centers for Disease Control and Prevention will give $186 million to health departments in hotspots of Covid-19 infections, HHS announced yesterday. Those health departments will be able to pay for increased staffing and buy critical resources such as lab equipment and medical supplies, HHS said. The money will also go to state health departments, who hope to bolster their tracking and data analysis of coronavirus cases. Shira Stein and Alexis Kramer have more.
Nursing Homes Seek Help on Guidelines: The nursing home industry, which is struggling to contain the spread of Covid-19, says it can't comply with the Trump administration's latest "critical recommendations" to stop the spread of disease in its facilities. Without adequate personal protective equipment, a healthy and fully staffed workforce, and priority testing of nursing home staff and residents for the coronavirus, "It is not possible to fully comply" with the April 2 directives from CMS and CDC, David Gifford, chief medical officer at the American Health Care Association, said in a statement. Read more from Tony Pugh.
FDA Opens Access to Infusion Pumps: The FDA is expanding access to medical devices that pump necessary fluids into patients as health-care providers battle Covid-19. The FDA issued final guidance Sunday on devices that allow patients to continue therapy. Such infusion pumps are needed for patients that require intravenous infusions of medicine and other nutrition. Read more from Ayanna Alexander.
Big Pharma Makes a Big Bet on Coming Up Fast With a Vaccine: Much about the coronavirus has defied belief—the speed at which it has spread around the world, the insidious way it penetrates the lungs, the unexpected impact it's having on young people in some parts of the world while sparing them elsewhere. The most effective way to stop it would be to vaccinate the global population. For that to happen in the next year or so, an almost equally implausible set of circumstances has to occur: flawless scientific execution, breakneck trials, and a military-style manufacturing mobilization unlike any the pharmaceutical industry has put in place before. Normally it takes 10 or 15 years of careful lab work and meticulous testing to bring a totally new vaccine to market. For the coronavirus, the drug industry hopes to compress this time frame by tenfold. Read more from Robert Langreth and Cynthia Koons.
More Headlines:
What Else to Know
Oklahoma Abortion Ban Temporarily Blocked: Oklahoma may not prohibit most surgical and all medication abortions during the coronavirus epidemic, a federal court in the state said yesterday. The state can't enforce an emergency order meant to promote social distancing and protect supplies of medical gear needed to fight coronavirus against abortion providers when it interferes with a patient's lawful right to end a pregnancy, the U.S. District Court for the Western District of Oklahoma said. The temporary restraining order will be in effect until April 20 unless extended for good cause, the court said. Read more from Mary Anne Pazanowski.
Private Medicare Plans to Get Nearly 1.7% Hike: The federal government will increase baseline payment rates for private Medicare health plans by an average of 1.66% in 2021. That's more than 0.7 percentage points higher than the 0.93% increase that the Centers for Medicare & Medicaid Services had initially proposed in January for Medicare Advantage plans, according to the agency's 2021 rate announcemen treleased yesterday.
In a statement, Allyson Schwartz, president and CEO of the Better Medicare Alliance, said the group is encouraged that the CMS is protecting seniors' coverage "with a rate that, while less than the rate increase allotted for 2020, represents an improvement from the Advance Notice issued earlier this year." Read more from Tony Pugh.
More Headlines:
To contact the reporter on this story: Brandon Lee in Washington at blee@bgov.com
To contact the editors responsible for this story: Giuseppe Macri at gmacri@bgov.com; Zachary Sherwood at zsherwood@bgov.com; Michaela Ross at mross@bgov.com
Stay informed with more news like this – from the largest team of reporters on Capitol Hill – subscribe to Bloomberg Government today. Learn more.