HEALTH CARE BRIEFING: Trump Halts WHO Funds Over China Deference
Bloomberg Government subscribers get the stories like this first. Act now and gain unlimited access to everything you need to know. Learn more.
President Donald Trump said he's instructed his administration to temporarily halt funding to the World Health Organization for taking Beijing's claims about the coronavirus "at face value" and failing to share information about the virus as it spread.
"The WHO failed in its basic duty and must be held accountable," Trump said at a White House press conference yesterday. "The outbreak could have been contained at its source" if the organization had correctly responded early on, he added. "So much death has been caused by their mistakes."
It's unclear when a hold on payments would take effect or how much authority Trump has to suspend disbursements, which are authorized by Congress. The U.S. has contributed about $893 million to WHO's operations during its current two-year funding cycle, according to the organization.
In a statement, U.N. Secretary General Antonio Guterres said the chance to investigate how the disease spread around the world would come later.
"As it is not that time, it also not the time to reduce the resources for the operations of the World Health Organization or any other humanitarian organization in the fight against the virus," he said. "As I have said before, now is the time for unity and for the international community to work together in solidarity to stop this virus and its shattering consequences."
The move to limit support to the WHO in the midst of a international pandemic is unprecedented. Yet as domestic criticism of the White House's response has increased and the U.S. became the epicenter of the global pandemic, many of the president's supporters have pointed to the WHO for making early mistakes they say have undermined the U.S. and worsened the crisis.
Trump yesterday pointed to a WHO statement from late January opposing travel bans as a response to the coronavirus pandemic. The president instituted travel restrictions on China in late January, later extending it to most of Europe.
"One of the most dangerous and costly decisions" from the organization was its "disastrous decision to oppose travel restrictions from China and other nations," Trump said. "Had other nations likewise suspended travel from China, countless more lives would have been saved."
House Democrats denounced Trump's decision to withhold congressionally appropriated funds from the WHO in the middle of a pandemic. They said that he lacks the legal authority to do so and, like his withholding of aid to Ukraine, it would be a violation of the law.
"In a desperate attempt to deflect blame, President Trump is threatening to violate the same spending laws that brought about his impeachment," House Appropriations Committee spokesman Evan Hollander said in a statement. "The president does not have the unilateral authority to withhold the United States' assessed contribution to the World Health Organization."
House Oversight and Reform Chairwoman Carolyn Maloney (D-N.Y.) and Rep. Stephen Lynch (D-Mass.), who chairs the subcommittee on national security, told Trump in a letter yesterday that his "attack on the global health organization can easily be seen as a deliberate but transparent effort to deflect responsibility for your own failures onto others." Jordan Fabian has more.
China criticized Trump's move to temporarily halt funding to the World Health Organization and pledged to support the global health body. China has "serious concerns" about the decision and called on the U.S. to fulfill its responsibilities, foreign ministry spokesperson Zhao Lijian said at a briefing in Beijing on Wednesday.
"This U.S. decision will weaken the WHO's capabilities and undermine international cooperation," Zhao said, adding: "China will as always support the WHO in playing an important role in international public health and global anti-epidemic response." Read more from Bloomberg News.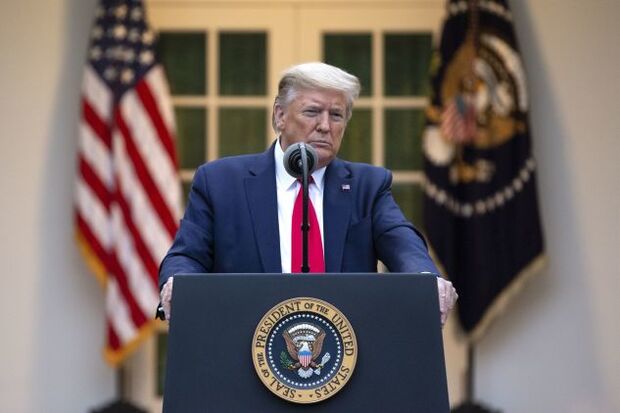 Trump Backs Off 'Total Authority' for Re-opening
Trump backed away from his claim that he had total authority to order states to reopen the economy after a backlash from governors who said he was overstepping his constitutional powers. "They know when it's time to open, and we don't want to put pressure on anybody," Trump said yesterday at the White House. "I'm not going to put any pressure on any governor to open."
Trump's comments came a day after he said he had "the ultimate authority" to order states to comply with a federal plan to reopen the economy. His remarks sparked broad criticism from legal scholars and governors, including New York's Andrew Cuomo, who warned of "a constitutional crisis like you haven't seen in decades" if the president sought to lift social-distancing requirements over states' objections.
Trump said a teleconference with governors would likely be held on Thursday, and predicted they will be "very, very respectful of the presidency." When asked if he would withhold federal aid from states that don't abide by his suggestions for a reopening strategy, Trump said he wasn't making a threat and predicted state leaders "will listen" to his advice and requests. "We're going to work with the governors. The governors are going to do a good job," Trump said. "And if they don't do a good job, we're going to come down on them very hard. We'll have no other choice." Read more from Jordan Fabian and Justin Sink.
Health Care on Trump's List for Re-opening Consultation: Trump said at a White House briefing yesterday that he would be discussing ways to revive the U.S. economy as it emerges from the coronavirus crisis with chief executives from some of the largest U.S. companies, Jordan Fabian and Jennifer Jacobs report.
Health-car companies involved include Abbott Laboratories, Johnson & Johnson, 3M, Trinity Health, Cardinal Health, McKesson, and Procter & Gamble, among others, according to a statement from the White House. Read the full list here.
Supply Shortages Hamper Use of Abbott Test Machines: Laboratories are only running a small fraction of Covid-19 tests on Abbott's test processing machines because of "widespread but uneven shortages" in almost every component they need, the head of a medical school association said. The letter from the Association of American Medical Colleges, obtained by Bloomberg Law yesterday, follows remarks from White House coronavirus response coordinator Deborah Birx that Abbott Laboratories' machines are capable of running millions of Covid-19 tests, but that they've run fewer than 10% of that amount. Read more from Jeannie Baumann.
Americans Followed Social Distancing Well: New data from the CDC U.S. Centers for Disease Control and Prevention shows that Americans responded fast and thoroughly to directions from federal, state and local leaders, doing everything from carefully washing their hands, cleaning high-touch areas, avoiding offices, and, in many cases, giving up much-needed income to remain at home. Those measures now seem to be paying off by slowing the spread of the coronavirus.
Some earlier models of the U.S. outbreak suggested that as many as 2 million Americans could die from Covid-19. The success of social distancing cut those estimates repeatedly, with models now seeing fewer than 70,000 people in the U.S. dying of the illness. "That's remarkable,'' CDC Director Robert Redfield said. "The American public listened to that message: Protect the vulnerable.'' Read more from Michelle Cortez.
More Headlines:
Treatment & Equipment Shortages
U.S. to Boost Payment for Abbott's Covid-19 Test to Increase Use: The U.S. government will nearly double the amount it pays hospitals and medical centers to run Abbott Laboratories' large-scale coronavirus tests, an incentive to get the facilities to hire more technicians and expand testing that has fallen significantly short of the machines' potential.
Abbott's m2000 machines, which can process up to 1 million tests per week, haven't been fully used because not enough technicians have been hired to run them, according to a person familiar with the matter. Members of the White House's coronavirus task force talked with lab directors on several occasions last week to determine what was causing the holdup, after Deborah Birx, a top State Department health official, said they were running at less than 10% of their capacity. Read more from Michelle Fay Cortez.
Trump Eases PPE Export Ban: The White House is easing its ban on exports of personal protective equipment (PPE), with the list of exemptions mounting after lawyers laid out the shortcomings of the rules, people familiar with the situation said. Exports to Canada, Mexico and U.S. entities such as military bases abroad are among those exemptions, according to an internal U.S. Customs and Border Protection memo obtained by Bloomberg News. It also singles out shipments by 3M, which Trump had initially blocked from sending N95 masks to Canada and Latin America. He reversed course last week after reaching a deal with the firm. Read more from Jenny Leonard.
Black Americans Disproportionately Hurt: Covid-19 is more likely to kill black Americans, and for those that survive, the pandemic will have a devastating toll on their jobs and future earning potentials, a new McKinsey & Co. report found. Black Americans are about 30% more likely than white Americans to have health conditions that exacerbate the effects of the coronavirus, such as hypertension and diabetes, according to the report. Black workers are also overrepresented in high-contact essential services, making up 33% of nursing assistants and 39% of hospital orderlies. Read more from Jeff Green and Donald Moore.
Telemedicine Firms Move to Boost Footprint: Health technology companies, offering their software as a way for providers to care remotely for their patients during the pandemic, are hiring lobbying firms to open doors on Capitol Hill and at federal agencies. The outbreak and precautionary social distancing measures in place around the nation could be the tipping point the telemedicine industry has been waiting for, should policymakers and lawmakers agree to lower both the regulatory and financial barriers these companies have long fought against. Read more from Alex Ruoff and Megan R. Wilson.
Relief Disbursements to Medical Services: Over 318,000 hospitals and health systems in the U.S. received the first disbursement of pandemic stimulus relief totaling $30 billion, according to a table from Republicans on the House Energy and Commerce Committee. The six largest U.S. states by population—California, Texas, Florida, New York, Pennsylvania, and Illinois—received the most funding. Pennsylvania Gov. Tom Wolf (D) said yesterday that he expects the next round of stimulus payments to be handed out differently than the first. Read the state-by-state breakdown here.
Protecting Insurance Amid Job Losses: House Education and Labor Chairman Bobby Scott (D-Va.) and two others unveiled a bill yesterday they said would help workers "maintain their job-based health insurance" amid layoffs or furloughs caused by the coronavirus outbreak. Their bill "would provide federal assistance to cover the full cost of COBRA premiums for workers or the full cost of health insurance premiums owed by workers who are furloughed," according to a statement. Read the bill here.
More Headlines:
What Else to Know
Protecting Fauci From Political Ouster: A Senate bill unveiled yesterday aims to protect Anthony Fauci and other National Institutes of Health leaders from a politically-motivated firing. The bill, introduced by Sen. Ed Markey (D-Mass.), comes two days after Trump endorsed a tweet to #FireFauci, and in the weeks following the dismissal of inspectors general he's found to be disloyal. If enacted, the measure would prohibit any of the institute's directors from being ousted for any reason other than "malfeasance, neglect of office, or incapacity," Jeannie Baumann reports.
Lawmakers Next Steps and Spring Look Ahead: The urgency of legislation to address the coronavirus pandemic and the need for social distancing are upending other 2020 congressional priorities. Work on surprise billing and drug pricing legislation has been delayed, and mandatory funding for community health centers, diabetes programs, abstinence education programs and others now expire in November. Download the BGOV webinar by Bloomberg Government legislative analysts.
Reimbursements for Mental Health Providers: Rep. Tim Ryan (D-Ohio) in a letter urged the White House to "fix Medicare reimbursement issues for mental health providers," according to a statement. Ryan urged the Centers for Medicare & Medicaid Services Administrator Seema Verma to change two rules he says have "negatively impacted the quality and quantity" of behavioral health services, especially during the pandemic, including one rule requiring therapists to have a supervisor physically present in the same building where a service is offered, "which is currently not possible with both therapists providing and patients receiving therapy in their own homes." Read the letter here.
Next Year's Premiums May Escape Impact of Covid-19: If the Covid-19 pandemic ends this year, Obamacare premiums probably won't rise substantially in 2021, according to an actuary who reviews state rate filings. David Dillon, senior vice president and principal of Allen, Texas-based actuarial consulting firm Lewis & Ellis Inc., predicted that rates would rise 4% to 6% if the pandemic ends in 2020, because insurers can't base future rates on past costs. That increase would primarily reflect medical inflation costs and be consistent with historical patterns, said Dillon, a fellow with the Society of Actuaries. Read more from Sara Hansard.
Abortion Providers Fight Pandemic Orders: A Tennessee outbreak emergency order that has the effect of banning abortion for women who are over 11 weeks pregnant is unconstitutional, abortion providers in the state seeking permission to add the claim to an existing federal lawsuit said. Adding the claim, instead of forcing the providers to file a new action, will promote judicial economy, Adams & Boyle told the U.S. District Court for the Middle District of Tennessee. The suit claims a law that requires women to first see a doctor at least 48 hours prior to getting an abortion is unconstitutional. Read more from Mary Anne Pazanowski.
More Headlines:
To contact the reporter on this story: Brandon Lee in Washington at blee@bgov.com
To contact the editors responsible for this story: Giuseppe Macri at gmacri@bgov.com; Zachary Sherwood at zsherwood@bgov.com; Michaela Ross at mross@bgov.com
Stay informed with more news like this – from the largest team of reporters on Capitol Hill – subscribe to Bloomberg Government today. Learn more.