HEALTH CARE BRIEFING: Trump, GOP Bet on Reopening, Not Stimulus
Bloomberg Government subscribers get the stories like this first. Act now and gain unlimited access to everything you need to know. Learn more.
President Donald Trump and Republican congressional leaders are counting on state restrictions lifting to propel an economic rebound that will ease pressure for another round of stimulus.
"There is only one way out of this dilemma: America has to grow again, to open up again, and I am pleased that is beginning to happen in my states and other states," Senate Majority Leader Mitch McConnell (R-Ky.) said yesterday at the Capitol after Trump had a lunch meeting with GOP senators.
Trump, who has been urging governors to lift restrictions on businesses, said he expects "a really great third quarter" for the U.S. economy, even though Federal Reserve Chairman Jerome Powell testified to senators yesterday that a full recovery may take until the end of 2021.
Republicans are putting up a unified front on holding off on another round of stimulus—even as every economic indicator is showing historic declines. That's put them in an election-year stalemate with Democrats, who last week pushed through the House a $3 trillion package, which Republicans have flatly rejected.
The lunch session with Trump followed a morning meeting in McConnell's office on the Hill with Vice President Mike Pence, Treasury Secretary Steven Mnuchin, and House Minority Leader Kevin McCarthy (R-Calif.).
Since agreeing to a massive stimulus package in March, Republican leaders in both chambers have been united in arguing that careful consideration is needed to provide more relief amid an explosion in spending to address the pandemic and boost the sinking economy.
McConnell said both congressional Republicans and Mnuchin, who negotiated previous rounds of stimulus with Democrats, are all in agreement that a pause is needed. With the Senate leaving later this week for a nearly two-week recess, he said discussions on next steps would happen in a couple of weeks.
A House GOP aide added that in addition to hoping to wait for a better measure of how the economy is faring, Republicans are concerned that offering more aid to states and individuals would encourage slower movement by governors to lift business lockdowns. Read more from Laura Litvan, Erik Wasson and Billy House.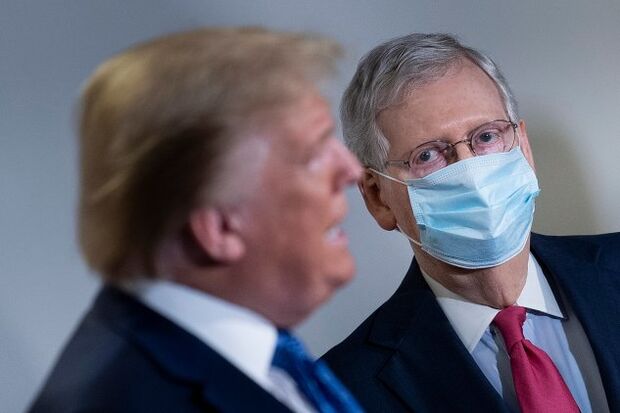 More Reopening Efforts
Virus Protection for Workers: The House Education and Labor Committee postponed its hearing examine the federal government's actions to protect workers from Covid-19.
Doctors Get Conservatives' Push for Elective Care: Conservative activists are working with a coalition of health professionals to try to pressure governors and federal lawmakers to let medical practices and hospitals perform more elective and non-emergency services, potentially expediting the reopening of the wider health-care industry. Dozens of doctors from around the U.S. yesterday are set to announce the start of A Doctor A Day, a letter-writing and lobbying campaign consisting of health-care providers who want states to loosen states' restrictions on the services they can provide. Read more from Alex Ruoff.
Cuomo Lets Albany Region Reopen: New York Gov. Andrew Cuomo (D) said the Albany area is ready to begin reopening, and Long Island is making "great progress" toward ending its lockdown, as the state's hospitalizations and new admissions and deaths for Covid-19 continue to decline. The Capital Region is seventh out of 10 regions that have met required metrics, Cuomo said. Keshia Clukey has more.
More Headlines:
Happening on the Hill
Republicans Demand Testimony of WHO Director: Republicans on the House coronavirus oversight subcommittee yesterday called on the panel's Democrats members to pursue the testimony of World Health Organization Director-General Tedros Adhanom Ghebreyesus and Chinese Ambassador to the U.S. Cui Tiankai. Following Trump's lead, Republicans in Congress are attempting to focus on the roles of China and the global public health organization in the pandemic at the same time Democrats are criticizing the White House's handling of the outbreak.
In a letter to Chairman Jim Clyburn (R-S.C.), the Republicans wrote the new panel should investigate "China's obfuscation of the origin of Covid-19" and "manipulation of the WHO to cover up the severity of the outbreak." Republican Whip Steve Scalise (La.) and Rep. Jim Jordan (R-Ohio), both members of the panel, are also pushing to probe claims that Beijing is stealing U.S. research and disrupting the medical supply chain. Billy House has more.
Baby Powder Halt Follows Panel Probe: House Oversight and Reform Economic and Consumer Policy Subcommittee Chairman Raja Krishnamoorthi (D-Ill.) in a statement yesterday said his panel's 14-month investigation into Johnson & Johnson's was successful as the company discontinued its talc-based baby powder in the U.S. and Canada. Krishnamoorthi's probe had shown the company knew for decades the product contained asbestos, he said. The FDA is still weighing a panel request to adopt more stringent testing methods for talc products.
House Dems Outline Virus Oversight Priorities: House Energy and Commerce Committee Democrats Chairman Frank Pallone (N.J.) and Rep. Diana DeGette (Colo.), the leader of the panel's oversight subcommittee, outlined their agenda for the coming months to oversee the Trump administration's response to the Covid-19 outbreak. Topic areas include testing and contact tracing, supply chains for personal protective equipment, vaccines, food supply, and a commitment to science and public health, according to documents from the committee.
Testing, Vaccine & Treatment Efforts
Trump Views Cases as 'Tribute' to Testing: Trump said it is "a badge to honor" that the U.S. has more than 1.5 million cases of coronavirus, saying the total is a result of the country testing millions of people for infection. "I view it as a badge of honor," Trump told reporters at a Cabinet meeting at the White House. "It's a great tribute to the testing." At least 91,000 Americans have died from Covid-19, the disease caused by the virus, since February. The U.S. has now conducted at least 11.8 million tests for infection by the virus, according to the Covid Tracking Project, after the government experienced delays in getting tests manufactured. Read more from Jordan Fabian and Josh Wingrove.
FDA Taps Data Company to Study Transmission: The FDA said yesterday it's pairing up with data company Aetion to research what types of medicines virus patients are taking, which could help researchers learn more about which drug treatments are effective. The Food and Drug Administration is already using its internal drug monitoring system called "Sentinel" to learn more about Covid-19 responses nationwide. The FDA's Aetion partnership will add to that data, Amy Abernethy, the agency's principal deputy commissioner of food and drugs, said in a statement. Read more from Jacquie Lee.
Millions Spent to Prevent Drug Shortages: Trump yesterday awarded a $354 million contract to a group led by Virginia-based drugmaker Phlow Corp. to help boost domestic manufacturing of medications at risk of shortage. The four year-contract, from the Biomedical Advanced Research and Development Authority, could be extended up to 10 years and total as much as $812 million, according to a statement from the Department of Health and Human Services. A spike in demand for certain drugs as the coronavirus spreads has heightened concerns about shortages. Read more from John Tozzi and Anna Edney.
Moderna Falls From Record as Euphoria of Vaccine Data Wears Off: After coronavirus vaccine-maker Moderna shares soared to a record high Monday from early data indicating trial successes, shares closed down yesterday after a report from the health publication Stat highlighted the early nature of the vaccine data. Stat cited the lack of a press release from the U.S. National Institutes of Allergy and Infectious Diseases, which partnered with Moderna on the trial, as well as experts who said they were waiting to see more data from the company before drawing a conclusion, reports Drew Armstrong.
China's New Outbreak Shows Signs the Virus Could Be Changing: Chinese doctors are seeing the coronavirus manifest differently among patients in its new cluster of cases in the northeast region compared to the original outbreak in Wuhan, suggesting that the pathogen may be changing in unknown ways and complicating efforts to stamp it out.
Patients found in the northern provinces of Jilin and Heilongjiang appear to carry the virus for a longer period of time and take longer to test negative, Qiu Haibo, one of China's top critical care doctors, told state television on Tuesday. Patients in the northeast also appear to be taking longer than the one to two weeks observed in Wuhan to develop symptoms after infection, and this delayed onset is making it harder for authorities to catch cases before they spread, said Qiu, who is now in the northern region treating patients. Read more from Bloomberg News.
More Headlines:
What Else to Know Today
Pandemic Watchdog Taps Former GAO Official: The U.S. Pandemic Response Accountability Committee named Linda S. Miller as its deputy executive director to oversee the trillions of dollars in coronavirus-related spending, according to a tweet from the group yesterday. Miller is a former Government Accountability Office official who previously worked for Grant Thornton's fraud risk mitigation unit. Read more from Laura Davison.
DHS Watchdog to Probe Detention Policies: Homeland Security Department Inspector General Joseph Cuffari announced his office will investigate whether U.S. Immigration and Customs Enforcement sufficiently adjusted practices and policies at detention facilities to address the coronavirus situation. The internal watchdog will assess whether the centers' operations, management, standards, and conditions have "sufficiently changed" to address the pandemic's threat to both the staff and detained population, Cuffari told 26 Senate Democrats, who requested the probe, Shaun Courtney reports.
More Headlines:
To contact the reporter on this story: Brandon Lee in Washington at blee@bgov.com
To contact the editors responsible for this story: Giuseppe Macri at gmacri@bgov.com; Zachary Sherwood at zsherwood@bgov.com; Michaela Ross at mross@bgov.com
Stay informed with more news like this – from the largest team of reporters on Capitol Hill – subscribe to Bloomberg Government today. Learn more.