HEALTH CARE BRIEFING: Trump Ends U.S. Ties With WHO Over China
Bloomberg Government subscribers get the stories like this first. Act now and gain unlimited access to everything you need to know. Learn more.
President Donald Trump said the U.S. will terminate its relationship with the World Health Organization, which he has accused of being too deferential to China and of failing to provide accurate information about the spread of the coronavirus.
"We have detailed reforms that they must make and engage with them directly, but they have refused to act," Trump said on Friday at the White House. "We will be today terminating our relationship with the WHO."
Trump's announcement came as he delivered a litany of complaints against the government in Beijing, ranging from trade wars to legislative moves that would compromise Hong Kong's autonomy. He had previously suspended funding to the WHO, complaining that it had been complicit with Beijing in concealing the extent of risks posed by the coronavirus pandemic, which originated in Hubei.
But Trump's decision drew quick condemnation from a range of organizations involved in fighting the virus as well as from lawmakers. "Severing ties with the World Health Organization serves no logical purpose and makes finding a way out of this public health crisis dramatically more challenging," American Medical Association President Patrice Harris said.
"This senseless action will have significant, harmful repercussions now and far beyond this perilous moment, particularly as the WHO is leading worldwide vaccine development and drug trials to combat the pandemic," Harris wrote.
Sen. Lamar Alexander (R-Tenn.), chairman of the Health, Education, Labor, and Pensions Committee, said he disagreed with the decision. "Certainly there needs to be a good, hard look at mistakes the World Health Organization might have made in connection with coronavirus," he said. "But the time to do that is after the crisis has been dealt with, not in the middle of it."
It wasn't immediately clear how Trump intended to execute his promise or how quickly the U.S. could really withdraw from the treaty it signed to join the public health organization, which is part of the United Nations. The president's threat, in the short term, could mean that his earlier decision to freeze U.S. funding to the WHO may continue indefinitely. David Wainer and Mario Parker have more.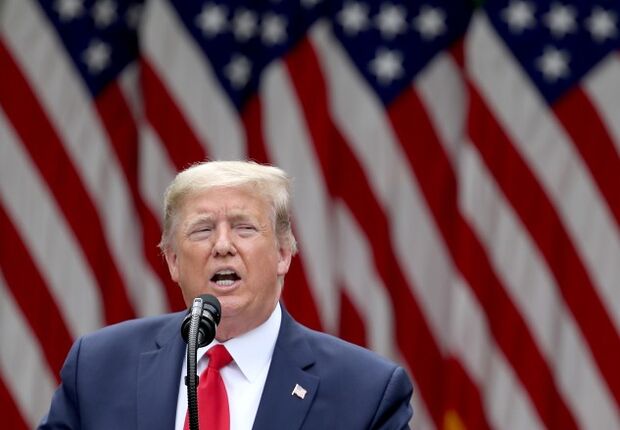 Protests Complicate Virus Response: Gov. Andrew Cuomo (D) urged protesters Saturday to "wear a mask" as the coronavirus crisis collided with violent demonstrations in New York following the death of George Floyd, a black man in Minneapolis, who was killed by a white police officer. Both Cuomo and New York City Mayor Bill de Blasio called on protesters to refrain from violence and said they're concerned about the risks of the virus combining in the close quarters of protests, which de Blasio called "inherently dangerous."
"You are wrong not to wear a mask," Cuomo told reporters in the Bronx. "I think you're disrespectful. I think you are putting other people's lives at risk needlessly."
The city's reopening, the last in the state, is due to begin June 8. De Blasio said the violence wouldn't delay the city's plan to restart its construction, manufacturing, wholesale and curbside retail businesses. But the costs of policing the city during days of protests must be added to a budget already under stress from the lockdown's economic costs. Read more from Ian Fisher and Yueqi Yang.
Related: Trump Invokes Law-and-Order to Put Protests Over Pandemic
This Week's Hill Hearings
Governors Battling Virus: The House Energy and Commerce Oversight and Investigations Subcommittee plans a virtual hearing tomorrow on how state governors are handling the pandemic. It's set to feature three governors from hard-hit states including Jared Polis (D) of Colorado; Gretchen Whitmer (D) of Michigan; and Asa Hutchinson (R) of Arkansas.
CDC Director Testifies: The House Appropriations Labor-HHS-Education Subcommittee will hear testimony from CDC Director Robert Redfield on Covid-19 response Thursday.
Incarceration During Pandemic: The Senate Judiciary Committee scheduled a hearing tomorrow to examine incarceration and detention practices affected by Covid-19.
Foreign Drug Inspections: The Senate Finance Committee holds a hearing tomorrow on oversight of the FDA's foreign drug manufacturing inspection process. Witnesses from the FDA and GAO will testify.
College Health Safety: The Senate, Health, Education, Labor, and Pensions Committee holds a hearing Thursday on Covid-19 and students going back to college safely.
Research, Testing & Treatment
Moderna Launches Vaccine Trial: Moderna, one of the leading pharmaceutical companies developing a Covid-19 vaccine, said it's started a mid-stage trial and given doses to the first patients. The 600-person, phase 2 study will give healthy participants one of two doses of the candidate, or a placebo, Moderna said in a statement. They will be examined for potential side effects as well as whether the vaccine creates an immune-system response that could protect against the coronavirus. Read more.
Vaccines on Kids Spurs Worries: The step of testing coronavirus vaccines on children means injecting dozens of kids with an experimental product—a prospect that makes many parents nervous. The University of Oxford and AstraZeneca plan to start testing their jab in 5- to 12-year-olds as schools and nurseries reopen in the U.K. Read more from Suzi Ring.
Sanofi Suspends Hydroxychloroquine Trials: French drugmaker Sanofi opted to temporarily suspend the recruitment of new patients with Covid-19 for trials with hydroxychloroquine until it's provided reassurance on safety, the company said in a statement Friday. It also put on hold the release of hydroxychloroquine supplies for off-label use in Covid-19 until safety concerns are cleared up by the World Health Organization, according to the statement. Read more.
U.S. Spread May Have Started in January: The coronavirus may have started spreading in American communities during the second half of January or early February, weeks before the first known patients in the U.S. who weren't linked to international travel got diagnosed, the U.S. Centers for Disease Control and Prevention said Friday. Read more.
More Headlines:
Virus Aid & the Path to Reopening
Fear of Hospitals Stirs Ambulance Pay Change: Ambulance companies, losing money as patients increasingly refuse to be taken to hospitals during the Covid-19 pandemic, asked Congress for reimbursements as emergency responders in the field. As a result of people's avoidance of hospitals, many are being asked to treat people on the spot for minor injuries or simple cases such as dehydration, something that the companies are rarely paid for, ambulance groups say. Read more from Alex Ruoff.
Wave of Whistleblower Suits Seen Over Aid: Money meant to save hospitals and health systems from collapse during the pandemic is likely to ensnarl some providers in high stakes litigation. The Department of Justice is already cracking down on small businesses that fraudulently obtained and misused federal loans provided by the CARES Act. Attorneys say health-care providers are next in line to be scrutinized. Read more from Lydia Wheeler.
Relief for Struggling Health Providers: Reps. Phil Roe (R-Tenn) and Lou Correa (D-Calif.) on Friday introduced a measure (H.R. 7059) that would offer "targeted protections" to health-care providers who "had to change how care was delivered" based upon public health recommendations that were "constantly changing" during the public health crisis, according to a statement. That may include when the providers had to delay scheduled services, or when providers were called on to treat coronavirus patients outside of their general practice area, they said. Read text of the bill here.
Cyber Threats Rise During Outbreak: House Oversight and Reform National Security Subcommittee Chairman Stephen Lynch (D-Mass) in a statement following a briefing from top federal cybersecurity officials warned foreign cyber attacks targeting government and health-care organizations could delay the development of life-saving coronavirus treatments and vaccines, and urged Congress to provide resources to help agencies deter threats.
Bipartisan Senators Call for Virus Watchdog Probe: Sen. James Lankford (R-Okla.) and Kyrsten Sinema (D-Ariz.) called on the Government Accountability Office to look into the federal government's response to the Covid-19 outbreak and provide recommendations for future preparedness, according to a Friday letter to the watchdog.
More Headlines:
What Else to Know Today
Cancer Summit Presses Toward Treatments: The year's biggest meeting of cancer researchers was subjected to a coronavirus overhaul this year, but even in scaled-back form it forced investors to recalibrate their expectations for some closely watched medicines.
The American Society of Clinical Oncology meeting is the field's most important gathering each spring, providing a stage for major pharmaceutical companies to unveil major findings and tout promising treatments. It's also an annual opportunity for all kinds of researchers, doctors, executives and investors to rub elbows.
With Covid-19 making travel uncomfortable and splashy conferences impossible this year, the summit was mostly a virtual affair. Still, it delivered many of the kinds of important victories and stinging setbacks it often does. And the meeting showed that even as the drug industry races to identify virus treatments and vaccines, cancer remains perhaps its most important business overall. Read more from Timothy Annett and Michelle Fay Cortez.
Drugmakers Are Asked to Recall Diabetes Drug: U.S. regulators have asked five drugmakers whose diabetes treatments contain high amounts of a chemical that can cause cancer to recall their products. The FDA discovered the chemical impurity N-Nitrosodimethylamine (NDMA) in some extended-release versions of metformin, the agency said in a statement. Bloomberg reported on Wednesday that metformin, which is widely used to control high blood sugar in people with type 2 diabetes, recalls were expected. Read more from Anna Edney.
FDA Seeks Input on Patent Database Changes: The FDA wants to know how it can improve its list of drug patents to make it more useful to generic companies looking to create cheaper versions and to doctors making prescribing decisions. The Food and Drug Administration asked for input on the list, called the Orange Book, through a public request for information, Jacquie Lee reports.
More Headlines:
To contact the reporter on this story: Brandon Lee in Washington at blee@bgov.com
To contact the editors responsible for this story: Giuseppe Macri at gmacri@bgov.com; Zachary Sherwood at zsherwood@bgov.com; Michaela Ross at mross@bgov.com
Stay informed with more news like this – from the largest team of reporters on Capitol Hill – subscribe to Bloomberg Government today. Learn more.