HEALTH CARE BRIEFING: Trump Decries Push to 'Test, Test, Test'
Bloomberg Government subscribers get the stories like this first. Act now and gain unlimited access to everything you need to know. Learn more.
President Donald Trump is forging ahead with a breakneck pace of rallies in key battleground states during the final days of his re-election campaign, defying public-health guidelines as a wave of new coronavirus cases rips across the U.S.
Trump had planned four rallies in Ohio, Wisconsin, North Carolina and New Hampshire, plus two events in Florida that he held on Friday, as he rushes to make up ground on Democratic nominee Joe Biden. He's expected to pull in thousands of unmasked supporters to each one, running the risk of seeding new outbreaks.
Lumberton, N.C., was Trump's first stop on Saturday. It's the seat of Robeson County, which has the third highest Covid-19 rate in the state per 100,000 residents. Pickaway County, Ohio, Trump's second stop, has the state's second highest infection rate per 100,000 residents.
"Cases, cases. You know why we have cases? Because we test so much. And in many ways it's good. And in many ways it's foolish. In many ways it's very foolish," Trump said. "If we tested half, cases would be half. And they would have a headline 'cases dropped magnificently,' but they want us to test, test, test."
The president's defiance of his own administration's recommendations on how to prevent the spread of Covid-19 sums up his predicament with voters as the clock ticks down to Nov. 3: His struggles are tied to his poorly rated virus response, but he's shown no willingness to change his attitude toward the pandemic.
Other than a few select sporting events, virtually no one but Trump routinely gathers such large groups of people together while doing so little to enforce public-health precautions. Trump's team says its precautionary measures include holding events primarily outdoors, handing out masks and deploying hand sanitizer. But the rallies still pose a risk, especially because there's no social distancing, few participants actually wear their masks and many people cheer and shout, Amesh Adalja of the Johns Hopkins Center for Health Security said.
The new surge is hitting key swing states and Trump Country particularly hard. Months after Trump's aides attempted to reset his campaign by placing a greater focus on his Covid response, the president has all but said he's ready to move on. "People are tired of Covid," Trump said last week on a call with campaign staff. Read more from Jordan Fabian and Josh Wingrove.
U.S. Adds More Than 85,000 Cases in One-Day Record: The U.S. yesterday reported record coronavirus infections for the second day in a row, adding 85,317 cases through Saturday. Another 939 people died, in line with the previous week's daily average, as fatalities also begin to tick up again, Bloomberg News reports.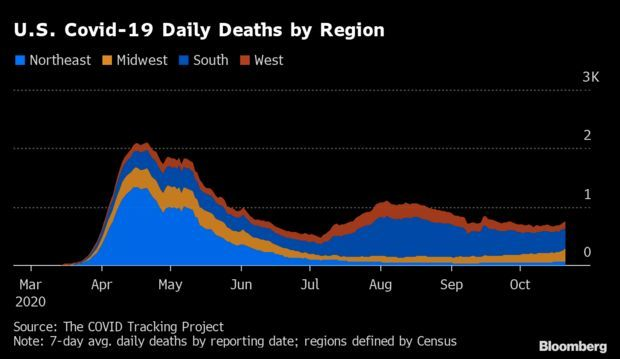 More on the Pandemic
Pelosi Awaits Mnuchin Virus Offer Today as Hope for Vote Fades: The three months of squabbling over a new round of virus relief moved no closer to a resolution over the weekend, all but extinguishing the prospects of a stimulus bill being written, voted on, and signed into law by Trump before the election. Speaker Nancy Pelosi (D-Calif.) said she's waiting for the another counteroffer today from Treasury Secretary Steven Mnuchin, as she and White House Chief of Staff Mark Meadows accused each other of "moving the goalposts" in negotiations.
Much of the weekend was devoted to work by congressional committees with the goal of writing legislation, but aides in both parties said little progress was made despite the pledges from both sides that they want to quickly deliver $1,200 stimulus payments to most Americans along with aid to struggling businesses.
The Senate is set to leave Washington today after voting on the confirmation of Supreme Court nominee Amy Coney Barrett, and the House is already out. Both chambers could be called back for a vote with 24 hours notice, though that scenario is unlikely in the last week of campaigning before the national election. Read more from Erik Wasson, Billy House and Laura Litvan.
Meadows Defends Response as Pence Circle Hit: Trump's chief of staff defended the White House response to the coronavirus after infections of at least three staff and advisers to Vice President Mike Pence, but said the U.S. isn't going to "control" the pandemic. Mark Meadows spoke on CNN's "State of the Union," hours after news that Pence's chief of staff, Marc Short, and Marty Obst, a close adviser, had tested positive. The identity of the third person hasn't yet been confirmed. Asked why the diagnoses hadn't been publicly revealed by the White House, he said: "It's personal information."
Meadows' response became a flashpoint for critics. "Meadows stunningly admitted this morning that the administration has given up on even trying to control this pandemic, that they've given up on their basic duty to protect the American people," Biden said. Jennifer Jacobs, Tyler Pager, and Laura Litvan have more.
Masks in U.S. Could Save 130,000: Universal masks in the U.S. could save some 130,000 lives by the end of February, according to projections by some of the nation's top Covid-19 trackers at the University of Washington. The analysis, which appeared on Friday in the journal Nature Medicine, models the impact of different levels of social distancing on the trajectory of Covid's spread from this fall to the end of February 2021. White House officials and top public health leaders said they don't expect a vaccine to be widely available until March or April, so wearing masks will likely be the best option to reduce the spread of the virus until the end of February. Read more from Alex Ruoff and Jeannie Baumann.
Johnson, AstraZeneca Vaccine Trials to Continue: AstraZeneca and Johnson & Johnson plan to resume Covid-19 vaccine clinical trials that were halted by U.S. regulators, putting research into two of the lead candidates for a coronavirus inoculation back on track. Both drugmakers' trials had been put on pause after a participant in each study fell ill. AstraZeneca said the FDA reviewed data from global studies and determined it's safe to proceed, while an independent data safety monitoring board recommended the Johnson trial continue. Read more from Riley Griffin, Robert Langreth, and Suzi Ring.
Gilead's Covid Drug Win Could Clog Pipeline: The future of Covid-19 treatment is cloudier after the FDA approved Gilead Sciences's remdesivir, the first coronavirus treatment to get complete authorization in the U.S. The approval marks a major turning point for the U.S. in the battle against Covid and solidifies the standard of care for hospitalized virus patients in the U.S. Shortages of remdesivir are especially problematic now that it's been approved, as supply issues could slow down development of other new Covid-19 drugs that may now be required to use it in their clinical trials. Read more from Jacquie Lee.
More Headlines:
What Else to Know
Senate Advances Barrett's Court Nomination: The U.S. Senate took its second-to-final step toward putting Amy Coney Barrett on the Supreme Court, a move that would seal a 6-3 conservative high-court majority and cap a swift but bitterly partisan confirmation process.
The Senate, on a 51-48 tally yesterday, advanced Barrett's nomination toward a final vote to be held today. The vote followed ultimately fruitless delaying tactics by Democratic opponents and demonstrated that Barrett, 48, has the backing she needs to be be seated on the court just a week before Election Day. Republicans have a 53-47 Senate majority. Read more from Laura Litvan.
Trump Goes Alone on ACA, Leaving Party Divided: Trump's reluctance to provide a plan to replace Obamacare has left Republican lawmakers without a central message on health care going into the Nov. 3 election. Trump, promising to reduce Americans' health care costs, has repeatedly promised to unveil a proposal to supplant the Affordable Care Act, one that's less expensive while maintaining protections for people with pre-existing conditions. The problem for Republicans: Plans to achieve these goals exist but the president rarely makes mention of them. Read more from Alex Ruoff.
More Headlines:
To contact the reporter on this story: Brandon Lee in Washington at blee@bgov.com
To contact the editors responsible for this story: Zachary Sherwood at zsherwood@bgov.com; Giuseppe Macri at gmacri@bgov.com; Michaela Ross at mross@bgov.com
Stay informed with more news like this – from the largest team of reporters on Capitol Hill – subscribe to Bloomberg Government today. Learn more.