HEALTH CARE BRIEFING: Trump Admits to Downplaying Virus Threat
Bloomberg Government subscribers get the stories like this first. Act now and gain unlimited access to everything you need to know. Learn more.
President Donald Trump defended telling journalist Bob Woodward that he intentionally downplayed the severity of the coronavirus in public, saying he didn't want to cause panic or price spikes.
"I wanted to always play it down, I still like playing it down, because I don't want to create a panic," Trump told Woodward, the author and associate editor for the Washington Post, on March 19 in one of a series of interviews for his book, "Rage," due for publication this month.
Trump yesterday embraced his comments in the interviews, which were conducted between December and July but weren't published until CNN and the Washington Post reported on the book yesterday. He insisted he was right to keep his concerns about the virus private.
The revelations from Woodward's book have led to accusations that Trump misled the American public about the severity of the virus. He told the author in an interview in February, when the U.S. had reported few cases of Covid-19, that the virus was more deadly "than even your strenuous flus" and that he knew it was airborne.
"It goes through air, Bob, that's always tougher than the touch," he told Woodward. "The air, you just breathe the air and that's how it's passed."
In public, meanwhile, he favorably compared coronavirus and the flu, noting that there were at the time many more flu deaths in the U.S. Asked whether he thought he could have saved lives if he had been more forthright, Trump said: "If we didn't do what we did, we would have had millions die."
"We've done, from every standpoint, an incredible job," he said. "We had to show calm." Read more from Josh Wingrove and Mario Parker.
Happening on the Hill
NIH Chief Says No Knowing on Vaccine Timeline: Contradicting Trump, the head of the National Institutes of Health said there's no way to tell if a safe vaccine will be available before the Nov. 3 election. But he remains hopeful that we can have one by year's end. "Will it be done by a certain date?" NIH Director Francis Collins said at a congressional hearing yesterday. "I could not possibly tell you right now. I don't know what's going to happen."
Collins and Surgeon General Jerome Adams appeared before the Senate Health, Education, Labor and Pensions Committee to discuss the importance of vaccines generally, but the focus naturally was on a Covid-19 vaccine with the health leaders attempting to reassure senators the process for reaching a vaccine would be focused on science not politics. Read more from Anna Edney, Jacquie Lee, and Riley Griffin.
Schumer Sees Trump Ultimately Pressured Into Stimulus Deal: Senate Minority Leader Chuck Schumer (D-N.Y.) said yesterday that public pressure on the White House may cause Trump to make the concessions needed to get a stimulus deal in coming weeks, Erik Wasson and Laura Litvan report. The U.S. Senate is poised to vote today on whether to advance a slimmed-down Republican-crafted pandemic relief bill, opening what's likely to be the final stage of the months-long partisan battle over fiscal stimulus. Democrats say they have the votes to block a narrowly tailored bill introduced by Majority Leader Mitch McConnell (R-Ky.) from even reaching the floor. Once that happens, it isn't clear whether negotiations might resume, or if lawmakers will leave Washington to wage their November election campaigns without approving a fresh dollop of aid to businesses and workers hurt by the Covid-19 crisis. Read more.
Drug Voucher Extension, Marijuana Research Bills Move: Bills related to rare pediatric diseases and marijuana used for research may come to the House floor in the coming weeks, Energy and Commerce Chairman Frank Pallone (D-N.J.) said yesterday after a markup of nearly 40 health and communications-related bills. The collection includes an extension (H.R. 4439) of the pediatric priority review voucher program, which offers drug companies the chance to speed up approval of medicines if they create treatments for rare diseases. Another bill (H.R. 2564) would establish a special enrollment period in Medicare for people with temporary insurance coverage. Read more from Alex Ruoff.
Significant Delay for Mail-Order Drugs Seen: Mail-order prescription drug deliveries have encountered "significant delays" after changes put in place at the U.S. Postal Service by Postmaster General Louis DeJoy, two senators said. The delays stretched delivery times to 3 to 4 days, from 2 to 3 days, pharmacies and benefit managers reported, according to a Sept. 9 letter and report from Sens. Bob Casey (D-Pa.) and Elizabeth Warren (D-Mass.). Read more from Todd Shields.
Campus Research Boost Sought: University officials told the House Science and Technology Committee yesterday that the pandemic threatens to derail ongoing research and lead to a loss of new talent in laboratories if Congress doesn't authorize new funding for campuses. "It's imperative you complete a fourth stimulus that includes direct university funding," said David Stone, vice president for research at Oakland University.
Colleges and graduate students have asked lawmakers to pass a bill (H.R. 7308) that would provide $26 billion in relief funding for science agencies that fund campus-based research, as well as another measure (H.R. 8044) that would create a fellowship program for researchers whose career opportunities have been affected by the pandemic, Andrew Kreighbaum reports.
Today's Hearings:
The Coronavirus Pandemic
Cases Surge in Counties Sturgis Riders Hailed From: It's been just over a month since hundreds of thousands of largely unmasked motorcycle riders descended on the small town of Sturgis, S.D., raising fears the event would become a "superspreader" of the coronavirus. Now, new testing numbers combined with cellphone location data show those worries may be well-founded.
More than 460 counties nationwide where bikers originated from and Covid-19 cases were trending downward before the rally have shown increases in the virus, a Bloomberg Industry Group data analysis shows. More than two-dozen counties in South Dakota, Minnesota, Iowa, and Texas flipped in such a manner, while significant numbers of counties in states as far away from the Dakotas as North Carolina, California, and Louisiana also made the list. Read more from Aaron Kessler.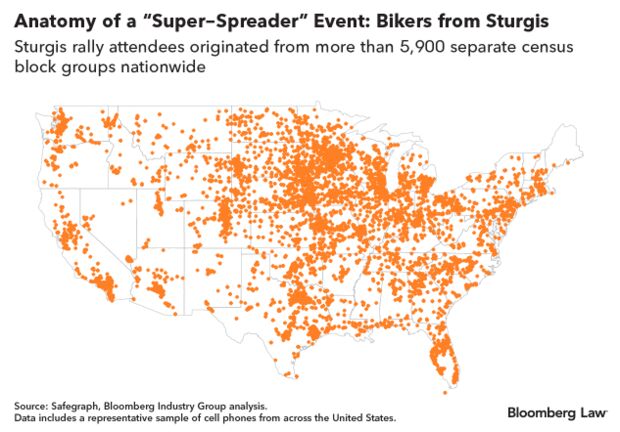 Vaccine PSAs Mention Painful Black Past: Messaging around a coronavirus vaccine must be delivered to Black communities without admonishment or pressure, according to health officials planning for its rollout in St. Louis. The approach will be distinct from the messaging campaign that they've used for Covid-19 testing and prevention largely in part because Black communities are wary of vaccination efforts. Christopher Brown has more.
More Headlines:
What Else to Know Today
Medicare Private Plans Got $2.6 Billion in Questionable Payments: A government watchdog agency is urging the Trump administration to tighten its oversight of billions of dollars in potentially improper payments to private Medicare Advantage health plans that cover 24 million beneficiaries. A new report by the Health and Human Services Office of Inspector General says the Centers for Medicare & Medicaid Services provided $2.6 billion in "risk-adjusted" payments to 438 Medicare Advantage plans in 2017 based on patient diagnoses that were unrelated to any other clinical services. Read more from Tony Pugh.
FDA May See E-Cigarette Application Surge: The FDA yesterday was expecting a possible deluge of tens of millions of e-cigarette applications for reviews ahead of the deadline, setting up a process to prioritize prominent brands such as Juul and preparing a labor-intensive effort to root out companies making illegal sales. Manufacturers who want to continue selling their e-cigarettes must submit an application for FDA authorization. Angelica LaVito and Anna Edney have more.
Trump Releases List of SCOTUS Picks: Trump announced a new list of people he intends to consider for future vacancies on the U.S. Supreme Court, which includes Sens. Tom Cotton (R-Ark.), Ted Cruz (R-Texas) and Josh Hawley (R-Mo.). By publicly vowing to confine his selections to a list of known conservative jurists during his first campaign, the president helped to firm up support among evangelicals. Cotton posted to Twitter a reference to the court's landmark 1973 abortion decision: "It's time for Roe v. Wade to go." Read more from Justin Sink and Jordan Fabian.
More Headlines:
With assistance from Andrew Kreighbaum
To contact the reporter on this story: Brandon Lee in Washington at blee@bgov.com
To contact the editors responsible for this story: Zachary Sherwood at zsherwood@bgov.com; Giuseppe Macri at gmacri@bgov.com; Michaela Ross at mross@bgov.com
Stay informed with more news like this – from the largest team of reporters on Capitol Hill – subscribe to Bloomberg Government today. Learn more.