HEALTH CARE BRIEFING: Trade, Legal Hoops Hinder U.S. Drugmaking
Bloomberg Government subscribers get the stories like this first. Act now and gain unlimited access to everything you need to know. Learn more.
The Trump administration's effort to manufacture more medical products in the U.S. will take several federal agencies, years of jumping through regulatory hoops, and hundreds of millions of dollars, lawyers, lobbyists, and policy analysts say.
Health-care providers have struggled to get the drugs or equipment they need during the pandemic because so many of those drugs are made overseas. Researchers and lawmakers have decried that foreign reliance for years, but the public outcry over equipment shortages during the Covid-19 pandemic may finally lead to lasting change, industry analysts say.
President Donald Trump has prepared an executive order to bolster domestic manufacturing of the essential drugs and devices that were in short supply during the pandemic. The administration awarded a $354 million contract to a generic drugmaker to get it to begin that process.
But to undo over 30 years of offshoring would take years and substantial political clout. Trade deals might need to be renegotiated, and manufacturers need to be convinced they can keep plants financially afloat on U.S. soil.
Companies also need to be wary of environmental regulations their factories have to comply with and be prepared for a lengthy construction process.
It would be a "massive undertaking" for the U.S. and a "tremendous shift" in where and how drugs are produced, Nicolette Louissaint, executive director and president of Healthcare Ready, said. Healthcare Ready is a nonprofit that focuses on health-care supply chain preparedness.
It's unclear exactly how much pharmaceutical manufacturing is done overseas because drug companies don't have to disclose exactly where drugs are made.
However, researchers do have data from the Food and Drug Administration about manufacturing locations for drugs sold in the U.S. Drugs are regulated at three steps during manufacturing: during the raw or starting material stage; when those raw materials are combined into the active form—known as active pharmaceutical ingredients (API); and when they're in the final pill or injection form—known as a final dosage form. Read more from Shira Stein and Jacquie Lee.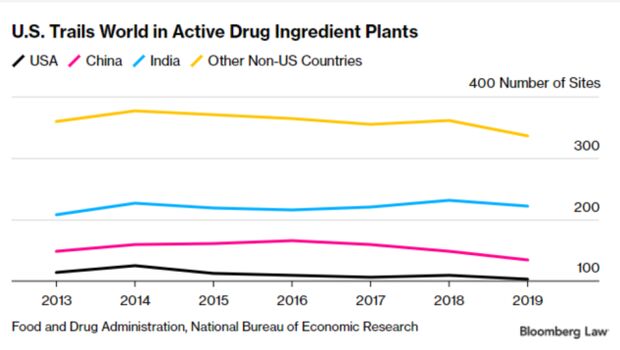 Congressional Virus Efforts
Democrats Seek FDA Vaccine Briefing: Democrats on House oversight panels asked the FDA to brief their staff on the development, review, and deployment of any eventual Covid-19 vaccines, according to a letter to the agency. Members urged the FDA to set rules and ensure transparency of the process to win the public's trust for the vaccine. "One simple step you could take," members argued in the letter, would be declaring that any candidate "will have to prove itself safe and effective in a complete Stage 3 clinical trial with at least 30,000 volunteers," Kasia Klimasinska reports.
Trump Virus Response: The House Energy and Commerce Committee plans a hearing tomorrow on the Trump administration's response to Covid-19. National Institute for Allergy and Infectious Diseases Director Anthony Fauci, HHS Assistant Secretary for Health Brett Giroir, FDA Commissioner Stephen Hahn, and CDC Director Robert Redfield are slated to testify.
Health and Wealth Inequality: The House Budget Committee tomorrow will discuss how Covid-19 highlighted health and wealth inequality.
Pandemic Preparation: The Senate Health, Education, Labor, and Pensions Committee holds a hearing tomorrow on lessons learned from Covid-19 and preparing for the next pandemic.
Strategic Stockpile: The Senate Homeland Security and Governmental Affairs Committee holds a hearing on the role of the strategic national stockpile in pandemic response.
Virus & Nursing Homes: The House Ways and Means Health Subcommittee holds a hearing Thursday on Covid-19's effects on nursing homes.
Insurance & Virus: The House Financial Services Housing, Community Development and Insurance Subcommittee scheduled a hearing Friday on Covid-19's effects on insurers and policyholders.
Testing, Treatment & Vaccine Research
NIH Stops Malaria Drug Trial: A National Institutes of Health unit stopped a clinical trial evaluating whether hydroxychloroquine and azithromycin can prevent hospitalization and death from coronavirus. Fauci said fewer than 20 people signed up for a trial that targeted 2,000 adults. No safety concerns were associated with the trial.
Antibodies Said to Decline in Asymptomatic People: Antibodies may only last a few months in patients with Covid-19, a Chinese study published on Thursday in Nature Medicine showed. Virus-specific antibodies started to decrease after two or three months, compared with almost three years for people who had Middle East Respiratory Syndrome in earlier outbreaks. Read more.
CDC Kits 'Likely Contaminated,' HHS Says: One of two test kits developed by the CDC to detect the "first wave" of the coronavirus failed because some reagents were "likely contaminated," an HHS review concluded. Development of kits began in early January on a rush basis, and the reagents may have been exposed in late January, according to the report.
Money for New Clinical Trials to Be Tight: Restarting clinical trials idled by the coronavirus will chew into the National Cancer Institute's budget, meaning that fewer new studies will get funded without a boost from Congress, the institute's director warned. While universities can keep paying researchers who can't work on their grant projects, ramping up that research again will increase projects' time and costs, Ned Sharpless, head of the National Cancer Institute, said in an interview. Funding for clinical trials was already stretched before the pandemic. Read more from Jeannie Baumann.
More Headlines:
The Path to Reopening
Trump Says 'Kung Flu' in Rally Short on Masks: Trump called the coronavirus "Kung flu" during a rally in Oklahoma, employing a racist slur while claiming increased diagnostic testing has driven up U.S. case totals. The outbreak, which has killed at least 119,000 Americans, was a significant talking point at Trump's first rally in three months in Tulsa's BOK Center, where attendance failed to meet Trump's promises of a capacity crowd.
The Trump campaign distributed masks to people entering the arena but few in the audience wore them. Trump complained that he was criticized for risking the health of his supporters by holding his indoor rally, saying that nationwide protests against police brutality this month should have endured similar scrutiny. "You never hear them saying, 'they're not wearing their mask,'" during coverage of the protests, he said. Mario Parker and Josh Wingrove have more.
Virus Task Force Will No Longer Brief Public: Trump's Coronavirus Task Force hasn't been seen in the White House briefing room in weeks. On Friday, Trump's press secretary made its shelving official. Kayleigh McEnany said that the task force will no longer brief the public now that the U.S. is moving ahead with reopening its economy. McEnany said that she will relay any further information about the pandemic, instead. Read more from Josh Wingrove and Mario Parker.
Americas Account for 63% of New Cases: The Americas region accounted for almost two-thirds of new cases reported by the World Health Organization yesterday. The eastern Mediterranean, including the Middle East, represented 10% and Europe had 9.8% of new infections, WHO said. The United Nations group reported 183,020 cases for the 24 hours through early Sunday, led by Brazil with 54,771—the biggest jump by any nation. Read more.
More Headlines:
What Else to Know Today
Health-Care Deals in May Relatively Strong: Economic uncertainty caused by the pandemic continues to impede investors' interest in health-care deals. But transaction activity is comparably strong given overall market conditions, some analysts say. The 104 transactions in May represent the lowest number of deals announced or closed in any month this year, down from 106 in April. Still, the 686 deals year-to-date are "well ahead" of the 456 deals during the same period last year, Larry Kocot, a principal at KPMG, said. Read more from Sara Hansard.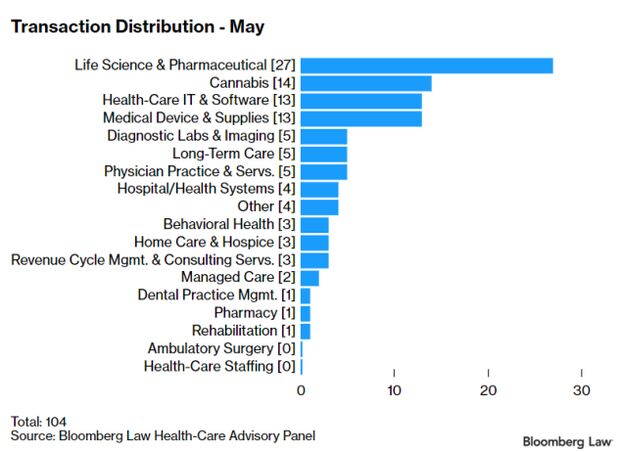 More Headlines:
To contact the reporter on this story: Brandon Lee in Washington at blee@bgov.com
To contact the editors responsible for this story: Giuseppe Macri at gmacri@bgov.com; Zachary Sherwood at zsherwood@bgov.com; Michaela Ross at mross@bgov.com
Stay informed with more news like this – from the largest team of reporters on Capitol Hill – subscribe to Bloomberg Government today. Learn more.