HEALTH CARE BRIEFING: Texas Abortion Law Takes Effect for Now
Bloomberg Government subscribers get the stories like this first. Act now and gain unlimited access to everything you need to know. Learn more.
A Texas law barring abortion after the sixth week of pregnancy took effect at least temporarily today as the U.S. Supreme Court deliberated over a bid by clinics and doctors to block the measure while a legal challenge goes forward, Greg Stohr reports.
The high court took no action last night even as the challengers said the measure threatened to ban abortion for at least 85% of the women seeking the procedure in the country's second-most populous state. If it remains in effect, the law will be the strictest in the nation, prohibiting abortion before many women even know they are pregnant.
The Supreme Court could act today, though the justices don't have any firm deadline.
Texas officials yesterday urged the Supreme Court to allow the law. In a court filing yesterday, Texas Attorney General Ken Paxton (R) said the providers haven't shown they will be harmed by the law, which would be enforced by private lawsuits, rather than government attorneys. "They have not shown that they will be personally harmed by a bill that may never be enforced against them by anyone," Paxton argued.
The showdown could be a pivotal moment on one of the nation's most divisive issues. A decision permitting the Texas law to take effect could signal the high court is poised to topple precedents that now protect abortion rights until much later in pregnancy. In the coming months, the conservative-controlled court will hear a Mississippi appeal that seeks to overturn the core constitutional abortion right.
The Texas law would be the strictest in the U.S., barring abortion after a fetal heartbeat can be detected—and before many women know they are pregnant. The challengers argue the law would ban abortion for at least 85% of patients in the state and force many clinics to close. The law "would immediately and catastrophically reduce abortion access in Texas," the providers argued in a filing.
The clinics and doctors are seeking to block the law from taking effect while the litigation goes forward. A federal appeals court in New Orleans effectively barred any pre-enforcement challenge.
The law's unusual enforcement mechanism is at the center of the clash. It lets private parties sue any person who helps a woman get an abortion, but it doesn't authorize government officials to sue. That provision left unclear who challengers could sue before the law takes effect. Read more from Greg Stohr and Laurel Calkins.
The Coronavirus Pandemic
Travel Nurses Offered Up to $8,000 Weekly: With economic reopenings and labor scarcities, all kinds of U.S. workers have been getting pay raises. Some of the largest are going to a group on the frontline of the fight against Covid-19: travel nurses. There are 30,000 open spots for travel nurses nationwide, according to SimpliFi, a health-care staffing firm. That's up 30% from last winter's peak, and climbing. Salaries have climbed too, with rates up to $8,000 a week for a three-month assignment. Alex Tanzi has more.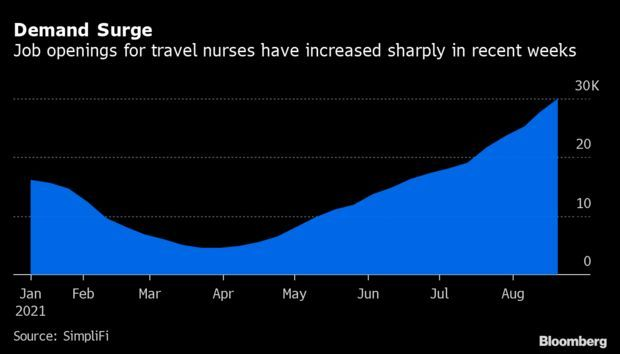 Employers Mandating Vaccine Expected to Surge: By the fourth quarter of 2021, 52% of U.S. employers could have some type of Covid-19 vaccine requirement in the workplace, advisory firm Willis Towers Watson said. The findings were based on an Aug. 18-25 survey of 961 U.S. employers. Potential mandates ranged from requiring vaccinations for all workers to limiting the requirement to those who use common areas, WTW found. Currently 21% of employers have a mandate, it said. Sara Hansard has more.
The survey comes as Delta Air Lines said it saw around "a five-fold increase" of workers receiving Covid-19 vaccinations after the second-biggest U.S. airline said last week it would impose a $200-per-month surcharge on unvaccinated employees. The carrier was one of the first major corporations to take such a step following full FDA approval of the Pfizer vaccine. The $200 monthly charge applies to employees in Delta's health-care plan who haven't gotten a shot by Nov. 1. Paige Smith has more.
Moderna Shot Creates More Antibodies Than Pfizer's: Moderna's Covid-19 vaccine generated more than double the antibodies of another mRNA shot from Pfizer-BioNTech in research that compared immune responses evoked by the two vaccines. The study is one of the first to compare levels of antibodies spurred by the two vaccines, thought to be one of the important components of immunity. It didn't examine whether the differences led to disparities in efficacy over time, Jason Gale and Robert Langreth report.
FDA Vaccine Officials to Step Down After Clearances: Two key vaccine officials are preparing to step down from the Food and Drug Administration, which raced to clear Covid-19 shots and is now considering President Joe Biden's booster proposal. Marion Gruber, head of the regulator's Office of Vaccines Research and Review, will retire Oct. 31, and Philip Krause, deputy director for the Center for Biologics Evaluation and Research, will leave in November, an email to FDA staff says. Fiona Rutherford has more.
Boosters Threaten Repeat of Vaccine Access Inequities: The planned Covid-19 booster rollout threatens to worsen existing inequities facing minorities and lower-income communities, paving the way for Americans with the wherewithal to navigate their way to the front of the immunization line, health experts say. Unclear messaging, complex appointment registrations, and a lack of a unified strategy were among the barriers for underserved populations during the initial vaccine rollout. Some policy watchers worry the Biden administration with its booster rollout may repeat many of the same steps that they say reinforced cultural, language, and geographic obstacles to vaccine access. Read more from Ian Lopez.
More Headlines:
What Else to Know Today
Pandemic's Impact on Medicare Trust Fund Seen as Limited: The Covid-19 pandemic doesn't appear to have had an outsized effect on the trust fund that pays Medicare's inpatient hospital costs. Medicare's hospital insurance trust fund will be able to pay full benefits until 2026, the same as the last two year's projection, despite a presumed decline in payroll tax revenue due to Covid-related layoffs, a federal report found. It's the first to detail the pandemic's impacts on Medicare's finances. Tony Pugh has more.
Hospitals Lose Fight on Medicare Supplemental Pay: Hospitals that treat a large number of lower-income patients lost a bid to increase their Medicare supplemental payments because they can't sue to change a method for calculating the amount, a federal court said. The Medicare Act specifically bars administrative and court review of the methodology that HHS uses when calculating the disproportionate share payments, the U.S. District Court for the District of Columbia stated. Mary Anne Pazanowski has more.
Washington Beats Suit on Conversation Therapy: Washington state may continue enforcing a law banning licensed counselors from engaging in LGBT "conversion therapy" with minors, as it regulates professional conduct and thus doesn't violate therapists' free speech rights, a federal court said. Brian Tingley's challenge to the law, which imposes licensing sanctions against counselors who engage in such efforts, must be dismissed under precedent, the Western District of Washington decided, Pazanowski reports.
More Headlines:
To contact the reporter on this story: Brandon Lee in Washington at blee@bgov.com
To contact the editors responsible for this story: Zachary Sherwood at zsherwood@bgov.com; Giuseppe Macri at gmacri@bgov.com; Michaela Ross at mross@bgov.com
Stay informed with more news like this – from the largest team of reporters on Capitol Hill – subscribe to Bloomberg Government today. Learn more.