HEALTH CARE BRIEFING: Study Offers Look at How Vaccines Compare
Bloomberg Government subscribers get the stories like this first. Act now and gain unlimited access to everything you need to know. Learn more.
Clues to how the three available Covid-19 vaccines compare could come through a real-world study on the long-term effects of inoculation, offering a chance to subdue fears over whether one shot is better than another.
Thousands of health-care workers will be surveyed in the next few years on their health and well-being as part of a study known as "HERO-Together." The first phase of the study, led by the Duke Clinical Research Institute, will address vaccine hesitancy, but over time it will also address safety and health outcomes, with the potential to determine whether there are any meaningful differences among the vaccines.
"Everyone got so excited about getting their vaccine and taking a vaxxie," Adrian Hernandez, executive director of DCRI, said, using a neologism for vaccination selfies. "We're really trying to paint out the movie here of how this will evolve and how can we bring clarity or data to the story over time."
Though supply shortage remains the biggest challenge, confusion and misinformation about the three shots currently available in the U.S. threaten to curb the level of vaccination needed to achieve herd immunity. All three are highly effective, and public health leaders—in addition to physician, nursing, and hospital groups—urge Americans to get vaccinated as soon as they can, with the first option available to them.
The Moderna and Pfizer-BioNTech vaccines are both about 95% effective, while the Johnson & Johnson vaccine demonstrated 72% efficacy in U.S. trials and 100% efficacy against preventing deaths. But J&J's vaccine uses a different platform, and its clinical trial took place after the new coronavirus variants began circulating, and at different locations than the others.
"We don't compare one to the other; the only way that you can effectively do that is by having head-to-head comparisons in a clinical trial, which was not done," Anthony Fauci, President Joe Biden's top medical adviser on Covid-19 and director of the National Institute of Allergy and Infectious Diseases, said at a recent White House press briefing.
"The most important thing to do is to get vaccinated and not to try and figure out what one may be or may not be better than the other," Fauci said. Read more from Jeannie Baumann.
Happening on the Hill
Biden Faces Tougher Obstacles for Broad Relief Bill Sequel: President Joe Biden's soon-to-be-unveiled longer-term economic stimulus package is set for far tougher obstacles in Congress than the pandemic-relief bill that's on the verge of squeaking through without a single Republican's backing. The "build back better" program that the White House says will be announced after Biden signs the $1.9 trillion aid bill — heading for final passage as soon as today — will be far more expansive than its predecessor.
Spanning measures to address infrastructure, climate, health care, inequality and much more, and costing trillions of dollars over a decade, the initiative is far more complex. And Republican opposition to tax hikes will make it all the harder to fund the initiative. Biden has the same three options as for his first package: go without the GOP on a bill that's as expansive as moderate Democrats and Senate rules will allow, dramatically scale back ambitions to lure at least 10 Senate Republicans, or split the program up and pursue a combination of approaches. Read more from Steven T. Dennis and Erik Wasson.
Virus Response: The Senate Health, Education, Labor and Pensions Committee plans a hearing today on Covid-19 response.
Drug inspections: The House Appropriations Agriculture-FDA Subcommittee meets today for a hearing on the FDA's Foreign Drug inspections Program.
The Coronavirus Pandemic
CDC Says Vaccinated Can Be Together Without Masks: Vaccinated people can visit indoors without masks, but need to still wear them in public and avoid large gatherings when around those who aren't immunized or are at higher risk for severe Covid-19, the Centers for Disease Control and Prevention said yesterday. The agency issued its long-awaited guidance for what fully vaccinated people can safely do as inoculations rise, but also as some top health experts warn that risks remain, especially with new variants.
Broadly, the CDC recommended that fully vaccinated people can meet freely in private settings with other fully vaccinated people. Two weeks after people receive their final dose of the two-dose Moderna and Pfizer shots or one dose of the Johnson & Johnson shot, they're considered fully immunized, the CDC said.
Those who are fully vaccinated also can meet with people who aren't vaccinated from a single household who are at lower risk without limits, such as vaccinated grandparents meeting their unvaccinated adult child and grandchildren if they're not at a higher risk.
Vaccinated people need to still wear masks and socially distance if they are visiting with unvaccinated people from more than one household or when being with unvaccinated people who are at a high risk, such as older people, the CDC said.
The CDC said several restrictions remain, including advising against travel and recommending mask wearing in public, and also to avoid medium or large gatherings. But the CDC is hopeful that by the next update, it will provide more scientific guidelines as to what vaccinated people can do, "perhaps travel being among them," Director Rochelle Walensky said yesterday. Read more from Josh Wingrove and Fiona Rutherford.
Meanwhile, even though the White House set a May timeline for enough vaccines for all U.S. adults, convincing a sizable portion of the public to be immunized is another matter. Just about 54% of American adults who haven't been vaccinated said that they definitely will, according to a Census Bureau survey conducted in February. Meanwhile, about 23% say they probably or definitely won't. Emma Court and Olivia Rockeman have more.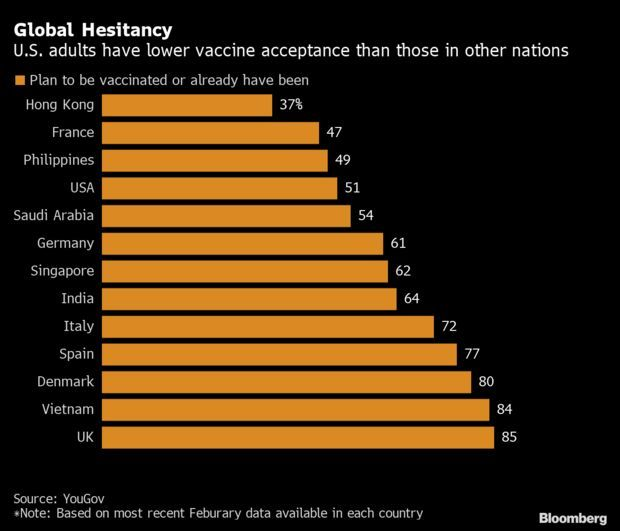 Biden Plans Speech to Mark a Year Since Shutdowns: Biden will deliver his first prime-time address on Thursday as he marks the anniversary of Covid-19 lockdowns with a speech to the nation, the White House said. "He'll discuss the many sacrifices of the American people have made over the last year and the grave loss communities and families across the country have suffered," White House Press Secretary Jen Psaki said yesterday. Jennifer Epstein has more.
White House Alters Vaccine Event After Report: The White House changed the location of an event meant to celebrate Johnson & Johnson and Merck's collaboration on a coronavirus vaccine after the original host, Emergent BioSolutions, came under fire for federal contracts that drained the federal government's budget for its stockpile of medical supplies. Biden will now host tomorrow's event at the White House, according to a guidance released yesterday. Read more from Justin Sink.
Travel Groups Urge U.S. to Develop Vaccine Passport: U.S. airlines, joined by travel groups and labor, urged Biden's administration to take the lead in creating standards for temporary Covid-19 health credentials that would help reopen global travel by documenting vaccination and test result status. The U.S. "must be a leader" in efforts already underway in other parts of the world to implement such travel passports, groups including Airlines for America said in a letter to Jeffrey Zients, Biden's virus response chief. Read more from Mary Schlangenstein.
Cases Post Slowest Spread Since Pandemic Started: With the U.S. vaccination effort picking up speed, new coronavirus cases in the U.S. grew 1.5% in the week ended Sunday, the slowest increase since the pandemic began almost a year ago. The U.S. reported 420,285 infections for the week, after recording 471,198 cases in the prior seven days, according to data compiled by Johns Hopkins University. That gain was the smallest since Bloomberg began tracking cases in January 2020. Read more from Mark Schoifet.
But a highly infectious Covid-19 strain is circulating widely in Florida, prompting concern that a resurgence of the virus is possible in the state and beyond. The per-capita rate of Covid-19 patients currently in Florida hospitals is now about 25% above the U.S. average, and new patients are arriving at its emergency departments at slightly higher rates than the rest of the country. Read more from Jonathan Levin.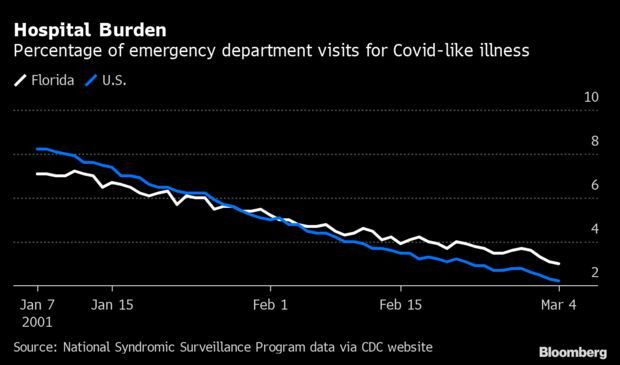 More U.S. Headlines:
More Global Headlines:
What Else to Know:
To contact the reporter on this story: Brandon Lee in Washington at blee@bgov.com
To contact the editors responsible for this story: Zachary Sherwood at zsherwood@bgov.com; Giuseppe Macri at gmacri@bgov.com; Michaela Ross at mross@bgov.com
Stay informed with more news like this – from the largest team of reporters on Capitol Hill – subscribe to Bloomberg Government today. Learn more.