HEALTH CARE BRIEFING: States Seek Health Funds in Stimulus Talks
Bloomberg Government subscribers get the stories like this first. Act now and gain unlimited access to everything you need to know. Learn more.
Congress is under mounting pressure to provide a fresh infusion of funds to a faltering economy, but the prospect for Republicans and Democrats to strike a quick deal were clouded by significant differences and little sign of progress in negotiations.
The U.S. Chamber of Commerce asked Congress for "urgent action" to replenish a $349 billion small-business relief program, which may run out within days. The nation's governors, meanwhile, are demanding lawmakers provide half a trillion dollars in economic aid to plug revenue gaps to assist with treatment for Covid-19 and response efforts.
Democratic leaders yesterday reiterated their demands for changes to the small business loan program, as well as for an additional $250 billion in relief to states and hospitals in whatever Congress does next.
"Small businesses, hospitals, frontline workers and state and local governments across the country are struggling to keep up with this national crisis," Speaker Nancy Pelosi (D-Calif.) and Senate Minority Leader Chuck Schumer (D-N.Y.) wrote in a joint statement. "They need more help from the federal government and they need it fast."
Lawmakers are still scattered across the country, so getting something done this week would likely require unanimous consent in Congress—a tall order in any event and harder still with party leaders themselves nowhere near agreement.
House Majority Leader Steny Hoyer (D-Md.) advised lawmakers yesterday that the chamber isn't expected to meet prior to May 4, but that if the House is "required to take action on critical legislation related to the coronavirus response," members will be given "sufficient notice" to return to Washington.
President Donald Trump and Senate Majority Leader Mitch McConnell (R-Ky.) want to give the Small Business Administration's Paycheck Protection Program a $250 billion infusion and leave other issues for another stimulus package to be negotiated later. Read more from Steven T. Dennis.
Democrats Criticize Aid Disbursement: Congressional Democrats aren't pleased at the "speed and manner" in which the Trump administration has been dispersing the $100 billion emergency fund created under the CARES Act (Public Law 116-136) for hospitals and other health-care providers, Alex Ruoff reports.
On a caucus conference call yesterday, Rep. Frank Pallone, Jr. (D-N.J.), head of the House Energy and Commerce Committee, said the administration had released $30 billion in funds last week but reminded his colleagues it was a figure based on Medicare payouts from the year before, according to a readout of the meeting from senior Democratic aides. Some hospital groups have complained that sending out the payments based on Medicare payouts leaves out hospitals that largely serve those covered by Medicaid, who tend to be much poorer.
Democrats also discussed the need to have demographic and racial data on Covid-19 cases, according to the aides.
In the Senate, Democratic leaders are pushing the head of HHS to send out the emergency funds in a "more targeted manner" and said they were also worried how the administration was using the money.
The lawmakers asked Secretary Alex Azar in a letter to give the funds to the "hardest-hit" providers on the frontlines of the outbreak. They also condemned the administration's decision to use the money to pay for uncompensated care instead of finding other ways to extend insurance to more Americans.
The letter was signed by Schumer, Health, Education, Labor, and Pensions ranking member Patty Murray (D-Wash.) and Senate Finance Committee ranking member Ron Wyden (D-Ore.).
BGOV Webinar Today: Congress still faces a long to-do list as it continues its response to the coronavirus. Join BGOV reporters and analysts at 11 a.m. today for an in-depth discussion of the deadlines and dynamics that will drive action this year. Register here.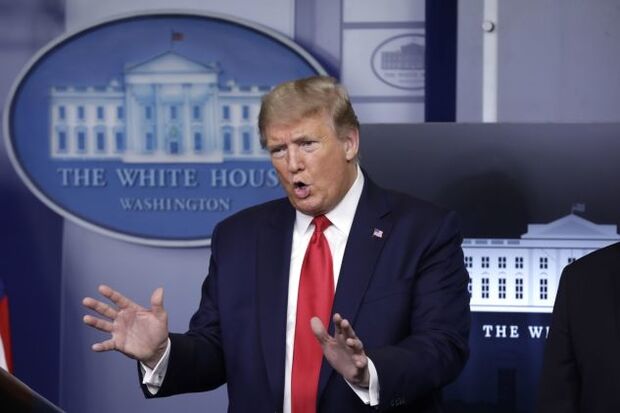 Also From Congress
Homeland Security Panel Begins Virus Probe: The Senate Homeland Security and Governmental Affairs Committee has launched an investigation into the origin of and the government response to the coronavirus pandemic, Politico reports, citing an interview with Chairman Ron Johnson (R-Wis.). The probe will look into why the federal national stockpile wasn't better prepared, why pharmaceutical ingredients and medical devices are manufactured abroad, the World Health Organization's response, and how the virus initially spread, Politico reports.
Lawmaker Letters:
More Headlines:
Treatment Efforts & Coordination
Trump's Ambition to Reopen U.S. Hinges on Elusive Testing Surge: Trump's push to reopen the world's largest economy hinges on a breakthrough that has so far eluded him: ratcheting up testing capacity to stave off another wave of coronavirus. The president will announce a council of doctors and business people on Tuesday that will advise him on restoring the U.S. economy, which little more than a month ago was his top argument for re-election in November.
But there are ample warning signs that Trump's haste to move past the coronavirus could lead him into a trap: A premature abandonment of the social-distancing behaviors that the government's top medical experts say have stabilized the rate of U.S. infections, leading to a new outbreak and further economic damage. Key to avoiding a second round of infections, death and social distancing is robust testing for the virus, so that public health authorities can quickly identify any new flare-ups and contain them before they spread. Read more from Josh Wingrove and Emma Court.
Governors Plan for Reopening: Some of the nation's most prominent governors said they would form regional alliances to coordinate the reopening of schools and businesses after the coronavirus pandemic subsides, setting up a potential clash with the president, who claims that he alone has that authority. Six states in the Northeast, including New York, New Jersey and Pennsylvania, said they would jointly develop a plan to reopen schools and businesses after the outbreak subsides. On the West Coast, California, Washington and Oregon said they would join together on their own framework.
With health data suggesting that the spread of the coronavirus may be nearing a plateau in the U.S., public officials are under growing pressure to chart a path back to normality. The longer the statewide lockdowns last, the more economic hardship there will be. But dropping stay-at-home restrictions too soon may risk a second wave of infections. Christian Berthelsen and Keshia Clukey have more.
Meanwhile, Trump declared he has "total" authority to order states to relax social distancing to combat the coronavirus outbreak and reopen their economies, and warned that governors who refuse would face political consequences. "When someone is president of the United States, the authority is total," Trump said at a White House news conference yesterday.
Challenged to substantiate his claim, the president said that "numerous provisions" support him and offered reporters a legal brief, though he provided no specifics. Legal experts and some governors disputed Trump's claim. The 10th amendment to the Constitution reserves for states all powers that aren't specifically granted to the federal government.
Trump said his administration would issue guidance within days for governors who want to begin relaxing social-distancing practices, and said he hopes to reopen the country "ahead of schedule." He didn't say that he would order governors to remove limits against their wishes, but when asked what would happen if they refused to comply, Trump said that "if some states refuse to open, I would like to see that person run for election." Read more from Jennifer Jacobs, Justin Sink and Saleha Mohsin.
Hospitals Get Upper Hand in Payment Rate Talks: Insurers will have a tough time negotiating for lower payment rates from hospitals and other health-care providers on the front lines of the pandemic. Hospitals and doctors around the country have been working to battle the disease, oftentimes without adequate equipment and protective gear. They also face financial hardship from canceling elective surgeries and other procedures to free up space for Covid-19 patients. Those factors give providers more leverage as they negotiate deals over prices they charge insurance companies for medical services, analysts say. Read more from Sara Hansard.
FCC Begins Virus Telehealth Push: Health providers as of yesterday can apply for $200 million in telehealth funds to fight the coronavirus pandemic, even as they criticize eligibility restrictions and wrestle to comply with regulations for using the aid. The eligibility and regulatory questions highlight challenges the government faces in quickly distributing aid intended to fund broadband-connected devices such as video apps that allow long-distance consultations and pulse oximeters that measure blood oxygen levels. Jon Reid and Ayanna Alexander have more.
Medicare Program Could See Exodus: More than half of health-care provider groups that participate in a Medicare cost-savings program will likely quit that program out of fear they'll suffer financial losses due to the virus, according to an organization that represents them. Fifty-six percent of 226 accountable care organizations responding to a survey by the National Association of Accountable Care Organizations said they that are likely to drop out, according to a report released yesterday. Read more from Sara Hansard.
Immigrants Seen as Untapped Pool to Fight Virus: There's one way hospitals across the U.S. could meet the surging need for more medical professionals to fight the coronavirus: tapping the pool of immigrants and refugees with foreign medical training. Thousands of people who come to the country through family reunification, seeking asylum, or as a refugee feel pressure to immediately find work, and jobs in their chosen medical field aren't an option because of the time and cost it would take to meet U.S. licensing standards. But as the virus cripples some states' health-care systems, providers are seeking faster ways to respond. Genevieve Douglas has more.
More Headlines:
Tracing, Testing & Equipment
Feds Order 64K Ventilators: Seven manufacturers have received contracts from the U.S. government worth a total of $1.43 billion to supply over 64,000 ventilators as part of the nation's response to the coronavirus, the HHS announced yesterday. General Electric, Hamilton, Hill-Rom, Medtronic, ResMed, Vyaire, and Zoll will deliver the equipment over the next three months, the department said. The contracts will increase the national stockpile and help states that say they don't have enough ventilators for all the Covid-19 patients who need one. Read more from Shira Stein.
Privacy of Apple's Covid-19 Tools: Apple responded to Senate Democrats who sent a letter to CEO Tim Cook with questions related to the privacy of the iPhone maker's Covid-19 screening tools. In a letter dated Friday, Apple said the tools "were built to protect the privacy and security of users' data." The company also answered questions related to data sharing, deals with government agencies, and the accessibility of the tools. The letter refers to screening tools launched in March that help users determine if they should quarantine or seek medical help, not Apple and Google's new partnership for contact tracing.
Apple said it "drew upon its engineering and clinical resources to help develop a new Covid-19 website and Covid-19 app" at the request of HHS and outlined the privacy protections in its agreement with the agency. Apple said the tools, which are available as an app and on the web, are not subject to HIPAA guidelines and said it doesn't collect any personal data from individuals. Read more from Mark Gurman and Rebbeca Kern.
Saliva Test Wins FDA Approval: A device that tests patients for Covid-19 using saliva instead of the traditional swab technique gained FDA approval, Spectrum Solutions and its partner Rutgers University announced yesterday. Widespread testing has been hindered in part because the swab needed for traditional virus testing is in short supply. The new saliva test created by Spectrum Solutions and a branch of Rutgers' Human Genetics Institute doesn't require swabs. Patients spit in the tube and close it, which releases a preservation solution that guards the components needed to test for the virus. Read more from Jacquie Lee.
More Headlines:
What Else to Know Today
Virus-Related Abortion Ban Blocked: Alabama officials can't enforce a blanket ban on abortion services under a state emergency order designed to encourage social distancing and save medical supplies during the pandemic, a federal court in the state ruled. A ban on abortion procedures except those necessary to save the mother's life would substantially burden women's right to abortions without providing enough benefits to justify a ban, the U.S. District Court for the Middle District of Alabama decided yesterday. Prohibiting or postponing abortions until the emergency order's expiration date of April 30 would make "a lawful abortion literally impossible" for some women, it said. Mary Anne Pazanowski has more.
ACA 'Sabotage' Case Partially Proceeds: A group of U.S. cities can proceed on their claim that the Trump administration violated federal procedural law when it adopted rules gutting various parts of the Affordable Care Act, a federal court in Maryland ruled. Dismissal of the Administrative Procedure Act claims would be premature given the procedural posture of the lawsuit, and the fact that the administrative record surrounding the rules' adoption hasn't yet been filed, the U.S. District Court for the District of Maryland said. But the cities' argument that Trump violated the Constitution's "take care" clause by deliberately "sabotaging" the ACA may not move forward, the court said, Mary Anne Pazanowski reports.
More Headlines:
To contact the reporter on this story: Brandon Lee in Washington at blee@bgov.com
To contact the editors responsible for this story: Giuseppe Macri at gmacri@bgov.com; Zachary Sherwood at zsherwood@bgov.com; Michaela Ross at mross@bgov.com
Stay informed with more news like this – from the largest team of reporters on Capitol Hill – subscribe to Bloomberg Government today. Learn more.