HEALTH CARE BRIEFING: States, Rural Providers Gird for Next Wave
Bloomberg Government subscribers get the stories like this first. Act now and gain unlimited access to everything you need to know. Learn more.
Rural hospitals in states projected to be part of the next wave of outbreaks of coronavirus in the U.S. are struggling to buy enough medical gear to prepare, as the virus spreads from cities into less-dense communities.
Health centers and hospitals bracing for coronavirus cases say they are closely watching how health-care providers in cities like New York and Seattle address large numbers of patients, but also worry about how they will manage the load as well as deal with dwindling cash reserves.
"It's like being in a war zone," said Mary W. Wetherall, CEO of NEPA Community Healthcare in Northeast Pennsylvania. "You know the front is 100 miles away, and you're just wondering when it's going to come to you."
Jay Johnson, CEO of Duncan Regional Hospital, brought his southern Oklahoma hospitals and clinics to a near halt by canceling elective surgeries and retraining medical providers to treat patients with Covid-19. "It's amazing how few people are here right now," he said. "We're ready for something, but we've completely brought the business model to its knees."
On top of existing "hotspots" in New York, New Jersey, New Orleans and Detroit, the White House's coronavirus task force voiced concerns about an exponential increase in other major metro areas nationwide, coordinator Deborah Birx said earlier this week.
"We're continuing to track very closely out of concerns of it potentially reaching the logarithmic phase in the Chicago metro area, the Boston metro area, the D.C. and Baltimore metro areas, Indianapolis, the Denver area, and two regions of Pennsylvania: Philadelphia and the Pittsburgh area as well, and Dallas and Houston in the Texas area," Birx said at the White House coronavirus task force press conference.
While governors are closely tracking their states, metro areas can cross state lines, so it's critical to track cases on a very granular level, Birx said.
At the same time, the task force has its eye on Vermont, New Hampshire, Idaho, and Montana. While the cases there still remain somewhere between 25 or 50 cases per 100,000, there were "a few standouts that we were concerned about," she said. Such smaller outbreaks highlight how the virus can be both a rural and metro problem. Read more from Alex Ruoff and Jeannie Baumann.
Economic Reopening Depends on Testing: Meanwhile, the White House is developing plans to get the U.S. economy back in action that depend on testing far more Americans for the coronavirus than has been possible to date, according to people familiar with the matter. The effort would likely begin in smaller cities and towns in states that haven't yet been heavily hit by the virus. Cities such as New York, Detroit, New Orleans and other places the president has described as "hot spots" would remain shuttered.
One person familiar with the White House's planning said that a reopening effort is likely within about 30 days and that it's expected officials at the Centers for Disease Control and Prevention or other government health professionals may object. Read more from Mario Parker.
Related: Biden Says Coronavirus Damage Could 'Eclipse' Great Depression
House Briefing Today: The White House coronavirus task force will give parallel telephone briefings to House Democrats and Republicans today, according to House aides. Similar briefings are scheduled for senators tomorrow. The briefings set expected to be headed by Vice President Mike Pence and Anthony Fauci, director of the National Institute of Allergy and Infectious Diseases.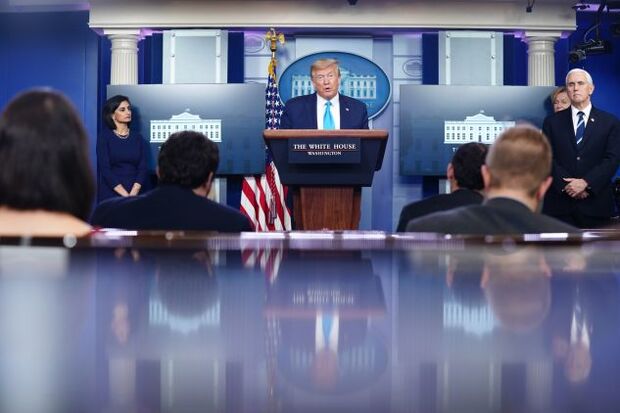 Research, Treatment & Coordination
Trump Floats Hold on Funding for WHO: President Donald Trump said he is considering putting a "hold" on U.S. funding for the World Health Organization after the agency "blew it" by failing to sound the alarm sooner about the virus. "I'm not saying I'm going to do it, but we're going to look at it," Trump said at a White House briefing yesterday.
Congress allocated about $123 million to the WHO for fiscal 2020. Earlier in the briefing Trump called the Geneva-based international body "very China centric." He added that the WHO was wrong to advise against the travel restrictions that were imposed on China earlier this year. "They are always on the side of China, but we fund it," Trump said. "So we want to look into it." Alex Wayne and Justin Sink have more.
Senate Democrats Propose Hazard Pay for Essential Workers: Senate Democrats are proposing giving hazard pay of up to $25,000 each for workers including grocery store employees, transit workers and pharmacists who are risking their lives to stay on the job amid the coronavirus outbreak. These people "are in the line of fire, day in and day out" to help others, Senate Minority Leader Chuck Schumer (D-N.Y.) said in a conference call with reporters. "We are asking these workers to take on great risk. They should be compensated for it." Democrats are also proposing a death benefit for essential workers who have lost their lives to the coronavirus, Schumer said. Read more from Laura Litvan and Steven T. Dennis.
Aid to Health Care Providers Coming This Week: CMS Administrator Seema Verma said at a White House press briefing last night $64 billion in aid will be released to health care systems this week alone. Verma said $30 billion of that money will be grants with no strings attached from the $100 billion in funds for hospitals designated in the third coronavirus stimlus package passed last month. Read more from Megan Howard and Jordan Fabian.
Behavioral Health Groups Seek $40 Billion: A collection of mental health and addiction treatment groups called on the federal government to set aside $38.5 billion in the next stimulus package for behavioral health organizations enrolled in Medicaid. The groups, led by the National Council for Behavioral Health and American Society of Addiction Medicine, want funds for community behavioral health organizations in the next coronavirus stimulus bill.
The groups argue that, while billions were pumped into the health care industry in the previous coronavirus bill, nothing was allocated specifically for behavioral health organizations, which "are battling two emergencies," said Paul H. Earley, president of ASAM. In addition to the pandemic itself, behavioral health groups are seeing an "explosion of patients in crisis as a result of isolation, anxiety and economic distress," he said in a statement, Alex Ruoff reports.
Trump Thursday plans to speak to leaders and advocates from mental health organizations to discuss resources and tools that "we'll make available to them—they need help," the president said in a White House press briefing yesterday. "We must also ensure that our country can meet the mental health needs of those struggling in this crisis," he said.
Treating Uninsured Could Soak Up 40% of Fund: The Trump administration's plan to reimburse hospitals for treating uninsured patients with Covid-19 could consume more than 40% of the $100 billion fund lawmakers authorized to help hospitals, the Kaiser Family Foundation said in a report yesterday. It comes as the White House is under fire from Democrats and health-care advocates for not reopening HealthCare.gov to get more uninsured people covered in the face of the outbreak. Read more from Sara Hansard.
Detained Non-Violent Migrants' Release Urged: House Oversight and Reform Chairwoman Carolyn Maloney (D-N.Y.) and Civil Rights Subcommittee Chairman Jamie Raskin (D-Md.) sent a letter to the Homeland Security Department and border enforcement agencies asking them "release non-violent detainees," after learning that the department has "no serious plan" to address overcrowding in detention facilities in order to minimize the spread of Covid-19 and "free up sufficient space for effective quarantining." Read the letter here.
Trump Says He Lobbied Modi on Malaria Drug: Trump said in a Fox News interview last night he asked India's Prime Minister Narendra Modi to remove export limits on an anti-malaria drug Trump has said he hopes will be effective against Covid-19. Earlier, India partially lifted a ban on hydroxychloroquine, but export would depend on meeting domestic requirements and existing orders, according to government officials with knowledge of the matter. The drug has not yet been approved or proven effective against coronavirus infections, and it carries significant side effects.
More Headlines:
Combating Shortages at Hospitals
FEMA to Issue Temporary Export Block: FEMA will issue a temporary rule to allocate "certain scarce or threatened materials" for domestic use so that they are not exported from the U.S. without approval by the agency, according to a Federal Register document yesterday. The rule will cover five types of personal protective equipment, including N95 filtering facepiece respirators, certain surgical masks and gloves, reports Ben Livesey.
Mass Production of Testing Kits: The Department of Defense is best at "mass production," and should assist with manufacturing coronavirus tests, according to House Armed Services Chairman Adam Smith (D-Wash.) yesterday. He said he's looking at the upcoming fiscal 2021 national defense authorization bill to carry provisions that would boost production of the testing swabs within the Defense Department. Smith says he is talking to Pelosi about including funding in the next stimulus to ramp up the Pentagon's response, Roxana Tiron reports.
WHO's Stance on Masks: Global health officials continue to insist that medical-grade masks should be reserved for health-care workers, even as an increasing number of governments recommend the general public wear them to help slow the spread of coronavirus. "There is currently no evidence that wearing a mask, whether medical or other types, by healthy persons" could "prevent them from infection with respiratory viruses," the WHO said in a report published Monday. But countries are still advising people to wear masks. Corinne Gretler has more.
Shortage of Drugs for Ventilator Use: House Progressive Caucus Co-Chairman Mark Pocan (D-Wis.) sent a letter to FDA Commissioner Stephen Hahn and HHS Secretary Alex Azar yesterday asking whether the White House has any knowledge of potential shortages for drugs that patients need when they're put on ventilators, including sedatives. Pocan said if any shortages are known, "Why haven't they made those shortages known to the public?" He cited a report from Vox News that shortages of sedatives are imminent. Read the letter here.
FEMA Probed Over Supply Chain Issues: House Homeland Security Chairman Bennie Thompson (D-Miss.) and Maloney sent a letter to the Federal Emergency Management Agency inquiring about FEMA's efforts to acquire and distribute personal protective equipment and other essential medical supplies to states, according to a statement. They cited a report from the HHS inspector general's office "detailing the lack of medical equipment" in U.S. hospitals, and media reports that "FEMA is redirecting shipments of supplies and equipment meant for states and hospitals." Read the letter here.
More Headlines:
What Else to Know Today
Texas Allowed to Halt Abortions: Texas struck a blow against abortion access yesterday, after a federal appeals court said the state can halt most procedures as long as the governor's emergency health decree to save medical supplies for fighting the pandemic is in effect. A three-judge panel in New Orleans said on a 2-1 ruling yesterday that some women's constitutional rights to abortion can be temporarily set aside during a national health emergency.
U.S. Supreme Court precedent says "all constitutional rights may be reasonably restricted to combat a public health emergency," said Circuit Judge Kyle Duncan, who was appointed by Trump, in the majority opinion. The decision comes after clinics, impatient for guidance, threatened to escalate the issue to the Supreme Court on last week. Read more from Laurel Calkins.
Psychotropic Prescriptions in Nursing Homes: A bipartisan lawmaker group called on the HHS inspector general for a "review of the use of psychotropic and antipsychotic drugs in nursing facilities" across the country. Their request raises "decades-old concerns" that there are "insufficient safeguards" in place to "protect against the unnecessary or inappropriate prescription of these drugs." The investigation is being sought by Senate Finance Chairman Chuck Grassley (R-Iowa), ranking Democrat Ron Wyden (Ore.), House Ways and Means Chairman Richard Neal (D-Mass.) and ranking Republican Kevin Brady (Texas). Read the letter here.
More Headlines:
With assistance from Shira Stein
To contact the reporters on this story: Brandon Lee in Washington at blee@bgov.com; Alex Ruoff in Washington at aruoff@bgov.com
To contact the editors responsible for this story: Giuseppe Macri at gmacri@bgov.com; Zachary Sherwood at zsherwood@bgov.com; Michaela Ross at mross@bgov.com
Stay informed with more news like this – from the largest team of reporters on Capitol Hill – subscribe to Bloomberg Government today. Learn more.