HEALTH CARE BRIEFING: States Prep Pfizer Shot Distribution Plans
Bloomberg Government subscribers get the stories like this first. Act now and gain unlimited access to everything you need to know. Learn more.
Plans to distribute Pfizer's Covid-19 vaccine candidate are due from U.S. states tomorrow, the general leading the federal government's roll-out effort said.
Operation Warp Speed plans to ship out 6.4 million doses of the Pfizer vaccine upon receiving clearance from the Food and Drug Administration, which could come as soon as the middle of December, said Gus Perna, chief operating officer of the U.S. drugs and vaccines effort. States need to submit their orders by tomorrow.
Plans are accelerating for use of Covid-19 vaccines developed in less than a year to battle the pandemic that's strangling economies worldwide. The Pfizer vaccine, developed with partner BioNTech, will be considered by FDA advisers for emergency authorization on Dec. 10. British regulators have already cleared it.
States need to finalize plans to distribute another vaccine candidate from Moderna by Dec. 11, Perna said. Operation Warp Speed is prepared to send 12.5 million doses of the formula upon authorization from the FDA, he said on the call.
Both Pfizer-BioNTech's and Moderna's vaccine candidates require two doses, with the booster needed three weeks or more after the first. Operation Warp Speed will ship the first batch and reserve enough doses to make sure those first patients can receive their second shot and that storage systems are not overwhelmed, Perna said. Read more from Angelica LaVito.
CVS and Walgreens are preparing to administer vaccines in tens of thousands of nursing homes and assisted-living facilities across the U.S., with shots possibly rolling out in just weeks. Federal advisers urged that residents at long-term care centers be first in line for the shots, as well as health-care workers at higher risk. Read more from Angelica LaVito.
Meadows Meets With Hahn Again as Shots Near: White House Chief of Staff Mark Meadows met with Food and Drug Administration Commissioner Stephen Hahn for a second time in two days yesterday, as President Donald Trump continues to pressure federal regulators to quickly issue emergency authorizations for coronavirus vaccines. Trump and other officials at the White House have been displeased with Hahn and what they perceive as changing criteria for U.S. approval of a vaccine, according to one of the people. Read more from Jennifer Jacobs, Anna Edney, and Justin Sink.
More on the Vaccine:
Biden Readying HHS Picks
President-elect Joe Biden is preparing to announce some of his administration's health leaders as soon as next week, as he weighs two governors and a former surgeon general to lead the Department of Health and Human Services, according to people familiar with the matter.
The contenders to lead HHS include Rhode Island Gov. Gina Raimondo (D), New Mexico Gov. Michelle Lujan Grisham (D) and former U.S. Surgeon General Vivek Murthy, now a co-chair of the Biden transition team's coronavirus advisory team.
After Bloomberg News reported yesterday that Grisham was a top candidate and CNN reported that Grisham was "the leading contender," a person close to the transition dismissed the idea that she had any advantage in the process. Another person said Biden has not yet decided on his pick for the post. Read more from Jennifer Epstein and Josh Wingrove.
The Coronavirus Pandemic
US Has Deadliest Day Ever, Hospitalizations Top 100,000: The U.S. had its deadliest day ever yesterday, with Covid-19 fatalities topping 2,700, according to Johns Hopkins University. Hospitalizations in the country surpassed 100,000 for the first time. Read more.
Related: U.S. Covid-19 Hospitalizations Rose to 14.0%; Most on Record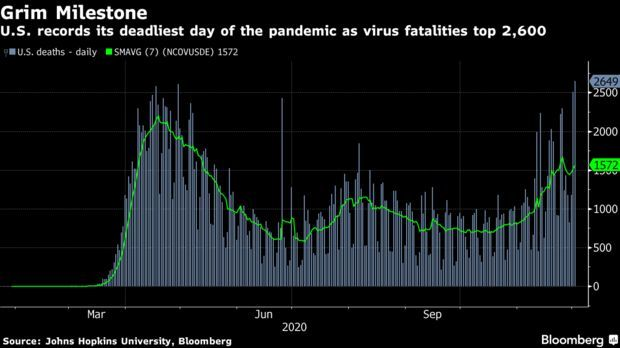 New York, California, Rust Belt Will Drive Death Surge: New York, California, and the Rust Belt states are likely to drive up the pace of Covid-19 deaths in the coming weeks, as the U.S. approaches 300,000 fatalities. The U.S. will probably reach the grim milestone in the week of Dec. 13, a forecast from the University of Massachusetts Amherst's Reich Lab says, based on dozens of independent models collected in collaboration with the CDC. The U.S. saw 174,951 new Covid-19 cases on Tuesday, bringing cumulative cases to over 13.7 million, according to Johns Hopkins University data. Read more from Jonathan Levin.
CDC Revises Quarantine, Travel Advice: The U.S. Centers for Disease Control and Prevention issued recommendations for shorter quarantine periods, saying those without symptoms can stop after 10 days or seven days with a negative Covid-19 result. The idea is that quarantines shorter than 14 days carry low infection risks and will bolster compliance, CDC officials said on a call with reporters. They also urged Americans to postpone holiday travel, citing the volume around Thanksgiving, and outlined new guidelines for reducing travel risks. Read more from Emma Court.
Related: EU Sounds Cautionary Note With Revised Guidance for Travel
More Headlines:
Happening on the Hill
Pelosi Backs Using Bipartisan Plan in Relief Talks: Speaker Nancy Pelosi (D-Calif.) and Senate Minority Leader Chuck Schumer (D-N.Y.) threw their support yesterday behind using a $908 billion bipartisan coronavirus relief proposal as the foundation for a new round of negotiations with Republicans and the Trump administration. Their support for the plan drawn up by a group of House and Senate lawmakers marks the first public retreat from their backing of a much larger $2.4 trillion pandemic aid package and could break six months of stalemate in time to get a bill passed by year-end.
House Majority Leader Steny Hoyer (D-Md.) said earlier yesterday he's optimistic that lawmakers can agree on the omnibus and "on the outlines of a Covid-19 bill" by this weekend and pass both next week. Billy House and Erik Wasson have more.
The bipartisan framework would give the government $16 billion for vaccine distribution, coronavirus testing and contact tracing efforts. The bill would also add $35 billion to the provider relief fund, offering the health industry another funding boost. That's lower than what Democrats have sought and is likely not sufficient to fully fund Biden's proposal for a new, huge coronavirus testing and tracing program.
Conservatives Push for Private Arbitration in Billing Disputes: A coalition of conservative groups sought to reignite a policy debate that's kept legislation to address surprise medical bills from clearing Congress, days before a crucial deadline for the issue. Action for Health, a collection of right-wing advocacy groups such as the Center for Freedom and Prosperity and the Institute for Liberty, called on Congress to include language permitting an "independent dispute resolution process" in surprise billing legislation. The Taxpayers Protection Alliance, meanwhile, a part of Action for Health, is also launching a six-figure ad campaign against the leading surprise billing proposal, the group announced yesterday.
A bipartisan group of lawmakers, led by Senate Health, Education, Labor and Pensions Chairman

Lamar Alexander

(R-Tenn.), who is retiring, and House Energy and Commerce Chairman

Frank Pallone

(D-N.J.) have been trying for the last year to pass a surprise billing fix (S. 1895). The Pallone-Alexander legislation permits insurers and doctors to take some billing disputes through an arbitration process, but largely asks doctors to accept the typical rate for their services.
The pair nearly got their legislation into a year-end spending bill in 2019, but that effort was disrupted when House Ways and Means Chairman

Richard Neal

(D-Mass.) raised concerns over how it settles billing disputes between insurers and doctors. Neal says he favors legislation (H.R. 5826) allowing health insurers and doctors to work out the issue between themselves or use a dispute resolution system, Alex Ruoff reports.
House Readies Weed Decriminalization Bill: The House today is scheduled to consider a closed rule (H. Res. 1244) governing floor debate of legislation (H.R. 3884; BGOV Bill Summary) that would legalize marijuana and remove it from federal drug schedules under the Controlled Substances Act. A manager's amendment from the bill's sponsor, House Judiciary Chairman Jerry Nadler (D-N.Y.) would be automatically incorporated into the bill on adoption of the rule. The amendment would allow the Transportation Department and U.S. Coast Guard to regulate and screen for marijuana use. It also would bar the release and expungement of records related to prisoners convicted of violent crimes. The Senate is not set to consider similar legislation. Read the BGOV Bill Summary by Michael Smallberg and Adam Taylor.
Bill to End Per-Country Cap on Green Card Passed by Senate: The Senate passed legislation last night to repeal a provision that prevents nationals of any one country from obtaining more than 7% of the employment-based green cards available in a year. The bill (H.R. 1044) was passed by unanimous consent after the Senate agreed to a substitute amendment from Sen. Mike Lee (R-Utah). The bill would also would set aside 4,400 visas per year for seven years for nurses and physical therapists. Read more from Genevieve Douglas and Adam M. Taylor.
GOP Panel Recommends McMorris Rodgers for Top Energy Spot: Rep. Cathy McMorris Rodgers (R-Wash.) is the House GOP Steering Committee's choice to lead Republicans on the Energy and Commerce panel. McMorris Rodgers would be the first woman of either party to occupy a full leadership role on the powerful committee. Reps. Michael Burgess (R-Texas) and Bob Latta (R-Ohio) also competed for the job. The full conference will vote on the steering committee recommendation today, Kellie Lunney reports.
What Else to Know
Medicare Hospice Threatened by Influx of Boomers: Medicare's hospice benefits, already being misused to the tune of billions of dollars every year, is on a collision course with Baby Boomer recipients with neurological diseases who could spike a major increase in spending for end-of-life care. Aging boomers "will cause a massive escalation in the number of people living with Alzheimer's," according to Matthew Baumgart, vice president of health policy at the Alzheimer's Association. And that's going to "create a massive financial burden on both Medicare and Medicaid, unless we do something about it." Tony Pugh has more.
More Headlines:
To contact the reporters on this story: Brandon Lee in Washington at blee@bgov.com; Alex Ruoff in Washington at aruoff@bgov.com
To contact the editors responsible for this story: Zachary Sherwood at zsherwood@bgov.com; Giuseppe Macri at gmacri@bgov.com; Michaela Ross at mross@bgov.com
Stay informed with more news like this – from the largest team of reporters on Capitol Hill – subscribe to Bloomberg Government today. Learn more.