HEALTH CARE BRIEFING: Spending Deal Boosts Public Health Funding
Bloomberg Government subscribers get the stories like this first. Act now and gain unlimited access to everything you need to know. Learn more.
Congress passed a roughly $900 billion aid package attached to the $1.4 trillion measure to fund government operations through the end of the fiscal year. The Health and Human Services component of the fiscal 2021 government funding legislation boosts money for medical research and public health and also supports the rollout of vaccines that could bring an end to the pandemic.
HHS would get $96.5 billion in fiscal 2021, a $2 billion bump from last year. The package also includes a separate $73 billion pot of emergency funds to help tackle the pandemic's continuing effects. Read more from Sarah Babbage.
The Latest:
What's in the Spending Bill: Agencies and programs would receive $1.4 trillion in fiscal 2021 under the spending portion of H.R. 133. The spending portion of the agreement would provide increased funding for most agencies and programs, including the Health and Human Services Department, Environmental Protection Agency, Internal Revenue Service, and Transportation Department. Bloomberg Government's legislative analysts have summarized each portion of the spending package. Read the BGOV Bill Summary here.
What's in the Aid Package: More than $900 billion would be provided for unemployment aid, direct payments, and business loans under the Covid-19 relief portion of the bill. The measure would provide funding for vaccines and testing, airline payroll support, farmers, and broadband. It would extend a moratorium on evictions through Jan. 31 and expand food aid programs. It would also provide additional funds for the Paycheck Protection Program and allow businesses to obtain a second loan. Bloomberg Government's legislative analysts have summarized the complete aid package. Read the BGOV Bill Summary here.
Emergency Funds: Included in the measure's emergency funding is a $22.4 billion chest for testing and contact tracing, of which $2.5 billion would be set aside for strengthening those efforts in high-risk and underserved populations. The bill would also allocate $3.25 billion in emergency funds to the National Strategic Stockpile. The National Institutes of Health would get $1.25 billion for research related to Covid-19.
The legislation would provide almost $20 billion for vaccine procurement and manufacturing, plus $8.75 billion for distribution. As part of the stimulus portion of the measure, another $69 billion would be provided for vaccine development, testing, and community health programs.
The Provider Relief Fund, which channels funding to hospitals and other health-care providers strained by the pandemic, would get $3 billion. As part of the stimulus, physicians and medical specialists will avoid steep Medicare pay cuts next year, as well. The bill would provide a three-month extension of the moratorium on Medicare sequestration payment reductions through March 31, Tony Pugh reports.
Full-Year Funding: The National Institutes of Health would get $42.9 billion, a $1.25 billion increase from fiscal 2020. The Centers for Disease Control and Prevention would get $7.9 billion, a $125 million boost from fiscal 2020. The Biomedical Advanced Research and Development Authority would get $597 billion, and the National Strategic Stockpile would get an additional $705 million in fiscal 2021.
The measure also would extend a number of health programs through fiscal 2023, including for community health centers, the National Health Service Corps, the Teaching Health Center Graduate Medical Education Program, and several diabetes programs.
Surprise Billing Fix: The package includes a separate fix for "surprise" medical bills, which patients can receive when they unexpectedly get out-of-network services in an emergency or for ancillary services such as anesthesia and radiology that they didn't know were not part of their insurance plan. Alex Ruoff and Danielle Parnass have more.
Family Planning: The year-end spending bill includes the long-standing Hyde amendment, which bars federal funds for abortions except in cases of rape, incest or to save the life of the woman. Congressional Democrats have said they want to remove the Hyde amendment from spending bills starting in fiscal 2022, when a Democrat will be in the White House. President-elect Joe Biden has said he also opposes the Hyde amendment.
The measure would keep Title X family planning funds flat at the fiscal 2020 level of $286.5 million. It would also keep funding flat for teen pregnancy prevention grants at $101 million.
House Democrats also dropped their demand for a measure that would block the Trump administration's Title X rule that prohibited family planning funds from going to clinics that provide abortion referrals, Jack Fitzpatrick reports.
International Organizations: The omnibus omits language sought by Democrats that would have required the U.S. to continue sending funds to the World Health Organization and banning officials from withdrawing the U.S. from NATO. Spending bills have typically left WHO contributions up to the executive branch, instead providing a broader account for contributions to international organizations, but Democrats hoped to require WHO funding after President Donald Trump's decision to withdraw from the organization, Jack Fitzpatrick reports.
More on the Pandemic
Azar, Redfield Subpoenaed Over Political Meddling Claims: House Select Coronavirus Crisis Chairman Jim Clyburn (D-S.C.) issued two subpoenas to Health and Human Services Secretary Alex Azar and Centers for Disease Control and Prevention Director Robert Redfield, ordering them to produce documents on potential political interference in response to the coronavirus pandemic. The subpoenas were "necessary" because the subcommittee's investigation showed "efforts to interfere with scientific work at CDC were far more extensive and dangerous than previously known," Clyburn said yesterday, Megan Howard reports.
Biden's Approach to Pandemic Worker Rule: If the Biden administration follows the wishes of congressional Democrats, employers might have to comply with a nationwide coronavirus worker protection rule in early February. Biden has long criticized Trump's administration for not enacting such rules and promised to issue an emergency standard after his inauguration. House Education and Labor Chairman Bobby Scott (D-Va.) said he expects Biden to "prioritize an emergency temporary standard" protecting workers from employer retaliation, and one that would require "the tracking of workplace infections." Read more from Bruce Rolfsen.
Hidden Health Stockpile Weighs Pandemic Lessons: It's the size of three super Walmarts, containing pallets of labeled boxes as far as the eye can see. Drugs and personal protective equipment, testing gear and ventilators—$2.3 billion worth of inventory. Even that contains just a fraction of the Strategic National Stockpile, which as of last week had 194 million N95 masks, 201 million surgical or procedural masks, 173 million gowns and coveralls, 72 million gloves, 23 million goggles and face shields, and 153,000 ventilators, an HHS spokesperson said.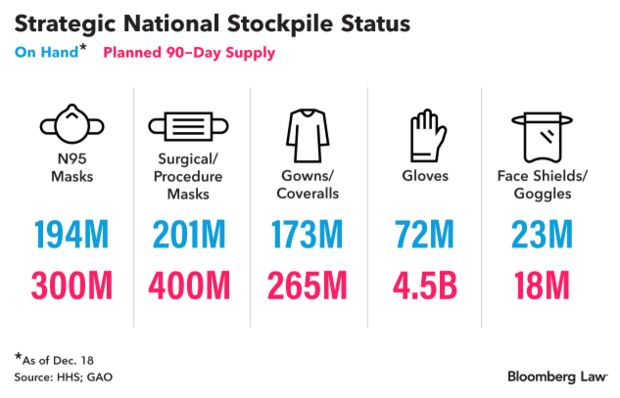 Those still aren't enough to meet the federal government's own targets from earlier this year. Now, with the inauguration of the next president a month away, Paul Mango, deputy chief of staff for policy at HHS, said his plan is to pass on lessons learned, including the need to create "deeper and more effective public-private partnerships" to make sure there is enough in the supply chain before the next coronavirus-sized disaster. Read more from Shira Stein.
NIH to Study Allergic Reactions Linked to Shots: The National Institutes of Health plans to begin a clinical trial that aims to help doctors "predict and manage" allergic reactions related to the Pfizer-BioNTech shot. Moncef Slaoui, chief scientific adviser for Operation Warp Speed, said during a briefing yesterday that the aim of the trial, which will also study Moderna's shot authorized for emergency use days ago, will be to pinpoint why episodes of anaphylaxis have been occurring. Read more from John Tozzi.
Pfizer, BioNTech Vaccine Receives European Backing: Pfizer's and BioNTech's vaccine won European approval, clearing the way for inoculations to start before the end of the year as the continent struggles with rising death rates and tighter lockdowns. The European Commission granted market authorization to the shot yesterday, combining multiple steps of bureaucracy after a signoff from the European Medicines Agency earlier in the day. Read more from Naomi Kresge and Suzi Ring.
Virus Killing in Rural U.S. Quicker Than in Big Cities: Nine months after arriving in the most densely populated parts of the country, the fatal effects of the coronavirus are now spreading more in its remote corners. Covid-19 is now killing in rural areas at a faster clip than anywhere else. As of last week, there were 109 cumulative deaths out of every 100,000 residents in "non-core" counties, the least-populated classification, according to CDC data. That's higher than in heavily urbanized areas such as New York City and Seattle, which until days ago had recorded the highest death rates since the pandemic began. Nic Querolo has more.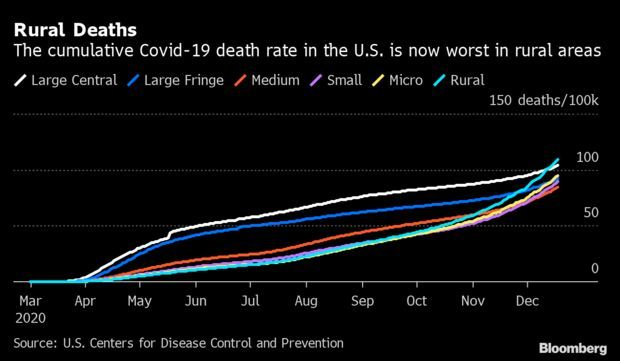 More Headlines:
What Else to Know Today
Arkansas Abortion Providers Urge Restriction Relief: Abortion providers in Arkansas asked a federal court yesterday to temporarily block the state from enforcing restrictions against the procedure, including one that criminalizes most abortions after 14 weeks, arguing they will be forced to turn away patients even as the laws' constitutionality is being litigated. The laws will likely take effect later today if not stopped, due to an August Eighth Circuit decision that lifted an injunction against their enforcement and sent the case back to a lower court, the providers told the U.S. District Court for the Eastern District of Arkansas, Mary Anne Pazanowski reports.
Drugmakers Win Wiggle Room for Medicaid Contracts: Drug companies should soon have an easier time entering into contracts purporting the "value" of a drug due to a Medicaid policy released yesterday by the Trump administration. The policy from the Centers for Medicare & Medicaid Services is intended to encourage contracts where states can get a partial refund on a drug if it doesn't work. Those sorts of contracts can save states money on expensive products. Read more from Jacquie Lee.
More Headlines:
Editor's Note: Bloomberg Government's Health Care Briefing will not publish the rest of the year. We'll return on Jan. 4.
With assistance from Sarah Babbage and Jack Fitzpatrick
To contact the reporter on this story: Brandon Lee in Washington at blee@bgov.com
To contact the editors responsible for this story: Zachary Sherwood at zsherwood@bgov.com; Giuseppe Macri at gmacri@bgov.com; Michaela Ross at mross@bgov.com
Stay informed with more news like this – from the largest team of reporters on Capitol Hill – subscribe to Bloomberg Government today. Learn more.